Teach English Abroad – A Filipino Backpacker Guide to TEFL
If you've been reading our previous articles, you already know that our main sources of income are from TEFL Teaching (English) and Ayurveda Massage Therapy. As a Filipino TEFL English teacher abroad myself, I will show you how we FILIPINOS can also teach English abroad. I'll show you the easiest way to get your TEFL certification in the Philippines and start your new life as a Filipino TEFL teacher. All with just your passion and an online TEFL course. You could earn up to $25USD an hour and see the world at the same time! Are you ready to change your life?! Be an English Teacher Abroad while traveling the world!
Other articles you can read:
NOTE – Although I have written this article with certain tips and advice for Filipinos, all of the information and TEFL courses can also be used by other nationalities too. You can also use the 60% discount on TEFL courses – It's for all Two Monkeys Travel readers!
Please note that TEFL course providers are only providing the TEFL course and the TEFL certification that teachers need to be able to teach English as a foreign language. Every country has its own employment and visa requirements and they often change without prior notice. These requirements can sometimes require that TEFL certification is "validated", "notarized", or "authenticated". Such is the case with China and Vietnam. It is your own responsibility to check the requirements for the country that you plan to teach in, as no TEFL course provider has any control over the employment visa regulations of other countries.
We have also partnered with Let's TEFL to offer accredited 120-hour TEFL courses with a 60% discount. Just use our exclusive promo code – TWOMONKEYS. Let's TEFL courses include free certificate shipping!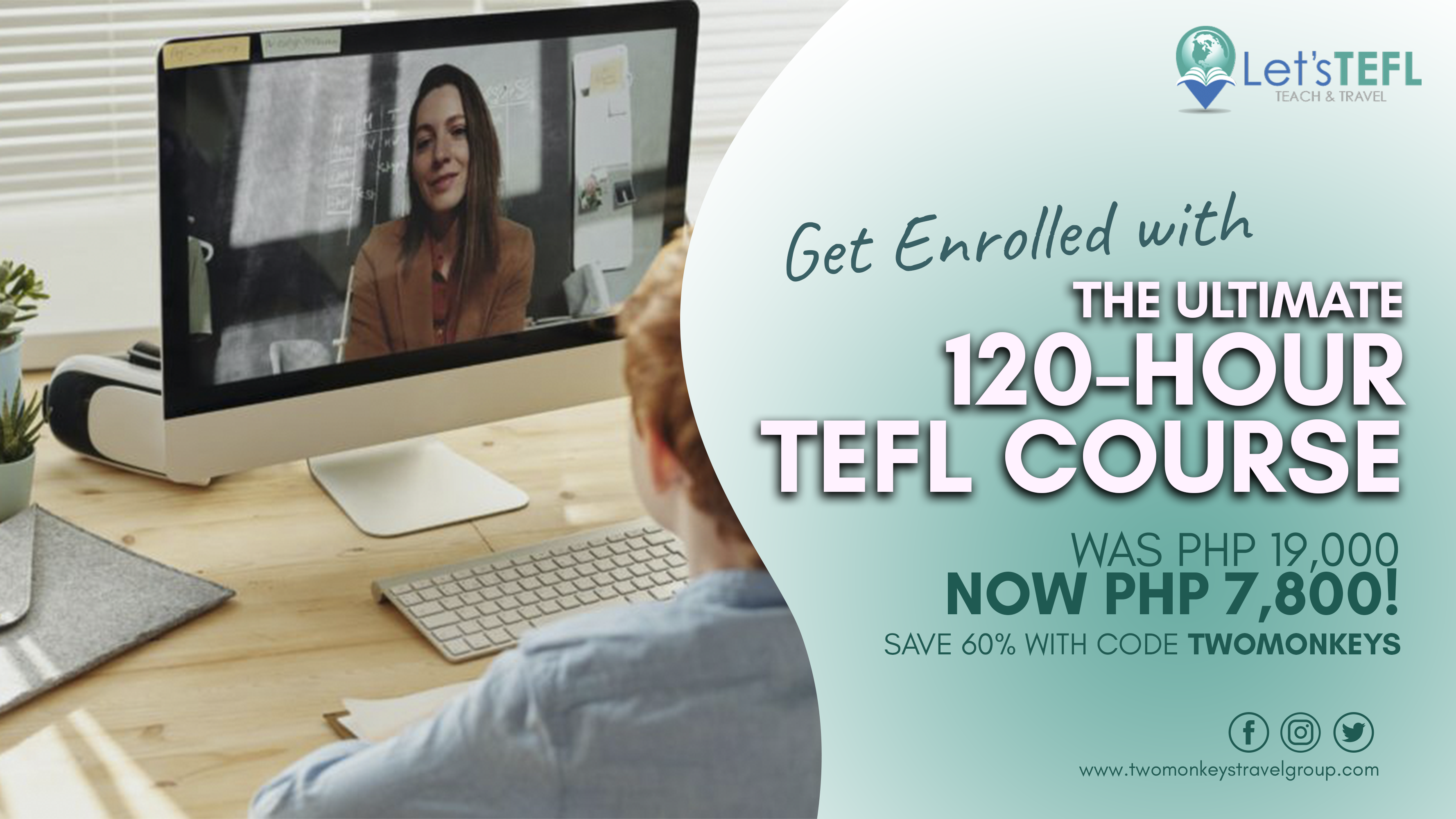 TEFL Teaching Certificate / TEFL Certification
First things first – Before you make any decisions to quit and move abroad, you must invest in your CERTIFICATIONS and SKILLS to sustain your travel. Why? Because to teach English abroad is a big commitment. Parents won't pay just to be a "foreign teacher," they expect you to teach their kids and treat them as your own. Or do you want to go back home after six months when you're broke and begging your old boss to give you your job back or even ask Mama and Papa to buy your flight ticket to go home? Of course not, that's why I'm here to tell you how you can start your long-term sustainable travel lifestyle!
If you want to be a Filipino TEFL teacher, then you're going to need some TEFL certification or TEFL teaching certificate. Here's my other article on TEFL Certification for Filipinos.
What are the different English tests and certifications?
Firstly, there's a big difference between English Certificates and English Teaching Certificates.
IELTS, TOEFL, FCE, CAE, PET …and more, are all English Certificates.
TEFL – Teaching of English as a Foreign Language – English Teaching Certificate
Being Filipino – we are considered as non-native speakers, so when we decide to move abroad to study or migrate permanently, then we may have to take one of these two English language tests, recognized worldwide: International English Language Test System (IELTS) or Test of English as a Foreign Language (TOEFL).
IELTS is run by the British Council, therefore, uses British English
It is an English language test that is used for educational, immigration and occupational purposes mostly if you decide to go to UK or Australia.
TOEFL is administered by a USA-based organization and therefore uses American English
It is for testing your ability to communicate in English in specifically academic, university and classroom-based settings. Mostly useful for migrating to the USA or Canada.
"But can I teach English abroad and be a Filipino TEFL teacher if I pass TOEFL or IELTS?"
The ANSWER is NO. You need to get a TEFL teaching certificate; then you can be a Filipino TEFL teacher and start teaching English abroad! 
A TEFL course and TEFL certificate are not just tests; they are teaching certifications that you must have to teach English as a foreign language. Usually, you need to pass 120 to 140 hours of training: TEFL (Teaching English as a Foreign Language).
Whether you want to teach a long or short term, the best preparation for becoming a Filipino TEFL teacher is a 140 hour online TEFL course. The TEFL Online Certificate is perfect and gives you all the skills and knowledge you need to start teaching!
Okay, enough with the formalities… So here are the details you've been waiting for – How to become a Filipino TEFL teacher like me and start your new life, with an amazing source of income while traveling – Teaching English abroad!
TEFL Course in the Philippines – How can we get it even though we're not "NATIVE SPEAKERS"?
Finding a TEFL course in the Philippines is the same as finding a TEFL course anywhere else in the world. All you need is an online TEFL course. This has nothing to do with your Nationality! Filipinos are well-known across the world as some of the best TEFL English teachers next to Native English speakers (British, American, Canadian, Australian), as English is one of our two first languages, so Filipino TEFL teachers gain a lot of respect, particularly in other countries in Asia. If you're having issues with your grammar, then check out Grammarly, a website that could help you proofread your work or your lesson plan!
My Personal Story: How I became a Filipino TEFL Teacher
When I was new in Vietnam, I didn't know that I could teach English abroad as a TEFL teacher and I didn't know how to do it, but luckily Jon and his friends had already prepared for this even before moving to Asia – he already had his TEFL certificate before leaving the UK. That was the first time I had ever heard or learned anything about the TEFL certification. So I did my research online for companies offering the TEFL certification course for Non-Native speakers like me – There are a lot, and there are even three big companies in the Philippines, which are all OVERPRICED, but if you don't know about this then you might just end up paying these greedy companies!
I took an online TEFL course with a British company and paid around $400 for my 120 hour TEFL certification –  I was just excited to get certified to start teaching. But I can tell you; this is one of the best investments, you'll ever make. The TEFL course was expensive but worth it! 
Now I know that there are cheaper online TEFL courses available which are just as good. 

We have also partnered with Let's TEFL to offer accredited 120-hour TEFL courses with a 60% discount. Just use our exclusive promo code – TWOMONKEYS. Let's TEFL courses include free certificate shipping!
You need to pay with credit card or debit card with VISA or MASTERCARD but if you don't have it, let me know, and I can connect you to the management to make an alternative payment of the Western Union or something like that (my email is [email protected])
The online TEFL course is really helpful and very thorough – it was quite hard for me as my Middle Eastern lifestyle had already slightly damaged my English! During the TEFL course, you'll learn different skills from lesson planning, how to handle different classes – large class, individual, children and even Business English! I took the 120-hour course, which is perfect for a new teacher and you can gain informal volunteer teaching experience before you and while you apply for your first jobs to give you valuable experience in the classroom.
When you decide to start your online TEFL course, if you need any help – questions, motivation or whatever is on your mind – just email me here or join our Exclusive Facebook community group. There are a lot of people there taking the same course!
Finding TEFL teaching jobs for Filipinos 
Even to teach English abroad sounds like one of the best jobs while traveling, each country has different rules – you have to consider the visa requirements, the pay, applicant requirements and the salary. In South-East Asia, the best places to teach are in Vietnam. The pay for TEFL teachers is high ($25 per hour), and the living costs are very low. They also think very highly of Filipino TEFL teachers. Another option is the Middle East, but you'll be required to get a work permit, and it's more complicated – it's not backpacking there you know! South America is another great place to be – Jon, and I have been teaching English in Arequipa, Peru for six months now and it's awesome, but the pay is very low compared to Colombia, Brazil, and Chile, where living costs are higher anyway.
Now for applications, if you apply for TEFL jobs online because you want to teach English abroad – some institutes might reject you, especially when they state "Native Speakers" in their candidate requirements – don't worry, they just need 'educating!' I learned this the hard way while in Vietnam. So, what's the technique for getting TEFL jobs? Go to the country, enjoy your backpacking and if you feel like staying in that city longer then look for English institutes and simply WALK-IN with your TEACHING CV, CREDENTIALS, and your formal clothes. NEVER refer to yourself as a 'non-native speaker!' Almost everyone in the Philippines is raised with TWO OFFICIAL LANGUAGES – English and Tagalog. This is the truth, and this is what you must tell them. It's that simple!
(Before embarking on your journey, bring at least two sets of formal clothes which you can use for situations like this!)
Visas for Filipino TEFL teachers
This is one of the most common questions I get asked – "What about visas for us Filipinos?"
Indeed, as a Filipino passport holder we might have more limitations when going to Western countries, but since you're a backpacker and planning to teach English abroad, then you probably won't go to expensive, English-speaking countries!
The ideal place for you to start is Asia and South America where most of the countries are visa-free for us Filipinos! Golden Rule: NEVER OVERSTAY! Shame on you and shame for our country! People who overstay give us a bad reputation and make it harder for us to get visas. Don't do this, please
So what do you need to do, then? I can only tell you specifically about our experiences in Vietnam, India, and Peru, as these are the places where we have experience teaching and volunteering, but the rule is the same everywhere – Check before you go! 
If you go to any country, there are always different types of Visa – Visa On Arrival (just a stamp), Tourist Visa (can be up to 3 months), Business Visa (For Consultants and if you want to do business while there for short time) and Work Visa (You want to work there officially in a permanent job). It would be wrong for me to try to tell you exact rules, as they are always subject to change.
In Vietnam, I was initially using the free visa on arrival, but I got tired of doing visa runs, especially when I decided that I would be teaching. Once I decided to work as a Filipino TEFL teacher, we visited a Travel agency where we could process a 3 to 6 months BUSINESS VISA, allowing me to work as a "consultant" and get paid. Since we didn't work full time and we were freelancers, institutions accepted and hired us. One company even offered me a full-time position with a Work Visa, but we already had plans to head to India instead.
Jon and I went to India to study Yoga and to do some volunteer TEFL teaching. We applied for our visas in Hanoi and were able to get a 6 month Tourist Visa for $80 (Jon paid more, we Filipinos are luckier with some visas!) I don't know the rules when it comes to teaching in India and I don't think they need you to teach them as most are fluent like us! But I'm giving you this experience just in case you want to go to India to VOLUNTEER! Just get the six months, multiple-entry visa! Volunteer TEFL teaching is very rewarding and is great work experience too.
Now in Peru, I've read blog articles of some Pinoys saying that you can only get a maximum of 3 months, nope! You can get 183 days VISA ON ARRIVAL, but you have to tell the Immigration Official why you need that amount of time – we told them we are volunteering and wanted to learn Spanish (which was true!). You can also read my personal visa experiences here to over 60 countries.
Now, if you want to work on a long-term contract, then you have to apply for a "Carne de Extranero" (residential visa) so an Institute can hire you and pay you a salary, but if you just want to be a freelance TEFL teacher, then your tourist visa is fine as you don't have to pay any taxes if you stay in the country for less than 6 months – of course, you will leave before your visa expires!
INCOME – How much do Filipino TEFL teachers earn? 
The pay for TEFL teachers differs greatly based on the country and the institution where you are working. In Vietnam, I started getting paid $17 / class (which was 90 mins) then soon after I jumped up to $25/ hour! If you're a freelancer, you need to know how to balance your schedule! Here in Peru, we got paid for only $11/ hour in the institute, but up to $500/ month for private TEFL classes.
You need to consider the cost of living in any country and also about the taxes. You also need to know how they will pay you – whether you get paid cash after the class, fixed monthly salary or just depending on your agreement. Jon and I were paid mostly in cash in Vietnam and through our local Peruvian bank account Peru.
If you need tips on how to manage your finances while backpacking especially if you have a Filipino passport, then read our other article.
SUMMARY OF PREPARATIONS: Things you need to do
1. Plan your route/itinerary and when you feel like staying in one place then apply for a volunteering gig or a paid teaching job.
2. INVEST in your TEFL Certificate – we highly suggest you get the 120 hours, plus volunteer teaching experience, which will make you much more attractive to employers. Here's the company we recommend, Let's TEFL, with 60% off your 120 hours online TEFL course here with Promo Code TWOMONKEYS.
3. Practice Teaching your siblings or friends to prepare yourself for the classroom limelight! Practice different sign languages and miming too – oh, you don't need to be fluent in Spanish or fluent in another language to teach English in that country. It may be helpful but don't stress yourself! You can read our article here on how you can become a good English teacher.
4. Don't forget to pack formal teaching clothes in your backpack – for ladies, just two dress or different top and nice skirt; and for men – trousers, long sleeves and two shirts with collars.
5. Documents – if you plan to get a work visa eventually then bring your original diploma with red ribbon from DFA (scan it to get a digital copy) and other documents.
6. PREPARE YOUR TEACHING CV – I can send you a copy of what our teaching CV looks like, just email me when you've passed the TEFL course. Your Teaching CV doesn't need the information of all your past work experience, but you should mention your most relevant jobs and skills and explain why they would help in the classroom.
7. GATHER CONTACTS before you go – If you're a follower of Two Monkeys Travel Facebook page or a member of our group then you already know that I will help you with that!
8.  If you have questions about TEFL certification, course, teaching opportunities, etc., please read this FAQ page before you send an email to me.
ENJOY your NEW SUSTAINABLE LIFE ON THE ROAD! There is a different source of income to – check out our list of 10 Practical Travel Jobs. We also offer travel coaching – I can help you find teaching opportunities, plan your itinerary and any long-term sustainable travel-related issues you have (You'll also help us with our travel fund)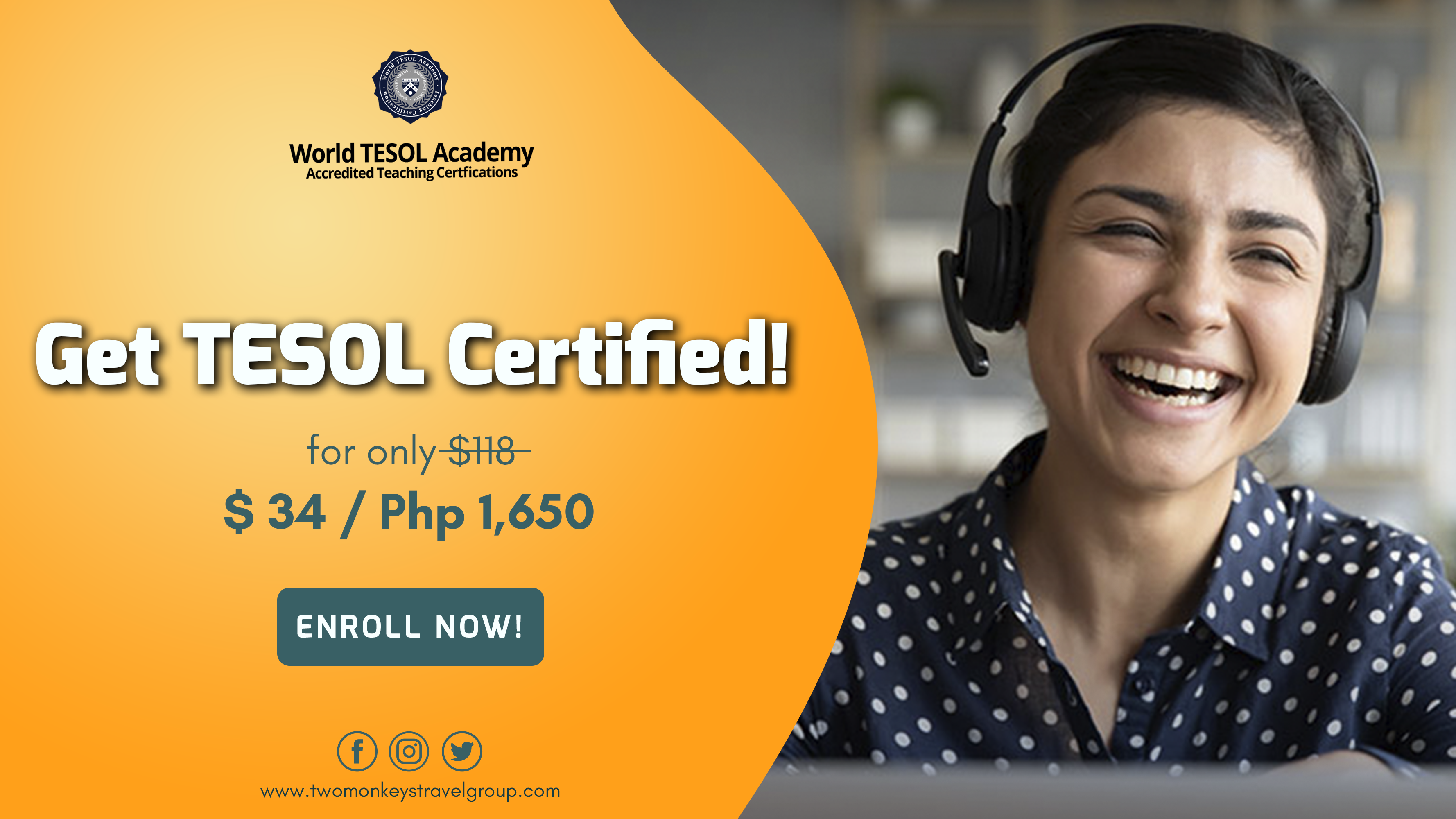 We have also partnered with World Tesol Academy to provide an 
online TESOL certification course
for the lowest price you will find anywhere – $34 USD! We recognized how badly affected many people around the world have been by the Covid / Coronavirus situation. So, we spent a lot of time discussing with this great company how they could come up with an affordable solution to help people afford the opportunities that an online TEFL / TESOL certification can bring.
World TESOL Academy Accreditation
World TESOL Academy courses are now accredited by not just one but two internationally recognized accreditation bodies. Once you complete your course, you will have an education certificate that's accredited by both Accredit at and CPD.
FREQUENTLY ASKED QUESTIONS about TEFL Courses
1. What is TEFL Internship? Is it worth it?
A TEFL internship is an amazing experience where you get your TEFL training, take part in TEFL orientation workshops, and then work as a paid intern for about six months with a language school. The basic difference between a regular job and a 'paid' internship position is that most regular employers today prefer to hire EFL teachers who also hold a bachelor's degree. You do not require a degree to be an intern. It is an 'earn as you learn' situation. An internship pays a bit less than a regular position, but it adds significant value to your resume as well as loads of real life TEFL experience. So, instead of a degree, it is the perfect stepping stone to start your TEFL career.
The only problem is that with a passport from the Philippines, you are not eligible for our internship programs except for the volunteer Africa internship. The only reason we can offer internships only to holders of the specified passports is due to work permit and visa-related issues. The schools that hire our interns directly from overseas arrange for work permits and documents, and so we have to comply with their requirements. I am sorry about that.
2.  How can I also teach English in Vietnam if I have a Philippines passport?
If you are traveling to Vietnam with a passport from the Philippines, your best option would be to get your 120 hour TEFL certification, then apply in person once you are there. The school that hires you will help arrange for work permits and visas.
To help you get an edge over other applicants, Let's TEFL will provide you with:
Official Letter of Recommendation with detailed breakdown of completed course modules
Genuine advice & feedback on building your TEFL Resume and Cover Letter
Tips on how to ace your TEFL job interviews
We have students from all over the world, and our graduates are currently teaching in over 30 countries; if you are determined, and focused on your goal, I am sure you can make it happen.
3. How long does it take to complete a Let's TEFL course?
Our courses are carefully designed, peer-reviewed and tested to ensure strict standards of quality are met. Our 120-hour course will take approximately 120 hours to complete! This includes reading each section thoroughly, completing all the exercises, quizzes and tests, keeping track of new vocabulary and definitions, and achieving a passing mark. Depending on individual learning and study habits, you may take a little less or a little more time. And remember, our dedicated tutors are always available to consult with, make suggestions, help explain difficult sections, and guide you throughout your course!
4. Can I apply for a work permit or work visa in foreign countries with Let's TEFL's certificate?
Yes, you can! Our internationally recognized certificates can be used to apply in countries where a successful, accredited course completion is required! Please note, most countries require a minimum of 100 hours of TEFL training to apply for a working visa. If you are planning on applying to a country with these requirements, you will need to complete our 120 Hour Professional Course.
5. Does the TEFL certificate expire?
The certificate never expires. However, the longer you have been away from teaching or learning, the less attractive it might be for employers. If you've been away from teaching and TEFL for a while, taking a course to refresh your knowledge would be a good idea.
6. Does the online TEFL Certificate specifically state that it is an online course?
No, our certificate simply states that you have completed XXX Hours of TEFL training.
7. I don't have a degree; is teaching English an option for me? 
Having a degree is an obvious asset, but not necessary. Some countries will accept teachers who have only completed a 120 Hour TEFL certificate and a high school diploma.
8. Do I have to be a native English speaker to benefit from a TEFL course? 
No, you do not need to be a native speaker to teach English. In fact, there are more non-native TEFL instructors around the world than native ones! A TEFL course will provide additional benefits to non-native speakers through the comprehensive Grammar and Functions sections in some of our courses. While many employers prefer native English speakers, completing a Let's TEFL course demonstrates professional commitment and growth, which are highly valued in the TEFL industry.
9. Do I need to know grammar inside out? 
It helps to have a strong understanding of grammar and concepts, but it is not essential. In our longer courses, a comprehensive grammar module is incorporated in your learning. It will give you all the knowledge you need to confidently work with grammar lessons in an EFL classroom.
10. How long do I have to complete a course? 
Students have 90 days to complete a course. This proves ample time for the majority of students taking a Let's TEFL course. However, if students require more time to complete a course, there are course extension options available. Please contact us for more details.
11. When will I get my certificate? 
Certificates are sent within five working days after the course has been finished, although most will be sent within 48 hours.
Don't forget, your first step to becoming a Filipino TEFL English Teacher is to learn how to teach English and to get your certification!
Already know how to get started teaching English abroad? Just want to take the online TEFL course? OK! Then get 60% off your 120 hours online TEFL course here with Promo Code TWOMONKEYS.
Please note that we have been affiliated with Let's TEFL and promoting for a year now!
IF YOU HAVE MORE QUESTIONS ABOUT TEACHING ENGLISH ABROAD, I'D BE HAPPY TO DO A SKYPE CALL, MORE DETAILS HERE.

Are you on Pinterest? Pin these!