How to Teach English in Laos – Guide to Teaching in Vientiane and other small cities!
Teach English in Laos! Discover the fun of teaching in this enchanting Southeast Asian country. Learn more about how to teach English in Laos.
Lesser known than its neighboring Southeast Asian countries, Laos is a nation of laid back people, which boasts of natural beauty, and beautiful mountains perfect for hiking and nature trip.
Learn more about teaching English abroad, read our article about the Introduction to teaching English.
We have also partnered with Let's TEFL to offer accredited 120-hour TEFL courses with a 60% discount. Just use our exclusive promo code – TWOMONKEYS. Let's TEFL courses include free certificate shipping!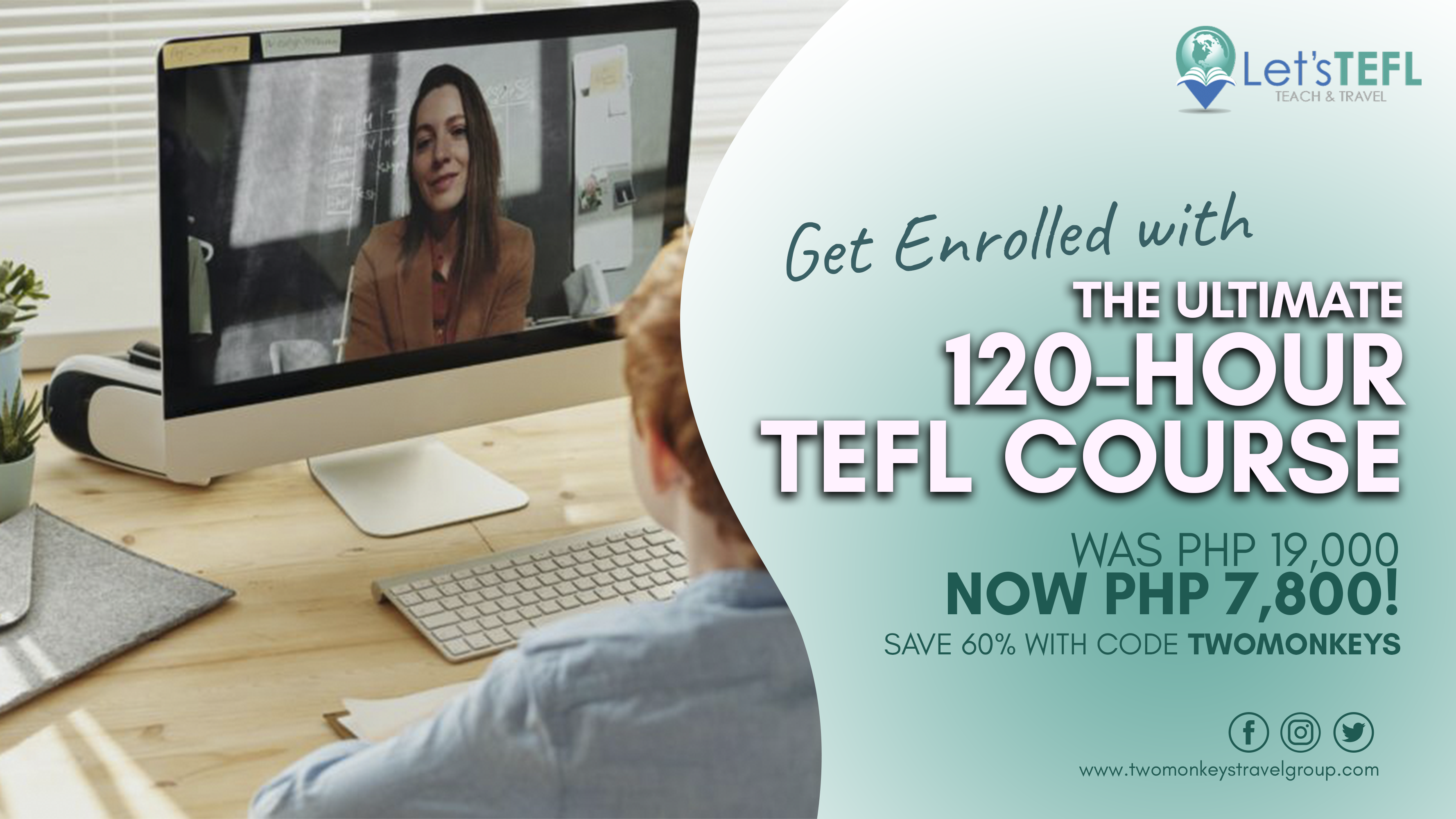 Culture of Laos
Theravada Buddhism is the main influence in culture.
In all of Southeast Asia, they are considered to be one of the countries with Indic culture.
Sticky rice is a staple food that has cultural and religious significance.
There is an emphasis on respect for elders, religious images, and authority. They adopt the Buddhist concepts of dharma (personal moral duty) and muan (happy contentment).
They also use cognates that refer to each other as family (sister, brother, uncle, aunt) without having actual family ties. Friendships are classified into two categories, moo linh (play friends; acquaintances) and moo Tai (die, friends; close friends). It is considered rude for moo linh to show up unannounced for extended stays and to share personal possessions. It is considered polite to have personal contact, with the means of the Internet considered Western and foreign.
Cost of Living for English Teachers in Laos
Accommodation: You can rent an apartment for $300 to $700 a month if you're in the city center, like the Luang Prabang, jewel of Laos and a UNESCO World Heritage site, and also in Vientiane, the capital city of Laos. Expect to shell out $180 to $400 a month if you're outside the city center. Laos is a very cheap place to live for TEFL English teachers
Food: Your average expense if you like local food and not splurge too much on expensive international dishes would be an average of $350 a month.
Transportation: Both Luang Prabang and Vientiane are walkable, but if you're riding tuk-tuks and buses, it would be $2.50 to$3.50 for short distances within the city, $9 to $25 for minibus or sleeper bus for long rides between major cities. Overall your average expenses on transportation for a month would be $35 to $75.
Entertainment: Most entertainment offered in Laos are cheap, ranging from $2 for entrances to hiking trails, $5 for museums, $100 for a 2-day homestay with meals on a 2-day trek, $60 a day for motorbike rentals.
Your entertainment can cost an average of $40 to $200.
All in all, the total monthly average for the cost of living is $800 to $900.
Pros of Teaching English in Laos
Generally, a safe place where people are honest and friendly

Low prices and low cost of living

Pleasant climate, delicious food

Beautiful countryside and mountains
Cons of Teaching English in Laos
Poor infrastructure

Beach lovers might get disappointed with the lack of beaches

Club goers might find nightlife uninteresting
How to Find English Teaching Jobs in Laos
Focus on cities as most of the English teaching jobs are there, particularly the international schools and TEFL language institutions in the capital city of Vientiane. Getting TEFL certified is also highly recommended to increase your chances of getting hired.
Where to Teach English in Laos
Most TEFL jobs are located in Vientiane, Laos' capital city.
Language Schools
One of them is Vientiane College, offering language courses in English held on weekends, mornings or evenings.
International Schools
Most schools need English teachers at the beginner or primary level.
Moreover, the salary of English teachers ranges from $800 to $1,500 a month.
Requirements for TEFL English Teachers in Laos
Bachelor's degree in any course

TEFL/CELTA certificate needed in international schools

Passport valid for the next six months
How to Process Visa for Laos
Many Asian nationalities can travel to Laos without a visa, provided they have a passport valid for the next six months. Upon arrival at Laos, you will be issued a tourist visa good for 30 days. Furthermore, you may request an extension from the immigration office located in Vientiane.
Most non-Asian travellers require a visa for Laos, which can be processed on arrival by air or land.
For any updates in travel requirements esp. for Filipinos, make sure to check with the Embassy of Laos in Manila or your own country.
Embassy of Lao People's Democratic Republic- Philippines
Address:  34 Lapu-Lapu Street, Magallanes Village
Makati, Metro Manila Philippines
Tel Number: 632- 8335979/8335759
Office hours: 8 am to 4 pm Monday to Friday
Laos: Lifestyle, Customs, Do's and Don'ts
Appearance is very important, do dress conservatively at all times.
Don't touch a person's head.

 

The head is considered sacred, with the left hand and the feet ritually unclean. When around elders or authorities, it is polite for the younger ones to keep their heads slightly bowed or lower to keep up with social status. Pointing with the hands or fingers is insulting, and the feet should always be properly pointed: never at religious images, clergy or elders. You should always remove your shoes before entering a holy building or a home.
The typical Lao greeting is the nop, similar to the greetings in Thailand and Cambodia. Hands are clasped together in a prayerful position, with fingertips below the nose and a slight downward gaze. When greeting, the phrase "Sabaidee" is said, meaning "Good health to you".
Touching religious images is considered offensive. In fact, people usually kneel and nop to monks.
In respect for their monastic vows, women are also not allowed to touch a monk, his robes, or give him anything directly
Don't hug in public and don't show any public display of affection. As a result, they offend the Lao people.
Finally, sharing hotel rooms between Lao nationals and foreigners are not permitted by law.

​
Before you start to teach English in Laos you can get a TEFL certification online first to prove your relevance. But no worries as we have partnered with Let's TEFL to offer accredited 120-hour TEFL courses with a 60% discount. Just use our exclusive promo code – TWOMONKEYS. Let's TEFL courses include free certificate shipping!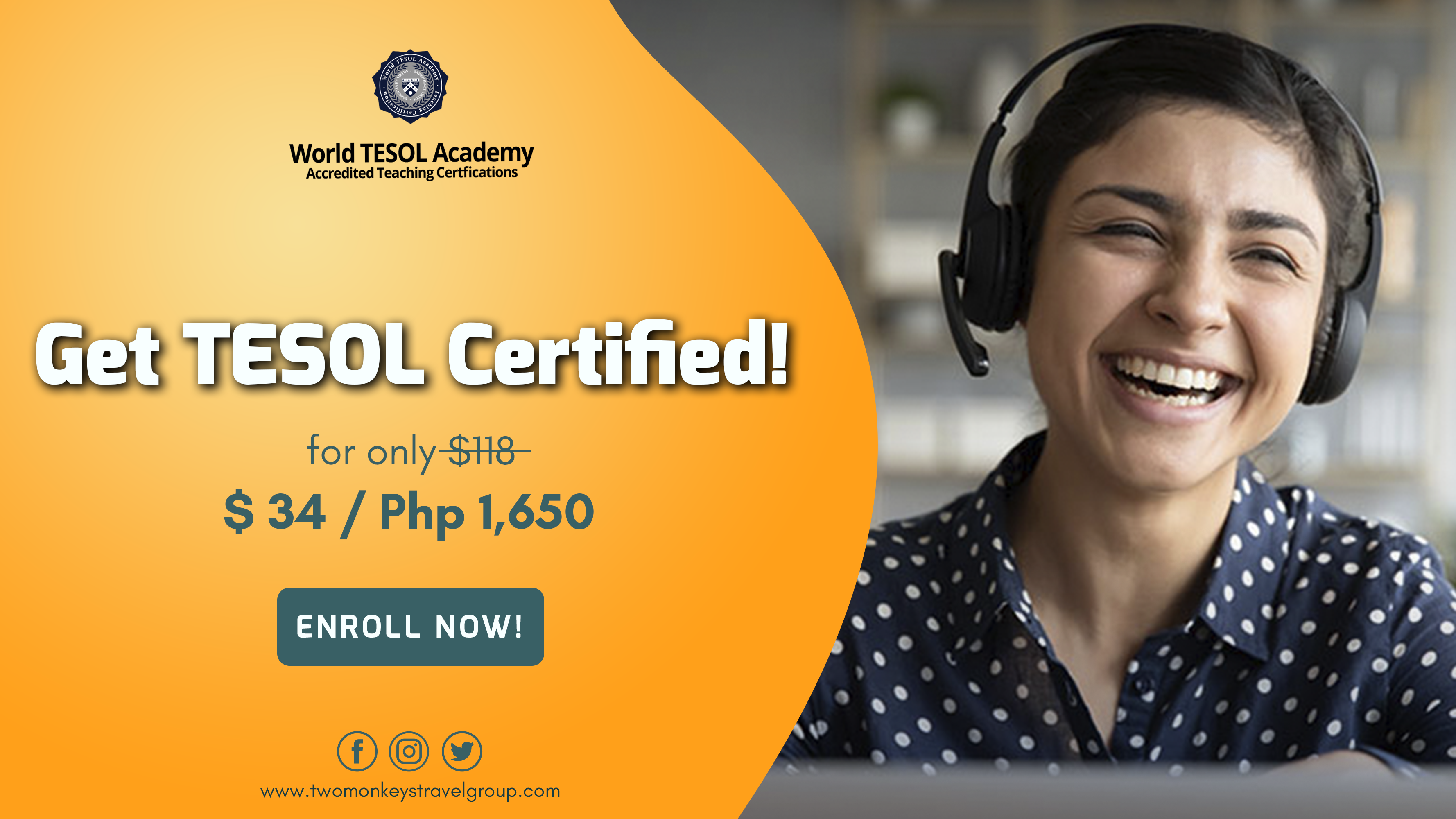 We have also partnered with World Tesol Academy to provide an 
online TESOL certification course
for the lowest price you will find anywhere – $34 USD! We recognised how badly affected many people around the world have been by the Covid / Coronavirus situation. So, we spent a lot of time discussing with this great company how they could come up with an affordable solution to help people afford the opportunities that an online TEFL / TESOL certification can bring.

Are you on Pinterest? Pin these!