How to Teach English in Cambodia – Experience the Fun of Teaching!
Want to teach English? Why not try it in Cambodia! If you will teach English in Cambodia, a lot of great opportunities await you in one of the most culturally-rich countries in Southeast Asia.
Cambodia is bordered by the Gulf of Thailand and is situated between Thailand, Vietnam, and Laos. Like these southeast Asian neighbors, Cambodia is peopled mostly by Buddhists.  Their official language is called Khmer and follows a societal hierarchy based on 'rank'. Parents are superior to children, and so are teachers, managers and anyone who holds a position.
When Cambodians ask personal questions, it is not simply because they are too curious, but because they need to adapt their communication style with you based on your 'rank'. Not losing "face' or their sense of dignity and honor particularly in acts seen in public is very important to Cambodians. Act conservatively around them, never criticize them in public, and never embarrass them intentionally or unintentionally. Do not ever be the cause for them to lose 'face'.
Learn more about teaching English abroad, read our article about the Introduction to teaching English.
We have also partnered with Let's TEFL to offer accredited 120-hour TEFL courses with a 60% discount. Just use our exclusive promo code – TWOMONKEYS. Let's TEFL courses include free certificate shipping!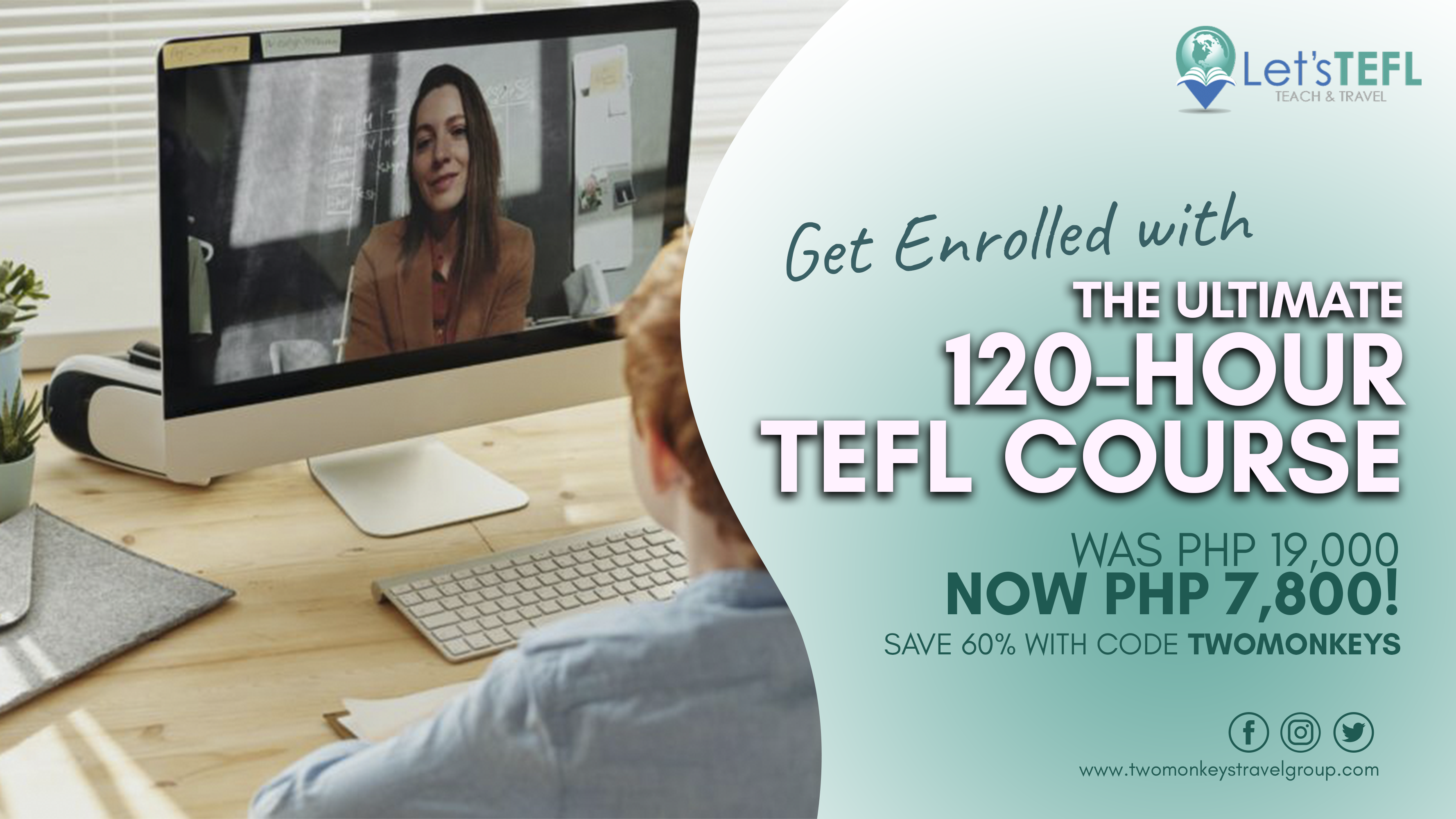 Salary
Average of  $10 – $12 an hour, or $1000-$2000 a month.
Cost of Living in Cambodia
Accommodation:  You can find a studio for 100 USD a month, and an apartment with one to two bedrooms from 200 USD to 500 USD a month. Bigger houses can be rented ranging between 350 USD to 550 USD. You'll pay less if you stay in rural areas.
Food/Transportation/Entertainment:  If you live in the city, be prepared to spend an average of 200 USD  a week on food, transportation, and entertainment.
If you live frugally, you can live on 500 USD a month, more so if you live in rural areas where these items are much cheaper, and where there's not much entertainment to spend on.
Pros of Working in Cambodia
Visa is easy to process.

Low cost of living compared to other countries

Friendly locals

More job opportunities for English teachers

Warm climate, rich natural environment, rich heritage.
Cons of Working in Cambodia
Substandard medical facilities, poor emergency medical care

Hazardous streets with reckless drivers
Tap water not potable
How to Find Jobs in Cambodia
It's easier to find jobs in Cambodia if you are already in the country. However, if you want to secure a job in advance, you can refer to job listing sites such as CamHR and Bong Thom Classifieds. You can check the newspapers printed in English as well for job listings.
Requirements for Filipino Teachers in Cambodia
There is such a high demand for English teachers in Cambodia that you don't need to worry much about their qualifications.  If you are an undergraduate, you can still teach in Cambodia. However, for most university positions, a degree would be required. If you do have a degree, teaching experience or a TEFL certificate, it will just boost your chances of earning a much higher salary than those who are not TEFL certified.
Where to Teach in Cambodia
Private Schools
They don't usually hire foreign teachers in their public schools, so you'll find yourself employed in private schools. There are also night time classes for adults. Jobs are usually located in the capital city of Phnom Penh.
How to Process Your Visa for Cambodia
Requirements for processing a Cambodian Visa:
A passport valid for three to six months with at least one blank page

A passport-size photo
You can get a visa on arrival as a Filipino, with no prior preparations on your part as your paperwork will be given on the plane.
Another option is to get it in advance at the nearest Cambodian Embassy in your home country. In the Philippines, you can go to this address:
Embassy of Cambodia
Unit 7A-B, Country Space 1 Building,
Senator Gil Puyat Avenue, Makati 1200 Metro Manila
There are two kinds of visa, and choosing one kind depends on your purpose:
Tourist Visa – costs $30, valid for 30 days, and for single entry only, which can be extended to another 30 days at a cost of $45. For Filipinos, you can process your visa on arrival. Be sure to have a return ticket, or get a fully refundable ticket at the airport that you can cancel.
Business or Ordinary Visa- if you intend to stay in Cambodia longer than 60 days, choose the ordinary visa.

 

It costs $30, valid for 30 days as well, but you can extend it indefinitely. You can extend it to 1, 3, 6 up to 12 months. It would be better to extend your stay for 6 to 12 months to gain multiple-entry advantage, that is,

 

if you extend it for 1 to 5 months only you can only use it as a single entry visa, requiring you to get a new visa if you happen to take a vacation in Vietnam and come back to Cambodia.
Aside from the ordinary or business visa, you need a work permit to be employed in Cambodia, although many employers do not really require it. However, recent crackdowns from the government might have made the rules stricter for both the employees and employers.
Cambodia: Lifestyles, Customs and Do's and Don'ts
Here are some of the  things to remember  when you're in Cambodia:
Greet with a bow and folded hands as if in prayer

Respond with the same greeting as you were given

Address a man with

 

'Lok'

 

before his first name and address a woman 'Lok Srey'

 

followed with her name.

Give gifts using both hands.

White wrapping paper is for mourning.

Gifts are not opened when received.

Birthdays are not a big deal, but they do give gifts to Cambodian New year.

Follow hierarchy even in dining, wait for the host to eat before you do, sit only when the host leads you where to sit, and wait for the eldest or the host to begin to eat before you do.

Do not discuss business in social gatherings.

Punctuality is very important, tardiness is a sign of disrespect.

Avoid prolonged eye contact, avoid loud conversations or bravado. Boasting, implied or not, is considered bad taste and unethical.
Before you start to teach English in Cambodia you can get a TEFL certification online first to prove your relevance. But no worries as we have partnered with Let's TEFL to offer accredited 120-hour TEFL courses with a 60% discount. Just use our exclusive promo code – TWOMONKEYS. Let's TEFL courses include free certificate shipping!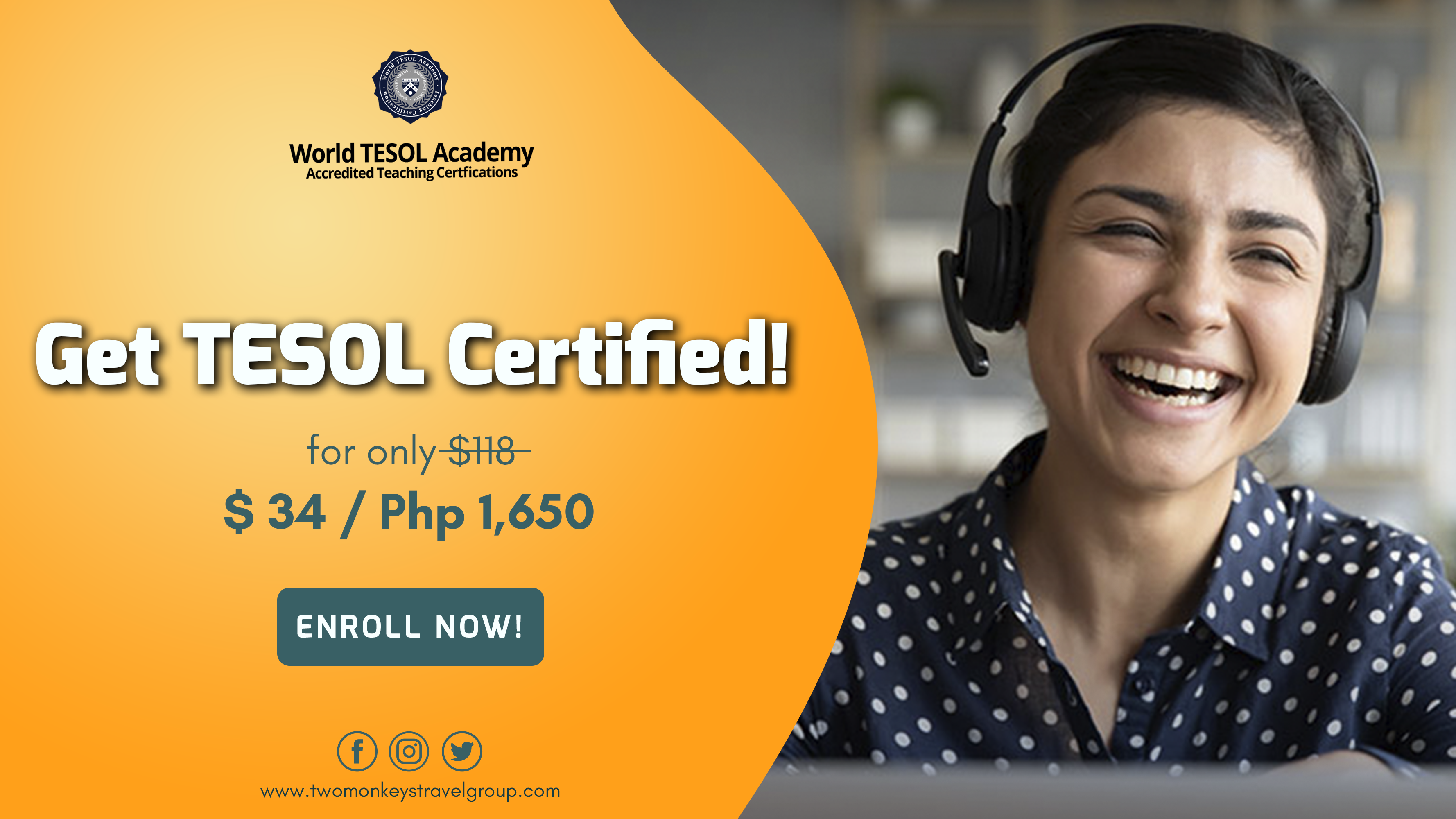 We have also partnered with World Tesol Academy to provide an 
online TESOL certification course
for the lowest price you will find anywhere – $34 USD! We recognised how badly affected many people around the world have been by the Covid / Coronavirus situation. So, we spent a lot of time discussing with this great company how they could come up with an affordable solution to help people afford the opportunities that an online TEFL / TESOL certification can bring.

Are you on Pinterest? Pin these!