How to Teach English Abroad – Get 60% OFF Your TEFL Certification Online
Deciding to teach English abroad was one of the best decisions we ever made. Firstly, it gave us the ability to earn money while experiencing another culture. Equally, it was our first step to supporting our life of travel without ever having to return home to work. The idea of teaching English abroad can be intimidating at first, but this guide to becoming an English teacher overseas will tell you everything you need to know! You can start your adventure with as little as an online TEFL course!
Already know how to get started teaching English abroad? Just want to take the online TEFL course? OK! Then get 60% off your 120 hours online TEFL course here with Promo Code TWOMONKEYS.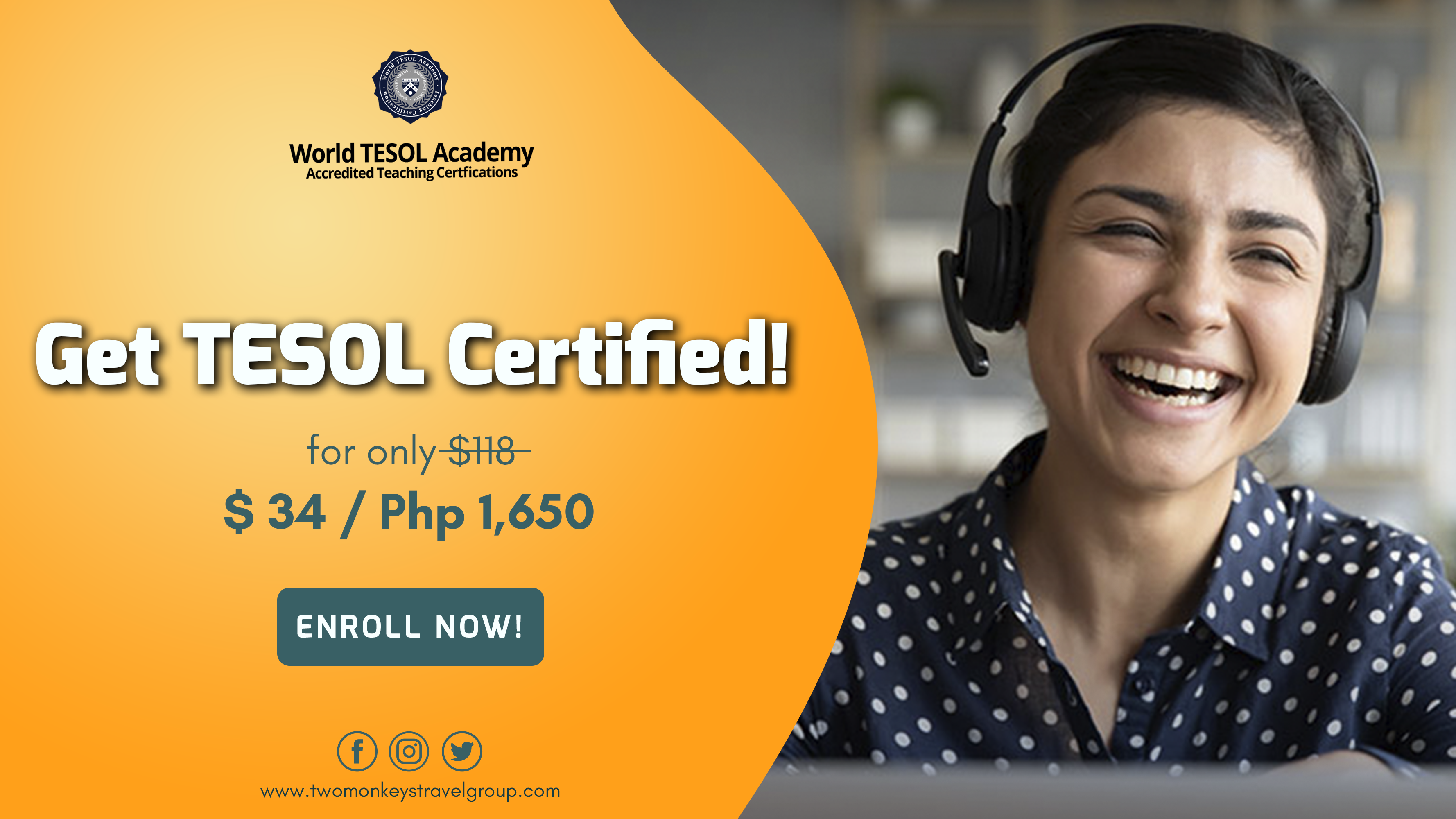 We have also partnered with World Tesol Academy to provide an 
online TESOL certification course
for the lowest price you will find anywhere – $34 USD! We recognised how badly affected many people around the world have been by the Covid / Coronavirus situation. So, we spent a lot of time discussing with this great company how they could come up with an affordable solution to help people afford the opportunities that an online TEFL / TESOL certification can bring.
World TESOL Academy Accreditation
World TESOL Academy courses are now accredited by not just one but two internationally recognized accreditation bodies. Once you complete your course, you will have an education certificate that's accredited by both Accreditat and CPD.
How Can You Teach English Abroad?
Requirements to be an English teacher abroad vary from country to country. However, the minimum you need to get started is a TEFL certification online and a rough plan! (Some countries require a degree, but more on this later.)
We found very early that teaching English abroad is one of the best ways to sustain a life of travel.
One of the main reasons why teaching English abroad is favourable to anyone interested in travelling is that it provides a way for you to experience first-hand a foreign country's culture and immerse yourself in it while exploring new places.
Being an English teacher is also one of the best ways of earning an income to fund long-term travel. To keep it simple, we'll talk about how to prepare to teach English abroad in the following sections.
We also cover how to find English teacher jobs and how to live in various countries as a TEFL teacher in the following articles:
What is TEFL?
Firstly, TEFL is an acronym which stands for Teaching English as a Foreign Language. Furthermore, it is also the most commonly used term to describe the act of teaching English to non-native speakers.
Consequently, this leads us to TEFL Certification, the most widely-used and accepted qualification and certification for teaching English abroad. There are three main ways to become TEFL certified; Classroom TEFL, Online TEFL, and combined Online and classroom.
What are the advantages of Classroom TEFL over Online TEFL courses?
Primarily, the advantage is that the classroom-based TEFL courses are more engaging. Moreover, being taught face-to-face by a teacher and practising with your fellow course-mates can provide some initial English teaching practice.
However, most language centers won't favor a classroom TEFL course over an online TEFL course. So finally, consider that the costs are drastically different as well. 
How Much Does TEFL Certification Cost?
Classroom-based TEFL courses can easily cost from $1000 to $2000 USD, depending on the hours and location. However, a thorough online TEFL course of 120 hours can cost less than $500. I know which one I prefer!
You can get 60% off your 120 hours online TEFL course here with Promo Code TWOMONKEYS.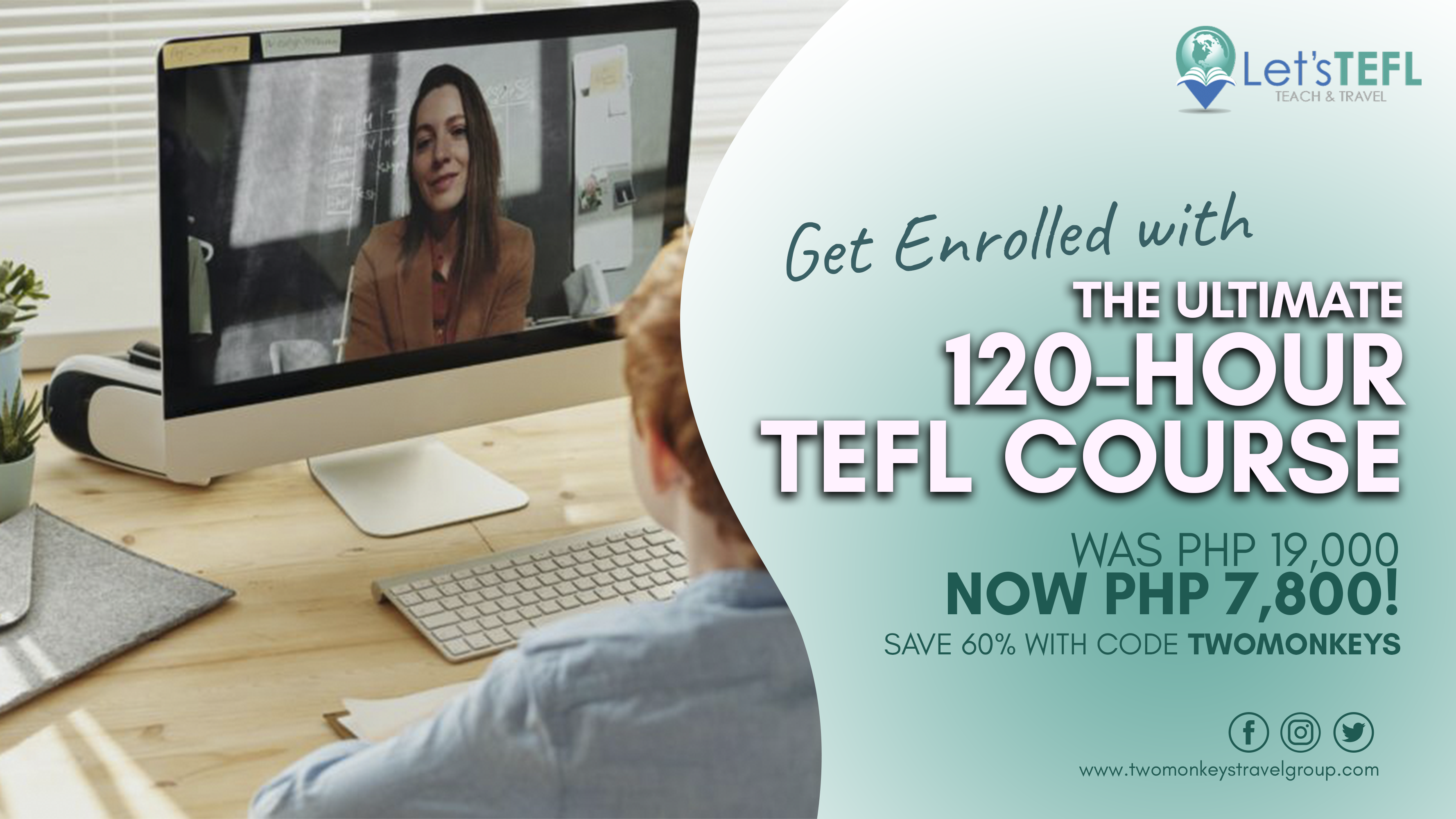 What Are the Requirements to Teach English Abroad?
Be Fluent in the English Language
Most of us can speak English at a "native" level, or at least speak in clear, standard-accent, fluent English. While most schools and English language centers welcome all accents, I know several English teaches who had to "tone down" their native accents for their students to understand them!
"What about non-native English Teachers"
There is always some contention over whether "non-native speakers" of English should be English teachers. This article covers how to teach English regardless of nationality. Frankly, this is a much wider conversation which is discussed in the following articles:
Get a TEFL Certification to Teach English Abroad.
We touched on this above, but the minimum you need here is an online TEFL certification, preferably 120 hours.
Secondly, you will need to find out the requirements of the country you are planning to teach in. Some countries will require you to have a university degree in any subject in order to teach English. On the other hand, other countries and English schools will simply want to see your TEFL certificate and teaching experience.
Is TEFL the Same as TOEFL or IELTS?
No, TEFL is not the same as TOEFL or IELTS!
Remember, there's a difference between being certified in "English competency" and being certified in "teaching English as a foreign language."The first proves you have good verbal and written command of English. Conversely, the latter proves you are qualified and certified to teach English as a foreign language (TEFL).
To elaborate on this, these are the certifications for competency in the English language. The following tests certify you as an effective English user – in speaking, reading, writing and comprehending English. Notice that the only difference between the two is that IELTS is done by face-to-face interview, with written tests. TOEFL is done online or in a few cases where internet is not available, on paper, from any location where TOEFL is accessible.
These are the two common English certifications used around the world:
IELTS (International English Language Test System)
TOEFL (Test of English as a Foreign Language)
If you pass one of these tests, it simply proves you have a good command of the English language. However, it doesn't qualify you to teach English. These tests, however, are required of non-native English speakers when deciding to work abroad or migrate to another country.
Taking an online course like the TEFL ( Teaching English as a Foreign Language) will certify you as an English teacher. A certified skill will help you cover for travel expenses, and at the same time help you earn money to sustain long term travel.
What are the Different Certifications for Teaching English Abroad?
There are 2 TEFL certifications for teaching the English language that you really need to know about – Online TEFL and Classroom TEFL. Find out the differences between these certifications and how they can help you find English teacher jobs abroad:
Online TEFL Certification
Online TEFL is exactly as its name suggests: you complete your TEFL certification course online. This type of learning allows you to study the methodology and art of teaching English at your own convenience. It is by far the cheapest and most convenient way to be an English teacher abroad.
Where and how?
Conveniently, access to the internet and a compatible device to study online are all you need! This is an ideal way of learning how to teach English abroad while keeping your current job. Furthermore, it is the best way to get TEFL certified before traveling to your country of choice. Flexibility and convenience are the most important reasons why so many people choose to get TEFL certified online.
Length of Study
Online TEFL courses usually take 120 to 140 hours. Other courses may be as short as a 40-hour crash course, and some can take 170 hours to 250 hours taken within several weeks. At your own pace, your lessons are divided into several modules. Usually, there is a quiz at the end of each module to evaluate your progress. It's almost the same as the TEFL course discussed in class, although more theoretical in nature.
Cost
Online TEFL courses can cost an average of $500. However, you can often find special offers for online TEFL certification. Make sure that the course is accredited by a recognized organization in TEFL certification.
You can get 60% off your 120 hour online TEFL course here with Promo Code TWOMONKEYS. 
Classroom Based TEFL Certification
What is it?
Enrolling in a classroom-based TEFL course requires you to attend classes to learn techniques teaching English as a foreign language. You will have face-to-face interaction with your tutor and the program will give you time to practice teaching in a classroom setting, usually with your co-trainees as "students".
Where and How to Access:
Many classroom TEFL courses are done on-site, meaning in the country where you want to teach. However, they are available in native speaking countries too so check in your home country. If you are aiming to travel and teach abroad on a long-term basis, going this route will require you to support your travel out-of-pocket initially. Most programs based abroad also offer lessons in their local language to help you settle in.
Length of Study:
An intensive classroom-based TEFL certification takes 4 weeks to complete, or 120 hours of learning with practical application. International participants are required to stay in local accommodations for the whole duration of the program, and accommodation costs are normally included in tuition fees.
Cost:
Classroom TEFL courses abroad can cost up to $2,000. However, some might include housing and other benefits. Some TEFL training centers may cost more, some cost less. The most important factor is ensuring that the course is right for you and that it is properly accredited.
If you decide to train abroad, you should have enough money for the following expenses. Firstly, plan for at least one month of accommodation. Secondly, food and leisure expenses depending on the country you're traveling to. Finally, at least 2 weeks of job hunting time, plus the time between employment and your first paycheck.
To summarise, if you have enough savings to last for 6 weeks to 8 weeks, you should be able to pull it off!
What About CELTA?
CELTA is a higher level of English teaching qualification which can also be completed at home or abroad. We don't cover that here as it is a whole other level of requirements. Moreover, CELTA certification is much more expensive than TEFL (usually around 3 time the price). Finally, it takes about twice as long on average, although this varies.
If you think you are interested in teaching English abroad at a higher level, like in universities, then this is good option to consider.
All About Teaching English as a Foreign Language, or TEFL
How to take the TEFL Course?
As we've already discussed, there is the option to take TEFL in a classroom setting. However, it is more convenient and more affordable to take the TEFL course online.
Where to take it?
If you're doing an online TEFL course then you can take it practically anywhere and at any time convenient for you.
The Importance of a TEFL Certificate in Teaching English Abroad
Most English teacher jobs abroad require TEFL certification before they hire you. While your level of English may be perfect, your employer needs something more tangible than pure speaking skills. There are still some countries where you can teach without any certifications. But even there, certified English teaching skills puts you one step ahead of the others wanting a similar job.
What Will You Learn in an Online TEFL Course
There is a big difference between being a good English speaker and a good English teacher. Knowing how to speak does not necessarily translate to knowing how to teach English and identify problems or opportunities to correct written and spoken English.
In studying an online TEFL course, 4 primary skills will be covered: listening, speaking, reading and writing English.
These are further explored in learning how to:
Plan lessons and activities for learning

Facilitate interaction in a class

Teach the basics of grammar

Apply techniques in correcting learner errors

Practice hands-on teaching experience
What Type Of TEFL English Teacher Do You Want To Be?
When you're planning to teach English abroad, it helps to know what type of English teacher you want to be. You're probably asking what this means exactly.
Well, if your primary goal is to travel a lot and teach English here and there for pocket money or as a volunteer, then you could be called a "backpacker teacher." For you, English teacher jobs abroad are very temporary and a means to fund your travels.
Conversely, if you decide to teach English abroad more permanently, then you could call yourself an expat English teacher. Generally, this applies if you have longer-term work placements and contracts, with more emphasis on work than travel.
Take a look at the table below and find out about the differences between the two. In future, this will help you in goal-setting and in which jobs to apply for.
| | |
| --- | --- |
| Backpacker English Teacher | Expat English Teacher |
| Earns money from teaching English to sustain long term travel | Makes a living out of teaching English abroad to sustain basic life necessities and to support a family back home |
| May have informal or formal contracts, or none at all (receiving cash per class session) | Usually under a specific legal contract for working abroad, with a work visa |
| Travels from one place to another, can work in different academies and centers | Works under contract for a specific school in a specific location |
| A backpacker who can live with his backpack, anywhere | A teacher who needs to get accommodations at or near the facility he is working with. |
| May or may not be a degree-holder, but usually TEFL certified, and can teach in any place, may move from one place to another. | Usually a degree-holder of Education-related courses, as required by formal academies, colleges and universities and usually stays there for the duration of his or her employment contract. |
Non-Native English Speakers as English Teachers
As mentioned earlier, there are always questions around non-native speakers teaching English abroad. Non-native speaker simply refers to anyone who comes from a country where English is not the primary language.
Some institutions hire English teachers with "native speaker" as a requirement. This might put you off a little as "native English speaker" usually refers to American, British, Canadian or Australian, South African.
However, don't allow this to put you off deciding to teach English. Of course, it makes perfect sense that they would ask for native speaker English teachers. Fortunately, many schools are more interested in your English and teaching skills than in your passport. This means that non-native English speakers can indeed be English teachers overseas.
We have discussed the non-native English teachers a lot in the past, particularly in this article about Filipino English teachers. However, all the points in this post relate to all non-native English teachers.
Preparation For Becoming an English Teacher Abroad
How to prepare for this new career in TEFL?
Make a firm decision you really want to teach English abroad and travel.
Identify your goal. Is your goal about travelling? Does it involve travelling and teaching? If so, you have the right guide in your hands. Do you have reservations about making it out there alone? If so, nothing eases those hesitations more than adequate preparation, and a whole lot of guts. Once you get involved in the community of English teachers abroad, you'll find all the support and confidence you could ask for!
Do your paperwork – Passport, Visa, Certifications.
If you really want to teach English abroad and travel, make sure your passport is still valid for 6 months. secure the appropriate visa if needed, and undergo the necessary certifications. A good online TEFL course will back you up in all of your teaching job applications.
Set goals.
Not setting any timeline for meeting your goals as an English teacher is as good as daydreaming about it. Create a timeline, down to the smallest detail. Always have a list of daily tasks. Use your time wisely. Remember, goal-setting is also a form of discipline.
Get Some English Teaching Experience
Getting some experience standing up in front of a class full of students is invaluable! Moreover, making your first teaching English class a voluntary one takes away a lot of pressure.
Volunteering is also a great way of exposing yourself to different cultures and norms. It makes you a well-rounded, well-adjusted, flexible person. Additionally, it also helps you deal with different personalities which will help you greatly as an English teacher. This is a great way to practice your teaching skills, as well as enhance them. Go volunteer as much as you can. Reach put to local organizations and be involved in their activities.
Teach English Online
Teaching English online is another amazing way to get experience as an English teacher and build your confidence. English teaching websites usually pay hourly and the rate of pay varies drastically. We recommend trying it out for yourself because, if nothing else, you'll learn a lot before heading out to teach in person. You may also find some excellent tutors in Sidney to help you with your maths learning.
Check out these articles about teaching English online:
Research the cultural practices, traditions, in the country where you'll be teaching English
Researching is part of your preparation. Keeping yourself well-informed of the do's and don'ts in any particular country can save yourself the unnecessary embarrassment, or even unnecessary inconvenience.
Things to Pack When Travelling Abroad to Teach English
Adequate preparation is key to feeling secure in travelling. Knowing you can take control of potentially stressful scenarios. A minor item that you forgot to pack could ruin the day for you. Meanwhile, forgetting something important could ruin your trip!
Here's a suggested checklist of things to pack:
Important documents
Birth certificate, marriage certificate if applicable, clearances, photo of passport, visa etc. These documents can be essential for an English teacher job application.
Versatile and weather-appropriate wardrobe
Research the general climate in the country you're going to. Does it have four seasons? Make sure you bring weather-appropriate clothing at the time of departure. The rest of your clothes can be bought while you're there. If it's the cold season, then prepare accordingly.
In addition to the weather, bear in mind that you'll need suitable clothing for your English teaching job.
Basic teaching materials
Never assume that the school you're applying for will have all the materials you need for teaching English. Always be prepared. For instance, have some paper, pencils, coloring materials and props for kids on hand just in case.
First aid-essentials
There are a lot of do's and don'ts when it comes to health and safety while travelling. The most basic of them is making sure that you have your own basic first-aid kit. Annoyingly, something simple at home could ruin your English teaching plans abroad. Hence, it's best to always ben prepared! Obviously, consult with your own doctor if you need specific medication for your own conditions. It might be harder to find it in other countries.
Here's a list of the basic first-aid essentials to bring with you while travelling:
Over the counter pain relievers
Paracetamol, ibuprofen, mefenamic acid for minor aches and pains (body pain, fever and headache, toothache)
Anti-allergy medications
I can't stress the importance of having anti-allergy more. These help you minimize swelling that can be dangerous when it gets worse enough to restrict your breathing. You may or may not have allergies, but unknown allergies are more dangerous as you will be going to another country. You might be allergic to certain pollens not existing in your own country.
Basic wound kit
Gauze, bandages, and disinfectants like iodine and alcohol

Bandanna – useful for tourniquets, fractures, and additional support bandage

Torch or small flashlight – for emergency purposes

A small bottle of water

Whistle for emergency purposes
Keep all of these items in one small, handy bag. This may not be a complete list, but at least you have the essentials. You can add a few items of your own that you think will be necessary for you.
In conclusion, taking the great leap of becoming a TEFL English teacher abroad can be daunting. However, if you break it down into small steps and start working towards your goal, you'll be teaching English in Vietnam, Thailand, Colombia, or even China in no time!

Are you on Pinterest? Pin these!