50 Cool Travel Jobs For Filipino Backpackers
The typical life for most Filipinos includes a 9-5 job, which often leads to sudden burnout or rather loss in career passion. And to seek work-life balance, we take some time off to at least breathe out all the negativity at work and breathe in a new perspective by means of travel.
But what if you had awakened your wanderlust and all of a sudden you decided to turn down your run-of-the-mill job and choose to explore the world instead? Rest easy because there's a way to sustain your life even while travelling.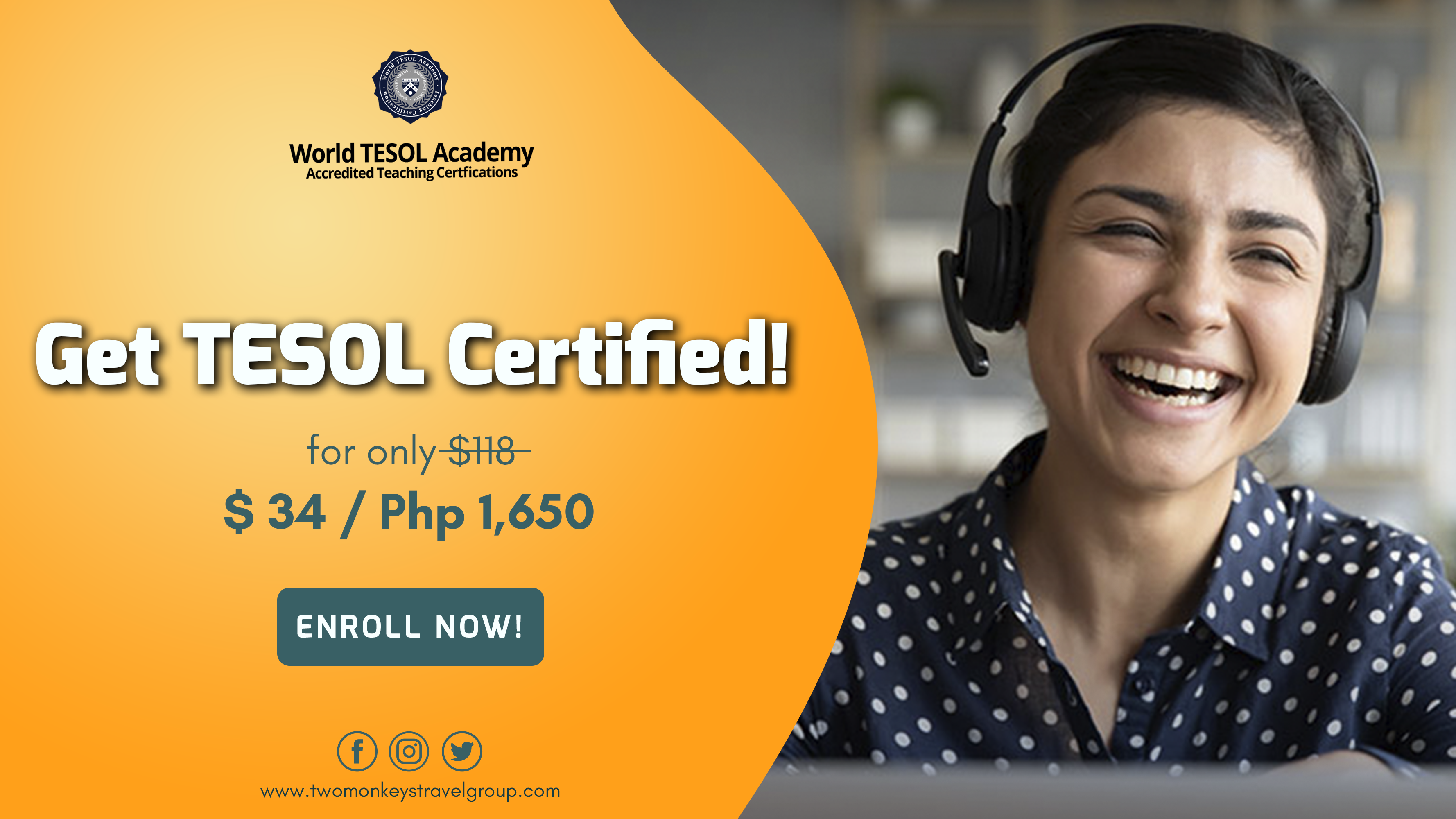 We have also partnered with World Tesol Academy to provide an 
online TESOL certification course
for the lowest price you will find anywhere – $34 USD! We recognised how badly affected many people around the world have been by the Covid / Coronavirus situation. So, we spent a lot of time discussing with this great company how they could come up with an affordable solution to help people afford the opportunities that an online TEFL / TESOL certification can bring.
Here are the 50 Cool Jobs For Filipino Travellers that you can try as you travel the world!
Online:
1. Virtual assistant – First on our list of cool jobs for Filipino Travelers is being a virtual assistant. This involves working for most online businesses with an hourly paid rate which you can expect to be a minimum of $2. Here's our guide on how you can become a Virtual Assistant.
2. Mutual Funds/ the Stock Market Consultant – While this is definitely not up everyone's street and can require careful and constant observation, think about investing some of your funds prior to leaving so that you can receive a small return occasionally while on your travels.
3. Teach English Online – With the investment of a TEFL qualification, many online jobs can be found to support you while travelling. You just need to have a working laptop or tablet with Skype installed and stick to a schedule as you move around and access to reliable WiFi. Teaching English is definitely on our list of cool jobs for Filipino Travellers.
If you're new to TEFL, then also check out our introduction to teaching English article abroad with TEFL!
Other articles you can read:
More TEFL country guides coming soon!
4. Teach Any Language Online  – If by means of travelling you were able to master certain languages, then you can develop and use this skill to earn money while travelling. English is not the sole language that people are interested to acquire. If fluent in French, Mandarin, German, Korean, Italian and more, then you got the perfect job whilst travelling the world! This is absolutely one of the cool jobs for Filipino Travellers. (Related Article: Reasons Why You Should Learn a Foreign Language)
5. Freelance Writer – Although this takes time, effort and perseverance to become a paid skill, travel blogging can really pay off in the end if you are passionate and understand your audience. Having a previous understanding of website building and SEO will help you massively to succeed in this.
Related Article: How to Make Money from Travel Blogging (Monetize your Travel Blog)
6. Proofreader – Work like this does require an excellent level of written English and is usually found through teaching private classes as your students often ask you to check important documents either for work or university. You can charge per page or per word depending on the document.
7. Web developer/Data analysis – We have met so many digital nomads during our time on the road, able to work anywhere at anytime, either for private clients or within a company, taking advantage of this opportunity by travelling the world. Although, this does require regular and reliable access to high-speed Internet and a slower pace of travelling.
8. Graphic Designer – As a graphic designer, you can layout Pinterest graphics and other related visual tasks. While this may not be the easiest work to find, many website owners with online businesses work increasingly with Pinterest advertising and with the right computer software and a bit of creativity, this can be a very simple and enjoyable way to earn a little extra cash.
9. Website Designer – As you travel and stay to different types of accommodation or even restaurants, you can take this opportunity to sell your web design skill and help the establishment too by developing the layout, looks and features of their website.
Manual Labour:
10. Hostel worker – We spent several months living in Costa Rica and found a great way to sustain ourselves while establishing the Two Monkeys website. We volunteered in a beautiful hostel with a pool and lovely accommodation for volunteers and this just required few hours of work per day. Sometimes when working on reception, you can also receive commission for any tours or excursions you book for guests.
11. Bar work (Bartender) – Often this links with hostel volunteering as depending on the hostel, you can usually choose your type of work. The best ways to find casual bar jobs is to go in person to traveller hotspots known for lively nightlife so keep this in mind if you prefer the less-travelled route.
12. Construction Worker – Work like this is often found through sites like Workaway, HelpX and WOOOF with people that need help building Eco-resorts, hostels, retreats or other businesses but they often request specific skilled work.
13. Gardening/agricultural work – As above, this can require previous knowledge or skills depending on the specific project but usually enthusiasm for the end goal and eagerness to get your hands dirty is enough. Work like this can be very rewarding, varied and educational while often also promotes care of the environment.
14. Maintenance and DIY – Any experience in tiling, painting, sanding and repairing furniture/fittings is always appreciated and can be exchanged for a bed and food.
15. Decoration – Many hostels love to accumulate unique artworks and murals from travellers and volunteers passing through. If you have an idea how to add an artistic touch, why not draw a quick sketch to suggest to the manager in exchange for a free stay?
16. House sitter (Home sitting) – A wonderful way to get free accommodation while on the road but be aware that you will be needed for longer period of time so most suited to slow travellers in a couple.
17. Cleaning and maintenance crew – Options available are either you work on a crew ship, a yacht, restaurant or even accommodations as their maintenance crew. Definitely a decent job that doesn't require much of formalities or complicated requirements (like diplomas) but absolutely a great way to generate income whilst travelling.
18. Waiter/Waitress  – This career is definitely ideal while you are traveling the world. Up side of this cool job is the flexible time that it offers, either work on day or night shift, plus, you get to meet interesting people while doing the job. Once mastered, you can absolutely apply skills learned anywhere in the world!
19. Sales Representative – You can also try being a sales representative whereas you present a company's products to local businesses, government agencies, communities or organisations. Income is generated based on commissions, so the more products you sell, the more money you get. All you need is sales talk skills and charisma to win a customer!
20. Host / hostess – If you have this great skill of convincing people and have this charm that pleases everyone, then being a host/hostess can be an option. Aside from meeting lots of new faces (or even gaining new friends) you can absolutely get paid by working in a bar, persuading customers to spend money on drinks or even take them for some dancing. Practically a decent job long as no malicious act is involved.
21. Missionary – Being a missionary on whichever sect can also lead to a free long/short term travel. You get to spread the good news, influence people, and at the same time, get the chance to see the world. Some missionaries are funded by their own sect by means of raising funds for their projects or by the help of the communities they serve.
22. Gate/Ticket – Ready Reserve Agent (Airline) – This job typically requires you to serve customers in the ticketing and gate areas at airport locations. All you have to do is greet the customers, guide and assist them with the ticketing and baggage check-in process. A not so high salary but it comes with great travel privileges. Diploma is required for this kind of job and you must be at least 18 years of age.
23. Photographer – Most travellers definitely has a camera on hand and this can help you with your sustainable travel lifestyle by selling good photos to travel magazines or companies with stock photography collections. Decent way to earn income and definitely one of the cool jobs for Filipino Travellers.
24. Event coordinator – This job requires you to work on events like parties, weddings, trade shows and more. It can be a simple local event or even an extensive out of the country event like festivals. You'll get to meet various customers and vendors across the country and an opportunity to travel to the event locations that is required for the job.
25. International aid worker – Aside from travelling, this wonderful opportunity serves as a big help for the others. With this job, you provide and meet the needs of communities in developing countries. You'll take part in projects for development in different fields like education, sanitation, health, and agriculture, as well as in urban, rural and small business development.
26. Roadie or techie – If a big fan of music/bands, this can be the perfect job for you! It's an absolutely cool job and if you are lucky enough to land that job with a well-known band/artist, you will surely get to visit major cities of every country around the globe! Lightning/sound technician graduates are best suited for this type of job; and of course, experience counts (plus a list of good contacts and luck!)
27. Yacht sailor – If sea, sand and boat sounds good to you, then you can try working as a yacht sailor. Of course, you must know how to at least drive boats. This is a great opportunity for you to sail the world, live a luxurious-like life and even get paid.
28. Fruit-Picking – This type of fun job is common for travellers passing through Australia or New Zealand. Harvest jobs often pay great, especially if it involves big machinery. Payment can either be per kilo of fruit you pick, room, board or combination of the three.
Skilled Services:
29. Yoga teacher – While in India, we spent a month learning yoga in an ashram and left with a qualification to teach classes of our own wherever we are in the world. Not only did we save money during this month, we improved our health and lifestyle and now have a skill to share everywhere in return for much needed cash.
30. Massage therapy – Another skill gained in India, we specialised in Ayurvedic massage which we found to be much in demand. Having a niche really pays as this turned out to be a lifeline when we settled down in Peru having spent all our money in Asia and Europe! (I will be writing a full article soon on how we became certified massage therapists in India)
31. Healing therapies/workshops – Meditation and Tai Chi workshops as well as therapies using techniques like reiki will, depending on the location and type of hostel you are staying in, be really positively received by many travellers that are likely to be on a journey of self- exploration or just open to new ideas.
32. Hairdressing and beauty treatments – Going travelling doesn't have to mean giving up your career and existing skills, use them to your advantage! If you are settled in one place for a little while or even staying in hostels, you'll be surprised at how many other travellers will take you up on a much-needed cheap haircut, facial or manicure/pedicure.
33. Au pair – If you have proven experience with children and a clean record, this is a very popular and common way of living abroad, learning a culture and language with the benefits of provided accommodation, food and sometimes even transport. Au Pair is absolutely one of the perfect and cool jobs for Filipino travellers.
34. Tour-guiding – With confidence and a good level of English, many tour companies would appreciate your help in leading groups around a city, museum or subject-specific activity. A decent way to earn cash whilst enjoying, definitely a cool job for Filipino travellers.
35. Street Performer – If you're a natural musician, singer or dancer, bring your instruments with you on your travels and put on performances wherever you are. Just a few appreciative audience members can be enough to pay your hostel for the night and if not, it's great practice and also a way to make friends.
36. Surf instructor – This is a very place, skill and equipment dependent job but if you're travelling with your board, a cheap one-on- one lesson would be snapped up by many amateurs. In many surf towns it's also easy to buy or rent boards really cheaply if you want to to invest between friends for a month or two stint in one place.
37. Scuba instructor – Why not make your passion you livelihood? With a qualification like a PADI Open Water Scuba instructor course you have the basics required to not only do something you love for free but actually be paid for sharing it with others too.
38. Dance and fitness class instructor – It's a well-known fact that a fitness routine is hard to keep up while travelling. Why not ask your hostel or accommodation if you can host an aerobics, Pilates, Zumba or even salsa class, whatever your skill! You can even offer this for a suggested donation to encourage more participants to join as of course other travellers will be on a budget too.
39. Private English classes/ TEFL teaching – Our best-paid English teaching work was private classes in Hanoi, Vietnam where we both also taught part-time in various language institutes, schools, and kindergartens. These formal jobs supplied us with a consistent, reliable wage as well as a necessary working visa while our private classes provided money to save for our upcoming trips. It's true that native speakers will always be paid more but if you prove yourself to a few loyal private students you can easily overcome that obstacle. (Here's my guide on how you can become a TEFL teacher (even if you're Pinoy!)!)
40. Graphic design – A much sought after skill by all kinds of businesses you might come across along the way, from hostels to Eco-farms if you have the necessary Adobe suite skills you can exchange a new branding design for anything you might want in return, or be paid while also expanding your portfolio.
41. Interpreter/translator –   If you are fluent in at least two languages, then you might use this skill as you travel the world. Interpreters can work either via face to face or in a classroom set up, via phone, video conference or even just being online on the web.
42. Act in Films & Television Overseas  – If you got that so-called "pleasing personality" and able to act in front of the camera, then why not go for an acting career? You can also try joining reality TV shows, and who knows, it can be your most awaited big break! Oh and almost forgot to mention! Did you know that I won in a reality TV show in Vietnam? The prize includes free travel around Vietnam (and eventually Asia) covered by the network whilst doing crazy fun stuff like eating more exotic food!!
43. Travelling Chef – Have you watched the movie "Chef" starring Jon Favreau? It's a lip-smacking and fun journey about a father launching a food-truck business along with his son and a friend whereas they travel to different states offering their unique and best tasting menu to the crowd. Travelling whilst cooking  and earning definitely sounds fun!
44. Traveling Nurse – Your career as a registered nurse and a passion for traveling can be a good combo for a sustainable travel lifestyle. As a traveling nurse, you get to move from various hospital, country to country and serve from one temporary position to another.
45. Destination wedding photographer – Chance of traveling from one location to another is very high since every couple demands for different settings like beaches, mountains, green fields and more. All you need is a good eye for photography, an investment on good quality camera and accessories and voila! Getting paid while living the good life of a traveler.
Related article: Filipinos, check these TESDA Online Courses For Free!
Making and selling:
46.  Jewellery Maker – While this is a very saturated market with many local crafts already offered in each place you go, travellers will always love to collect mementos and gifts. Remember that the more unique and personal your craft is, the more it will stand out and attract attention by itself without you having to hassle people to look at it.
47. Craft/knitting – Skills in crochet or knitting can be used well for small, simple accessories like bikinis, tops, bags, and purses, or even little charms to pin to backpacks. The best advertisement for this type of item is definitely to wear it yourself and maybe they can used as an exchange for something else you need!
48. Painting and drawing – Creative types will no doubt find endless inspiration on the road, why not set up a small display of your work wherever you are sketching and who knows who might be taken by one of your pieces.
49. Cooking/baking – While this does require access to a well-equipped kitchen and supermarket for bulk ingredients, many hostels provide these for guests and/or volunteers so why not combine a cooking skill with a volunteering job? Take advantage of guests who have never experienced Filipino food, cookies and cakes are always hard to turn down too!
50. Selling Goods Online  – Since the internet is just a click away, you can definitely consider selling things thru online transactions (eBay or your own website). You can sell your own product or buy some things as you travel and sell it online.

Are you on Pinterest? Pin these!