9 Reasons to get your TEFL Certification Online Right Now
If you want to enter the world of ESL teaching, a wide range of opportunities awaits you if you have a TEFL Certificate. So get your TEFL Certification Online right now to get started teaching English online!
With English being the most widely spoken language across the world, the opportunity to teach English is ALWAYS in high demand. Did you know that approximately 1 billion students worldwide are currently learning English? That's around 13% of the world population and growing every day. Does your current professional qualification and skills base have that kind of potential client base that you have access to? Probably not!
As an English teacher, you can choose to teach online, or even abroad. However, you must take some consideration. To be able to teach English online or in a school, most schools or ESL companies require teachers to have an online TEFL certification. It doesn't matter how you got your certificate (online or classroom-based) for as long as you have your TEFL certification, then you're considered qualified.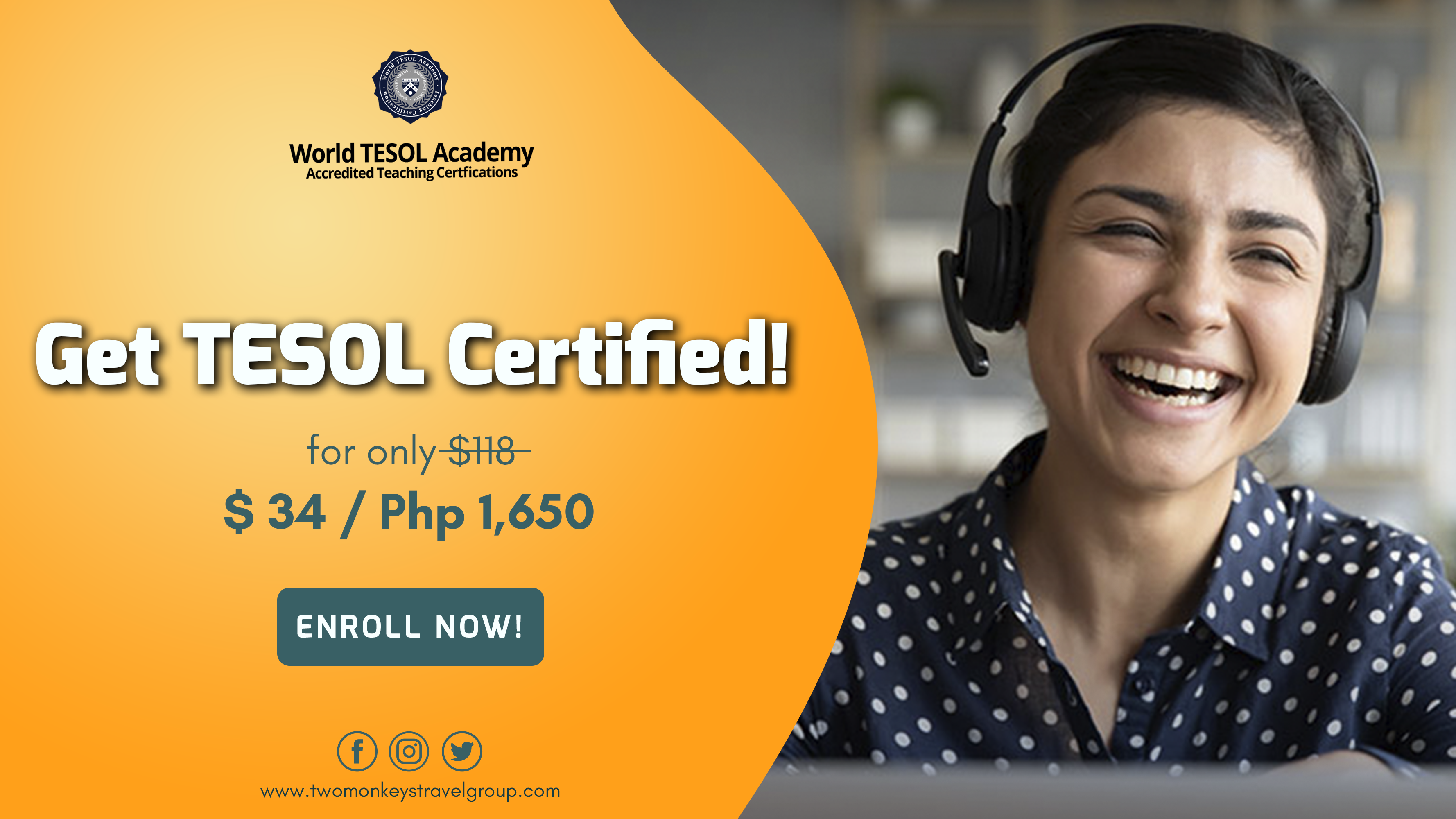 If you want to save your time from taking TEFL courses in a classroom-based setup, then you can opt to take an online TEFL certification. It's very convenient and saves time as you can work at your own schedule. Not only that, but it can also save you money as it is cheaper than taking a classroom-based TEFL course. Just make sure that you will take your TEFL certification with an accredited TEFL certification provider.
World TESOL Academy Accreditation
World TESOL Academy courses are now accredited by not just one but two internationally recognized accreditation bodies. Once you complete your course, you will have an education certificate that's accredited by both Accreditat and CPD.
Furthermore, being a certified TEFL teacher, you can not only earn money, but you can also travel while teaching. Yes, that's possible! How? The reasons are below.
What is TEFL Certification?
TEFL stands for Teaching English as a Foreign Language. It's a certification that gives teachers an opportunity to teach English to non-native English Speakers in a country that doesn't use English as the primary language.
TEFL Certification is the most widely-used and accepted qualification for teaching English abroad. You can be a TEFL Certified in 3 different ways; Classroom TEFL, Online TEFL, and combined Online and classroom.
What is a TESOL Certification?
On the other hand, TESOL stands for Teaching English to Speakers of Other Languages. TESOL Certification allows you to teach English to second-language speakers in an English-speaking country, or in a country where English is not their primary language
In short, TEFL Certification and TESOL Certification are very similar and allow you to do the same thing – to teach English to non-English speakers!
How Much does TEFL Certification Online Cost?
Usually, classroom-based TEFL courses can cost around $1000 to $2000 USD, but that depends on the location and the number of hours. Conveniently, you can opt to take a TEFL Certification online. The course of 120 hours can cost less than $500 USD!
How to get TEFL Certification Online (TESOL Certification)
To get a TESOL and TEFL Certification Online, you must first have access to the internet and a compatible device for you to study online. This usually requires a laptop or desktop computer as it can be awkward to do the course using a phone or tablet, although it is possible. 
As mentioned above, Online TEFL courses usually take 120 to 140 hours. Others even offer a 40-hour crash course, while some can take up to 170 hours to 250 hours. Studying online, the lessons are divided into different modules and you will have to take a quiz at the end of each module to check your progress.
As for TESOL Certification online, TESOL courses come in a range of hours, such as 40, 60, 100, 120, or 150. The same with TEFL, it gives you an opportunity to study in a convenient way. 
With all things considered, make sure that the course you will take is accredited by a recognized organization in either TESOL or TEFL certification.
9 Reasons to get your TEFL Certification Online Right Now!
1. Cheapest online TEFL certification
By taking a TEFL Certification online, you will not only save time and energy but also money. You'll be able to save at least $500 to $1500 USD, depending on the provider and the length of the course! How does that sound?
Right now we have partnered with World Tesol Academy to provide an online TESOL certification course for the lowest price you will find anywhere – $34 USD! We recognised how badly affected many people around the world have been by the Covid / Coronavirus situation. So, we spent a lot of time discussing with this great company how they could come up with an affordable solution to help people afford the opportunities that an online TEFL / TESOL certification can bring.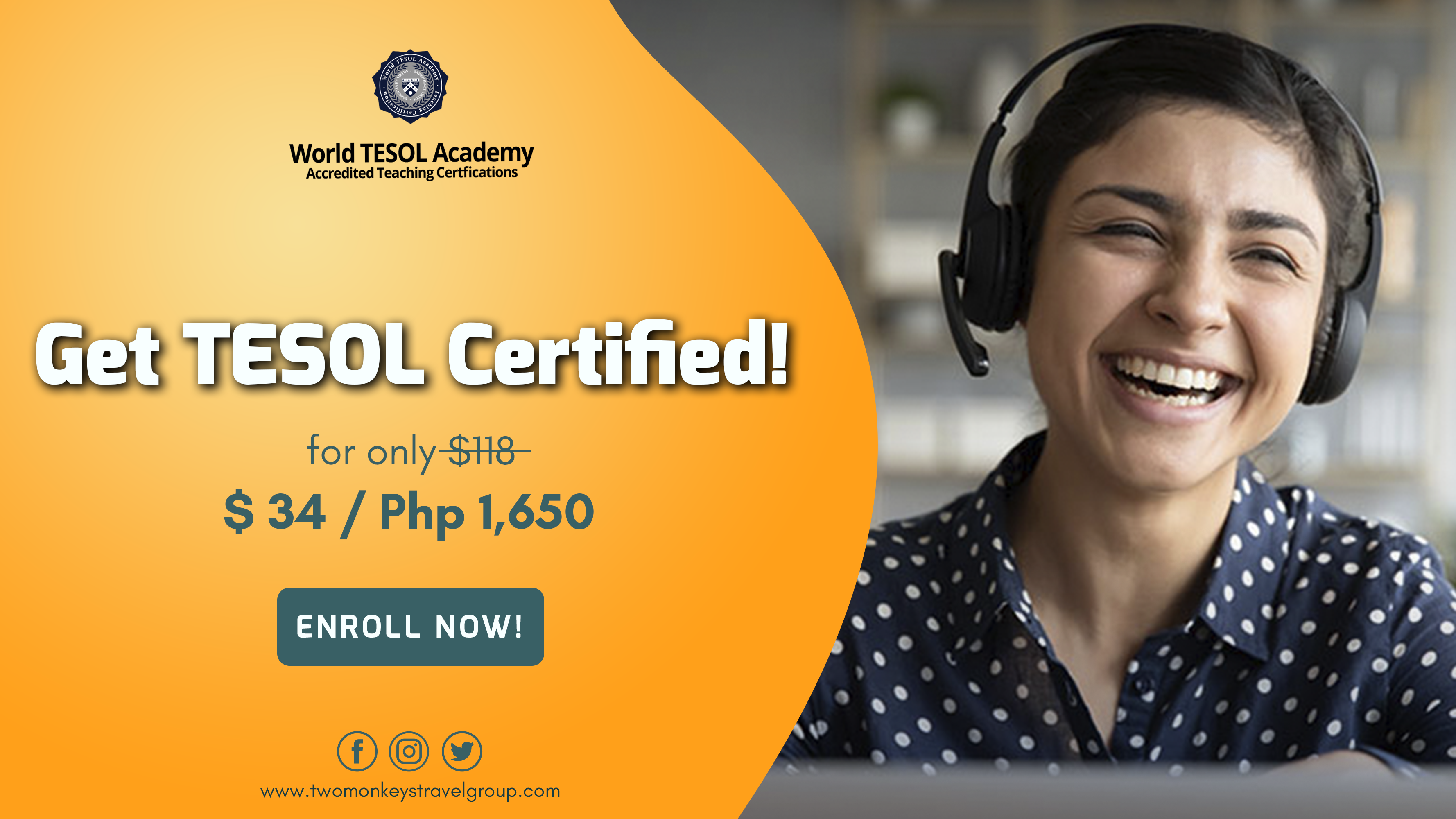 2. Work from Home with TEFL certification online
If you want to work from home, getting a TEFL or TESOL Certification online is one of the best options. With your TEFL or TESOL Certificate, you have the ability and skills to teach English online. And by teaching online, for as long as you have the device and the internet, then you're good to go and can make money at home!
3. Be a Digital Nomad with TEFL certification online
Of course, when we say working online, that includes being a Digital Nomad. As a digital nomad, you can work remotely, the location doesn't matter since all you need is the technology. This is best for people who love traveling while earning money! Are you one of them? If yes, then consider taking a TEFL Certification online! Of course, this is dependant on the current situation, but why not be prepared and ready to jump when the time comes?!
4. Travel the world as a TEFL teacher
Stuck in the office and doing the 9 to 5 job routine? By being a TEFL teacher, you can say goodbye to this kind of set-up! With your TEFL or TESOL certificate, you can teach English abroad, whether a part-time or a full-time English teacher. But if your target is to travel while teaching, you can do this by only teaching for a span of 6 months or so in each country. 
This type of teaching is usually classroom-based. What's best about this is you'll get a deeper insight into other countries' cultures and norms. Not only that but interacting with different students and people will expose you to different personalities that will enhance your teaching ability. What's more fun in traveling the world while improving your social and professional skills? 
5. Challenge yourself – Become a TEFL teacher
Of course, being a TEFL or TESOL teacher doesn't always mean flowers and rainbows. It requires you to be patient, understanding, social, skilled, and interactive. Given those, it's quite a complicated job especially if you're not used to this kind of setting. But hey, no job is easy! However, becoming a TEFL teacher, you'll be able to challenge yourself while gaining appropriate experience for your future goals.
6. Make money as a TEFL teacher
Whether you choose to be a classroom-based teacher or teach English online, being a TEFL teacher gives you the opportunity to earn money. Usually, a TEFL teacher earns an hourly rate. Depending on the company you're working for (if you plan to teach online) or the country you're in (if you want to teach abroad). You can earn from $600 up to $4000 USD per month! That's a very broad range, because every country is different. As a first-time TEFL teacher, aiming for $800 to $1000 per month is not bad, but you should also take things into consideration. Online English typically earns less, but the tradeoff is that you don't actually have to leave your house!
7. Make a difference as a TEFL teacher
The difference between a TEFL certified and a non-TEFL certified teacher is the range of opportunities. Yes, you can still teach English without having a TEFL certificate in some countries or less-reputable schools, but if you want to level up your career and see various opportunities abroad, then taking a TEFL / TESOL Certification Online and becoming a TEFL teacher will surely make a difference. Remember that most ESL schools or companies usually look for TEFL / TESOL certified teachers.
8. High Demand for Online English Teachers
As English is the most widely spoken language worldwide, there are a lot of online ESL companies that look for Online English teachers. Just a quick search on the internet will give a list of those companies that are hiring. 
9. English is the Most Spoken Language in the World
Wherever you go, you will always find the English language, even in non-English speaking countries. Due to this fact, it is very convenient if you can speak and understand English. Unfortunately, not everyone in the world can speak English, that's why ESL schools, TEFL Certification, TESOL Certification, etc., exist. And as a TEFL teacher, it will always give you an opportunity to teach whenever you want to. ​
With all the reasons mentioned above, we can say that having a TEFL certificate will not only give you the opportunity to share your knowledge about the English language, you will not only earn money, but you can also have one of the best experiences of working while traveling. You will not only teach students, but you can also learn from them. So what are you waiting for? Get your TEFL Certification Online right now and start a new career as a TEFL teacher!

Are you on Pinterest? Pin these!