Foreign Bloggers Who Love The Philippines and Filipinos
We all know that we Filipino bloggers certainly love our own country, but when a foreigner loves our country, we feel proud of being from the Philippines. 
I've been reading a lot of articles lately about the Philippines – I've seen travel writers who've been there, planning to go there or who dream of going there and I love how so many writers are showing the world what an amazing place our home is. So, check out this list of world-class bloggers who have fallen in love with the Philippines!
Nathan Allen describes himself as 'a hyper-observant culture-junkie who recently spent a year taking photos and documenting the Philippines.  A long-term traveler, he lives by the motto "spend less, see more."' During his year in paradise, he spent time living and traveling in many parts of the country, even learning to speak Tagalog as well as bits and pieces of other languages too. As he came to the end of his time in Asia, he wrote his biggest Philippines article yet – What I really think of the Philippines, in which he put to one side his self-confessed always on the bright side approach for an objective, down to earth look at real life in the Philippines. Check it out, and it's an awesome read.
Follow him on Facebook here.
His name is Kyle Jennermann from Canada, but he now has his Filipino name, "Kulas." It seems like the only foreign blogger I know who wanted to become Filipino, impressive!! If you'll ask him why, here's his answer:
"I had never experienced before what I got to experience in the Philippines.  I have never met such kind, giving, friendly, hard-working, outgoing, proud and happy people.  I have never experienced a culture like the Philippines; a culture that every single day inspires me, and that I look up to.  It is a place where the natural environment is unbelievably beautiful.  The waterfalls, beaches, mountains, rivers…. I could go on and on about it. But what inspires me about the Philippines is the PEOPLE.  If you are Filipino and you are reading this.  Thank You.  Thank you for being Filipino.  Thank you for being part of a culture where a family isn't the only family, but friends and even strangers are families. Where smiling is genuine, giving is natural and sharing is a part of everyday life.  A culture that goes through a lot of really tough times and suffering, but still shares a great big SMILE. "
Follow his stories on his website – Becoming Filipino or on his Facebook.
Sabrina, a world class travel blogger from Berlin, has been traveling the world since 2008 and has spent a total of 8 months on fours different trips to the Philippines.
'In my experience, from all the Asians I have met, Filipinos are the kindest and friendly people…always seem happy and smiling, and they love to sing and to dance whenever there is an occasion to celebrate!' Find out why in her article – 10 Reasons why you should travel to the Philippines.
Follow Sabrina on Facebook here.
Phil from Germany is another traveler, just like us, who gave up the safety and stability of his career to pursue a life of adventure and travel. His 3-month adventure took him to all corners of the Philippines, including a 15-day Hayahay celebration in Gubat! His writing a photography helps to capture the essence of what made the Philippines such a special place for him! Check out his article and favorite photos here – Roundup Philippines: A country that has it all!
Follow him on Facebook here.
5. Jonathan of Two Monkeys Travel
Of course, I had to add Jonathan to this list as he's been writing in his travel journal about all the places he wants to visit in the Philippines. He's already had quite a thorough introduction to Filipino culture and hospitality, and he cooks a great Tinola. But he keeps putting carrots and peas in it, because (in his words), 'Filipino food is incredible, but it's brown!'  My next mission is to teach him Tagalog before we go back to the Philippines in 2016… Well, he just wrote his viral article- "What I've learned Dating a Filipina."
You can follow Jonathan on Instagram and Facebook.
6.  Sharon and her whole family of Where's Sharon
Sharon is a family travel blogger from Australia; this wife and mother of two young children are on a mission to inspire others to travel more and show that traveling with kids isn't just possible, it's exciting, fun and rewarding!
Check out how they felt about traveling the Philippines with kids and other articles.
Follow Sharon on Facebook here.
Matt is one of the most famous travel bloggers out there. He's an award winning Canadian adventure travel writer and photographer and if you ask him why he loves the Philippines – well, " I love the Philippines because it's one of the most biologically diverse countries in the world and it's incredibly easy to get away from the crowds and into nature. I also love the Philippines because it's full of Filipinos, who are some of the friendliest, most generous people I've been lucky enough to encounter on my travels."
He has tons of articles written about the Philippines, check it out here,  ah more!!
Follow Matt on Facebook here.
Photo from Alex in Wanderland
New York native Alex has been travel blogging since 2009 and shows no signs of stopping now. Splitting her time equally between The States, Thailand and exploring the rest of the world, she's an expert in turning travel into a sustainable lifestyle. Being an expert diver, her last visit to the Philippines was all about the underwater fantasy land off the coast of Donsol. Check out her article here – Consider my mind blown: Diving in Donsol
Well, Alex has been traveling around South East Asia for a while now, but she certainly has an awesome post about the Philippines. She's New York native who left home to explore the world slowly and thoroughly. I'm just a little obsessed with photography, scuba diving, and reading guidebooks to countries I have no immediate plans to visit.
Follow Alex on Facebook here.
Photo from Itinerant Londoner
Another British backpacker on the list, Geoff has been traveling since 2007 and quit his job in 2009 to travel the world for a year, including a stint island hopping in the Philippines. He fell in love with practically everything about our beautiful country, from the myriad picture-perfect beaches, the people and, as always, the food!
Check out all of his Philippines articles here – Itinerant Londoner – The Philippines
These two contemporary nomads have been traveling together for over twenty years! In 2007 they both quit their jobs in Berlin to travel the world full time. When they visited the Philippines, they initially planned to stay for a couple of months, but they ended up staying for more than five months and writing 87 posts about it – clearly, it was a hard place to leave!
Check out their final thoughts and photo summary of their Philippines adventure.
Follow them on Facebook here.
This Indian blogger who grew up as an expat in Bahrain has been blogging since 2009 and has visited the Philippines three times and is what you could call a true Urban Explorer; he has quite possibly explored Manilla more than any other backpacker out there!
Check out his many Philippines articles here.
Follow Mithun on Facebook here.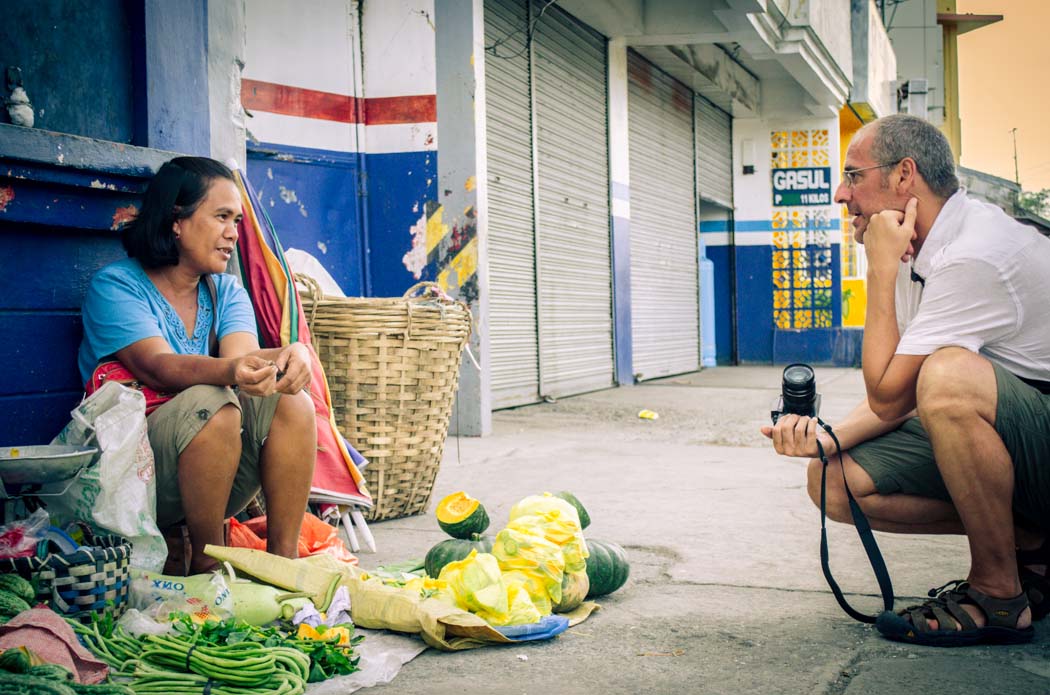 Ivana (Slovakian) and Gianni (Italian) are digital nomads from Europe. They left Europe in 2013 to travel around the world, they've started in Thailand and even spent one month in Antique last year and wrote a few articles about the region and the Philippines & its people: Check out this article about the Beauty of Philippines and Filipinos. Check out their many articles about the Philippines here.
Follow Ivana and Gianni on Facebook
here
.

Clelia is a Travel blogger from Sardinia, Italy, her supposed three week holiday turned four months! I asked her why she loves the Philippines and here's her answer – "The incredible sea life/beaches and its people. I've been traveling around Asia for more than two years now, and Filipinos are so close to my way of life. They are very passionate people, proud of their amazing country and incredibly welcoming and nice. I usually find it difficult to make friends with Asian people as they are very reserved, but with the Filipinos was so easy and natural! We visited Carabao, and we were invited to a traditional birthday party in a house, it was one of the best memories of my trip! If you add my love for everything related to the sea, then you get why I consider the Philippines my home away from home! I can't wait to go back!"
Check out her favorite article she wrote about the Philippines – a guide about Siargao, South of Philippines.
Follow Clelia on her Facebook here.
Hannah and Adam are o an around-the-world trip since June 2013. They visited the Philippines and loved it, so I asked them why their answer "It's hard not to love the Philippines. There are 7,000 islands with Crystal clear waters and almost 100 million warm a friendly people. We came for the amazing beaches, but once we were there, we found that there is so much more to the Philippines than just water and sand. Not to down play the beaches because they are some of our favorites in the entire world, but we also got to experience the friendly Filipino culture. In addition to the vibrant life on the islands, we also got to see a whole other world just off the shores. Diving in the Philippines was one of the many highlights of our trip. We drove through the WWII ship wrecks and reefs around Coron. At the end of every day in the country, we found ourselves near the water watching the sun sink into the sea from the beautiful islands of the Philippines." Read their article about Boracay on a $20/ day
Follow them on Facebook.
He had the travel bug ever since he can remember. His dad worked in the airline business, so he got to travel a lot domestically when he was a child. His first job was in a travel agency, and when he saved up enough money, he went backpacking in Europe. Through working in a travel agency, he got to travel all over the world. His first experience of the Philippines was back in the 1990's, and honestly, then it didn't leave a great impression. It was only a short stay, and he only visited Manila. It wasn't until around ten years later when he discovered the amazing beaches in the Philippines (and thanks to the help of the internet).  He's a beach person, and he got hooked on the Visayas region instantly, specifically Cebu.   The last few years he's been blogging about this wonderful area of the Philippines. He's been to countless islands and stayed in hundreds of hotels. He tries to give his opinion, tips, and advice on this area. He's passionate about making videos about Cebu and the Philippines, and hopefully, they will help others see how great this place is.
You can read his blog or his YouTube channel.
Are you on Pinterest? Pin these!