Accredited TESL and TESOL Courses and Schools in the Philippines
If you love traveling and having income while being out of the country, then try being an English Teacher. We are lucky that we, Filipinos, have English as one of our official languages, we learn it from school and watch movies and TV shows without subs. With the core knowledge of English, we can share what we learn by teaching English to countries that don't have English as their official language.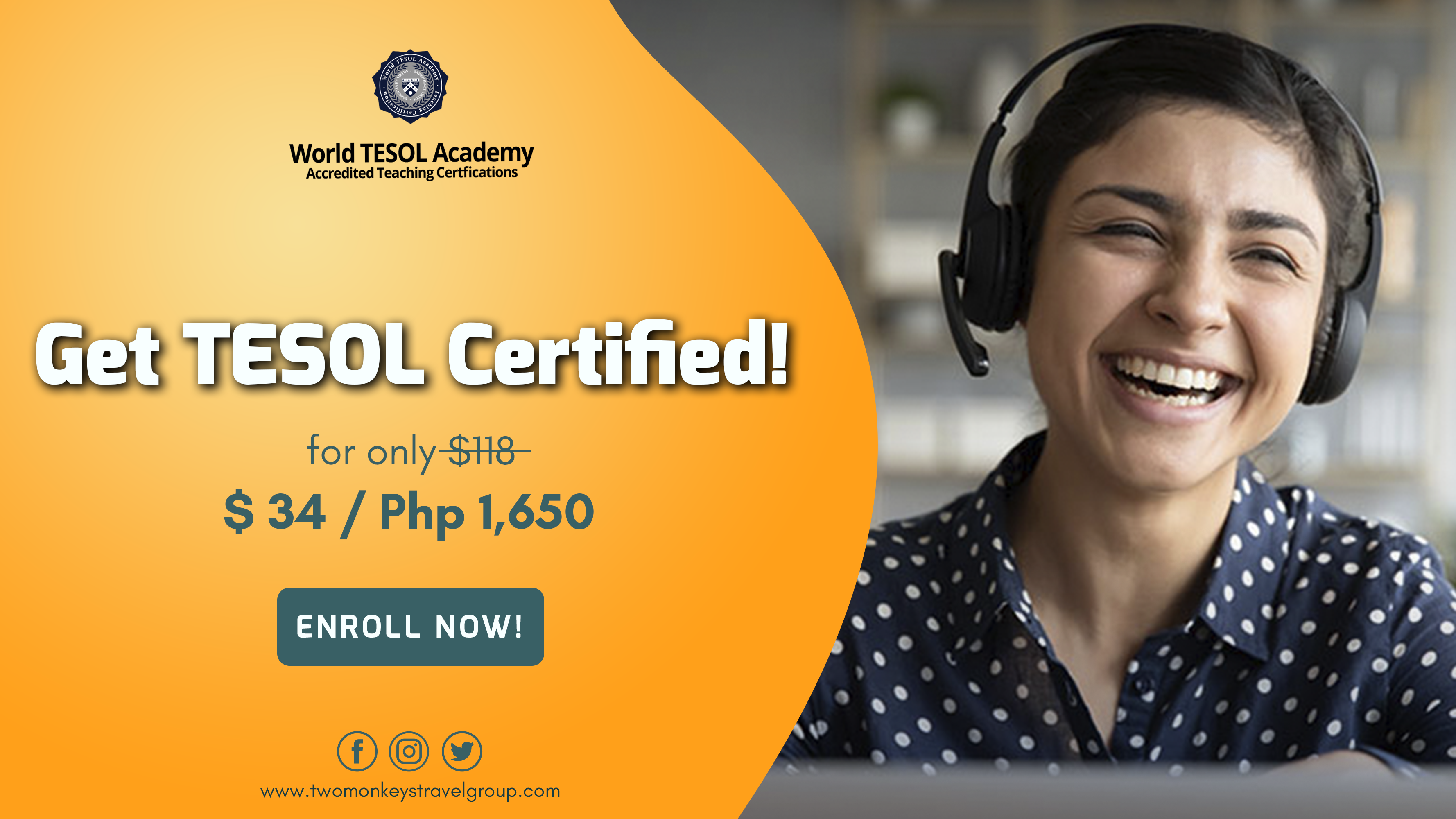 We have also partnered with World Tesol Academy to provide an 
online TESOL certification course
for the lowest price you will find anywhere – $34 USD! We recognised how badly affected many people around the world have been by the Covid / Coronavirus situation. So, we spent a lot of time discussing with this great company how they could come up with an affordable solution to help people afford the opportunities that an online TEFL / TESOL certification can bring.
We can travel and teach in East Asian countries like Japan, China, Taiwan, and South Korea. Or in some southeast Asian Countries like Vietnam and Thailand. South America, Europe, and Africa need English Teachers too, so basically you can travel the world while teaching English.
You don't need to graduate an English course or an Education course to teach English abroad. You can teach if you have certifications like TEFL (Teaching English as a Foreign Language), TESL (Teaching English to Speakers of a Second Language), or TESOL (Teaching English to Speakers of Other Languages).
One of our jobs before being full-time travel bloggers were English teachers in Vietnam. As a Filipino TEFL teacher, you can earn up to USD 2000 per month. After teaching, we used our earnings for our travels. It is really a great way to earn, save-up for our adventures!
We will be discussing TEFL, TESL, and TESOL, where you can get your TESL or TESOL certificates or get to learn about being an English Teacher. 
Certifications Differentiated: TEFL vs. TESL vs. TESOL
For TEFL (Teaching English as a Foreign Language), you will be teaching English to countries where it is not their native language, mostly where it is not frequently spoken. TEFL is also suitable for teaching children or teens. TEFL is recognized in a lot of non-native English speaking nations like parts of Asia, the Middle East, Africa, Europe, and South America.
For TESL (Teaching English to Speakers of a Second Language), you will be teaching English in English speaking countries, it will be foreigners or immigrants living there. So basically, you can apply as an English Teacher in the US, UK, Canada, or Australia.
For TESOL (Teaching English to Speakers of Other Languages), you will be teaching in both English Speaking and non-English speaking countries, a mixture of TEFL and TESL. You can also teach English at home with this.
Online or In-class?
Though I took an online class through online, being in a classroom, and learning from professionals is a great way to learn. Not only will you have the course guides or outlines used by online classes but you could ask real-time questions and be given feedback. You will also have the opportunity to teach English to either children or non-native speakers. A pro of online classes is you can take it anywhere and finish it anytime. A con is not being sure if it's accredited, and it will not give you accurate feedback on your skills.
That's why we have listed onsite schools in major cities of the Philippines – Manila, Cebu, and Davao that provide onsite TESL or TESOL Courses. This list can help you with where you can enroll and start your journey as a teacher-traveler around the world!
Accredited TESL and TESOL Courses and Schools in Manila
1. International TESOL Education and Consultancy Corp, (ITECC)
T-312 3rd Floor, Mile Long Building
Amorsolo Street, Legazpi Village
Makati City
120-hour in-class TESOL Certification
TESOL Certification + Teaching Young Learners + Reference Letter
2. American Institute of English Proficiency
Suite 2G
227 Salcedo Street corner Gamboa
Makati City
3rd Floor
131 Timog Avenue corner EDSA
Quezon City
Specialized Course and Programs
120 hours (with ITECC)
ESL Certification and TESOL Certification
Php 20,000 for 120-hour program
3. American TESOL Institute Philippines
707 Shaw Boulevard
Pasig City
8-day TESOL program
TESOL Certification
USD 518 +
with housing fees USD 1,155+
4. International Academy Manila
9-A Visayas Avenue Extension
corner Ledesma Court, Barangay Culiat
Quezon City 1128
Teaching English to Speakers of Other Languages Certificate Programs (TESOL-CP)
TESOL Certification
5. Pacesetters Institute
1115, 6 Damortis Street
Damar Village
Quezon City 1115
140+ Hour program
TESOL Certification plus demo teaching
Php 30,000
6. TESL Philippines
G/F Torre de Salcedo
184 Salcedo Street
Legaspi Village
Makati City 1229
10-day program
TESL Certification 
10-day program
TESOL Certification
Accredited TESOL Courses and Schools in Cebu
1. TESOL Training International
TESOL Training International – Cebu
G/F Snow Sheen Building
Osmeña Boulevard, Capitol Site
Cebu City
USD $500 (Php25,000) for the following 120-hours TESOL Programs:

TESOL In-Class Weekdays
TESOL In-Class Weekends
TESOL Online Certification
Open TESOL Certification
If you apply or register online through teflph.com, use our code 2MTREF!
2. Harvest Christian School International
24-B Tres Borces Street
Mabolo, Cebu City

Onsite or In-Campus training
Total of 120 hours for TESOL Certification
For Filipinos   –   Php 15,990.00
For Foreigners   – Php 26,990.00
Must be Graduate of a 4-Year Bachelor Course (Send TOR)
3. ITTI Philippines
3F Ranulfo Lim Building
F. Ramos Street
Cebu City
In-Class TESOL Certification Training Program (4/16 week session)
Daily/Weekend classes and other key cities around the Philippines
Transcript of Performance is available
Accredited TESOL Courses and Schools in Davao
1. Pacesetters Institute
Davao Bible Community Church
Araullo Street
Davao City 8000
140+ Hour program
TESOL Certification plus demo teaching
Php 30,000
Getting a TESL or TESOL Certificate isn't quite cheap, but think of it as an investment rather than an expense. They will significantly benefit especially if you want to get a job abroad. You can read our article on Countries with a high demand for English Teachers to check out places you could go to!
Should you want to know TEFL on-site courses, check out Accredited TEFL Courses and Schools in the Philippines. If you're looking for online courses, you can get 60% off your 120 hours online TEFL course here with Promo Code TWOMONKEYS.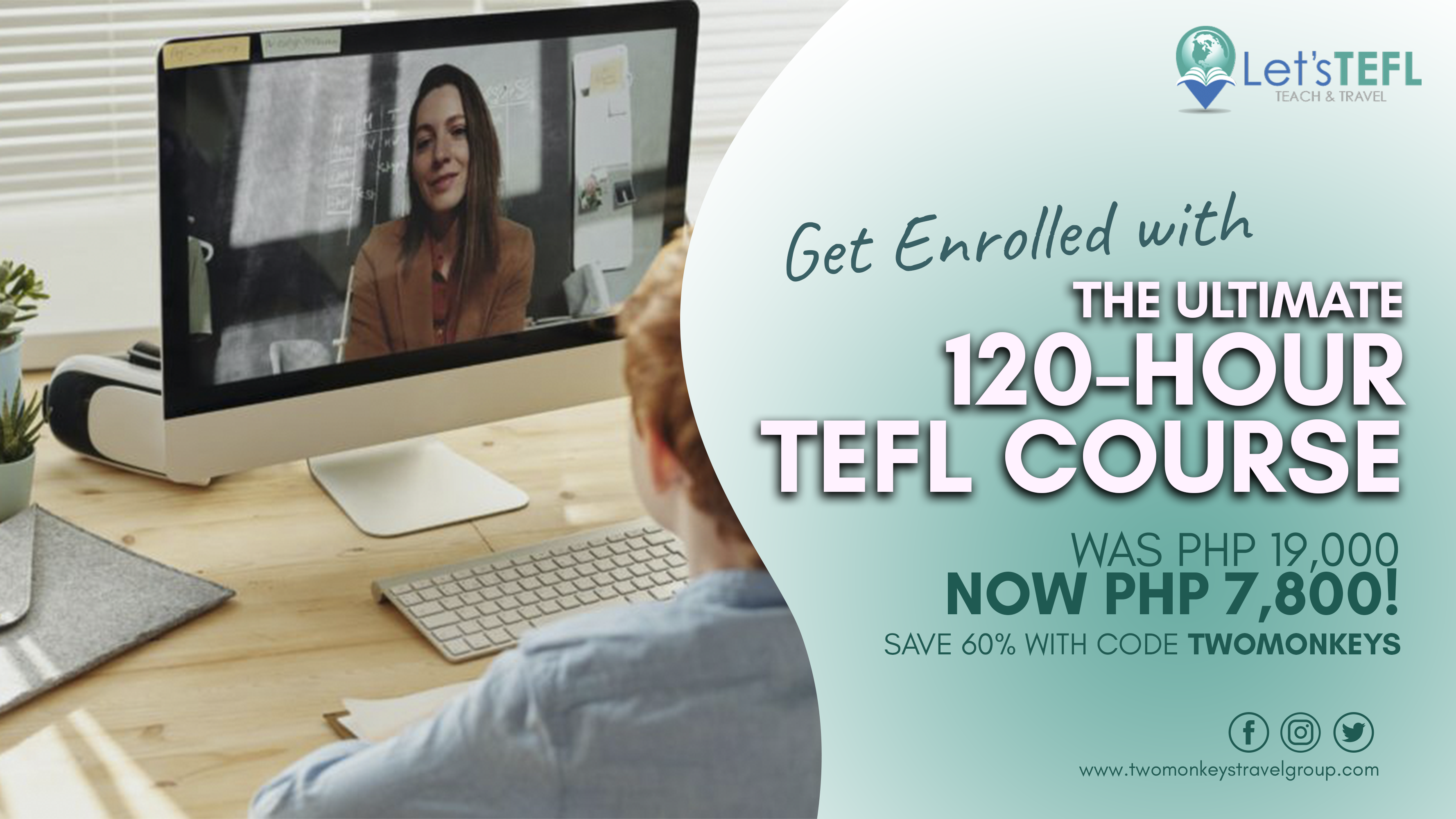 Teaching is a great career to have while traveling especially if you have a TEFL or TESOL certification. You can teach at non-native English countries as well as English Speaking Countries; practically, all over the world. Be a teacher-traveler and get your TESL or TESOL Certification now.

Are you on Pinterest? Pin these!