How to Teach English in Thailand – The Land of Smiles!
Are you planning to teach English in Thailand on your next great adventure? Thailand is more often than not the first stop on any backpacker's adventure to Southeast Asia. Therefore, it's not surprising that it would be one of the most popular destinations for teaching English abroad with TEFL.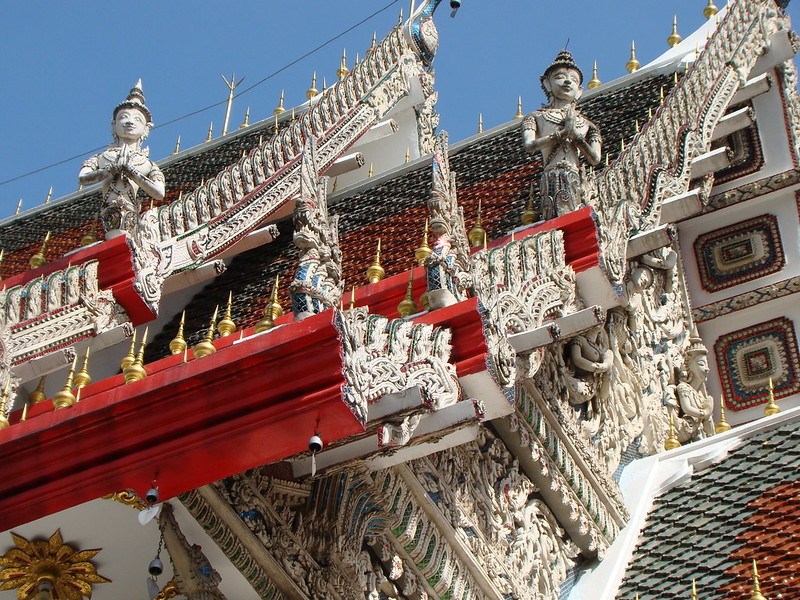 From the white sand beaches of the south to the pounding beat of giant metropoles and far into the tranquil mountains of the north. Thailand has everything!
For the aspiring English teacher abroad in Thailand offers a lifestyle that most people only dream about, or perhaps don't dare to go after. Comparatively low (really low) living costs paired with medium to high salaries mean English teachers in Thailand can live well and even save for the future.
In this article, we'll offer a more in-depth look at what it takes to teach English in Thailand.
If you are new to teaching English abroad, read our complete introduction to teaching English articles.
We have also partnered with Let's TEFL to offer accredited 120-hour TEFL courses with a 60% discount. Just use our exclusive promo code – TWOMONKEYS. Let's TEFL courses include free certificate shipping!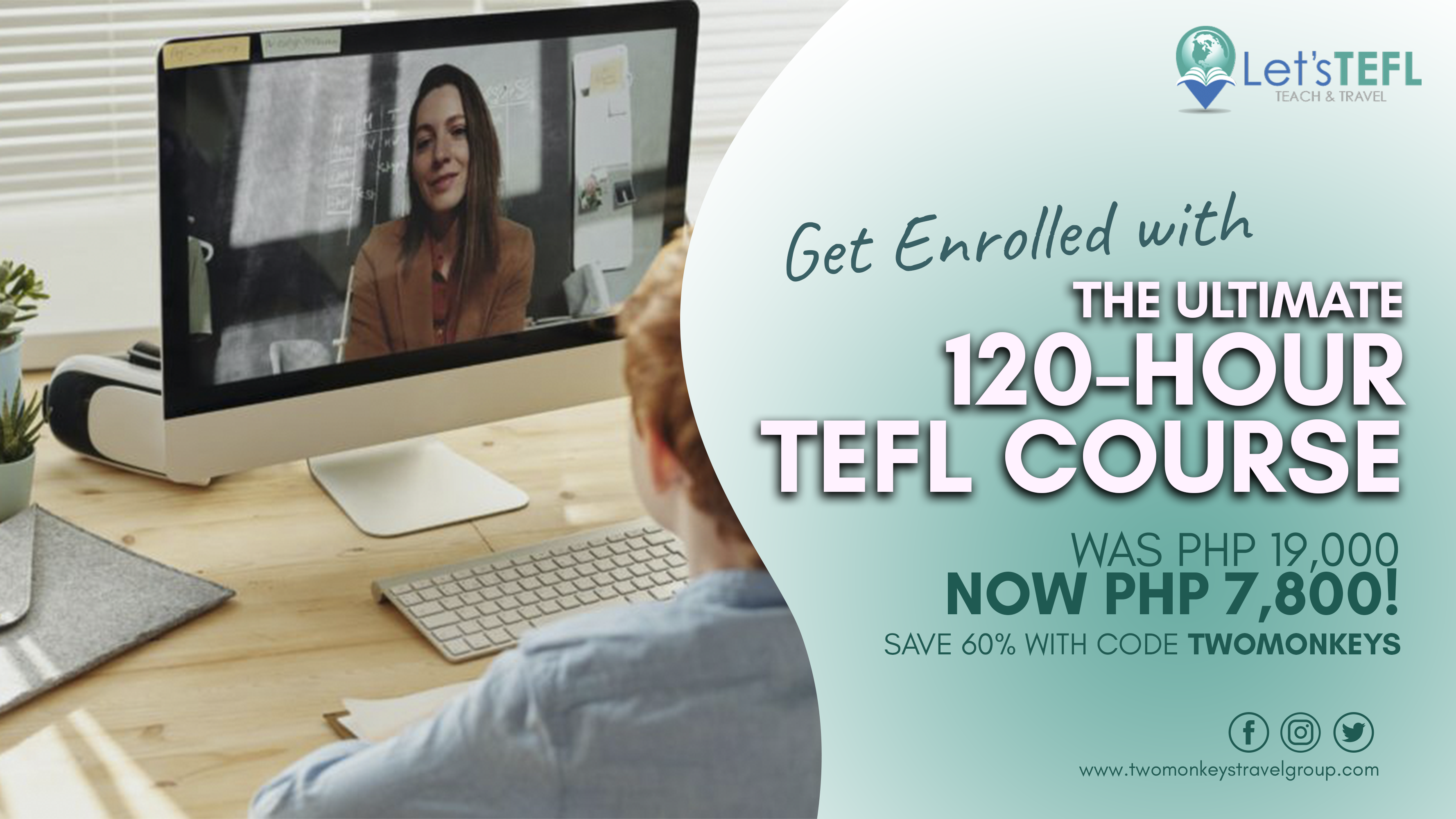 Culture in Thailand
Buddhism is part of their central identity, therefore they are caring and very friendly. Said Buddhism is influenced by traditional beliefs regarding spirits. They have spirit houses and often make offerings.

Hospitality, generosity and hierarchy are important in Thailand.

Having a non-confrontational attitude and self-control is also very important for them.

Thai people universally have nicknames.

Reading and the Internet has been coined as their pastimes.
English Teacher Salaries in Thailand
Salaries for teaching English in Thailand can vary, just like anywhere else. Depending on where you plan to teach and what is expected of you, 15,000 – 30,000 THB (approximately $550-$1200) is the usual range.
Cost of living in Thailand
The cost of living in Thailand is relatively cheap compared to western countries, and one of the cheapest in all of Asia.
Accommodations (studio type) start at around 2000 Bahts (approx $65 USD) per month. Of course like anywhere else, the more you want, the more you must be prepared pay for it!
Pros of teaching English in Thailand
Lower cost of living than most Asian countries.

Jobs are easily accessible due to the high demand for English teachers.

Thailand is the perfect base from which to explore other countries in Asia.
Cons of teaching English in Thailand
In terms of job hunting,  a lot of people from around the world want the same position – to be an English teacher in Thailand. This is why you need to have a TEFL certificate to be in the running fo any decent jobs. To have an edge over other applicants, you have to ensure that you stand out as the better candidate.
Thai people usually follow Thai time, which is anywhere around the exact time, usually later than the exact time.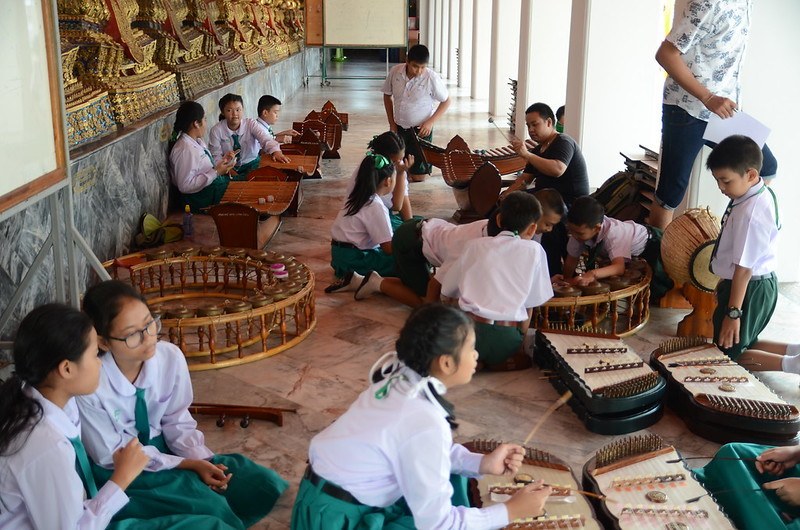 How to find English teaching jobs in Thailand
Most recommend just packing, getting on a plane, and searching for a job itself while you're there. It is easy to get an English teaching job in Thailand as long as you follow all of the advice and requirements. You must get the necessary documents and contact the big companies before leaving, and then proceed to familiarize yourself and get bearings in the new community.
Check Ajarn.com, the primary site for English teaching jobs in Thailand, and contact the ones that you find promising. Visit schools, inquire, and there's a good chance they will offer an interview or job on the spot. Check the Bangkok Post and The Nation, and search the classifieds for jobs.
Where to teach English in Thailand
Bangkok is usually the center of job openings. You may also want to try rural areas. Apply at private schools, government schools, companies (for corporate teaching), or you can try out freelance teaching and private tutoring.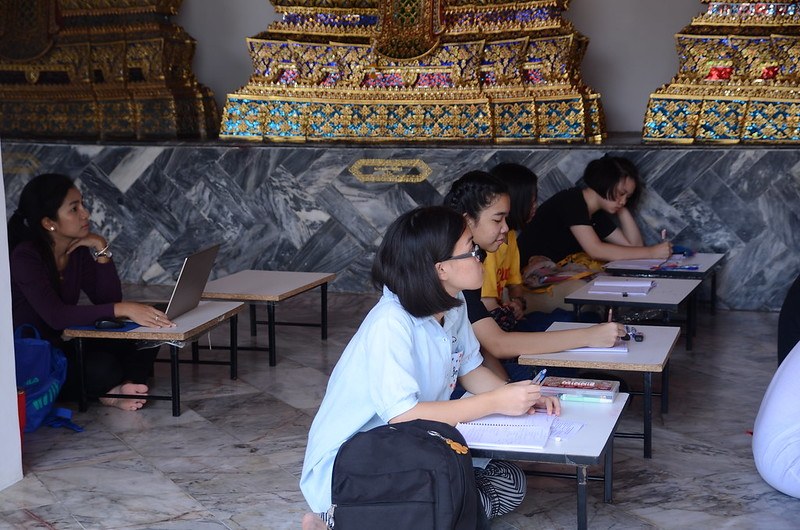 Requirements to teach English in Thailand:
A Bachelor's degree
This is one of the first requirements of being an English teacher in Thailand, but it doesn't have to be a course in Education or English. In Thailand, requirements are more like guidelines, and one can use any degree or a picture of their diploma for proof of education. It doesn't even have to be a four-year course, or from a well-known university. A degree earned from an online university is also often sufficient.
TEFL Certification
Most employers will look for a TEFL certificate, and I say you will have an edge over others who don't have TEFL. This proves that you are well-trained to handle a class. If you have none, you can use prior teaching experience as proof that you can do the job. An online TEFL certification is perfectly sufficient. 
Possess a Non-Immigrant B Visa
Having a business visa work permit is one of the requirements for working as an English teacher in Thailand, and most of the time if you have already been pre-screened and interviewed before you leave your home country, your employer in Thailand would have already processed this for you before you arrive in Thailand. This is if you have targeted Thailand as a place to work. Those of you with tourist visas (which is usually the case for those who are backpacking yet want to earn money while doing so),  can be accepted by employers provided you will process the B visa as soon as possible. This visa is good for 90 days.
A professional, pleasant appearance
Thailand prefers English teachers who look and act professional, with a  clean, pleasant and cheerful demeanour.  Good appearance is as important as your smile, which reflects an overall pleasant attitude. You are, after all, in the Land of Smiles.
Visa Requirements to teach English in Thailand:
You must have a valid passport, valid for 6 months after departure date.

Some nationalites can enter Thailand without a visa if you are staying for 30 days only, provided you also have a return ticket home. You will be provided with a tourist visa upon arrival in Thailand. You must acquire a non-immigrant visa if you are planning to stay for 90 days.

Proof of finances to support yourself while teaching English in Thailand, which is 10,000 bahts for a single person or 20,000 bahts for a family.

Have your non-immigrant B visa and work permit processed by your hiring agency or employer if you plan to work in Thailand.

Do check the current updates and rules of immigration at the embassy or consulate as there might be changes without prior notice.
Thai Lifestyle, Customs, Do's and Don'ts
The traditional Thai greeting is offered first by the younger of the people meeting, called the wai. Hands are pressed together, fingertips pointing upwards as the head is bowed to touch face to fingertips, with the spoken words "sawatdi khrap" for male speakers, and "sawatdi kha" for females. However, social status and government positions or being a guest inside a house may influence as to which performs the greeting first. Children also do this to their parents. It is a sign of reverence and respect.

It is considered disrespectful to touch the head or point with the feet. Why? The head is considered the most sacred part of the body and the feet the lowest part.

The respect for the hierarchy is seen in the custom "bum khum", or the feeling of indebtedness towards parents, guardians and caretakers.

It is rude to step on any kind of currency.

Remove one's footwear before entering a house or holy institutions, as well as being careful of not stepping on the threshold.

Thai and Buddhist culture forbids the monks physical contact with women. So women, don't touch the monks, not even the hem of their robes.
Well, if you think you're ready to start teaching English in Thailand, then get started with a TEFL Certification online. We have partnered with Let's TEFL to offer accredited 120-hour TEFL courses with a 60% discount. Just use our exclusive promo code – TWOMONKEYS. Let's TEFL courses include free certificate shipping!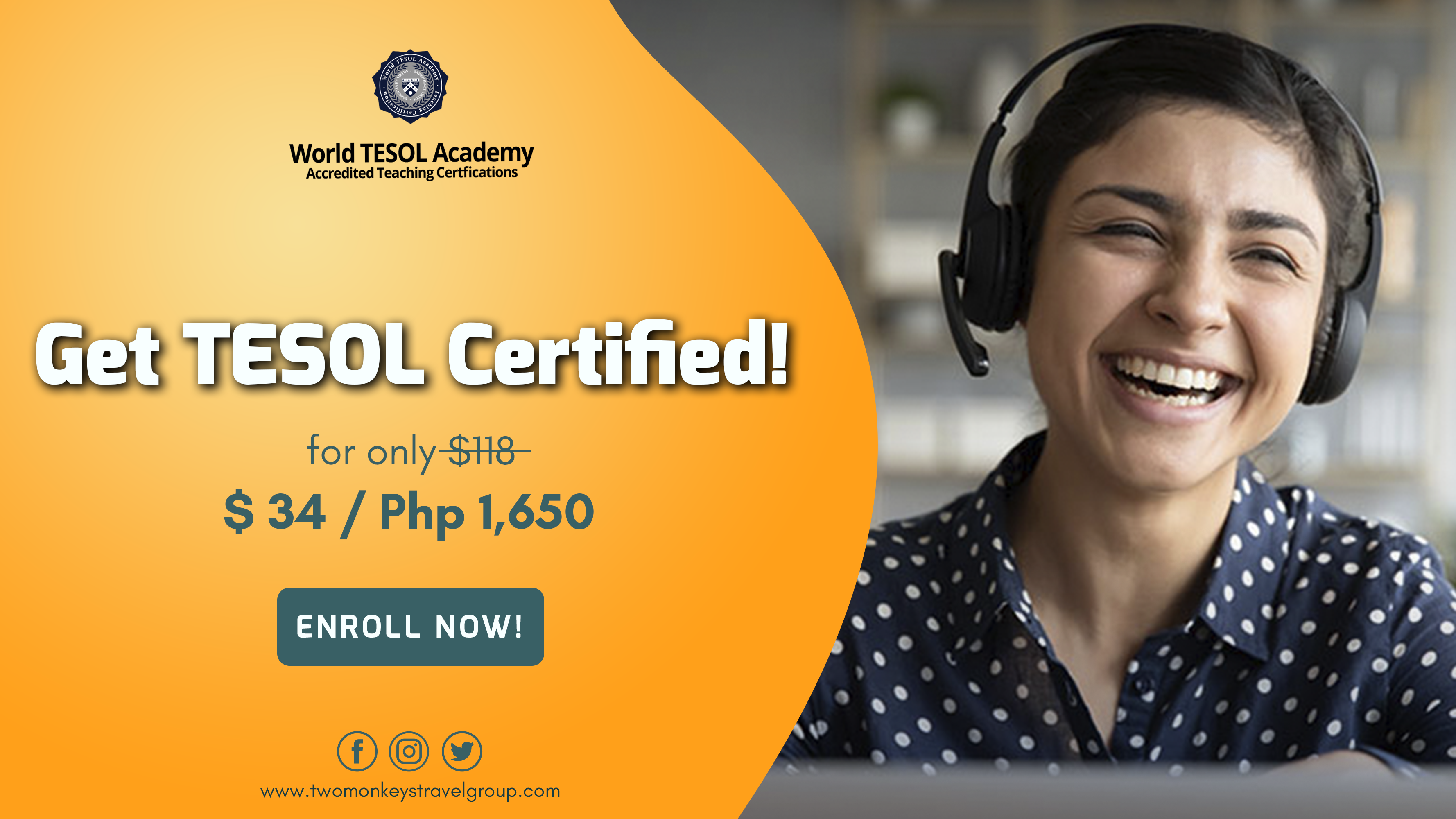 We have also partnered with World Tesol Academy to provide an 
online TESOL certification course
for the lowest price you will find anywhere – $34 USD! We recognised how badly affected many people around the world have been by the Covid / Coronavirus situation. So, we spent a lot of time discussing with this great company how they could come up with an affordable solution to help people afford the opportunities that an online TEFL / TESOL certification can bring.

Are you on Pinterest? Pin these!