How to Plan the Perfect Eurail or Interrail Trip Around Europe
Transportation in Europe can be quite expensive. However, there is Eurail and Interrail. They are passes which allow you to ride trains all over Europe at a much lesser price. Learn how to make a perfect European Itinerary as you use your Eurail Pass or Interrail Pass.
What are Eurail and Interrail?
Eurail and Interrail are both rail passes that allow the holder to travel through 33 European countries by railroads or ships. Eurail passes are for non-European residents while the Interrail passes are for European residents. However, you will need to prove that you have residency or citizenship before you can get an Interrail Pass.
One cannot avail of a country pass in a country where they reside. For example, you are a French resident – you can't buy a one country pass in France but only for other countries. However, you can still buy a Global Pass.
Countries you can travel with a Eurail or Interrail Pass:
Types of Passes
By Age
Child – under four – travel for free but may be asked to sit on an adult's lap during busy times
Child – 4 to 11 – free with a child pass but must be accompanied by a paying Adult (can be 2 children per adult; for an extra child you should purchase a youth pass)
Youth – 12 to 27
Adult – 28 to 59
Senior – 60 plus
By Days
Global Pass – Eurail or Interrail 
4 Days unlimited travel in 1 month
5 Days unlimited travel in 1 month
7 Days unlimited travel in 1 month
10 Days unlimited travel in 2 months
15 Days unlimited travel in 2 months
15 Days unlimited straight travel
22 Days unlimited straight travel
1 month unlimited straight travel
2 months unlimited straight travel
3 months unlimited straight travel
One Country Pass – Eurail or Interrail 
If you are only visiting one country, you can purchase a country pass for a specific country. The passes vary from country to country; there maybe 1 to 8 days unlimited, travel for 1 month, 5 to 6 trips for a month, etc.
There are also 2 Special One Country Passes, which will help you travel for one region instead of a country.
BeNeLux – Belgium, Netherlands, and Luxembourg
Scandinavia – Denmark, Finland, Norway, and Sweden
Notes and Other Conditions
High Speed and Night Trains require a reservation, and you may need to pay additional costs
For the first class, seats are wider and more comfortable
If you buy first-class passes, you can ride the 1st and 2nd coaches while the 2nd class are only for 2nd class coaches
The time for unlimited travel is midnight to midnight
The country pass is not available to residents of that country
Record your travels in the Travel Diary with your ticket as the inspectors will check it – avoid any erasures as it may get invalidated
Arrive 15-30 minutes before your departure.
How to Choose the Best Pass and make the Perfect Itinerary

Answer these questions:

Will I be traveling mostly by land?
How many days will I be traveling to Europe?
Which countries will I go to? How many countries all in all?
What cities will I stop? How many cities all in all?
How many days will I spend it per city?
What's going to be my first country?
What will be the last?

Your answers will be your basis for what you will buy.
Example 1 Eurail or Interrail Itinerary in Europe
For example, you will be traveling to 4 countries like Portugal, Spain, France, and Italy in 20 days – you can get the Global Pass. The number of trips will depend on how many times you will travel or how many cities you will stop. So, in this case, here's a sample itinerary I've made:
Since you will probably use the pass in 7 days, you can buy the 7 Days unlimited travel in 1 month. It's better to go from end to end or make a full circle of your journey. If you arrive in Spain, it would cost you another travel day as Spain to Portugal to France would take more time than Portugal to Spain to France route.
Example 2 Eurail or Interrail Itinerary in Europe
Now, if you are only traveling in one country like Greece, especially the islands, you can check out this itinerary:
2 weeks in Greece
You can buy a One Country Pass with 5 trips if you have this itinerary. Or if you come from Italy, you can purchase the 6 trips one which includes 2 international trips (Italy to Greece) and 4 ferry trips.
Another way to make a good itinerary is to look at a map. Here's the map for Eurail and Interrail. You can create an itinerary from there as it's very detailed, and you can see where you can stop or travel.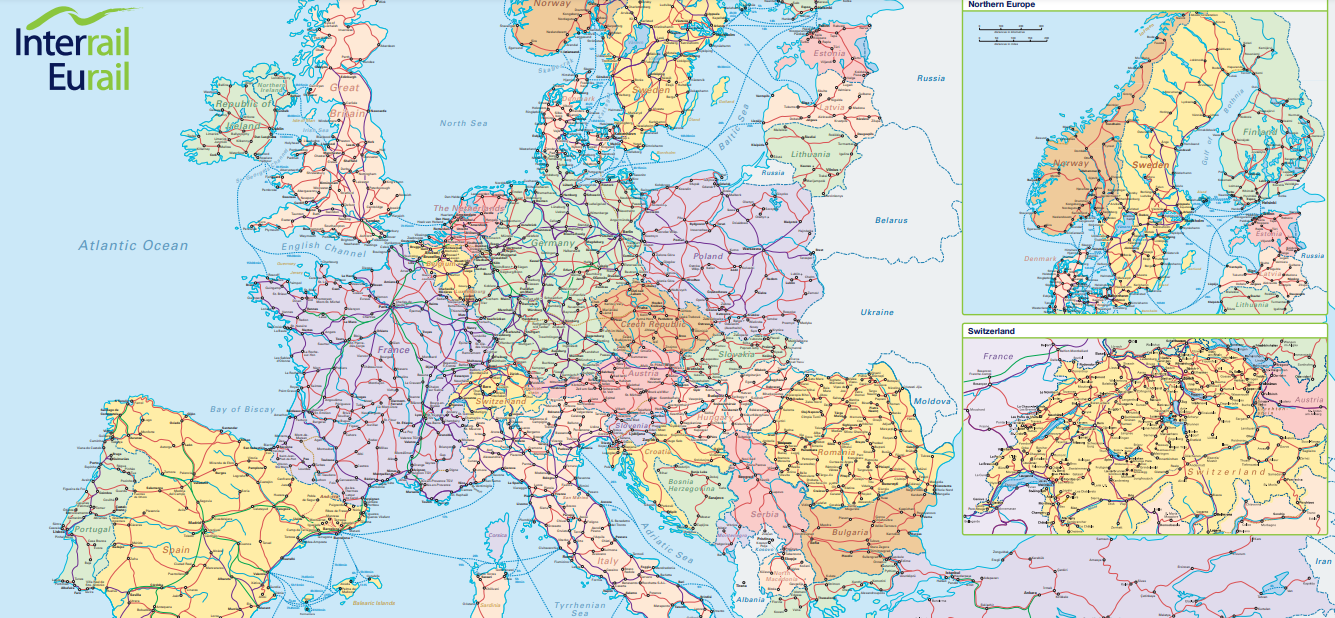 Making a good itinerary is fun; it's one of my favorite activities in planning a trip. And if you are ever visiting Europe, don't forget to try getting a Eurail or Interrail; as it can save you money and time. Hope you will enjoy your Eurotrip and make that dream itinerary into a reality.

Are you on Pinterest? Pin these!