Mahé Travel Guide: Getting Spoiled in the Seychelles
When God bestowed beauty upon the world, Mahé in Seychelles, or Seychelles in general at that, received far more than is necessary. Wherever you are, paradise is within reach. White-sand beaches, spectacular sunsets, rich wildlife – it is a tropical dream come true.
Of all the 115 islands in Seychelles, Mahé is the largest. It has the capital, Victoria, which is home to 90% of the population. Obviously, this is as busy as the island can get. There are loads of activities from one point to another and fabulous natural attractions just never end.
The local language is Creole and the highest point in Seychelles is the Morne Seychellois. It is 905 m above sea level – not really that high – and the total island land area is 200 sq km or 104 sq mi.
Mahé, in particular, is well built for tourism. They have nice roads here and every side of the island, they have different kinds of accommodation like five-star hotels, guesthouses, and self-catering apartments, which are most famous because people who come in Seychelles usually stay for a long time.
They also have loads of restaurants with different kinds of food and nature trails, sandy beaches, and marine national parks for snorkeling and scuba diving. Lots of points of interests as well like the viewpoint, the long stretches of sandy beaches, and discotheque for partying, particularly in Eton Island, and there are casinos and botanical gardens in Victoria, too.
I would definitely recommend people to visit Seychelles because it is such a good island. Even though it is part of the African continent, once you get there it does not really look like an African country, compared to Tanzania and Kenya. Seychelles is a mixture of a Western country with tropical vibes so it is definitely a good place, particularly for a honeymoon, family holiday, or a holiday with friends. It is a good destination.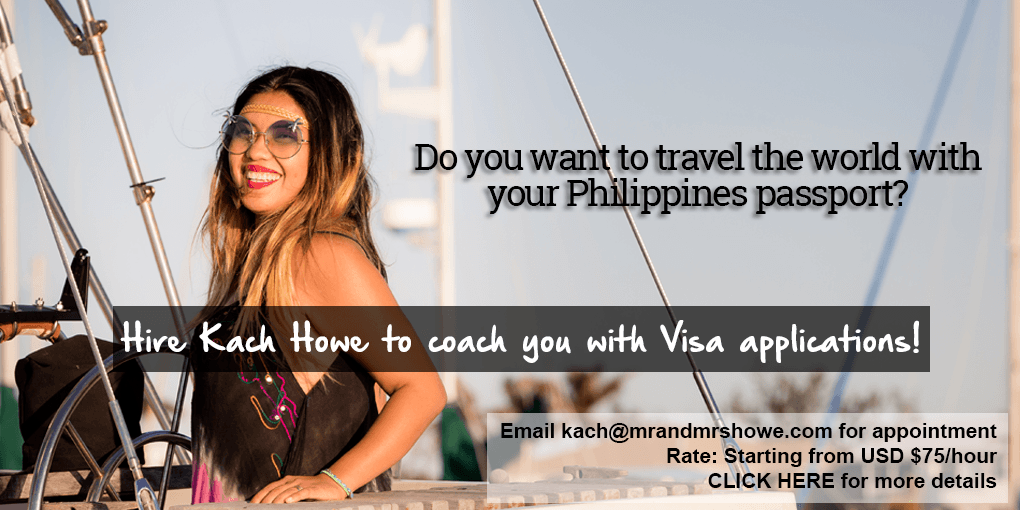 Day 1 – Getting Intimate with the lovely Mahé
From Tanzania, we flew to Nairobi in Kenya for the connecting flight to Mahé. We arrived in Mahé between 4 PM and 5 PM and we were lucky because the Seyvillas Company arranged everything for us. They sent us through e-mail the hotel vouchers and the transfer voucher.
These are important documents that you have to show when you check-in at the airport because they are thorough in screening people and you have to prove that you are only going to Seychelles for a holiday. Also, the yellow fever vaccination card is another important document that you have to show to them.
Booking with Seyvillas is really amazing because they organized everything. We just had to wait for the transfers and all the activities have been sorted with the big companies and tour agencies in Seychelles, like Creole Travel Company. Seyvillas was very helpful because they gave us all the experiences we had from the first day we arrived in Mahé until the day we went to Praslin where they arranged the ferry for us and back they arranged a plane.
So we arrived at Seychelles International Airport and the Creole Company picked us up and took us from Victoria where the International Airport is located and into our accommodation, the Hanneman Holiday Residence.
The Hanneman Holiday Residence is near the Beau Vallon Bay. It is a stunning beach, really popular with tourists visiting the northern part of Mahé. It is a 2 km stretch of white-sandy beach with loads of five-star hotels, guesthouses, and self-catering apartements surrounding the area.
The place where we stayed is a self-catering apartment. It is a studio where we have our own kitchen and it is equipped with washing machine, dishwasher, refrigerator, and we have our own balcony where we spend our morning breakfast.
The best thing about our accommodation is it is only five minutes to the beachfront and 10 minutes to all the shops where you can find groceries and ATM for cash withdrawals. It is a very convenient location! Also, the owner, Manfred, is very nice and approachable. He explained everything to us and spoke about the places that we could visit.
Day 2 – Falling in love with the island
The lure of the beach and the glorious bay is impossible to resist! We spent the day by the beach and just lounge around and took some pictures of the gorgeous beach.
The good thing about the beach in Mahé is there is not a lot of locals who will approach you for some boat tours or some local products unlike in Zanzibar where you can get really stressed as the moment you get out of your hotel people will follow you and ask you to do some tours and buy some local stuff. But in Mahé people are so relaxed and the people are so friendly and most of them speak English.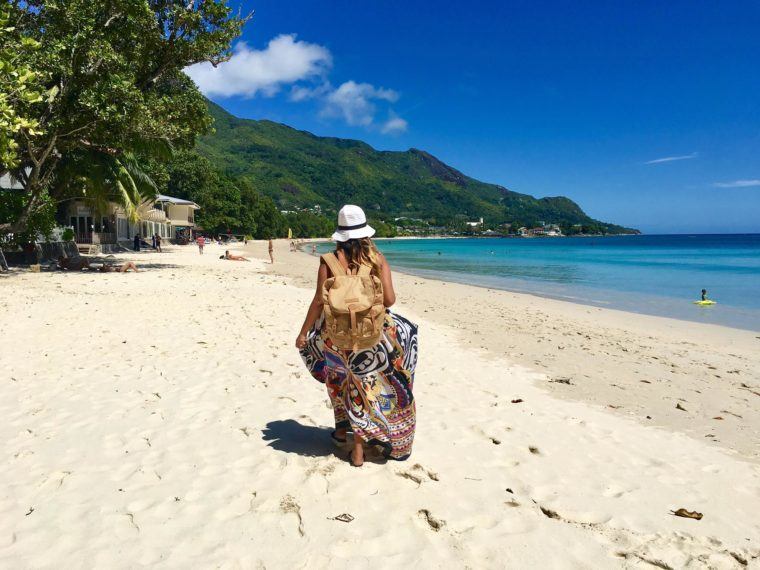 As mentioned, the national language is Creole, which mainly sounds like French, but most people can speak good English. Historically, Seychelles was colonized by the French and British so this is where the languages come from.
Also, another highlight of the evening of our second day, we went to the night market in Mahé where you can find a lot of good stuff produced by locals. More important, there is a lot of food here! The best is grilled food that you can buy at a bargain price.
We had a meal of pork belly and rice with some salad and it only costs 95 rupee: 75 rupees for the food and 15 rupees for the drinks. It is maybe $6 or $8. NOTE: The night market only runs every Wednesday so if you are planning your visit to Mahé Island, make sure you are there on a Wednesday so you find some local stuff and delicacies on the night market!
More activities to do in Mahé
The capital Victoria is the commercial center. You can find all the groceries, shopping malls, cinemas, and other establishments here. Meanwhile, on the northern part of the island, water sports activities abound.  The Port Launay Marine National Park is the best place for snorkeling and scuba diving.
Meanwhile, on the southern part, be sure to visit the Cap Lazare Natural Reserve where the giant tortoises are found. It is a government-run facility. Also, if you are into surfing, hit the Surfer's Beach – obviously the best place to catch some waves.
Here are more attractions that you have to see:
The market in Victoria – By African standards, this is a small market but it does pack a punch. You can get everything here from spices and produce to souvenir shirts and sarongs. Come early in the morning to taste the freshest seafood!
Takamaka Bay – This is a popular distillery in the area. They make good rum! Go on a tour and learn the rum-making procedure, purchase a few bottles, and have lots of fun.
Cathedral of the Immaculate Conception – Elegant and imposing, this cathedral has an extraordinary architecture that will certainly look good on your photos.
SeyTé Tea Factory – Located in the Morne Seychellois National Park, a tour here is a good introduction to the tea-making process. Your best picks to sample include the fragrant SeyTé and citronnelle!
Botanical Gardens – 10 minutes from the city center, this garden is a lush space filled with the sounds of streams and birds. Highlights include a spice grove, patch of rainforest, and pen of giant tortoises.
Anse Port Launay – Come for a lazy day at the beach! The views are great and the beach is surrounded by overhanging trees that will certainly relax you.
10 Frequently Asked Questions About Traveling to Mahé, Seychelles
1. How safe is Mahé?
It is safe! The people are very chilled and relax.
2. What kind of accommodation should I get?
There are many kinds of accommodation in Mahé for all budgets and purposes but it is best to get a guesthouse or self-catering apartment for longer stays as it is cheaper than most hotel stays!
3. Where can I exchange money?
The local currency is the Seychelles Rupee. Unfortunately, you can only acquire it once you are on the island. As such, bring your Euro, USD, or GBP to make transactions. Exchanging foreign currency can be done in banks, at the airport, or with a hotel cashier.
4. Are credit cards accepted?
All major hotels and restaurants accept credit cards. ATMs are available in Mahé, too.
5. Can I shop for food here?
Shopping to make your own food is not cheap. It is better to eat in restaurants. This is due to the fact that most items that come to Seychelles are imported.
6. How do I go around Mahé?
You can rent a car to go around. It costs about $65 a day.
7. How can I go to the other islands?
You can take a ferry, small plane, or helicopter. The ferry is ideal as there is a chance that you can see dolphins, marlins, and whale sharks in the water!
8. What is the best thing to order to sample Seychelles local food?
Seafood and spices are great in Seychelles. Try a fish or seafood curry!
9. Is it possible to call home from here?
International phone calls are expensive so the best thing to do is bring a phone card with you!
10. Any other important reminders?
Travel light! Small interisland flights have weight restrictions and two pieces of luggage is ideal.
Are you on Pinterest? Pin these!