7 Awesome Things To Do in Seychelles @youcouldtravel
Made of 115 islands, the archipelago of Seychelles is located in the Indian Ocean northeast of Madagascar. The Seychelles islands are the oldest mid-ocean granitic islands on Earth, and their creation can only be described as a stroke of divine intervention.
They Seychelles has two categories of islands: the inner or the granitic islands and the outer or the flat, coralline islands. The inner islands remain the cultural focus point of the Seychelles, whilst the outer, are remarkable little paradises.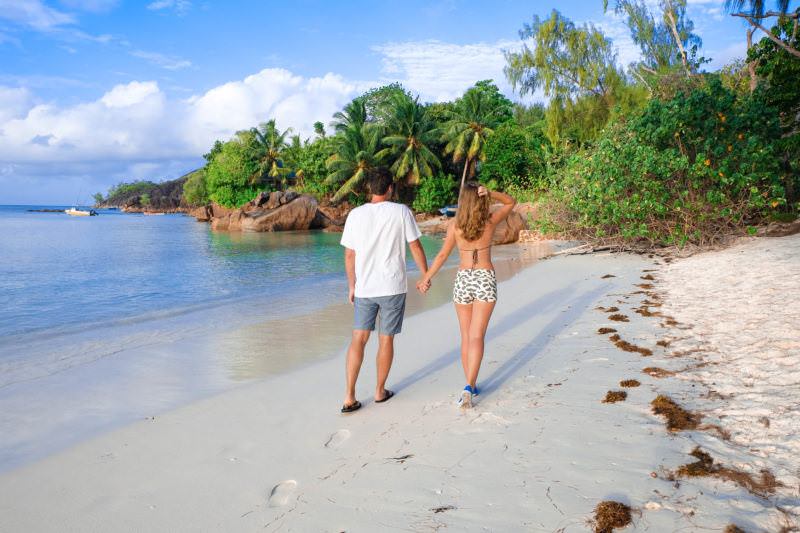 The Seychelles have long been a sought after honeymoon destination and having read extensively about this incredible archipelago; we couldn't resist the urge to pre-plan our exotic getaway, to some of the most beautiful islands on Earth.
White sands, turquoise water, and lush vegetation, made the Seychelles even more beautiful in reality than any picture could do it justice.
Are you ready to immerse yourself in paradise?

Here are seven awesome things to do in the Seychelles
1. Swim in crystal clear waters
With constant temperatures around the 30 degrees mark, it's easy to see why the Seychelles is a year round destination. Furthermore, swimming in the Seychelles is not just recommended, but encouraged.
The first time I went to the beach, I had to walk through a garden of exotic vegetation, full of colourful flowers and Frangipani trees. It was like walking through a dream. But the moment I saw the beach I was heading towards, I had to stop and take it all in. I will never forget the perfect colour of the water, which was slowly touching the most perfect, white sand I've ever seen.
Needless to say that the ocean is warm and inviting year round, hence swimming in the Seychelles is sheer perfection. Have I mentioned the marine life which you will be seeing along the shores, such as colourful fish, beautiful stingrays, and blooming colours?
2. Dive
Although swimming is one of the most incredible experiences in the Seychelles, nothing quite compares to descending 10 meters below the ocean's surface, and seeing a whole new variety of marine life right in front of your eyes. I've never dived before the Seychelles, and I couldn't believe the incredible feeling of being part of such underworld wonder.
The best I could describe this experience would be to imagine that you are part of an exotic borderless aquarium, filled with electric colours and endless possibilities.
3. Hike
If you think the Seychelles are just a beach destination, you might be surprised to know that you can hike on several islands, in pursuit of postcard-perfect views.
There are trails which will take you through dreamy forests and rewards you with sights of crystal clear waters, varied biodiversity (including carnivorous pitcher plants) and dreamy beaches. As already mentioned, the temperatures are close to 30 degrees year round, hence hiking in the Seychelles is no easy task irrespective of the time of the day. It is always advisable to carry plenty of water, snacks, and sunscreen.
4. Visit the most beautiful beach
Although the Seychelles has some of the most beautiful beaches in the whole world, I believe that everyone is allowed to have a favourite. Our most loved beach was on Mahé, called Petite Anse. This beach is part of the Four Seasons and to access it; you will have to walk for a good 15 minutes, through paths lined with exotic flora. Although this is a private beach, you can still visit despite staying in a different hotel. Just make sure you check in at the entrance and write your name down for the security guards.
Once you reach the beach, enjoy the most beautiful stretch of white buttery sand, lush plants and the most beautiful water I've ever seen. This beach is a dream come true. Did I mention they serve cocktails on this beach? Or you can opt in for a romantic dinner on the beach during sunset? All these, and access to the wifi, which meant that we could still work on the beach when we needed to!
5. Island hopping
The Seychelles have so many beautiful islands; it would be a shame to miss seeing all of them. We love slow travel, so we only checked out Mahé, Praslin, and La Digue, but we are planning our return to the Seychelles, where we will be sure to visit even more islands. A lot of people ask which Seychelles island should they visit, but in reality, each of these mini-paradises is unique and has special features, tailored to different types of travelers.
For example, Mahe is the cultural soul of the Seychelles, with Victoria being the smallest capital in the world. Praslin is a beautiful place, the perfect combination of epic beaches and natural parks. La Digue is one of a kind, the island where time stopped, everyone rides a bike, and every evening there is a local chilled party to join. Island Hopping is essential whilst visiting the Seychelles.
6. Valle de Mai
No visit to the Seychelles is complete without a tour around the world famed Vallee de Mai, a UNESCO world heritage site and home to Coco de Mer, a fruit which can reach close to 30 kg.
Vallee de Mai is also the only place in the world to spot the rare black parrot, a sombre-coloured, medium-sized parrot endemic to the Seychelles.
When visiting the beautiful Valle de Mai, make sure you wear plenty of mosquito repellent and bring water with you. There are several trails around this nature reserve for all fitness levels.
7. Enjoy a sensational sunset
The Seychelles has been an acclaimed honeymoon destination, and due to its key position in the Indian Ocean, this archipelago is the perfect place to admire the most romantic sunset with your partner.
Late afternoon walks on the beach, beautifully coloured skies and warm waters even after the sun goes down, make the Seychelles a must visit for those keen to celebrate their newly married life. Worry not, there are plenty of secluded spots to enjoy a wonderful sunset, even with your friends and family, if romance is not your thing.

Where to Stay in Seychelles
Seychelles International Airport is 18 km from the property. Situated just a 5-minute drive from the Baie Lazare Beach, Anse Soleil Resort.
Each air-conditioned house offers BBQ facilities available on request and has a well-equipped kitchenette, dining table and TV.
Anse Soleil Resort also has a giant tortoise enclosure. Guests can stay in self-catering homes with a private garden or terrace. Free Wi-Fi is available at reception.
Best Mid-Range Hotel in Seychelles – Hilltop Hotel
Boutique Hotel Hilltop comprises a bar, a furnished terrace, and a garden. Units here come with a minibar and a safe. The private bathrooms are fitted with a shower, a bidet, and a hairdryer.
Offering a view of the sea in each unit, a sandy beach is 2.7 km away from the property.
Snorkeling, hiking and diving opportunities can be found in the surroundings.
Best Luxury Hotel in Seychelles – Four Seasons
This property is 1-minute walk from the beach. Four Seasons Resort Seychelles is situated less than 5 m from the beach located on Petite Anse, Baie Lazare.
Each air-conditioned villa has a private pool and a patio. It comes equipped with a satellite TV, minibar, and tea-and-coffee-making facilities. The bathroom includes a shower with free toiletries, a bathrobe, and slippers. It features a spa, fitness center, swimming pool, and a water sports pavilion.
Kannel Restaurant offers international cuisine for lunch and Asian and Creole cuisine for dinner. ZEZ restaurant serves an international breakfast with daily specials and a la carte option, and dinner features a modern Mediterranean menu. Kannel Bar serves light snacks, fruit drinks and cocktails during the day, whilst ZEZ Lounge is open for cocktails, wines and freshly-made sushi and sashimi.

About the Writer
We are Cory and G, the happy British couple behind You Could Travel, a website is geared towards inspiring others through information packed articles that revolve around travel guides, recommendations, and tips. We specialise in soft adventure travel, off the beaten path destinations and culinary affairs. We strongly believe that a nomadic lifestyle is possible regardless of background, cultural beliefs or financial means and we motivate and encourage these experiences through storytelling and photographic essay.
Social Media:
Facebook: You Could Travel
Instagram: @youcouldtravel
Twitter: @youcouldtravel

Are you on Pinterest? Pin these!