Different Ways to Travel from Manila to Ilocos [How to Travel to Ilocos]
For those curious of Vigan, the Windmills, Paoay Church, and much more, Ilocos is a great destination. My parents and I went here for an exciting trip after my birthday. We enjoyed what the region offers. If you want to visit this place, learn how you can travel from Manila to Ilocos here!
During our family trip, we went to both Ilocos Sur and Norte for about 4 days. You can check out many things here from the historic city of Vigan to the powerful Bangui Windmills. It's a long journey, but it's worth it!
Travel from Manila to Ilocos by Bus
You can ride a bus from Manila to Ilocos. Travel time is usually for 5 to 12 hours, depending on your destination and the traffic. Many buses operate to Ilocos, check out some of your options.
Partas Bus
Fares are from PHP 400 to PHP 1,200, depending on the type of bus you will ride. You can ride from Manila to Ilocos from Cubao or Sampaloc. Luxury Buses and Deluxe Buses with Comfort rooms onboard are available. P.S. The buses are actually owned by billionaire politician Chavit Singson.
Here are the schedules:
Florida Bus
This is what we rode from Dau Terminal in Pampanga to Vigan. Our fare was about PHP 560, PHP 450 for senior citizens. You might pay about PHP 700 – 1200, depending on the bus type you have ridden. The bus was a bit new (with plastic coverings on some seats), C.R. was also found inside.
Check out the schedules:
Fariñas Transit
Another big player for your travel to Ilocos is Fariñas Trans. If Partas Bus is owned by Ilocos Sur's Chavit Singson, this is owned by a political clan in Ilocos Norte. They have various types of buses; Super First Class and Super Deluxe buses also have individual monitors for your entertainment.
Check the prices and classes below: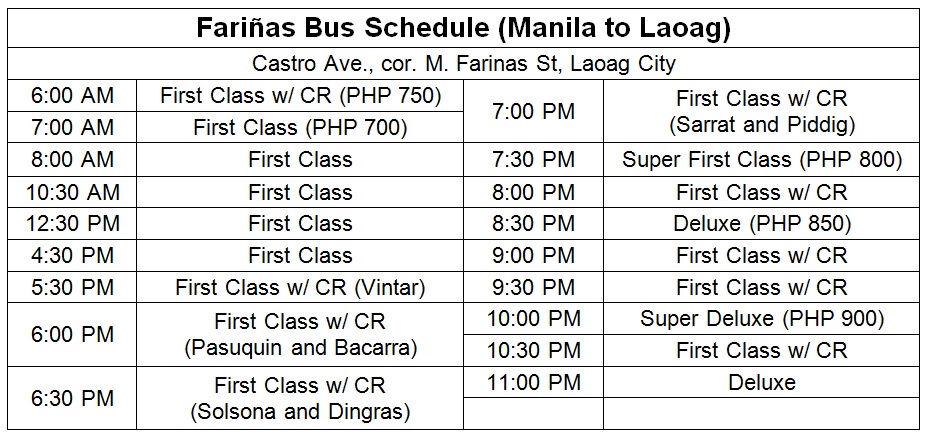 Travel from Manila to Ilocos By Van
You can also rent a Van to Ilocos if you are a group and want to travel together. You can find van rental sites for your travel from Manila to Ilocos with a driver and sometimes a tour guide. Rates are a bit expensive ranging from PHP 4,000 – 10,000 a day, exclusive of tolls and fuel. It's a long drive from Manila, but it will be most convenient as you can ask when to stop. This is also a better way to tour around Ilocos with a group.
Travel from Manila to Ilocos By Car
You can also drive from Manila to Ilocos by Private car, just input in the google maps your destination, and you'll get directions. You might pass North Luzon Expressway, Mac Arthur Highway, and so much more. To avoid traffic, you might also want to drive from midnight to dawn. However, it will be a long drive, so it's better if you also have an extra driver to exchange places in case the first driver is sleepy.
Travel from Manila to Ilocos by Plane
There are direct flights from Manila International Aiport to Laoag, Ilocos Norte. You can buy tickets from Philippine Airlines; it may cost PHP 1,000 – 5,000 for a ticket, depending on the season and the seats. The travel time is 1 hour and 10 minutes. This will be convenient if you don't like traveling for more than 8 hours.
*Prices stated above are subject to change.
I hope this guide is helpful for your travel from Manila to Ilocos. I highly recommend getting a bus with CR at night. You'll have better legroom and a won't hold in your pee! Traveling during the night is also a time-saver since you'll arrive in the morning and do all touristy things by then. Enjoy Ilocos!

Are you on Pinterest? Pin these!

About the Writer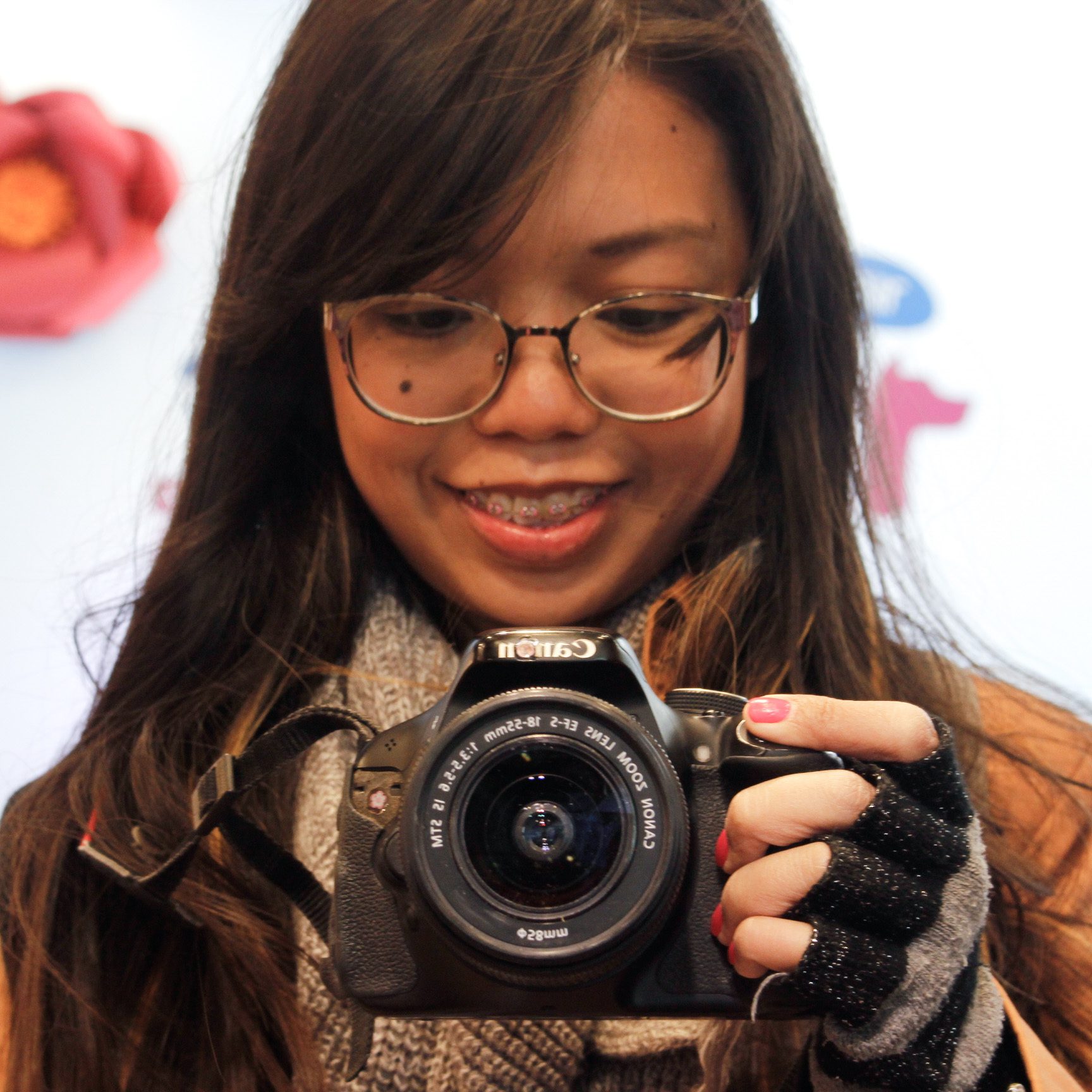 Hey, I'm Lyza! I once was a person who just imagined going to places "one day" but decided to pursue my dreams. My first travel abroad was in Japan, solo, last 2018, and fell in love with the journey since. I'm aiming to visit 10 countries before turning 30 and 2 new places in the Philippines every year. Besides traveling, I love organizing trips, photography, reading, and making new friends. Follow my adventures through my Instagram.