12 Ways to Leave the Philippines to Travel, Live and Work Abroad Legally
If you're reading this and thinking that you don't have the money to travel, don't have the skills, or that you're simply not brave enough to take the big step of leaving the country to explore the rest of the world – then read this for some great ideas for how to do it yourself!
Due to some challenges in traveling with a Philippines Passport, here are some clever, legal and even profitable ways you can take to leave the Philippines, before packing those bags and making a run for the airport! Here are our tips to pass the immigration in NAIA or international airports in the Philippines.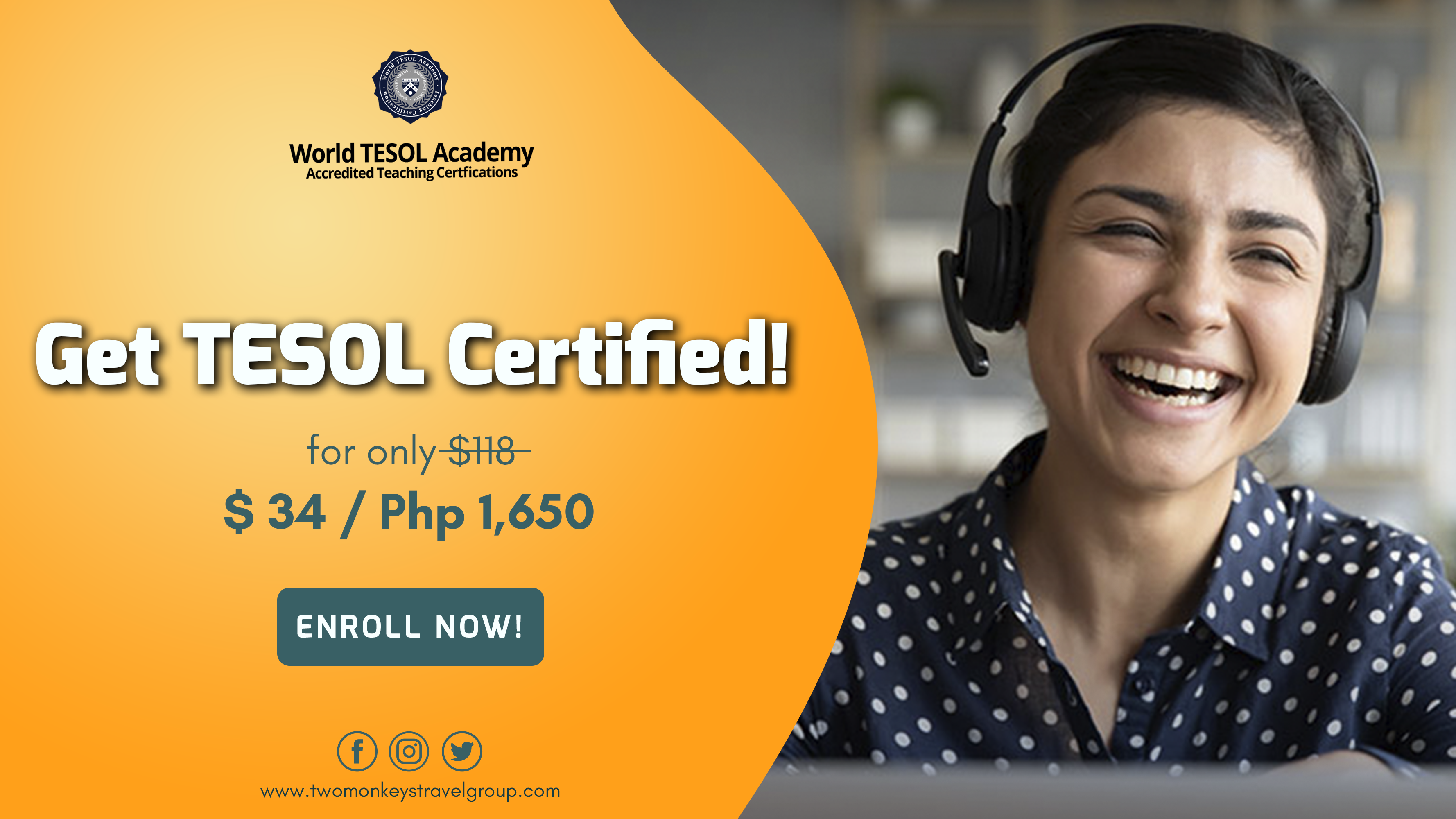 We have also partnered with World Tesol Academy to provide an 
online TESOL certification course
for the lowest price you will find anywhere – $34 USD! We recognised how badly affected many people around the world have been by the Covid / Coronavirus situation. So, we spent a lot of time discussing with this great company how they could come up with an affordable solution to help people afford the opportunities that an online TEFL / TESOL certification can bring.
Please also note that you don't need to hire a travel agency to help you with the visa because you can do it directly at the embassy or online. Below tips are only about Tourist visa and NOT work visa.
Other articles you can read:
Do you want to be an English Teacher while Traveling?
Here are the 12 Different ways you can do to leave the Philippines (legally) and live a sustainable travel lifestyle!
1. Work on a Cruise Ship
12 Ways to take a break from the Philippines and live a sustainable travel lifestyle – Work on cruise ships
The world's biggest cruise liners are hiring Filipino crews in various positions through relevant agencies. Bartenders, chefs, waiters, entertainers, and dealers are among the popular job opportunities.
We recently traveled on a 16 day Antarctica cruise with Hurtigruten and most of the staff were Filipino! Talking to them about their jobs and their lifestyles, most said that it was the best job they had ever had and that this particular cruise company was the best of them all!
If you think this is for you, go to any relevant travel agency and apply. They will process all your requirements including your Visa to your point of entry. Checkout POEA website for current openings
2. Become an OFW in the Middle East or Singapore
An Overseas Filipino Worker is a Filipino citizen who braves a life abroad to earn a living (not traveling), hence the term. Filipinos can be found working in almost every country in the world, thanks to our high level of to education, high level of fluency in English and our willingness to travel to the other side of the world to earn a good living and experience a different way of life. Engineers, doctors, nurses, teachers, administrators, housekeepers – we Filipinos are widely accepted the world over as some of the best workers on the planet. Some of the most popular locations for Filipinos to become Overseas Foreign Workers are The Middle East, USA, UK, Europe, Israel, Australia and Canada. If living a stable life, with a career, a home, and a salary is your focus, rather than traveling the world, then this would be a very good option for you.
3. Study Abroad in Europe, USA, Canada or Australia
This could be a perfect time for you to earn another degree or take your graduate studies and leave the Philippines at the same time!
If you can meet the visa requirements and have the financial means, you can apply for a student visa in another country, like Australia and many others. Many Filipinos are also using this approach as a stepping stone for finding a job and permanently moving to the land down under. Check out Australia Embassy for more details.
If the financial side is a challenge for you, many universities and organizations are offering scholarships to Filipinos. Here's one example:
"SHARE is an EU Grant funded project with an overarching objective to strengthen regional cooperation, enhance the quality, competitiveness, and internationalization of ASEAN higher education institutions and students, contributing to an ASEAN Community beyond 2015. The main aim is to enhance cooperation between the EU and the ASEAN Economic Community (AEC) and to create lasting benefits from the harmonization of higher education across ASEAN. They provide scholarship grants not limited to Tuition fees and living allowances."
4. Teach English all over the world!
12 Ways to take a break from the Philippines and live a sustainable travel lifestyle – Teaching English
If you're new to TEFL, then also check out our introduction to teaching English article abroad with TEFL!
Get your TEFL certification online, and this is your ticket to your new life as a Filipino TEFL teacher abroad. TEFL stands for Teaching of English as a Foreign Language; it's an English Teaching Certificate that will allow you to teach English in different countries in South East Asia and South America.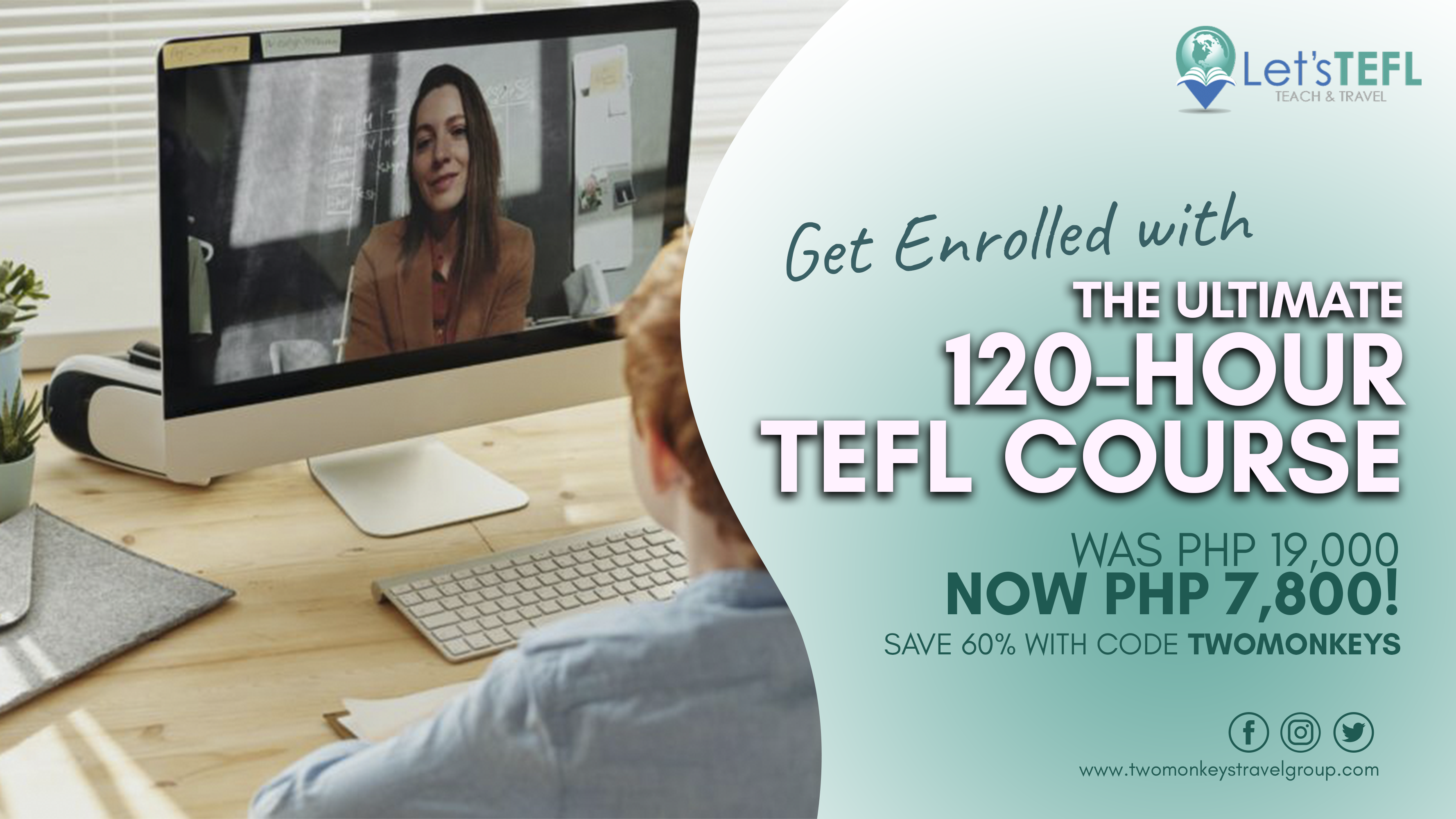 Already know how to get started teaching English abroad? Just want to take the online TEFL course? OK! Then get 60% off your 120 hours online TEFL course here with Promo Code TWOMONKEYS.
Check out this article for more details if you're considering this option: How to become a Filipino English Teacher Abroad (and earn up to $25/ hour)
You can also join this Facebook support group – TEFL English Teachers Worldwide
Please note that
TEFL course
providers are only providing the
TEFL course
and the TEFL certification that teachers need to be able to teach English as a foreign language. Every country has its own employment and visa requirements and they often change without prior notice. These requirements can sometimes require that TEFL certification is "validated", "notarized", or "authenticated". Such is the case with China and Vietnam. It is your own responsibility to check the requirements for the country that you plan to teach in, as no
TEFL course
provider has any control over the employment visa regulations of other countries.
5. Go Backpacking in South East Asia for six months.
12 Ways to take a break from the Philippines and live a sustainable travel lifestyle – Go Backpacking
Leave your job, book your plane tickets, grab your bags and leave the Philippines for the Southeast Asia backpacking adventure of a lifetime!  Visas are not a challenge, as ASEAN countries give a visa-free entry for Philippines passport holders with valid stay from 14-30 days. Make sure your passport has at least six months validity throughout your journey. You can find different volunteering and backpacker jobs, here.
There are many ways to make sure you can escape for longer too, like staying in cheap hostels and shared dorms, where you will meet all kinds of fellow travelers – Best Backpacker Hostels in South East Asia and the World
Check out this Guide to Backpacking in South East Asia if you choose this way to leave the Philippines. You can also read all our DIY Travel Guide articles around the world.
6. Get a Job That Allows you to Work Remotely
12 Ways to take a break from the Philippines and live a sustainable travel lifestyle – Be a Digital Nomad
Software developers, IT Support, Helpdesk, Encoder, Graphic Designer and SEO analysts are among the popular remote jobs that hire Filipinos. Several platforms that offer remote jobs are preferred cost-effective collaborations between businesses and professionals. Projects can be big or small, which determines the pay you will receive for working on the project. Since you don't need to physically be an office, you can move abroad temporarily and just work from the comforts of your hostel bed, all you need is a decent internet connection. Once you have a job, start thinking of the countries where you want to stay temporarily.
Check out our List of Visa-Free Countries to Visit for Philippines Passport Holders in 2016
Start your own online business
Another great way to leave the country and travel the world, although not as easy as it sounds, is to become a blogger or similar kind of online entrepreneur.  It takes a lot of work, and the learning curve can be steep; the old saying, "You'll work twice as hard when you work for yourself" is absolutely true, but the rewards can be monumental.
Check out this article – How to Start a Travel Blog and Earn Money in 6 months and this article – How to Make Money from Travel Blogging (Monetize your Travel Blog)  These two articles contain everything you need to know about how to make money from travel blogging and all of the advice can be applied to other on-line businesses too.
7. Migrate to Australia (or Canada. Canada's nice too!)

12 Ways to take a break from the Philippines and live a sustainable travel lifestyle – Migrating to Canada
Australia and Canada are the top two countries where Filipinos are migrating to. Both countries have different immigration programs, select the program you think is most appropriate for your current status and credentials. All programs are based on a points system. You can do self-assessment if you meet the minimum number of points for the program. Having close relatives in Australia or Canada can help speed up the process, some of the programs give you extra points for this. Language test (IELTS – not the same as TEFL) is required for both, set your appointment if you decide to apply for any of the programs.
Here are the two useful immigration links – Immigration and Visas to Australia and Eligibility to Immigrate to Canada.
8. Go on a Healing Retreat in Bali

12 Ways to take a break from the Philippines and live a sustainable travel lifestyle – Bali Healing Retreat
The past year has been so intense, and it has consumed a lot of energy from all of us. It may also have broken some of your relationships due to misunderstandings and disagreements on certain political issues. A retreat will help to clear your thoughts and a healing journey in Bali is a great option. The Balinese tradition of the wellness retreat gives you back the harmony of your mind and body. You can also go to India!
Here are some accommodation options to help you stay longer in the perfect piece of paradise – Best Luxury Hotels in Indonesia  and Best Backpacker Hostels in Indonesia
9. Be a Volunteer in Another Country
12 Ways to take a break from the Philippines and live a sustainable travel lifestyle – My 'Family' in Myanmar
Sure you want to leave the country, this is the first reason why you would want to be a volunteer abroad. Before you find a volunteering gig, you should really have a second reason, something that drives you. Whether it is because you want to change the world, you want to learn new skills, or you want to save money while traveling, you need to find that reason because this experience will change you.
Find out which suits you from this List of Volunteering Opportunities Around the World.
10. Marry your Foreigner Fiancé
12 Ways to take a break from the Philippines and live a sustainable travel lifestyle
There's something inherently romantic about falling in love with someone on the other side of the world, but do make sure that it's really for love, and not just for a visa. We'd hate for you to fall into one of the many Misconceptions of Filipinas with Foreigners!
11. Live abroad for FREE by becoming a "House Sitter."
House Sitting is exactly what it sounds like – Looking after someone else's house while they are away. Homeowners can register their property on websites like Trusted House Sitter, where potential sitters can then search the listings for house sitting opportunities all over the world. So what's the catch? There isn't one – You live in and look after the person's home, which can often include their pets like cats, dogs, even horses! This is an amazing way to spend more time in a country and really get to know the local vibes, culture, and people. Best of all, you'll have the privacy of your own home to explore from, rather than a shared hostel dorm room!
Read our guide here on how Filipinos can become Housesitters abroad.
12. International Training or Foreign Assignment from BPO job?
12 Ways to take a break from the Philippines and live a sustainable travel lifestyle – Caribbean Island Post?
If you're working in a multinational company, there's a huge chance of an opportunity waiting for an on-shore foreign assignment. Set a one on one meeting with your manager and discuss this right away. Make sure to leverage your skills and experience to convince them of your suitability for a position like this.
In the end, your decision to take a break from the Philippines depends on your life and travel goals amongst other things. Anyway, for whatever reason and whatever drives you, just get out there and travel the world!

This article was written in collaboration with Jaypee Licudan, a Filipino Expat based in Singapore. Follow his personal blog: The Rustic Nomad. Kach and Jonathan updated the article with more information for 2017 travels.