Our First All-Inclusive Luxury Resort Experience – Paradisus Cancun, Mexico
Having been travelling for over three years now, we have developed our own unique travel style – a certain blend of adventure, luxury, boutique, and experiential travel. We have come a very long way from when we first started travelling full time back in 2013, staying in the cheapest hostel dorm rooms, eating the cheapest food and always travelling by night bus to avoid the cost of hotels and days lost in transit.
Nowadays, although you might still find us in a hostel, but it won't be the cheapest, we will have a private room and drink fresh coffee on the roof terrace while we work! Much of the time these days, we prefer to seek out the most incredible experiences on foot, mountain bike, motorbike, up mountains, through rivers and out of airplanes, before arriving at a luxury hotel, to be soothed back to life with a spa, a massage and some fine food!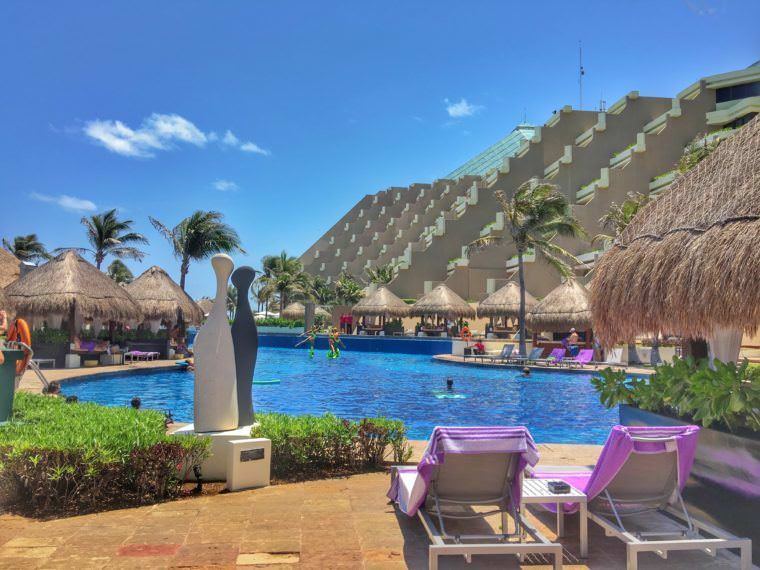 Having started out as monkey backpackers, we've now become quite comfortable as luxury travellers!
However, when we were invited to stay at the Paradisus Cancun (Cancun, Mexico), we knew that it would be something completely different to what we had experienced before – Staying in an all-inclusive luxury resort, where everything is provided for you to the highest possible standard, never once needing to leave the hotel except to step out onto the perfect white-sand beach and wade into the clear blue water, practically on the dividing line between the Gulf of Mexico and the Caribbean Sea! While we've adapted pretty well to the luxury travel lifestyle, we have never before decided to stay solely within the boundaries of a luxury resort.
After three days of all-inclusive luxury in the Paradisus Cancun, we found that it was the perfect way to immerse ourselves in relaxation after months on the road, to know that everything was taken care of so that we could focus entirely on enjoying the luxury!
Paradisus Cancun is a very high-end, luxury all inclusive resort in Cancun, located on the beachfront of the Zona Hoteleria, right in the middle of about 15 miles of perfect sandy beaches.
Offering what is described as a "LUXEclusive experience," the whole Paradisus experience in based upon a blend of luxury, tranquillity, relaxation, style and personalized attention. Paradisus Cancun literally redefines the idea of the luxury resort in Cancun.
It is also the home of the Royal Service, where guests are treated with even more care and attention than in the rest of the hotel. From the moment we walked in through the door, we were shown to the exclusive Royal Service reception, in a wing of the hotel reserved entirely for Royal Service guests. After our welcome champagne, we were introduced to our butler, Rossana, who would be taking personal responsibility for ensuring that everything went perfectly during our stay, including any special requests, dinner reservations, activities and anything else we could think of!

PEOPLE
It's the people within Paradisus Cancun truly are at the heart of everything that happens here, from the moment we walked in through the door, through every moment, event and interaction, to the moment the valet opened the door of our car and we drove away again.
A simple 'hola,' a smile, a nod was always accompanied with the right hand placed on heart, and no one was ever too busy to stop and help you with something, show you to the restaurant or help you make a cappuccino because you were making a complete mess of it! The type of hospitality we experienced in Paradisus Cancun was the type which comes with genuine warmth and the wish to make your day as good as it can be, while also giving you the personal space to enjoy every moment of luxurious tranquillity.

ACCOMMMODATION

There is absolutely no 2nd class in Paradisus Cancun, as every room is a suite, with its own private terrace overlooking either the Caribbean Sea, or the Nichupte lagoon to the other side.
Rossana showed us to our Royal Service Luxury Junior Suite with ocean view, where the king-sized bed was covered in scarlet red rose petals in the shape of two hearts! The bottle of champagne and chocolate covered strawberries were a lovely welcome gift as well!
From the bed a chaise long separated the living room area, with a comfortable sofa which overlooked the private ocean view terrace. The terrace was the perfect place to sit in the morning and drink coffee, ordered with our room service breakfast of fresh fruits and Greek yogurt. 

FOOD
With 16 bars and restaurants in Paradisus Cancun, you can eat a different world cuisine breakfast, lunch and dinner, for every single day of your stay and never run out of new dishes to try. On our arrival, we had our first dinner in Market Grill, where our waiter Efrain and his team, Luis and Jose, brought different cuts of skewered meats the table, in traditional Argentine and Brazilian 'Churascaria' style. All of the food was spectacular and the unique service style made the whole meal an experience in itself, all accompanied by a view of the swimming pool and the breaking wave of the ocean beyond.
As well as ordering room service for an early breakfast of fruits, yogurt and coffee, to give me a little energy for my morning run along the beach, we also walked down to Royal Service VIP La Palapa restaurant for a late brunch overlooking the Caribbean Sea. The menu here was light, fresh and perfectly balanced to match the breezy sea air and calming view. Just filling enough to put you in the mood for a nap in one of the private Bali Beds located around the private Royal Service pool.
On our second night, we switched culinary continents with a selection of Asian Western fusion sushi and fish dishes in Bana restaurant, located right in the centre of one of Paradisus Cancun's geometric canopies, which reflects a modern interpretation of the areas Mayan heritage.
Our final night dinner was in the Mediterranean-inspired Vento restaurant, where we ate a Tapas style menu of light, fresh dishes and red wine!

AMENITIES
YHI SPA
One of the biggest features of Paradisus Cancun is the incredible YHI Spa, where the senses are immediately met with calming sounds, scents and surroundings. The expansive spa pool is lined with targeted jets designed to soothe specific parts of the body in a certain ritual therapeutic order.
After an hour in the spa, sauna and steam room to fully warm and relax the body, we met with two specialist massage therapists who would perform our couples' signature massage. With a combination of aromatherapy, natural healing oils and the skilled hands of many years of practice and professional training, they pressed, rolled, kneaded and rubbed our aching muscles back into shape again. After almost 2 hours, we were soothed into a state of complete relaxation and meditation. We have had many incredible massages from very skilled therapists all over the world, but we both agree that this was one of the best massages that we have ever had!
Professional Photo Shoots
During our stay in Paradisus Cancun, we were finally able to try something we have wanted to do for a very long time, a professional photo shoot. We met with JC Villa of Outdoor Photo, who discussed with us exactly the type of photos we were looking for. As this trip was part of our pre-wedding travels, we decided to do a pre-nuptial photo shoot, which is very popular in the both the United States and in the Philippines. JC Villa knew exactly what we were looking for, finding creative locations to create the perfect scene, from around the hotel interior, on the beach and in the waves, to the golf course. This was the perfect way to create lasting memories of our three years of travelling and especially our stay at Paradisus Cancun.  
Bali Beds
Another favourite feature of Paradisus Cancun was the reservation-only Bali Beds located around the exclusive Royal Service swimming pool. These outdoor king-size, four post beds with views over the pool and the Caribbean were the perfect place to relax with food from the nearby La Palapa restaurant and an ice-cold Pina Colada, alternating between the comfort of the bed and the refreshing water of the pool.
Other Amenities
If you've had enough total relaxation, there are still plenty of options for you, like the 9-hole golf course, tennis courts, wine tastings and cooking workshops, not to mention one of the best beaches in the world, only meters away from your luxury suite!

TIPS
At Paradisus Cancun, everything you could think and a few things you couldn't are taken care of to the highest level of service and luxury, so you're going to have an amazing stay regardless. But if you're looking for the absolute best of the best, then choose an ocean view suite, and if you really want to go the extra mile, go for the Royal Service, where you will stay in an exclusive wing of the hotel with its own pool, poolside restaurant and butler service! Royal Service guests have some extra benefits, like preferential reservations in the YHI spa.
Our final tip would be this – If you're planning (and paying for) a vacation, or part of your vacation, where everything will be contained entirely within an all-inclusive luxury resort, make sure you choose the best you possibly can. We certainly did with Paradisus Cancun! You can check details and latest rates on their website directly at MELIA-  Paradisus Cancun Mexico

AREA GUIDE
Even when you are enjoying a your your all-inclusive hotel experience, I know that you will want to know and discover the cool attractions around Cancun and the Riviera MayaSo, if you decide to embark on this adventure, we recommend booking a Cancun car rental that would suit your needs. 
If you don't want to spend your entire vacation in the luxury resort or relaxing on the beach, there are loads of things to do in and around Cancun. Here are just a few of the most popular ones:
No matter what kind of water sports you're into, you can find some of the best in the world in Cancun – Scuba Diving, Jet Skiing, Parasailing, catamaran, snorkelling, sport fishing…. The list goes one and seems to get longer every year!
Away from the beaches, Cancun is surrounded by jungle, where you can zip line, mountain bike, ride ATV's and drive open Jeeps off road through the jungle to reach remote Cenotes!
As well as its luxury resorts like Paradisus Cancun and the perfect beaches, Mexico attracts millions of visitors with the best-preserved examples of Mayan culture you can find. Chichen Itza, Tulum and Coba and just several sites that are with easy reach of Cancun, either by rental car, public transport or with organised tours.
While we may not be into wild parties, many people visit Cancun for its famous night life. Paradisus Cancun has its own selection of amazing bars and even a full night club, but if you fancy getting out and about on the town, you can find all kinds of music, all kinds of atmospheres, for all kinds and ages of people
Take a day trip to this little fishing village which is less than one hour away from glamorous Cancun. The peace, tranquillity and simplicity mingle with an artisanal and bohemian artistry to create a unique atmosphere all of its own.
Cancun's smaller, more chilled out sister! Desert island vibes, white, crushed coral beaches, turquoise waters and absolute tranquillity. While Cancun gives you a balance between relaxation and entertainment, Isla Mujeres is pure relaxation and very little else, so for some a day or two is enough, but many stay for longer than they planned!
Extra Tip: How to get to your hotel in Cancun?
One of the most important things during a trip is the way you are going to travel around the city if you are not planning to rent a car. You have to know that if you want to know new places inside or outside the city (most of the time), you can't do it on your feet. For example, during your arrival from the airport to the city or your hotel (in this case), it will be much easier to find a  Cancun Shuttle service that fully meets your expectations.
Note: This experience is organically my opinions and were made possible in part with cooperation from the Management of Paradisus Cancun, Mexico.