7 Awesome Things to do in Naples, Italy
As far as those Italian cliches go, Naples seems to encapsulate them all as the home of pizza, gelato, mandolin playing musicians, and the mesmerizing, rust-red volcano, Vesuvius. Scratch the surface, however, and this is a city that is largely untouched by modern tourism, with plenty of art and history in its atmospheric streets, crowned by incredible food culture.
Many travelers are just passing through on their way to the glorious island of Capri, or the beaches of Sorrento and Positano, which are all, admittedly, fabulous destinations. But if you love people watching, if you adore getting lost in ancient backstreets which seem untouched by time, and if, above all, you want to eat some of the best street food of your life, then a few days in Naples may be for you.
Safety in Naples – Is Naples Safe to Travel?
There's a reason why Naples has always been a poor cousin to the likes of Florence, Rome, and Venice when it comes to holidaymakers. Admittedly, the other cities boast a fabulous artistic and architectural patronage, but so does Naples, even if its beauty is rawer and less easy to define. For decades – if not centuries – Naples has been seen as a 'dangerous' destination, dogged by petty crime, and entrenched in poverty. (Sad to say, there's even some home-grown racism from the Italians themselves on this score). The bottom line with Naples is that like any thriving metropolis the world over; you have to approach it in a savvy way. Hold on to bags and be aware of your belongings wherever you stop, but particularly in the grimy station area, and showing particular care if you venture into some of its more notorious districts, like Quartiere Stella. During daylight hours, most of the city center is perfectly safe, but again, watch out for silent backstreets and crowded markets. After dark, not all of the streets are so well lit, but if you stick to the main thoroughfares, you should have a peaceful trip.

Here Are The 7 Awesome Things to do in Naples, Italy
1. Visit the ancient site of Pompeii, in Naples, Italy
In 79 AD, Mount Vesuvius recorded one of its most catastrophic eruptions, covering the wealthy, Roman town of Pompeii in volcanic ash. Nearly six meters of gray pumice dust descended like a rapid snowfall on the bustling town, burying what were estimated to have been some 11,000 inhabitants. Despite Pliny the Younger leaving a famous, eye-witness account of the destruction, the site was lost for centuries and only rediscovered in 1599. Almost 150 years later, a Spanish engineer started excavating the site, and archaeologists started to piece together what the town once looked like. Plaster was used to fill in the voids in the ash left by people who died there, and these shapes were showing the moments of death (now displayed in the Garden of the Fugitives) are some of the most touching aspects of Pompeii today.
Now one of Italy's most popular tourist attractions, this UNESCO World Heritage Site draws some 2.5 million visitors every year, to wander through its stone streets, admire the frescos in the Villa Dei Misteri, and Casa del Centenario, and view its ancient temples. It's easy to reach taking the Circumvesuviana train from Naples station, getting off at the Pompeii stop. Adult tickets cost €11, reductions available. 
Suggested Tour: Small-Group Tour with an Archeologist
2. Trip to the volcano Mount Vesuvius, in Naples, Italy
Mount Vesuvius has a brooding presence in Naples – wherever you go, you can't miss its iconic flat top, which glows rust-red at sunset and dominates the coastline. There are plenty of organized tours up to the dormant crater of Vesuvius, but the expenses can add up, so don't be afraid to tackle this one by yourself. The easiest way to do this is to take a trip to Pompeii on the local train line, and then from Pompeii station, catch a local bus to the volcano which takes around 55 minutes. Ask at the station kiosk and expect to pay around €10 return for the ticket, which will bring you to Mount Vesuvius park, dropping you partway up the slope. From here you'll have to hike the last half-mile up the volcano, about a 15 / 20-minute walk. Totally worth it for those views!
Suggested Tour: All-Inclusive Mount Vesuvius Half-Day Tour
3. Sampling street food in Naples, Italy
Naples was the city that invented the pizza – and you can't walk far in its atmospheric streets without spying a street food vendor or full-blown pizzeria trying to tempt you with what might be the best pizza in the world.
Neapolitan pizza is typically deep-pan with a thick crust, but they've got dough-making down to a fine art here so the pizza base is surprisingly fluffy and light. L'Antica Pizzeria Da Michele is one of the most famous pizza joints in the city (long before it featured in Julia Robert's film, Eat Pray Love!). Located on Via Cesare Sersale, in the buzzing heart of the city, they only have two choices of pizza – tomato and mozzarella or tomato and anchovy – but they're both perfect!
Suggested Tour: Naples Street Food Tour
4. Visit the Veiled Christ, in Naples, Italy
Napoli has some incredible museums and galleries, including one of the world's best collections of Greek and Roman antiquities at the National Archaeological Museum of Naples. Or visit the stately monastery complex at the National Museum of San Martino, just outside the city, with breathtaking views of Naples. Of course, in case you're focusing on other aspects of the city (like the food!) and you don't have time to take in a lot of cultures, one outstanding recommendation is visiting the Veiled Christ in the San Severo Chapel Museum, right in the city's heart. This incredible statue of Christ after death was carved from a single piece of marble by Giuseppe Sanmartino in 1753. Somehow, he makes the marble appear gossamer thin, like a shroud covering the body. Just incredible. 
Suggested Tour: Old Town and Veiled Christ Tour
5. Sail to the island of Capri from Naples, Italy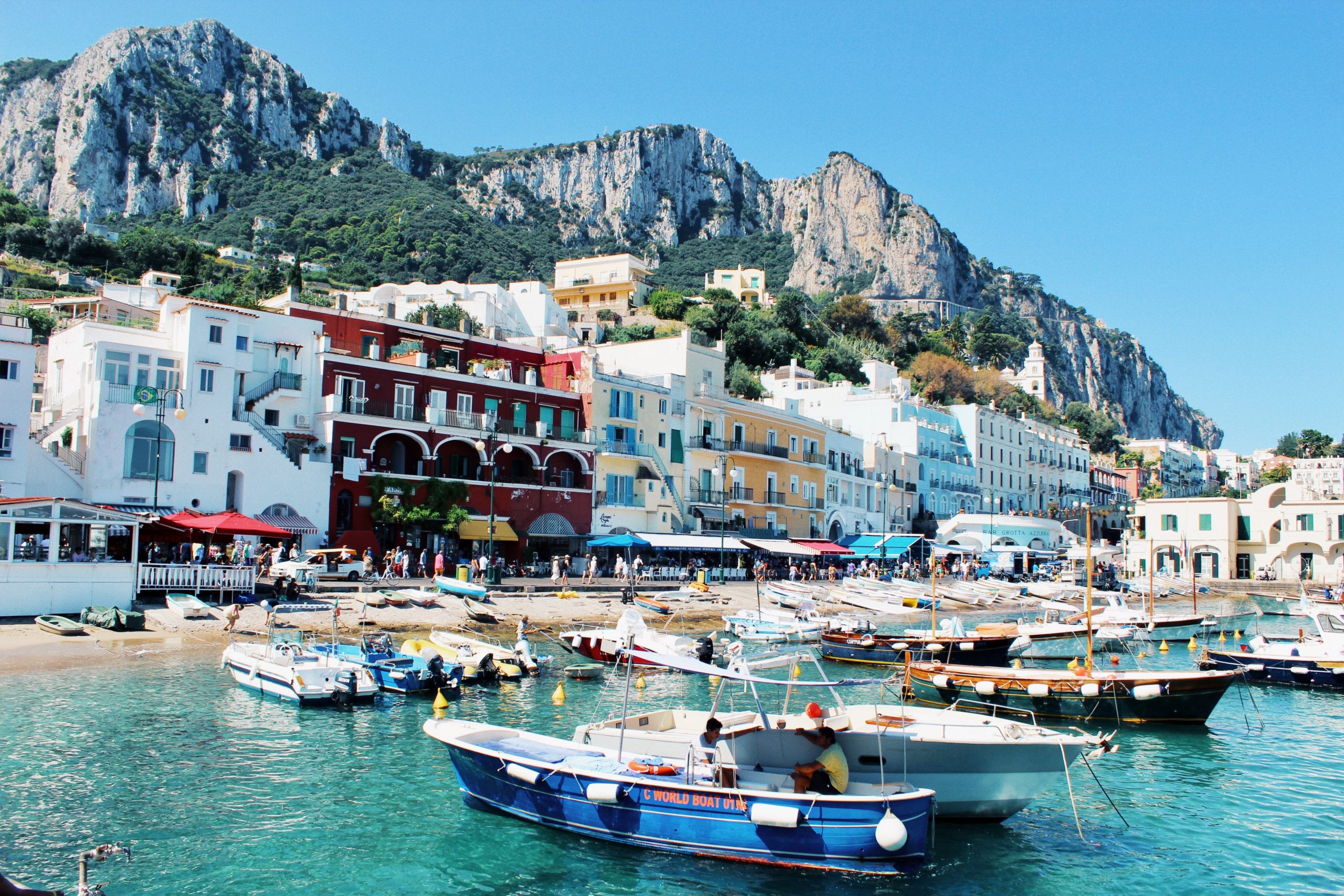 Capri is one of the most famous destinations along this coast, and for a good reason. There's something magical about this lofty isle, which can be reached from two different ports in Naples, Molo Beverello or Calata Porta di Massa.
High-speed connections take 50 minutes to an hour, costing around €20, while the slower boats take 80 minutes and cost €12-€15. You'll probably want to hop in a taxi when you reach Capri to reach the bustling town, which is laid out along the cliff tops. In summer months, catch a boat to visit the island's famous Blue Grotto, or take the chairlift up to Mount Solaro. It's also famous for its shopping and upmarket people watching!
Suggested Tour: 2-Hour Boat Tour with Happy Hour
6. Explore the nativity markets of Naples, Italy
The tradition of making a Christmas crib was born in Italy, with Francis of Assisi first coming up with the idea of recreating the stable complete with animals, shepherds, and kings.
However, in Naples, this tradition has developed a life of its own – so much so that the streets where the crib and figure makers have their workshops are busy all year round. Here, locals don't limit their imaginations – they fashion entire miniature cities in their homes, with a tiny infant Christ in the middle of the display. Here, in Via San Gregorio Armeno, you can buy the props to create a small city all of your own, plus a cast of thousands to populate it with.
Suggested Tour: Walking Tour and Street Food Market
7. Escape to the beaches of Sorrento, on the Amalfi Coast
Once the summer hits, temperatures rise steeply in Naples, and you're going to want to escape to the coast. Sorrento, located along the spur of coastline known as the Amalfi coast, is a lively town with a roaring tourist trade in the summer. There aren't many beaches here, but well-furnished boardwalks with sunbeds and umbrellas, plus full waiter service, where you can while away some pleasant hours, and also take a dip in the sea.
Look out for local liquor including Sorrento's limoncello, as well as traditions of the inlaid woodwork. Sorrento is easy to get to from Naples's main station by taking the Circumvesuviana train, the same one that goes to Pompeii, but this time staying on it until the terminus. It takes around an hour.
Suggested Tour: Amalfi Coast Tour-All Inclusive from Naples
8. Find accommodation in Naples, Italy
Where to Stay in Naples, Italy
Best Budget Hotel in Naples, Italy – Fly Boutique Hotel
This great value, centrally located city hotel offers keen prices and brand new bedrooms in an unrivaled location. The hotel was created when an old tailor's store and workshop closed and has gone for a hot, modern look, with primary colors in the rooms, modern, fuss-free furniture, and clean, bright bathrooms. With rooms starting from €50, you won't have a good reason not to stay here. It's located just 1km from the central station and offers a decent breakfast.
Best Mid-Range Hotel in Naples, Italy – La Ciliegina Lifestyle Hotel
With rooms from €100, La Ciliegina Lifestyle Hotel is a good value hotel masquerading as a design destination. Located in a privileged position, overlooking Piazza Municipio and only 300 meters from the main harbor, the property has a rooftop terrace with a jacuzzi and loungers on which guests can relax and enjoy a panoramic view of Naples. The rooms are spacious and equipped with air-conditioning, a marble bathroom (shower or bathtub), kettle, large beds and linen sheets, LCD televisions, and Wi-Fi – just ask the front desk if you can borrow an iPad or notebook if you need it.  Breakfast includes some organic selections, and the service is warm and friendly.
Best Luxury Hotel in Naples, Italy – Romeo Hotel
If you're in the mood for a bit of bling and outrageous views of the city and the Mediterranean, this hotel may be for you. Facing the Bay of Naples, Mount Vesuvius, Capri, and Ischia, Romeo is a great location for both leisure and business stays in Naples, Italy.
Located in the heart of the city, just a short walk from San Carlo Theatre, Piazza del Plebiscito, and the city's vibrant historic center, it's also really near the Molo Beverello Harbour, making it dead easy for guests to hop on a ferry and enjoy a day trip to Capri, Ischia, Amalfi, or Positano, all only 30-40 minutes away by boat.
Condé Nast rated it as one of the best new hotels in the world when it opened, and its architecture – by Japanese firm Kenzo Tange & Associates – is certainly something else. It also features a rooftop pool, a 10,000 ft2 luxury spa, and a selection of top-class dining options, includes Il Commandante, the hotel's Michelin-starred restaurant.

About the Writer
Blogger and journalist Isobel Lee moved to Italy 14 years ago and hasn't looked back since. These days, she freelances for magazines and websites all around the world, sharing her love of the finest things Italy has to offer, including street food, craft beer, and incredible wine. When she's not writing you can find her at beer festivals, swimming in the sea, or sourcing vintage Italian handbags. Check out her blog at Testaccina that is focusing on traveling in Italy.
Social Media: Facebook / Instagram

Are you on Pinterest? Pin these!