Moroccan Food: 11 Morocco Dishes to Satisfy Your Cravings
When traveling to other countries, it is important to consider their national dishes. And Morocco is not an exemption. Morocco dishes are one of the things that you should definitely try and would absolutely enjoy while you're here.
Morocco is known as a culinary tourism paradise years ago. It's located in a strategic area which enhances a big opportunity for Morocco to increasingly introduce its cuisine to the world.
Morocco is a Muslim majority country that will make it easier for Muslim tourists from all over the world to choose the authentic Moroccan menus that they want to try. But don't worry! Non-Muslim tourists can still be enjoying their authentic dishes without exception.
Here we have 11 lists of Moroccan authentic cuisine that you have to try when you come to Morocco.
 1. Tagine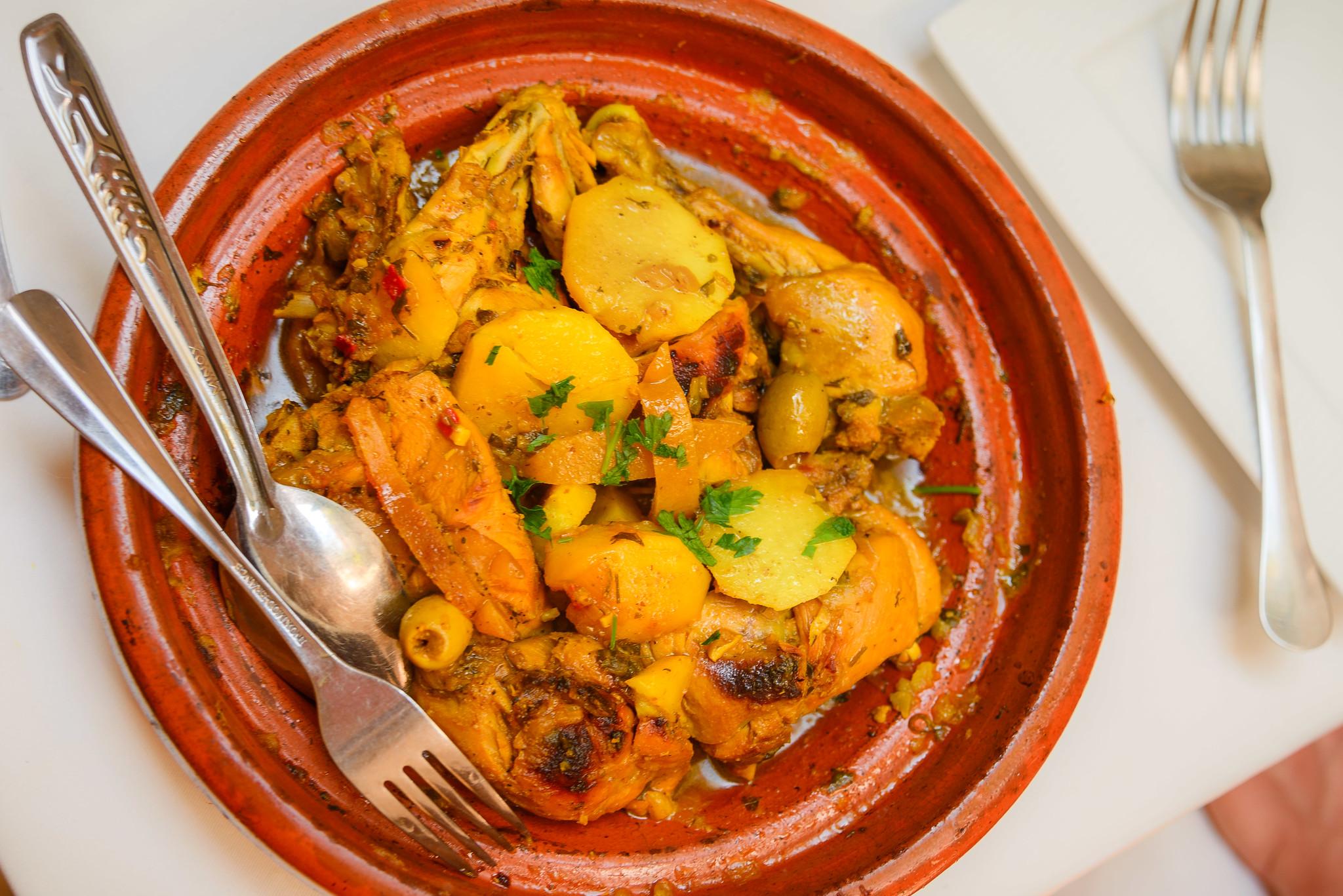 Tagine is actually the name given to a bowl-shaped container made of clay. This container is usually used for cooking stews using herbs such as ginger, cumin, turmeric, cinnamon, paprika, chili, saffron, and other ingredients that are adjusted to the basic ingredients used, such as vegetables or meat.
No need to use plates or other containers to eat this dish, because it can be directly enjoyed from the tagine itself. Locals usually eat this dish using typical Moroccan bread (khobz) and they use it as a spoon.
You can easily find Tagine everywhere in Morocco because Tagine is already considered a staple in this country.
2. Zaalouk
Zaalouk is a typical Moroccan dish in the form of a vegetable salad which is generally made of smoked eggplants and seasoned in the form of garlic, cumin, chili powder, olive oil, green peppers, tomatoes, sweet carrots or courgette pure. Locals often called it a vegetable salad. Zaalouk is usually served with dry bread called khubz. This flat-shaped bread is the staple food of the local population.
One of the best restaurants who served Zaalouk on their menus is the Ruined Garden. It is located at 15 Derb Idrissy Sidi Ahmed Chaoui Medina 30110, Siaj, Fez, Morocco.
 3. Harira
One of the other dishes that you have to try when visiting Morocco is Harira. This dish is a Moroccan traditional soup. Harira is made from goat meat added with green beans, kidney beans, and scallions. This menu is best eaten hot and added with lemon, onion, fried, or cilantro as a topping, according to your taste. Harira is usually eaten together with sweet dates, sweet pretzels, sesame seeds, and honey.
You will be able to easily find Harira during Ramadan because this dish is often used as an iftar menu. Harira is very popular with the locals, so many restaurants serve this menu every day. So even though it's not the month of Ramadan you don't need to worry about not being able to find Harira.
One of the locations that provide the best Harira can be found at the Caravan Cafe in the Moroccan capital, Marrakech.
4. Couscous
In addition to khobz, North African including Moroccan consuming Couscous as their main dishes. Couscous is made from wheat in the form of grains that is smaller than rice and yellow in color.
The presentation of Couscous is also quite unique. It is shaped like a pyramid on a large plate with side dishes around it. The side dishes that usually served with couscous are generally in the form of boiled meat and vegetables. One of the tribes in Morocco, Berbers usually add raisins and buttermilk to the couscous they consume. This dish is usually eaten together with family members and relatives who are sitting around the plate.
If every day Moroccans eat a variety of dishes, in the case of Couscous, it is almost certain to be always served on celebratory days only such as Eid al-Fitr, Eid al-Adha, and Friday as a symbol of the greatness of the day.
 5. B'stilla
Have you ever eaten pigeon meat? If you haven't and are curious about its taste, then you should try B'stilla. This dish is a pie filled with pigeon meat, almonds, and eggs. It's seasoned with turmeric, cinnamon, garlic, and fresh coriander. Having a salty and sweet taste, B'stilla is usually served with a sprinkling of sugar icing and cinnamon.
This dish is suitable to be enjoyed during autumn because it is believed to be able to increase stamina and make the body become more energized. But if you won't eat pigeon, or even don't suit your taste, you can ask to replace the pigeon with chicken. The taste will not be much different.
 6. B'sarra
For those of you who are vegetarians or who want to eat vegetables, this dish will be perfect for your taste. B'sarra is a soup made from broad bean mixed with olive oil and seasoned with cumin and garlic. As a complement, B'sarra is usually served with bread.
B'sarra is often enjoyed as a breakfast menu because it contains a lot of nutrients and fiber derived from nuts which are used as the basic ingredients. You can find delicious B'sarra at the Beldi Bab Ssour restaurant in the city of Chefchaouen and the restaurant Riad al Bartal in the city of Fes.
 7. Makouda
Are you fans of french fries? Then don't miss Makouda on the list of foods you should try. But don't be surprised because it has a different shape from french fries in general. Makouda is a flat round shape with the size of a fist and is usually served with harissa sauce which has a strong onion flavor. The combination of Makouda and harissa sauce produces a savory, sweet and spicy taste at the same time.
This dish is often used as a snack that has many fans in Morocco. In Marrakech, you can find delicious Makouda at Cafe Clock.
 8. Brochette
Do you like grilled meat? In Morocco, you can enjoy this kind of dishes like Brochette. The meat is cut into small pieces and then pierced using a skewer. The meat is seasoned using cumin, garlic, and salt. Brochette is usually enjoyed along with dry bread and harissa sauce.
There was quite diverse meat that can be used as brochette. It can be chicken, goat, or beef. This dish can be easily found in Morocco. Not only the big restaurants that serve this menu, but there are also many small shops in the market that sell Brochette as well.
 9. Tangia
Like Tagine, Tangia is actually the name of a container used as a place to cook the soup. This dish is quite famous in Marrakech. The soup that is cooked in Tangia usually made from meat or chicken seasoned with shallots, garlic, lemons, and black cumin.
At first, Tangia was a dish prepared by unmarried Moroccan youths and they cooked this dish in a simple way and slowly cooked when they went to work. The slow cooking process produces a soft texture of meat that is easily separated from the bone. This is one of the must-try Morocco dishes!
 10. Rfissa
Rfissa is one of the typical Morocco dishes made from lentils, fenugreek seeds, spices, and meat. This dish is served as a shredded heap of an attractive appearance and delicious special taste.
R'fissa is often served for winter and celebrations. But unfortunately, this dish will be very difficult to find in restaurants. You can find this dish if you visit local people and cook this food at home.
The nutrients contained in the seeds of fenugreek are believed to increase milk production of nursing mothers, increase male libido, balance blood sugar, and be able to treat inflammation.
 11. Méchoui
The term Méchoui comes from Arabic which means "toasting on fire" but not by an oven. Méchoui is a form of whole-roasted lamb and is very popular with North Africans. In Morocco, to make a Méchoui they season the lamb then roasted on the ground to produce moist, soft and flavorful meat.
Because it is roasted as a whole, the innards will be cooked simultaneously and present a different taste of roast meat in general. Innards such as the liver and kidney are usually served to guests of honor along with other delicious dishes.
Are you interested in the typical Morocco dishes above? Come and see for yourself the delicacy of each food that can arouse your tastes!

Are you on Pinterest? Pin these!