Crossing The Border To Somaliland: The Danger, The Process and Useful Tips
As some of you may know, I have traveled around Africa for 2 months and I decided to save the most challenging country for last: SOMALILAND! This is my 95th country! Woohoo! and after hearing all the horror stories about it, I was really nervous and excited at the very same time!
After almost 24 hours of travel time from Comoros which included an overnight stay in Nairobi airport and a 5-hour layover in Ethiopia, I finally landed on Djibouti! My hosts, Gladsy and Romain, a lovely Filipina with a French partner picked me up from the airport and prepared a wonderful dinner for me with some friends 🙂 I really had no plans in Djibouti other than to get my Somaliland Visa.
Somaliland is an unrecognized state. This means that no country or international organization thinks that Somaliland is a real country. Instead, they include Somaliland as an Autonomous Region of Somalia, together with Puntland. Due to this, they have no direct access to humanitarian aid. The small aid that it receives goes through NGO's who operate in the country. As such, they get a huge chunk of their income from taxes, especially on international remittances.
HOW I GOT MY SOMALILAND VISA in DJIBOUTI?
Good thing my host's apartment in Djibouti is close to the Somaliland Liason Office, (or that's what the details in the web provide), so all we had to do is walk around and follow google map. Unfortunately, it wasn't updated so we couldn't find it. Some streets in Djibouti doesn't have a name. It was even harder cos the people either speak French, Somali or Arabic, so it's difficult to ask around.
Good thing Gladsy met this Djiboutian guy named Osman while she was volunteering for Caritas in Djibouti. This guy is VERY NICE!!! He picked us up within 10 minutes after Gladsy gave him a call and asked for help. 🙂  
Osman speaks English, Somali, and French. (Aside from German and Spanish. WOW!! How cool is that!) So we had no trouble asking around. After driving around for a good 10 minutes and asking several people on the way, we finally found the Consulate Office of Somaliland 🙂
Armed with my Philippine passport, a pen, and a passport sized photo, I went inside the Consulate Office and met this lovely lady who assisted me in processing my visa. She was really friendly we took a lot of photos together. She even liked our facebook page haha! I actually thought it would be hard or impossible to get it. But I just filled out the form provided by the consulate, attached my photo, paid $31, and waited for the 24-hour processing time.
So the next morning, we went back to the Consulate Office and I was able to get my visa! My heart was really pounding hard of excitement when I saw it! <3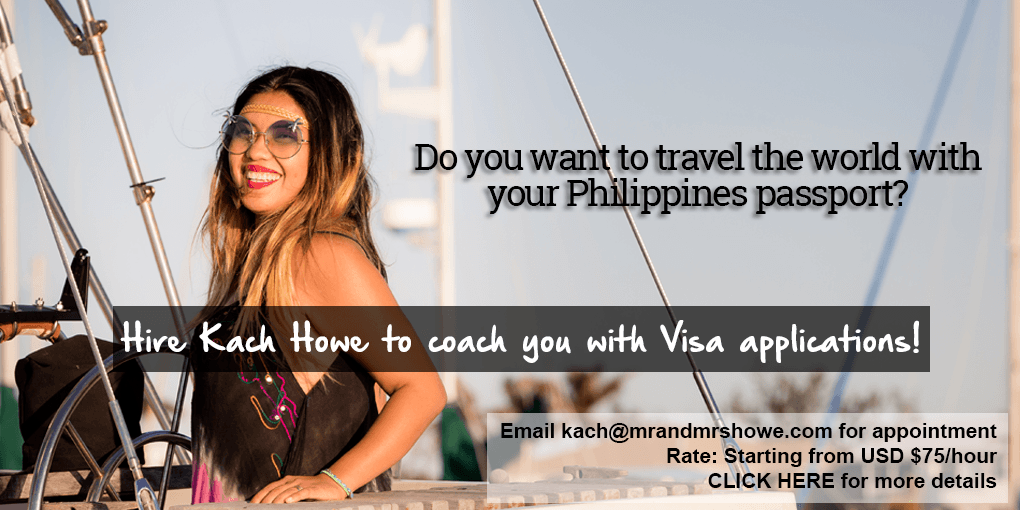 CROSSING THE BORDER FROM DJIBOUTI TO SOMALILAND
I made some research on how to cross the border, one travel company offers 500$/day which includes a private car and a bodyguard. I find it very expensive so I tried to look for a public transport. With the help of Osman, we negotiated with a Somali guy who is the owner of the pickup truck going to Somaliland. I paid 12,000 Djiboutian Francs (roughly about 68$, I paid a little more so I can get the front seat) with no receipt, just pure trust! Initially, I was hesitant about it, but he felt bad that I didn't trust him so I just let it go. I just crossed my finger hoping he wouldn't try to get away with my money. Haha! Thank goodness I have Osman with me, otherwise, it is IMPOSSIBLE to find this terminal. There are no signs of it at all!!
I prepared myself physically and mentally for the journey. I'm used to crossing borders and I LOVE IT! This is my 3rd time crossing the border in my entire trip in Africa. But this one is different, I don't know what to expect. I bought a lot of food, ice cold water, and borrowed clothes from the Filipinas because my luggage is still missing and I'm afraid we'll get stranded! Osman drove me again to where we met the Somali guy and he was there waiting for me. That's such a relief! Good thing he's trustworthy!
The 13-hour journey started at 4:30 P.M. (that's the only schedule they have). We rode on a pickup car with improvised seats at the back. It's just a short 20-minute ride to go to the Somaliland border from Djibouti. I was with Somalis and Djiboutians in the car, one of them is Abde-Aziz, the only guy there who speaks English.
When we arrived at the border, I was interrogated for more than an hour at the Djibouti Immigration. They asked me soooo many questions and they wouldn't let me out. I had to show them ALL my visas and prove them that I have traveled extensively before and I know what I'm doing. I actually thought that I wouldn't make it to the border because they have declared recently that the border is only for Djiboutians and Somalis (maybe not true!). But lo and behold, after more than an hour of uncertainty, they finally let me out! (YEY!!!)
The immigration office was already closed when they stamped my passport with the condition that I wouldn't come back to that border because they will NOT let me in. And he wasn't joking… HE WAS VERY FIRM.
I really thought that the car going to Somaliland already left me so I had to think of my Plan B — I won't be able to enter Djibouti so I have to spend the night in the small border town. And usually, towns in the border are not always the best and sometimes dangerous. I had to stay positive despite the thought of fear and I assured myself several times that I will make it to Hargeisa (the capital of Somaliland).
The Somaliland Immigration Office is 15 minutes from the Djibouti side, I had to walk really fast as I'm afraid they'll be closed. Lucky monkey, I was able to hitchhike with a Somali guy. (Thank goodness for this skill I've learned from our backpacking experience!)
Good thing they were still open when I got there! And compared to the Djibouti Immigration, I didn't have any problem with them at all! They just asked for my passport with the visa that I got from the Consulate, as well as the receipt of my payment (I didn't know it's required but good thing is that I have this habit of keeping receipts). After I got through the Somaliland Immigration, I was looking and shouting the name of Abde-Aziz. I couldn't remember how he looked like, I just know that he's the only one who speaks English in the car. I looked like a crazy and lost puppy that time haha but I don't really mind because he heard me and that's all that matters! I was really glad that he asked the driver and the other passengers to wait for me, although he actually thought that the Djiboutian Immigration won't let me out. It appears that they always have problems like that. I wanted to cry with happiness for what he did for me. I had to give him the chips that I brought to thank him!
So, at 8 P.M. we started an INCREDIBLE drive in the desert, mountain and sand dunes! That's 13 hours of off-road journey. I saw a lot of camels, gazelles, and local houses. I kept taking photos of them and the other passengers are giving me these weird look because these animals are just like chickens to them. Hahaha
IT WAS SUCH A CRAZY RIDE– We saw people helping other cars who got stuck in the dunes; We stopped for 3 times so the driver could take a nap; The aircon stopped working so the windows were fully-open because it's really HOT; and random locals were giving me food and drinks during the entire trip which is VERY CONTRADICTING to what people are saying that Somaliland is dangerous and the people are bad. COMPLETELY OPPOSITE! WHAT. AN. ADVENTURE!! My journey to Hargeisa wouldn't be as exciting without these lovely people I was in the car with <3
THE DANGER OF GOING TO SOMALILAND
"You will get kidnapped, raped, and then killed!!!" — those were the words the Djiboutian guy at the border told me as he looked me straight in the eye. I have to be honest, I got scared for a while, especially after A LOT of people warned me about the country. But I wanted to prove that they are wrong, so I tried to regain all the courage that's left of me and told him  "Don't worry about me. I can take care of myself!!"
When you hear about Somalia, I know what comes into your mind — PIRATES, PIRACY, RAPE, MURDER. Hey, you must be watching too many movies! Let me reiterate that Somalia is an ENTIRELY DIFFERENT COUNTRY from Somaliland, albeit the latter not internationally recognized. As I've been to Hargeisa, I can say that it's safe. In fact, most of the countries issued a travel advisory for their nationals against traveling to Somalia, except Hargeisa.
For me, every place is dangerous, some places are just more dangerous than the others. So you have to be cautious anywhere you go. Whether it's just a few kilometers from your house, or even inside the comforts of your own home! Accidents are like thieves in the night– SO ALWAYS BE CAUTIOUS, ANYWHERE, ALL THE TIME.
HARGEISA– A GENERALLY SAFE CITY IN SOMALILAND
The moment I arrived in Hargeisa at around 9 A.M., the first thing I did was to look for a travel agency to book a last minute flight ticket to Djibouti where I will be catching my flight to Istanbul. (Remember what the guy at the Djibouti Immigration told me? THEY WON'T LET ME BACK IN). It's Friday, a rest day for a Muslim country like this so offices are closed. I was really panicky because I can't miss my commitment in Turkey.
Anyway, Abde-Aziz helped me look for a taxi to show me around town. I couldn't get out of the car because of the way I dressed (my hair wasn't covered). I don't want to offend anyone. We then went straight to the airport. After passing 5 security check points, they still didn't let us in! (security is very tight in this part of Africa) I was just lucky to meet an Immigration Officer outside who called someone then called another one who eventually told us to go to the Air Djibouti office in town (It's their rest day but they are more than willing to help me)… We hurriedly went and the guy booked me a last minute flight for Djibouti on Saturday afternoon for only $155! Ha! I can finally relax and discover Somaliland <3
Somaliland is a very strict Muslim country and all women are covered. Unfortunately, I didn't have my luggage with me so the clothes I had were the ones I borrowed from Gladsy and Janet, the Filipinas I met in Djibouti. So I had to put my hair up and used long sleeves to cover my arms and a trouser for my legs! Apparently, EVERYTHING should be covered, even the hair. (face may be exposed)
On Friday afternoon, my taxi driver drove me around town. I wanted to go to the Laas Geel which is a UNESCO heritage site but there are certain government permits to be requested… Everything here in this part of the world is restricted!
It's a very cheap country for Africa. However, there is no proper paved road, not much buildings and establishments, and there's a lot of beggars.
Anyway, I wasn't able to do much while on my 3-day journey but all I can say is that it is safe. They even claim that there is ZERO PERCENT CRIME RATE FOR TOURISTS IN THE LAST 10 YEARS! (Wow!!) I would want to believe that because the people are nice and very helpful which is really contradicting to what I read and what I was told about. I WASN'T KIDNAPPED, RAPED, AND KILLED!! HA!!!
WHAT TO DO IN HARGEISA, SOMALILAND
1. Shop at Downtown Hargeisa
It is a huge marketplace where people do their trade. Shop for clothes, shoes, vegetables, and what not. I really love buying from locals as it will greatly and directly benefit them and their families.
2. Visit Dahabshiil Business Center
The tallest building in Somaliland and the only building that has a lift. It has a shopping center, gym, and a restaurant. I couldn't say it's a 'must visit' as it's just like any other building… But still, it's pretty interesting to see how they start building things in a developing country! 🙂
3. Eat a Camel Meat or Drink A Camel Milk
It might not be appetizing to you but this is their delicacy! And when they offer it to you, do not turn it down as it could be disrespectful. They say Camel Milk is very healthy too!
4. Try Somali, Ethiopian, Yemeni, or Western Cuisine
Not keen on trying the Camel Meat or Camel Milk? Don't worry, there's a lot of restaurants around that you can try. Most of them are inside hotels. Top 3 restaurants in Lonely Planet are Saba (specializing in Yemenese Cuisine), Summer Time Restaurant, and Kulan Art Cafe where you can have a sip of Somali Tea 🙂 Dining out is quite cheap with a meal at one of the best restaurants costing US$10 and local meals around US$.
5. Get a Henna Tattoo
It is a trend among Somali women to have a henna tattoo on their hands and on the feet. They do a very intricate design which I'm sure you'll love <3
6. Move Out of the City and See the Rock Paintings at Laas Geel
Las Geel is the home to cave formations on the rural outskirts of Hargeisa, Somaliland. They contain some of the earliest known cave paintings in the Horn of Africa. Laas Geel's rock art is estimated to date to somewhere between 9,000 and 3,000 years BC. The paintings are well preserved and the view outside the cave is just stunning!
It is a mere 75-minute drive from Hargeisa. However, a special permit is necessary to do this trip because a guard must accompany you. The only way to get here is by a hired car which would cost about 100$ – 150$, including the driver, the gas, and the security. At the site, $25 shall be paid to the guard. He'll walk you up, down, and through the site and point out the major paintings. There are 10 caves, so make the most out of your visit and take a look at everything. Make sure to bring A LOT of water, an umbrella or a hat. The heat could be pretty extreme, so make sure to protect yourself!
7. Chill at Berbera Beach
One hundred kilometers east from Laas Geel, along the asphalt Road Number 1, is the coastal town of Berbera. This 528-mile beach is clean and almost empty, a very nice place to chill indeed. I have read that they really have a really beautiful coral reef 🙂 There are decent accommodations around the area too, so why not stay a night or two?
TIPS FOR TRAVELERS WHEN GOING TO SOMALILAND, ESPECIALLY FEMALES!
1. Cover Yourself Up
And by that, I mean from head to toe. From the strands of your hair to your toe. Wear a very long dress and a hijab. We don't wanna offend them in any way, don't we?
2. Bring Sufficient Amount of US Dollars
US Dollars is widely accepted here, so make sure you have more than enough! Save yourself the trouble of finding an ATM but no worries about it as well because ATM's issue USD:)
3. Going to the beach? See Tip # 1.
Yes, especially in the beaches. Bring a burkini or swim with your usual long dress on 🙂
4. Alcohol is a NO-NO.
Don't even try. It's illegal!
5. Think Twice Before Taking THAT photo
This applies when taking photographs of people and military installments. Make sure to ask permission from the subject of your photo (If it's a person. Haha!)
6. Book Your Flights Ahead of Time
And make sure it's confirmed! Some airlines (like Air Djibouti) doesn't have an online booking. So in that case, you have to go to their office in Hargeisa to get that flight.
7. Don't Worry About Not Having a Wifi
The wifi in Hargeisa is really fast I was able to download a lot of movies. So you don't have to worry about not being able to contact your family and friends 🙂
So that's how I wrapped up my amazing journey around Africa. If someone asks me if I would want to go back to Somaliland, I'll definitely say YES!! It's such a shame that my stay wasn't long enough. I would love to see more of their culture, meet more beautiful Somalis and try their cuisine (No, I haven't tried the Camel Meat and Camel Milk yet)! If the time comes that I'll have the opportunity to come back, I hope that Somaliland will be a better place to live in, with people living in peace and prosperity. They have been through so much and they deserve it. We all do ❤️
Take a leap of faith and try visiting Somaliland too 🙂
Are you on Pinterest? Pin these!