My Itinerary in Bucharest, Romania & Experience Staying at Athenee Palace Hilton Bucharest
From all my crazy outdoor adventures in Montenegro, Road tripping in the beautiful Bosnia & Herzegovina (which I think has the best scenery in the Balkans so far!), I'm now in a luxury city break in Bucharest, Romania. I arrived here earlier than expected due to some unpleasantries which turned out to be pleasantries (read more about it here), instead of staying for 4 days, I was here for almost a week enjoying meeting wonderful locals!
Good thing that my host hotel Athenee Palace Hilton Bucharest was able to host me earlier. So much thanks to Julie, the lovely receptionist, has been wonderful assisting me for whatever I needed; Mirela, the Marketing and PR Manager who arranged everything about my stay, and Mr. Vasile, the Concierge Manager! They are the true definition of Hospitality ❤️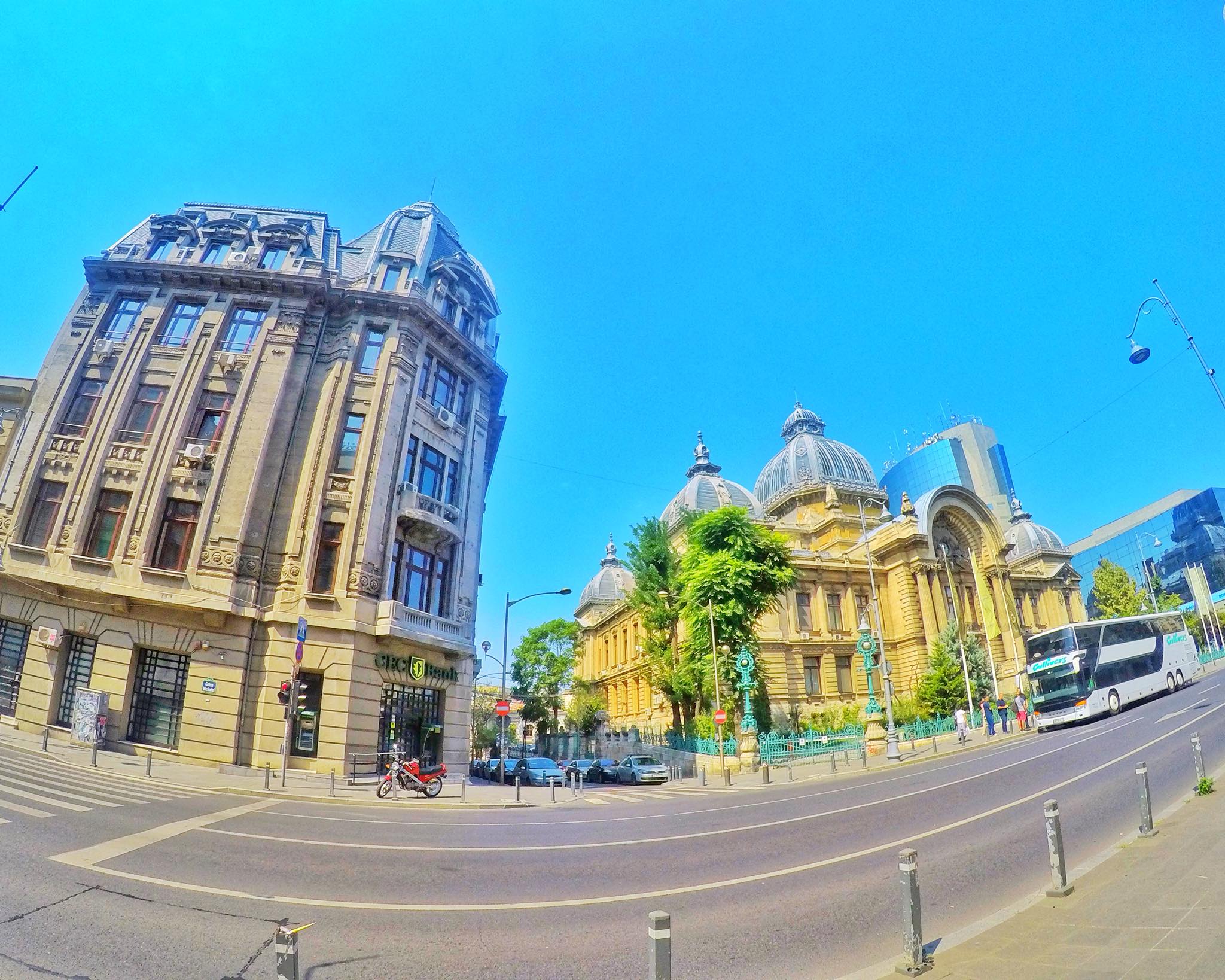 Anyway, Bucharest is the Capital of Romania. It earned its reputation in the 1990's as 'The Little Paris' as characterized by its perfectly manicured trees along the boulevard, buzzing life, and its glorious structures, buildings, churches, houses, and also medieval castles.
According to a Romanian Legend, the city of Bucharest was founded on the banks of the Dambovita River by a shepherd named Bucur, whose name literally means "joy." His flute playing reportedly dazzled the people and his hearty wine from nearby vineyards endeared him to the local traders, who gave his name to the place.
ATTRACTIONS IN BUCHAREST– WHAT YOU CAN DO IN 4 DAYS (OR PROBABLY MORE)!
There are plenty of things to do here. It's as if walking in a very interesting alley would lead you to another one which is even more interesting. I just couldn't stop marvelling at all the wonderful structures around!
1) Get yourself together and join a Free Walking Tour
I love spending my first day in any country just walking around looking at structures and people. It could be fun but having someone knowledgeable to guide you and to give you some insider tips could be better. The best part? It's for free (although donations are appreciated)!
The highlights of this tour include a guided walk at the Stavropoleos Convent, Ruins of Vlad's Citadel, Manuc's Inn, the Palace of Parliament, Revolution Spots, and Victory Blvd. This lasts for 2 hours and not only you'll enjoy it, but you'll also learn a lot from it!
2) Join a Transylvania Castle Tour
I know you've heard about Dracula at least once in your life and it's about time to learn more about him on your visit to Romania. Not only that, but you can also get a chance to visit his so-called home according to legend– The Transylvania Castle!
This usually lasts the whole day so make sure to make time for it as it's oh-so worth it! Most tours also include a visit to Pele's Castle which is the former summer residence of the Royal Romanian Family and a walk in the Medieval Town of Brasov. Whichever Tour Agency you choose, I'm sure you're gonna have a lot of fun!
3) Marvel at the beauty of the Palace of Parliament
Oh this is nothing much. It's just the Second Largest Administrative Building in the world which took 700 Architects and 20,000 Workers to complete. Reservation for a tour is necessary so book ahead here 🙂
4) Spend your evening at Gradina Eden (Eden Garden)
The atmosphere here is lovely you'll forget that you're in the middle of the city– there are hammocks around the place, nice lights at night, and of course, ice cold beer (you can bring your own wine if you prefer). This can be found in the garden of the Stirbei Palace and it's open all year round. This is where I met Ada & Mada, two beautiful Romanian girls who took me partying at Control Club (which I don't usually do anymore), attending a Craft Beer Festival, and a fancy Jazz music night out just talking about everything under the sun. I also met Shahriar and Raluca, readers of our blog who brought me to the Village Museum! They all made my stay here beyond amazing!
5) Stroll around Bucharest's parks and visit museums
There's a lot around but the biggest is the Herăstrău Park covering a massive 187 hectares, 74 hectares of which is a lake. The Dimitrie Gusti National Village Museum in Bucharest can be found inside the park. There's also an open-air theatre, a yacht club, a sports club, the Herăstrău Hotel and, adjunct to the park, the Diplomatic Club, featuring a golf course.
6) Find out about Bucharest's Dark Side by joining The Darkside Tour
This is where things get interesting. Prepare yourself for bizarre, shocking, and intriguing stories as you walk along one of the most beautiful cemeteries in Romania, the Bellu Cemetery where every great Romanian is buried. Just google it and you'll find a lot offering this tour. (P.S. Not suitable for children!)
WHERE TO STAY IN BUCHAREST, ROMANIA
Athenee Palace Hilton Bucharest is one of the city's most sophisticated and prestigious landmarks dating as far back as 1914. It is situated within the heart of the city and is conveniently connected to Henri Coanda International Airport. Its lobby named the Les Colonnades is considered as historic– its marble columns and chandeliers perfectly symbolizes the Belle Époque architecture.
Seeing it from the outside is already mesmerizing but actually 'coming home' to it during your entire stay in Bucharest, walking along its beautiful and elegant corridors, eating on its festive diving areas, as well as sleeping on its majestic bed takes the experience into a whole new level.
The rooms are very spacious I can perfectly do a cartwheel if only I can. Haha! It's very bright and airy I love it! What's best is that every room has a view of either the city or the courtyard– one is majestic and one is tranquil but both equally beautiful. Worry not because either way, you'll get a spectacular view of the Revolution Square and the Romanian Athenaeum from the hotel which is by itself already glorious.
They have several rooms available suited for your distinct taste: The King Guest Room, Twin Guest Room, King Deluxe Guest Room, King Executive Room, King Junior Suite, Twin Deluxe Guest Room, Twin Executive Room, Diplomat Suite, Courtyard Suite, Athenee Palace Suite, and Presidential Palace Suite. All of which is perfectly equipped with a TV, Complimentary Beverage, Coffee Maker, Mini-bar, Telephone, Handheld Shower, Bathrobe, as well as Peter Thomas Roth Amenities (it's a very well-known skincare brand!).
The breakfast is superb it's a perfect way to start a day!! You'll totally enjoy their resort-like amenities which include a health club with sauna and indoor pool, beauty salon, and a fitness center. Highly recommended!
FAQS
1) How much is the rate in Athenee Palace Hilton Bucharest?
It really depends on the season. You may check and compare the rates at the Hotel's Website, Booking.com, Expedia, or Hotels.com. Watch out for promos directly at the hotel's website.
2) Do you recommend staying there?
Absolutely! It's probably one of the best hotels I've ever stayed in 🙂
3) How much do you usually spend in Bucharest in a day?
It depends. If I feel frugal, I'd go to cheap local restaurants where a meal is more or less 10 Euro and drinks are 2 to 5 Euro. If I'm feeling fancy then I have to shed out at least 25 to 30 Euro. 
4) What is the usual mode of transportation?
Trams, Buses, Taxis, and Metros.
5) Is Uber working there?
Yes and also Taxify so get your hands on those promo codes :p
6) What are the languages spoken there? Do the locals speak English?
As per Google, it's Hungarian, Romani, Ukrainian, German, Russian, Turkish, Tatar, Serbian, Slovak, Bulgarian, and Croatian. Many Romanians (esp same as my age) do speak English very fluently (they are very educated here!!) 🙂
Are you on Pinterest? Pin these!