What to do on a 5 Day Honeymoon Trip to Easter Island – DIY Travel Guide
If you're looking for a honeymoon with a difference, with more than just white sand beaches and cocktails, with more culture, history and adventure, then follow our honeymoon adventure to Easter Island.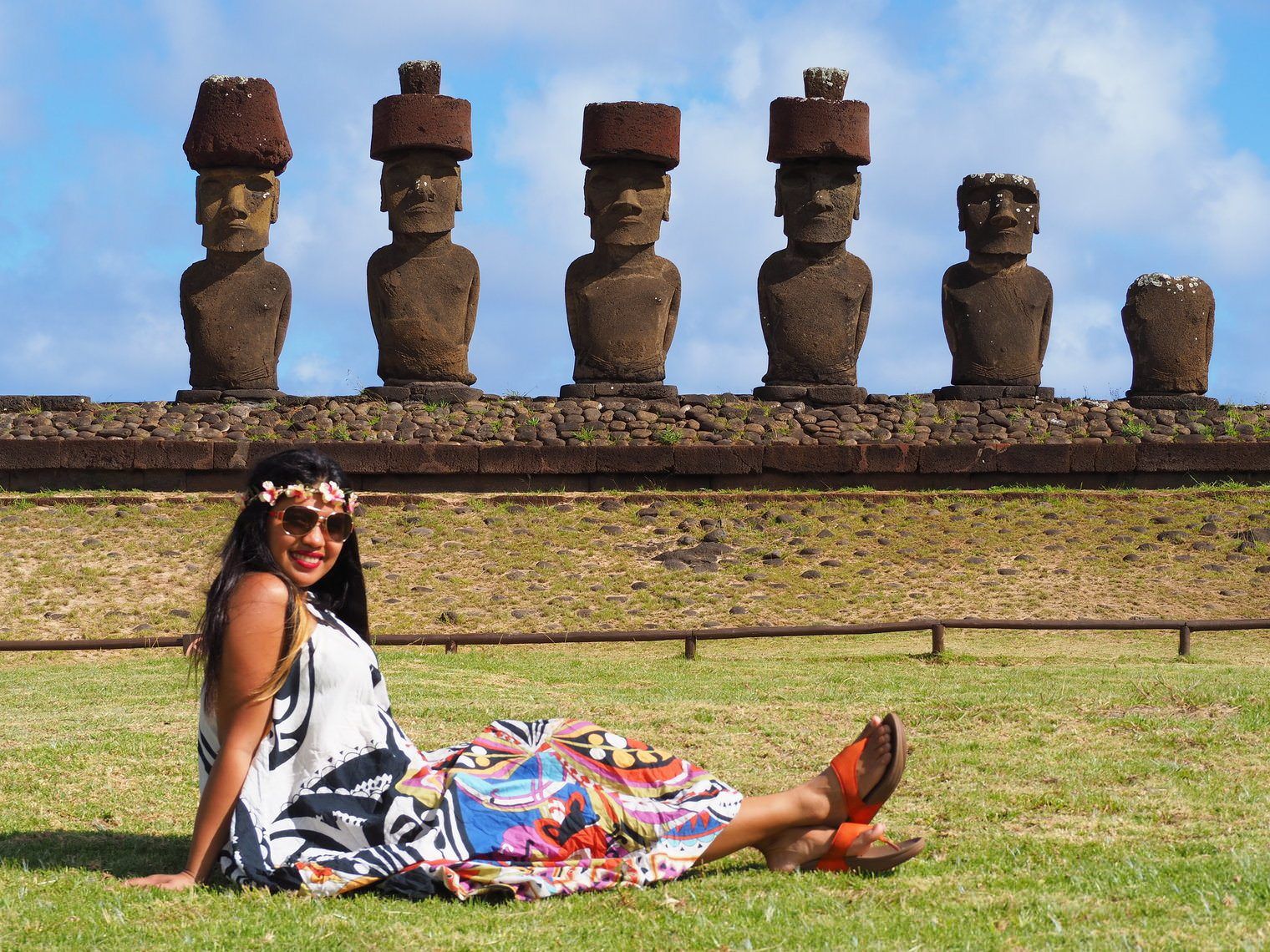 While Easter Island may technically be a part of Chile, it could not be more different, as when you land on the tiny airstrip 3686 km from the nearest land, you have left South America behind and arrived in another world! This remote volcanic island it is every bit the Pacific island paradise in every way you can think of; culture, history, climate, landscape and tradition. Get ready to spend five days immersing yourself in a civilisation of explorers and adventurers dating back thousands of years, long before they left their homes in small boats and arrived on Easter Island.
The Moai, the ancient long-faced statues found all over the island, are what attract the most tourism to the island, but in reality they are only the tip of the iceberg. During our trip to Easter Island, we stayed with Hotel Hangaroa Eco Village & Spa, who help us to organise five days of exploration with their in house branch of Mahinatur tour agency, to make sure we saw all the best parts of Easter Island.
Day 1: Arrival on Easter Island and Tour of Orongo
When we arrived on Easter Island and were greeted at the airport by the guys from Hotel Hangaroa Eco Village & Spa, we felt more like we had arrived in Hawaii than a part of South America! If you organise a pickup from the airport by your hotel, then you'll greeted at the door with smiles and flower around your neck!
Two Monkeys Travel  – Honeymoon on Easter Island
There's nothing quite like sitting in the shade of the tropical sun, sipping on fresh maracuya (passion fruit) juice and eating fresh seafood with a perfect view of the Pacific Ocean!
Two Monkeys Travel  – Honeymoon on Easter Island
Visit Orongo
In the southern corner of Easter Island, the Ranu Kao volcano at Orongo is one of several volcanoes on the island and provides a spectacular viewpoint, along with an extremely interesting story. The view you see below is self-explanatory, but the story is almost unbelievable.
Hundreds of years ago the Rapa Nui used it's internal walls as a kind of arboretum and horticultural nursery as it is extremely fertile and protected from the elements. Scientists working here were investigating a local myth about the water inside the volcano having life extending properties. When they examined some samples, they discovered what they named Rapamycin, which is used today to prevent organ rejection in transplants and has reduced signs of ageing in mice!
Two Monkeys Travel  – Honeymoon on Easter Island
The nearby ancient Rapa Nui village of Orongo is equally interesting and provides an unique insight into how this civilisation lived before the collapse of their society and the arrival of the Europeans.
These three tiny islets just 500 metres south of Orongo are called Motu Kao Kao, Motu Iti and Motu Nui. They used to play a central role in the annual competitions between Rapa Nui warriors, who would climb down the cliffs to the sea, paddle to the islands and stay there for up to a month waiting for the first eggs of a specific type of bird to be laid. Then the race was on to steal one of the eggs and bring it back to land in one piece. All of this was apparently watched by a judge of the games from the pointed top of Motu Kao Kao. The winner of the competition would have first draw of a group of virgin girls, each waiting blindfolded in the tunnel entrance to a cave. The winner would also win the right to be a 'symbolic king' of the Rapa Nui. This very extreme competition had been devised to replace the system of hereditary leadership which had previously caused a civil war!
Two Monkeys Travel  – Honeymoon on Easter Island
Kari Kari Show
After dinner, head into town for the Kari Kari show with traditional Rapa Nui dancing, singing and traditional musical instruments. You'll even have your chance to get up on the stage with the dancers and try out your own Rapa Nui dancing skills!
Two Monkeys Travel  – Honeymoon on Easter Island
Day 2: Spend a full day visiting the best of Easter Island
Take a full day tour of Easter Island with a local Rapa Nui guide to discover what lies behind the myths, legends and the enigmatic statues which cover the island on all sides. While independent exploration is exciting and liberating, it's hard to place a value on learning first hand about what you're looking and finding out amazing facts that you would never had heard otherwise.
Two Monkeys Travel  – Honeymoon on Easter Island
Two Monkeys Travel  – Honeymoon on Easter Island
Anakena
Ana Kena, Easter Island, is believed to be the location of the first settlement of Easter Island by ancient Polynesian explorers. Now it is also the site of the island's most popular beach! You can also visit other key historic and archaeological sites such as Te Pito Kura, Ahu Heki'i, Akahanga, Tongariki and Rana Raraku, the Moai quarry. 
Two Monkeys Travel  – Honeymoon on Easter Island
Two Monkeys Travel  – Rana Raraku – The Moai Quarry, where they were carved.
Two Monkeys Travel  – Honeymoon on Easter Island
The Fifteen are probably the most well-known of the Moai on Easter Island, as they are the ones most featured in magazines and documentaries. They are the greatest number of standing Moais in one place and a perfect place to take photos!
Day 3: Explore Easter Island by Bicycle
Go exploring on bicycles along the north west coast of Easter Island. This side of the island is closed to any kind of motor traffic and also provides some of the best options for adventure! One of the first things you can find here is the only Moai on the island which still retains its black and white eyes. Venture further north to find caves and a very special beach with two 'windows' in the rocks looking out to the ocean.
Two Monkeys Travel  – Honeymoon on Easter Island
Visit Ahu Akivi
In the afternoon, meet up again with your guide to visit a very special group of standing Moai. The Ahu Akivi Moai are the only Moai on Easter Island to face the ocean. Some say that this is to guard the island from potential invaders, but our Rapa Nui guide, Roberto, told us that they face the exact direction of their original home, the Pacific Islands further east.
Two Monkeys Travel  – Honeymoon on Easter Island
Watch the Sun Set Behind the Moai
There is nothing more romantic on your honeymoon than sitting up on a grassy hillside and watching the sun set slowly onto the ocean, creating a silhouette of the standing moai.
Two Monkeys Travel  – Honeymoon on Easter Island
Day 4: Explore Easter Island by Motorbike or Quad Bike
Rent a motorbike or a quad bike and go exploring the back roads! There is nothing quite like jumping on a motorbike and going exploring. While most of the roads on the island have been upgraded to tarmac, there are still many small dirt roads and little beaches to explore.
Two Monkeys Travel  – Honeymoon on Easter Island
Maunga Terevaka is the highest point on Easter Island at 511 m above sea level. To get there, we rode the motorbike back to Ahu Akivi where we parked it up, then started the hike. The winding path took us about two hours to ascend. The view from the top is incredible, with a 360 degree vista of the whole island. Along the way, we were adopted by a small dog, who joined us for the entire hike to the summit, then halfway down until she ditched us for some new people who looked like they had more food than us!
Two Monkeys Travel  – Honeymoon on Easter Island
Day 5: Late Breakfast and Poolside Relaxation – Fly Back to Santiago de Chile
Have a late breakfast and relax by the pool before catching your flight back to Santiago de Chile! After several full days of exploration, you should really take some time to relax and just enjoy the sun and sound of the waves. With a fresh Maracuya juice of course!
Two Monkeys Travel  – Honeymoon on Easter Island – Hotel Hangaroa Eco Village & Spa
Where to Stay on Easter Island
We stayed at the Hotel Hangaroa Eco Village & Spa, which we wrote a full review about – Our All-Inclusive Cultural Experience with Hotel Hangaroa Eco Village & Spa, Easter Island
With luxury, ocean front rooms overlooking the the Pacific, the largest swimming pool on the island and three restaurants serving some of the best food on the island, this is the perfect place to stay for your trip to Easter Island.
To inquire about rates, availability or promo:
Own website | Booking.com | Agoda | Expedia | Tripadvisor
Note: We stayed as guests with Hotel Hangaroa Eco Village and Spa, but all ideas and opinions are our own!

Are you on Pinterest? Pin these!