10 Tips On Travelling While Building Your Future In Your 30s
Are you in your 30s like me?
Got married, settled down, maybe you have your own kids now… saving up or paying your monthly mortgage amortization for that house you both dreamed about.  Then you also bought a brand new car which you are paying with your monthly paycheck. Not to mention that you have your monthly expenses; the utility bills, yaya's/helper's salary, your baby's milk, school expenses and daily allowances of the kids.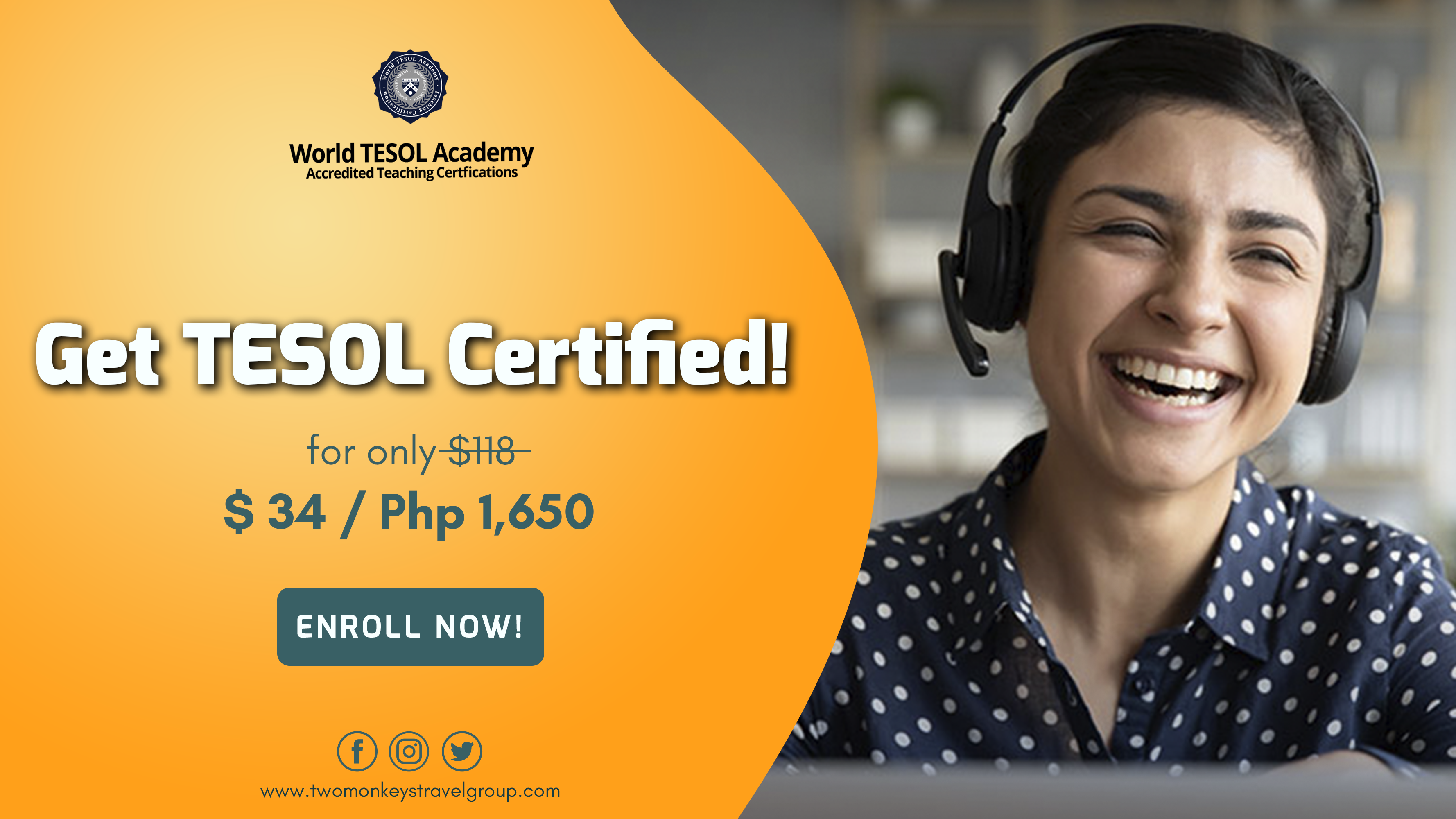 We have also partnered with World Tesol Academy to provide an 
online TESOL certification course
for the lowest price you will find anywhere – $34 USD! We recognised how badly affected many people around the world have been by the Covid / Coronavirus situation. So, we spent a lot of time discussing with this great company how they could come up with an affordable solution to help people afford the opportunities that an online TEFL / TESOL certification can bring.
Now, you still wanted to travel but you say you can't because you have no time, nothing is left on your salary for travel expenses or you say that travelling is just plain unnecessary at this point of time and you might just do it when you're old and retired.
Some friends suggest that if you really wanted to travel the world then just sell all your things, blog about your travels, do menial jobs or teach English abroad at every country you go to sustain your travels but… you're the breadwinner of the family (or even your extended family) and you're pretty much responsible with all their expenses for their daily life that quitting your 9-6 job is just not a good idea at this time.
So how would you manage this? You travelled extensively in your 20s but now you can't just seem to do it with all your responsibility. You still have a lot to strike-out in your Bucket list like surfing in Hawaii, climb Mt. Everest, see the Dalai Lama or share a cup of hot chocolate with a Peruvian.
Let me give out 10 tips that might help you in this Wanderlust dilemma.
1. Be Debt Free.
First things first, erase or lessen your debts most specially the Bad Debts because Good Debts can somewhat help you in building your wealth. That brand new car of yours you're paying for 5 years with interest? That's bad debt. A car depreciates over time unlike other assets that appreciates and even gives you passive income like Equity stocks and apartments to be rented out. A house they say is an Investment. Yes it is when you can generate income out from it like renting it out or you sell it for Capital gains years later. But if not, it's still part of the Expenses category since you're shelling out money every month to pay for it and its interest. One advice I can give is focus to pay all your debts as quickly as possible and if you're able, choose a short payment term to avoid high interest. Or just maybe, buy a house that is enough for your family? Do you really need a big mansion to fit your family of 3? Think about it.
And regarding credit cards, I must say credit cards are not evil! You just have to harness the power of the credit card and be disciplined enough to pay your credit card bills every month. You can even earn points and travel miles with a credit card! How about flying for free then? Yeah, I heard you and that's possible.  And please, don't overspend! Think carefully first before you buy an item. Do you really need it? Or you just want it?
Of course, if you still have debts to your family or friends, be responsible enough to pay them. They earn no interest from you and they lend out that money in the name of goodwill and love. They might even be a little irritated if you flew to Europe for a luxury travel when you still have thousands of pesos of debt to them! That's just plain show-off and insensitive!
So isn't such a good feeling to travel and you're debt free? It's like a large fishbone removed from your throat. So guys, be Debt Free!
2. Travel Cheap
I'm sure you've read many articles on how to travel cheap. Many suggestions include Backpacking, couchsurfing, staying in Hostels/airbnb accommodations, staying away from travel packages, acquiring cheap plane tickets to name a few. I would not delve much into this but it is still important to reiterate this point as many of us still create many excuses that Travelling is just expensive and creates holes in your pocket.
For starters, know where you intend to travel. If you don't have the means yet on travelling somewhere that requires lots of money, then think of a place where it'll be cheaper to travel. For example, if you live in Manila, Philippines and you don't have the money yet for airline tickets, then why don't you visit a nearby province where you can purchase a P100 to P300 bus ticket and just get lost somewhere there lol kidding (but you can try to get lost nevertheless. Getting lost is fun sometimes). You also don't have to go to your dream destination outright. Go to places where you've never been to and please don't judge a place or country if you haven't even experienced being there because you'll never know what that country has to offer unless you're actually there. For example, assuming you're from Asia and you don't have the financial means to go to Europe yet, then why don't you explore nearby countries first? Bangkok is too hot for you? Aren't you living in a Tropical country too? Don't stop exploring and get out of your comfort zone.
Also plan your travels carefully. Though spontaneity is very much fun, you still have to at least plan your itinerary and some of the activities you would do once you're in your destination. By planning, it saves a lot of money and time. It also gives you an overview of your travel expenses so once you're there, you won't get shocked or ripped off by tourist traps. Always revisit your planned Itinerary too. Do you really have to go to a Theme park and spend money on tickets when you can go to a free Museum and learn about other nation's culture? It's good to know if you have ample knowledge of the place beforehand. Every traveler should know this.
Another tip to save money which my wife and I have been doing for quite some time is to bring some food with you. You don't have to bring food for the entire trip (that is just funny) but just enough to get you by like when you're aboard a plane and the airline doesn't provide food then you just grab a sandwich in your bag and eat. You also don't have to eat in restaurants always. Sometimes, the best food is offered in the streets! Just don't forget to bring some medicine with you in case you are allergic to some food or you suffer from LBM.
3. Collect Moments, Not things
I stumbled upon this picture from the two monkeys travel forum and I said to myself, wow that's exactly my Mantra all these years! I am not a fan of collecting things, though I tried to collect toys and metal CDs on my non-travelling past, it's not just my forte because it was expensive and I'm a cheapskate. When I started to travel, I said to myself that this lifestyle or hobby is for me as I begin to cherish experiences and moments more than things. Things make you happy for a moment, but moments make you happy for a lifetime. A brand new car or phone gets old and outdated but an amazing memory in an unknown place is just surreal. A moment you want to go back to every time.
When buying things, think about it first several times even if you think that it is "cheap". Do you really need to buy a brand new pair of shoes when you still have gazillions of it in your shoe closet? Ask yourself, do you need it or do you want it? Will this make me richer or poorer? Maybe this is the reason why I still own my 2nd hand 10 years old Toyota Vios with me. It's still in very good condition, so why buy a new one even If I have the means? Yes, I'm a cheapskate and I'm proud of it and I'll make sure I'll be rich in knowledge and experiences through travelling (and reading books hehe).
4. Improve yourself and in your work/ Do Business
Unfortunately, some of us are in a situation where they work very hard every day just to make ends meet for them and their family. A person earning just P10,000 a month can't think of travelling anymore as he/she will just spend their hard earned money on the essentials, like food and water. There are also people who they need to support even their extended family so no money is left for them at the end of the day. Poverty is a big problem of our country, Philippines but that shouldn't hinder us from achieving our dreams. Let's face it; we still need money to travel. The travel tax and terminal fee in our country is just one proof you needed money in order to get to another country.
So what should we do? Well, have you ever thought why are you still earning P10,000 a month? Why do your company only pays you with such small salary? Why not try to improve yourself? Maybe learn a new skill that's in demand in the market? You got no money for training? You can always teach yourself or go to Tesda or schools that offers free training. Maybe you have an in-demand skill already that just needs improvement. Your company might see this and offer you free training for you to improve and maybe get promoted and earn a bigger salary!
You say you got no work and it's very hard to find a job in your industry. Have you looked into working abroad? Maybe your skill is not in demand here but it is abroad! You can also travel while working!
You already have a job but you still can't find the budget to set aside for your Travels. Maybe you can do sideline businesses? Even if it is a small business as long as you're passionate about it then it might get big, so big you need to quit your job to focus on the business. All big businesses started small, so there is hope for all of us.
We are the architects of our life. We paint our own dreams so stop making excuses and pick that paintbrush and start painting!
5. Set up a travel fund
Discipline in travelling and money comes hand in hand. Just because you'll spend money while travelling, doesn't mean you have to empty your bank account. One strategy to avoid losing money is to setup a travel fund. A certain part of your income will go to this Travel fund and when it comes to your date of travel, you only have to use and withdraw this fund solely for your travel expenses.
In my case, for travels that are within the year, I put part of our travel fund in the Money Market Mutual Fund/UITF. Money Market is an investment vehicle that invests your money in fixed income instruments such as Treasury Bills. It's just like a savings account where you can withdraw anytime but provides a higher yield than regular savings.
For Travels in the next 3 years or so, I invest part of our travel fund in Equities Mutual Fund. Equities yield a higher return over time but also have its accompanying risk. But don't worry, as long as you are in it for the long term, Equities still provides higher yields than any other mutual fund. In my case, I invest my Europe Fund in BPI Equity Mutual Fund as we plan to go to Europe within the next 3 to 4 years (I really hope so).
A travel fund also helps people avoid impulse travels. I know some of you might disagree with this but to those who must be strict with their budget must only use their travel fund for their planned travel only. This teaches people delayed gratification by reaping the rewards when it's ripe.
6. Travel Free/Volunteer
Is there such thing as free travel? Fortunately, there is. I'm in no position to discuss about this since I haven't really tried free travel but you can search articles in the internet and there are many people doing this. For example, to fly for free, there are people using their credit card points for free miles. Just know what credit card offers it and be sure to pay your bills on time. No money to pay for accommodation? There is couch surfing and house sitting. No money for food? Work for a restaurant and ask them if they can offer food for your service.
There are people who do volunteer work. I also haven't tried this but if you will do it, you must do it because you wanted to help in the first place and not just because they'll offer you free accommodation or food and you get to travel at the same time. (Related article: Sustainable Travel Lifestyle vs Volunteering)
And if you're burdened with all the responsibilities at home but still want to work and travel at the same time, you can then make a leap of faith to work abroad or change industries. One way to travel extensively while giving your family a bright future is to work as a Seaman or a cabin crew. My cousin is a waiter in a prestigious cruise ship and he has been to almost all of the countries in the world and still provides his family a good comfortable life. My wife was also an OFW and worked in 3 Middle Eastern countries and was able to provide for her family. I also went to work abroad in Vietnam for just 3 months but the experience changed my life and perception on Travelling.
Or if you don't like the sound of working abroad and you just want to stay in your home country, then maybe look for a company that sponsors business trips or on-shore deployment for a short stint. You get your handsome pay, be with your family and of course, you still get to travel.
So just like in point 4, let's stop making excuses but rather think of solutions to our problems.
7. Travel in Groups
It's always nice to travel in groups and in some cases, cheaper as well! Not only you cherish those amazing moments with your family or friends, but you can get loads of discounts from entrance tickets, transportations (boat/van rides) and share expenses for food and accommodation.
I frequently travel with my wife but if there's a chance to travel with family and/or friends then we do it. Also, if you have a toddler (like 7 years old and below), think first if the kid will enjoy the travels already. A one year old might smile when he take a picture with Mickey Mouse in Disneyland, but will he remember that 7 years later? I'm not against taking your kid to your travels but you might just want to reconsider the expenses first and if your kid will truly enjoy the moments. You are on a tight budget right?
8. Don't wait for retirement to travel
The 30s is a critical age group for wealth building but it is also the age group where you still enjoy your prime youth and you have perhaps developed maturity and confidence already. For me, perhaps, these years are the best time to travel since you focus your travels more on knowing the culture and the place than just being wild and crazy like what you had in your 20s. Some of us, unfortunately, decide to travel when they are old and retired. I mean, yes you may have money and all the time in the world, but isn't it sweeter if you enjoyed your travels when you were young? I'm sure it'll put a smile in your face whenever you look back at your pictures of your young self in a wild adventure. Then there are those phrases like "You only live once" or "Life is too short", because all these are true. You never know when is your time so why not do these things now?
For me, balance should be the key. You build your wealth and at the same time travel and enjoy. Work hard, play harder.
9. Make opportunities to travel
I had my birthday last month and I wanted to celebrate it with my family. Though we had a small celebration at home, I suggested we still go somewhere we've never been to and just eat there. So I suggested we go to Isdaan Resto Fun Park in Calauan, Laguna for a day trip since my older brother is not amenable to an overnight stay somewhere. You see, instead of eating out in a restaurant in Manila (which you can do anytime), I suggested we go out and see some sights as well. This is an opportunity to travel and at the same time enjoy the moments with my family. Plus, I saved much more money since the cost of the food in Isdaan is much more affordable compared to Sambokojin in Megamall (But of course, quality of food in Sambokojin is way better but we are after the sights in Isdaan).
I also make it a yearly ritual to travel on my Birthday be it in a nearby place or out of the country. Just anywhere I've never been to is fine with me.
One more example is if your company or team has a budget for team building, then suggest to them to travel somewhere or stay in a resort away from Manila instead of just having lunch or drinking.
10. Always make time
My wife and I just watched the Love Affair (yes I was pushed to watch it in the name of our marriage) starring Dawn, Richard and Bea. Though I'm not a fan of kerida pinoy films, the movie was actually good. The story might be a little common and standard for its genre but I can't help see the lesson on the importance of family ties that the movie relayed to its viewers. In the movie, Richard was a hardworking Doctor and sails in the weekend as part of his escape from reality. That is where he met Bea that turned to be his mistress. Long story short, they fell in love and Richard and Dawn's marriage went into shambles. After the movie, I told my wife that if only Richard takes his wife in sailing together, then maybe their marriage will be a happy one. I mean, you overwork yourself and the only time you can be with your wife is on your day off and you can't even let her join in your activity? So the lesson here is, even if we are ultra busy with our schedules, let's find time for our love ones because time flies so fast and we never knew how much time was wasted on working when all your family needs is a bit of your time and not material riches. And of course, travelling with your family is one way of having a fruitful time with them. Always make time.

Looking for other articles? Check out our DIY Travel Guides Around the World. For cheap and luxurious places to stay while traveling, here's our ultimate list of best hostels and hotels!
About the Writer
Jayson Concepcion, He is a programmer by profession but has a soul of a traveler. Aside from his ultimate dream of travelling around the world, he loves to eat, drink, listen to music, talk about aliens and the occasional secret guilty pleasure of singing love songs in videoke. His favorite superpower is to teleport from one place to another. I guess you know why.
Follow his adventures in The Travel Debugger.
Facebook Page: The Travel Debugger
Are you on Pinterest? Pin these!