7 Awesome Things to do in Vienna, Austria
"If I speak of Vienna it must be in the past tense, as a man speaks to a woman he has loved and who is dead." This quote by Erich von Stroheim underlines what most people have in mind when they think about Vienna: A great historic city that is mostly known for its past but in a special way, unlike London or Paris. More than just the economic, and political center of Austria, there are many things to do in Vienna. Vienna is a city of history, culture, music, and art, with a character and personality sculpted over centuries by the likes of great legends such as Mozart, Beethoven, and Sigmund Freud. There are many historical places with a special charm indeed, but there are also other things you should know when you visit this awesome city. Vienna is mostly visited by people from Austria, German,y and Asian countries like South Korea, but in general people all over the world. Here are just a few of the many awesome things to do in Vienna!
1. Drink a coffee in a coffee house
Coffee houses are the heart and soul of many a major city across the world – they are where the citizens who keep the proverbial ball rolling convene to refuel, reminisce, or just step out of the race for a few minutes and watch the world go by. One of the most relaxing and local things to do is in Vienna, a city well-known for its coffee houses. Keep in mind that you don't order just a coffee. If you want to drink a normal coffee, just take a coffee to go to a shop. In a coffee house you should order a Melange, a Häferlkaffee, an Einspänner, a little or big brown one, a Cappuccino, or whatever you like – but not just a coffee.
Things to do in Vienna – Coffee shop culture – Photo Credit – Sean Bonner
2. Visit cultural operas and galleries
Top of your list of things to do in Vienna should be to visit an opera in the Vienna State Opera House and a gallery of modern art like Frey to get in the right mood. But take care you don't buy your tickets from people in Mozart dresses. Buy it at an officially known ticket service, a reliable online ticket shop, or directly at the venue.
Things to do in Vienna – Opera and art galleries – Photo Credit – Trishhhh
3. Visit St. Stephen's Cathedral
One of the most inspiring things to do in Vienna is a visit to St. Stephen's Cathedral, which is directly in the center and is the most important religious building in Vienna. You may hear the cathedral referred to in its common German name, Stephansdom, which is now one of the most recognizable landmarks in the city. Inside the sheer height of the spaces, with the interlacing Gothic ribbed vaults of the ceiling, is enough to leave you staring wide-eyed up at the heavens!
Check out some of the cool and cheap tours you could do in St. Stephen's Cathedral.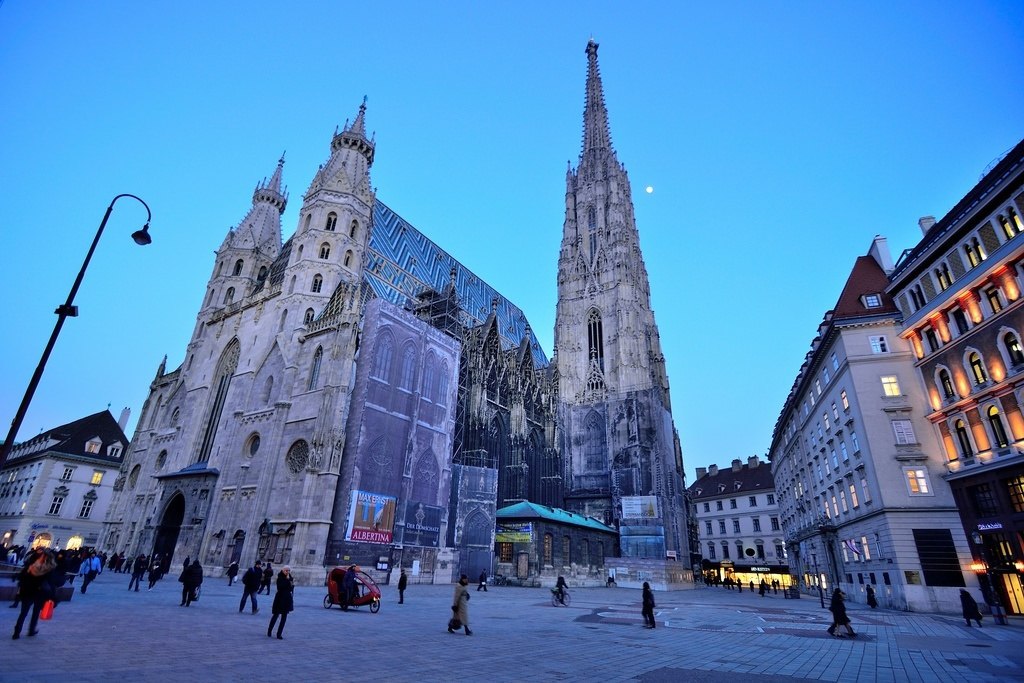 Things to do in Vienna – St Stephen's Cathedral – Photo Credit –
4. Visit the Prater
One area which Vienna is well known for is the Prater. Formerly a playground to rich nobles and the private hunting ground of Emperor Maximilian II, it became a public park in 1766. It's now the 2nd largest park in Vienna and is home to open parkland, enchanting woods, a planetarium, and the intriguing Republic of Kugelmugel, a spherical micro-nation! Even if you don't want to spend much money for fun fair rides or the big wheel, a relaxing walk through the grounds to reconnect with nature within the city limits is one of the best things to do in Vienna, especially in the evening hours.
Check out some of the cool and cheap tours you could do in Prater.
Things to do in Vienna – Prater Park and Amusement Park – Photo Credit – Thomas Lieser
5. Visit Schönbrunn Palace
Vienna had a golden century during the Habsburg Monarchy, and at Schönbrunn Palace you can see lots of Spanish details and a very beautiful Palace that will certainly stick in your mind. The imposing manner of the Baroque architecture which styles the former imperial residence is softened by well-manicured lawns and a fringe of trees and foliage guarding the boundary. With 1441 rooms and a history spanning over 300 years and several renovations and remodelings, a trip to the Schönbrunn Palace could be one of the few things to do in Vienna that you had better set aside a whole day for!
Things to do in Vienna – Schönbrunn Palace – Photo Credit – Dennis Jarvis
6. Check out Vienna's astounding night-life,
Vienna also has much to offer during the night. You should visit the Pratersauna on hot summer nights, the Sass, Grelle Forelle or the Auslage. You will see that Vienna is a city with a lot more to offer than history and fairy tales. With cool, chic bars, wild electronic clubs, and a thriving live music scene, some midnight exploration should be on top of your list of things to do in Vienna.
Things to do in Vienna – The Nightlife – Photo Credit – Scottpartee
7. Go shopping at local stores
With such thriving art and culture scene, it makes perfect sense that Vienna would have its special place in the fashion world as well, which it does. With local advocates like designer Helmut Lang and a plethora of designers and fashion labels, Vienna proves that Austrian fashion is much more than the stereotypical traditional dress! If you're looking for special, locally-designed clothes, then you should leave the big shopping streets like Kärntner Street or Mariahilfer Street and should look for little stores at Neubaugasse near the Spittelberg or at the Siebensterngasse, which will make a boutique fashion shopping experience one of your favorite things to do in Vienna.
Things to do in Vienna – Vienna Fashion – Photo Credit – Cristian Iohan Ştefănescu

Recommended Hotels
Budget – Das Capri
Mid Range – Austria Trend Hotel
Luxury – Hotel Imperial
Are you on Pinterest? Pin these!