Beauty of Kuwait: Awesome Things to Do During Liberation Holiday
Earlier this year marked my second Liberation Day in Kuwait, a time of the year when almost all Kuwaitis go out and have fun. It's like Independence Day for a lot of us.
The whole country would have 2 days off and spend it with family or friends. The most prominent thing you would see at this time is the water guns held by both kids and adults alike. It's their way of celebrating the occasion, much like how we, Filipinos, do during Pista ng San Juan. Because of this, a lot of people do not recommend going out of their homes, especially at night. Aside from the congested traffic, the people are sometimes a bit overeager when it comes to celebrating the occasion.
Liberation Day is a great time to explore Kuwait and go people-watching. It's fun to see kids running around the seaside and even in the mall. It's also entertaining to see the kind of water guns they have on hand. Somehow, it seems that the people here in Kuwait take getting other people wet seriously. The water guns they have are high-tech.
People say that there is nothing to see in Kuwait, but that is not entirely true. You can spend the day in other places aside from the mall. I was really lucky to find another explorer in Ate Ryza, one of my workmates. She also has wanderlust, and she wanted to spend Liberation Day out of the flat. So we put our heads together and looked for the places you can see here in Kuwait.
Day 1: House of Mirrors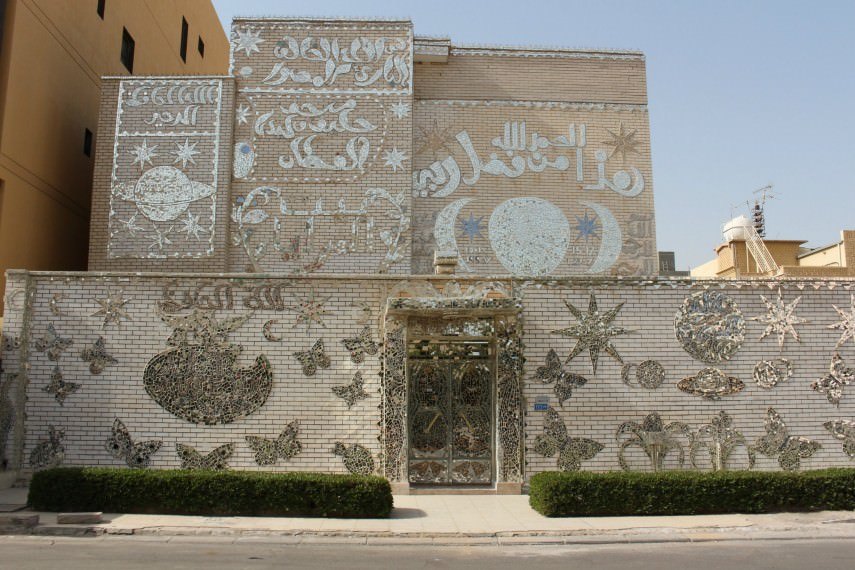 On the first day of Liberation, Ate Ryza and I decided to go museum hopping. We wanted to see Kuwait's history and what it had to offer. We found this charming, unique house off the internet. Most people do not even know it exists. It's a house designed with mirrors. Although this can be considered a museum, you must first call to schedule an appointment as the house is still private property. It is very easy to find because light reflects from the building. That is how we were able to find it. We took a taxi early in the morning to avoid the traffic on the interstate and saw how the light reflected from the mirror designs on the house.
Upon entering the house, we were met by the owner herself. Mrs. Lidia al Qattan is an Italian-born sculptor, jeweler, and painter who married renowned Kuwaiti artist, Khalifa al Qattan. She is quite a unique character and very easy to talk to. If you enjoy history and listening to stories told by people who lived during that time, then you will enjoy talking to Mrs. Lidia. She has so many stories about her transition from Italy to Kuwait, and how the house started.
When her daughter broke a mirror, superstitious beliefs say that you must throw it out, lest bad luck follows, but instead, Mrs. Lidia decided to recycle the mirror fragments. She designed a cabinet first. When her husband saw it, he was impressed and encouraged Mrs. Lidia by bringing back trinkets every time he would leave the country. It's funny because Mrs. Lidia said that every time her husband comes back, he would find a different area of the house renovated. She cuts the mirror by hand and cements it to the walls, floors, and even the ceiling. I do not know how a lady like her was able to design the ceiling by herself.
Each room of the house and each design has a story. Mrs. Lidia explains how each room came to be and the inspirations that influenced her to make the art. I especially liked the bathroom, the library, and the stairs. The tour took about an hour or two. The last leg of the journey introduces you to art therapy where you sit in a darkened room and meditate, and where you can have fun by throwing art around.
This is an activity to share so if you plan to go, it is best to go with your friends. Expect to be served tea or juice and some yummy, homemade sponge cake. The honey lemon juice is the best. We asked for the recipe.
During the holiday season, it is hard to get transportation back to your accommodations, so if you plan to go, I suggest you bring your transportation, or else you might find yourself walking. We were very lucky to meet two kind, and generous American women who we found out were also touring Kuwait. We asked if we could have a ride and discovered that they were also going to the same place we were planning to go. Unfortunately, we found out that the Grand Mosque and the National Museum were closed during the holiday seasons. So we still ended up in the mall for lunch, where apparently, all people must go during the holidays. It was a wonderful day, even though we were not able to go to the mosque or the museum.

Check out some of the cool and cheap tours you could do in the Grand Mosque.
Day 2: The Desert
Of course, a holiday in the Middle East is not complete if you don't go to the desert! It was the first time for me to go. A Filipino family who went to church with us picked us up early in the morning. We would be going to a birthday celebration by a Kuwaiti who married a Filipina and they invited everyone from work and church. I was giddy with excitement, I imagined huge dunes and wild camels. Unfortunately, there were no camels or even huge dunes, but there were some very authentic Arabian tents. I thought that kind of tent existed only in the movies. Imagine my surprise to find out that reality still beat all the special effects. When I entered the tent, there were comfortable sofas and even rugs. I briefly wondered if they were Persian rugs.
Related Article: Looking for affordable accommodation? Check out our Agoda for great deals.
The whole day was full of fun and games. We played football, exchanged stories, and ate food. Seriously, the food was great. Later in the day, they suddenly took out these 4-wheeled buggies. I didn't even know what they were called. The kids knew more about how to drive the vehicles than I did, and I'm an adult. It was the first time I ever rode in something like that. It was fun trying to learn how to drive it.
At the end of the day, we went to the desert oasis. It is amazing to find a body of water in the middle of the desert. You can just imagine how the people of old felt when they trekked miles upon miles of sand and found water. There were no cars or other transportation then. The only way to get from one point to another is to ride a camel, horse, mule, or walk. We are lucky today that we have vehicles that run, and water to drink without looking for a well.
The Liberation Holidays were enjoyable. Although there are almost no trees or even forests like what we have in the Philippines, Kuwait has a beauty of its own. One just has to go out looking for the beauty to discover it.

About the Writer:
Hazel Kim Dizon. A nurse working in Kuwait. I dream of one day writing my novel and traveling the world. Born and raised in the Philippines. I love eating, reading, collecting more books, people watching, and God willing. I am planning to go to Europe soon and visit South America.