25 Best Things to Do in San Diego, California [With Photos]
San Diego, named after San Diego de Alcalá, is a city in California on the Pacific of the USA coast. It was the first place European explorers landed on the American West Coast and was once was Mexican territory, so get ready to embrace Latin Culture here.
There are plenty of passions to pursue in San Diego; from arts and culture, beaches and bays, food and drink, nightlife, parks, and many more. Step outside your comfort zone with all the amazing things to do in San Diego, and you might just find something new to love!
With countless things to do in this marvelous city, we rounded it up to make it easier for you.
Here are the 25 Best things to do in San Diego:
1. Explore San Diego's Balboa Park
This could be the most cultural and educational of all the things to do in San Diego. Balboa Park is home to more than 16 museums, several performing arts places, scenic views, trails, and many other innovative and recreational attractions where science, culture, and nature collide. With a number of cultural centers, there is something for everyone among its 1,200 lovely and lushly grown acres.
Suggested Tour: San Diego Tour: Hop-on Hop-off Trolley
2. Walk along Little Italy
Little Italy was predominantly an Italian and Portuguese fishing neighborhood. Now, it is full of Italian restaurants and residential units and is best explored on foot. In a city with predominantly North American and Latino cultural roots, exploring Little Italy is one of the more unique things to do in San Diego!
Suggested Tour: Little Italy Walking and Wine Tour in San Diego
3. Party at Gaslamp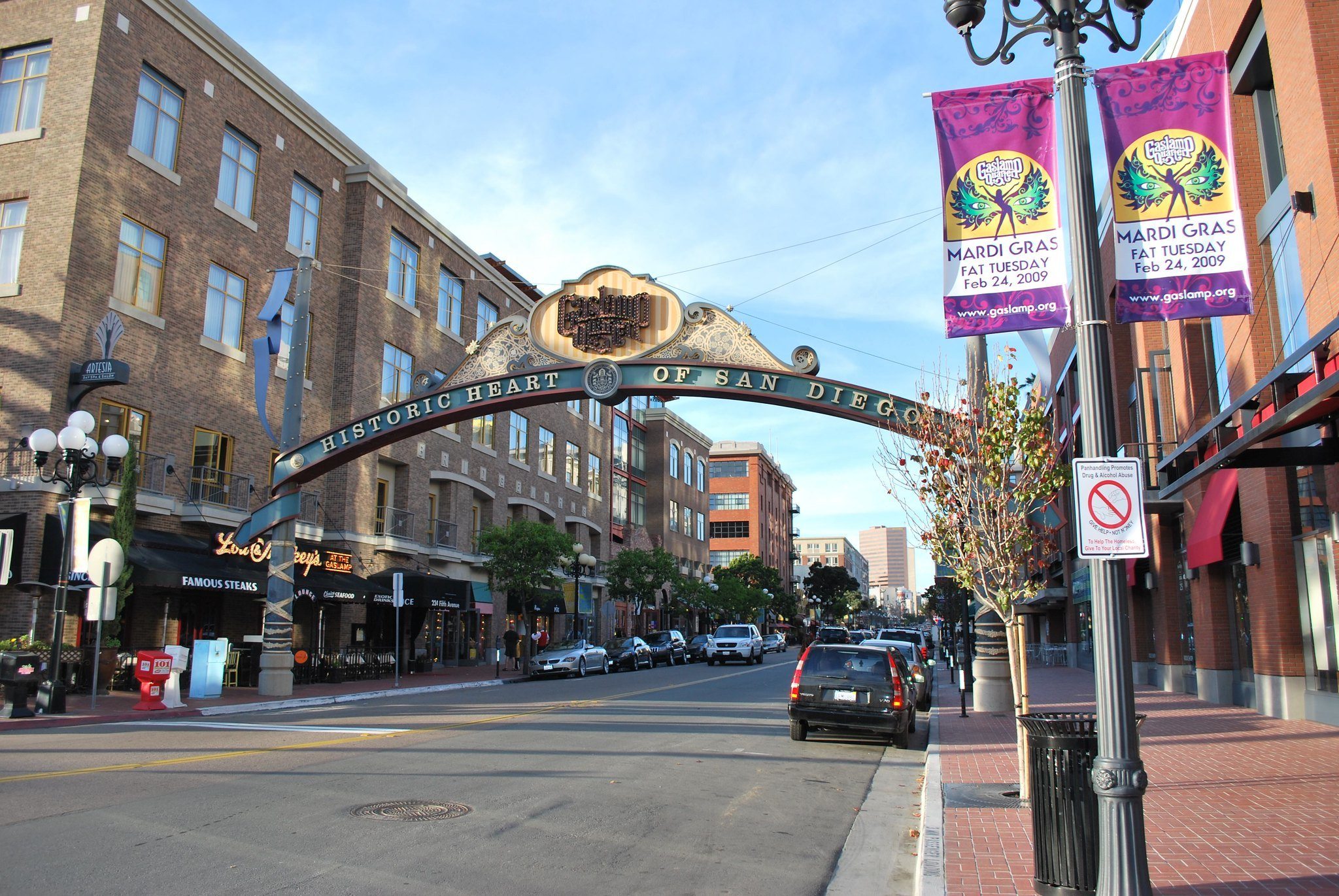 Looking for exciting and entertaining things to do in San Diego for nighttime entertainment? The Gaslamp neighborhood in downtown San Diego is a historic district, which is home to premier 180 restaurants, 50 bars, and 10 nightclubs. You can party from sunset to sunrise at venues with world-class DJs, craft cocktails and epic cuisine of all kinds!
Suggested Tour: Gaslamp Pub Crawl
4. Eat Fish Tacos
Fish Tacos are staple San Diego Food, so you must not miss this culinary treat on your journey to this city. Many restaurants serve this, try one, and you might get hooked.
5. Swim at La Jolla Coves
Dive into one of the most interesting things to do in San Diego! La Jolla Cove is a tiny, scenic beach and cove surrounded entirely by cliffs. As part of a marine reserve, it is safeguarded, so here the underwater environment is very prosperous in marine life. Therefore, with snorkelers, swimmers and scuba divers, this is a famous destination.
Suggested Tour: La Jolla Cove and Cave Snorkel Tour
6. Hike at Torrey Pines State Natural Reserve Park
The perfect place for energetic visitors looking for active things to do in San Diego. A 2,000-acre coastal state park found in San Diego is the Torrey Pines State Natural Reserve. The reserve contains many distinct fauna and flora, including raccoons, bobcats, foxes,  birds, coastal chaparral, cactus, and the rare Torrey pine. See the overlooks, walk a peaceful trail or exercise in a clean environment.
Suggested Tour: San Diego Beach and La Jolla Torrey Pine Tour
 7. Stroll Old Town
The Birthplace of California, with over 20 museums and shops you will get a glimpse of California. Meet mariachi bands, folk dancers, performers, and more live entertainment. With numerous national and international cuisine provided and Mexican restaurants in one location in all of San Diego, you'll definitely end up bloated.
Suggested Tour: San Diego Scenic Tour
8. Check out USS Midway Museum
One of the more historic things to do in San Diego, the USS Midway Museum is a historic naval aircraft carrier museum located at Navy Pier. The USS Midway was titled after the June 1942 Battle of Midway and is also the 20th century's longest-serving aircraft carrier. The USS Midway was the longest-serving aircraft carrier in the 20th century. Named after the climatic Battle of Midway of June 1942, See historic aircraft and take part in the activities.
Suggested Tour: Skip the Line: USS Midway Museum Admission Ticket
9. View the Sunset at Sunset Cliffs
This has to be one of the most romantic things to do in San Diego! Watch the sunset with a panoramic view of the Pacific Ocean at Sunset Cliffs Natural Park. The paths at Cliffside are ideal for walking and sunset viewing, however, please don't try to jump as it is very dangerous! The cliffside trails are popular for walking and for watching the sunset, but are undeveloped and can be dangerous.
Suggested Tour: Sunset Cliffs at San Diego – 2.5 hour Segway Tour
10. Hang out at Seaport Village
Enjoy harbor views while meandering along cobblestone pathways lined with boutiques, restaurants, and lively performers. The village includes numerous freestanding structures in a variety of architectural styles, from Victorian to Mexican tradition. The Village contains several freestanding buildings in an assortment of architectural styles, from Victorian to traditional Mexican.
Suggested Tour: San Diego City Lights Night Tour
11. Appreciate art in San Diego Museum of Art
For those in search of cultural things to do in San Diego, the Museum of Art is a museum of fine arts that houses a vast collection of Spanish art  It is the region's oldest and largest art museum. You can look for events like "Art after hours" or "Culture and Cocktails," to talk about art and meet new friends.
Suggested Tour: Tour & Hidden Secrets of Balboa Park
12. Surf at Pacific Beach
PB is a favorite spot for students and young adults enjoying the party atmosphere. Look for a surfing teacher and learn to surf over the waves.
Suggested Tour: Full Day Tour of San Diego Coast
13. Drink beer at North Park
North Park, home to culinary innovation and cutting-edge craft-masters, is a place for all foodies and beer-lovers in San Diego. Home to culinary innovation and cutting-edge brew-masters, North Park is a go-to San Diego destination for everything food and drink. This is a haven for beer lovers, so support local and put "beer hopping" high on your list of what to do in San Diego!
14. Watch a game at Petco Park
Petco Park is a baseball park that is home to the San Diego Padres of Major League Baseball (MLB). See the schedule and go one a game day, watch and cheer for the local team.
Suggested Tour: Petco Park Tours
15. Wander in Embarcedero
The Embarcedero means boarding place in English. Bike along the broadway plaza or relax at Embarcadero Marina Park North or South. Enjoy the unlimited view of the ocean.
Suggested Tour: Gaslamp Quarter and Embarcadero Coast Segway Tour
16. Visit the Mormon Battalion Historic Site
Missionaries will accompany you on an interactive video tour at the Mormon Battalion Historic Site to help you appreciate the Mormon Battalion's relevance. At the Mormon Battalion Historic Site, missionaries will guide you on an interactive video tour to help you understand the significance of the … You will learn about the faith, service, and sacrifice of the men who volunteered for that long march and the women and children who accompanied them.
17. Dip at Children's Pool Beach
Children's Pool Beach is a small sandy beach at La Jolla. A breakwater was constructed so that children could safely swim and play. You could also witness seals hanging out at the beach as it is where seal pups are born each year!
Suggested Tour: La Jolla Sea Caves Kayak Tour
18. See animals at the San Diego Zoo
Looking for things to do in San Diego for kids and adults of all ages?  San Diego Zoo houses over 3,500 animals of over 650 species and subspecies. The San Diego Zoo is a zoo in Balboa Park, San Diego, California, housing more than 3,500 animals of more than 650 species and subspecies. The zoo started the ide of having open-air, cageless displays recreating natural animal habitat. Pioneer in the concept of open-air, cage-less exhibits. … of cage-less exhibits that recreate natural habitats for animals. If you are tired of walking, try the Skyfari where you see an aerial view of the zoo.
Suggested Tour: San Diego Zoo
19. Say hello to Cabrillo
At the southern tip of Point Loma is the Cabrillo National Monument. It commemorates the September 28, 1542 landing at San Diego Bay of Juan Rodríguez Cabrillo. This occurrence marked the first time that a European journey set foot on what today became the United States ' West Coast. It commemorates the landing of Juan Rodríguez Cabrillo at San Diego Bay on September 28, 1542. This event marked the first time that a European expedition had set foot on what later became the west coast of the United States.
Suggested Tour: San Diego Two Hour Harbor Cruise and Sea Lion Adventure
20. Devour Mexican Food
Because of Mexican Influence, you need to try out Mexican restaurants and stalls in San Diego. Ready your tummy and taste buds as you will be extremely full.
Suggested Tour: Intro Mexican Food Tasting from San Diego
21. Feel like a Kid in Belmont
Belmont Park is Mission Bay's historic oceanfront amusement park. Do not leave without the most legendary attraction of the park; the Giant Dipper roller coaster.
Suggested Tour: Beach Bike Boogie
22. Tour around Heritage Park
Heritage Park is a county park near Old Town designed to maintain examples of the historic Victorian architecture of San Diego including Italianate, Queen Anne, Stick-Eastlake, and classical styles of revival. It was developed to preserve examples of San Diego's historic Victorian architecture including Italianate, Stick-Eastlake, Queen Anne and classic revival styles. Pretend to be in a different era when you walk through the streets.
23. Climb up the Old Point Loma Lighthouse
Though not anymore standing as a functioning lighthouse, it is now a landmark and museum. The tower of the lighthouse is usually closed off to the public except on August 25 and November 15, an anniversary.
24. Cross a footbridge
There are 7 footbridges in San Diego, providing shortcuts for locals. If you want to try at least one, cross Spruce Street Suspension Bridge; it's 375 feet long and much more than just a bridge.
25. Visit Coronado Island
Spend a day trip on the Island across San Diego. Try relaxing at Hotel del Coronado or see the San Diego skyline at Bayview Park.
Suggested Tour: Coronado Island Segway Tour
Frequently Asked Questions
1. Where to stay in San Diego?
For those who want to be near historic sites and museums; Old Town, for nightlife Gaslamp Quarter, for beaches La Jolla.
2. What are the languages spoken in San Diego?
English is the most common Language in San Diego. However, there is a good percentage of od Spanish speakers.
3. What currency do they use in San Diego?
US Dollars are used throughout the city.
4. Is it safe to travel to San Diego?
San Diego is one of the safest cities in the US. However, remain vigilant as petty crimes exist. Just stick to touristy areas rather than going your way in case of emergencies, dial 911.
4. Should I get travel insurance before traveling to San Diego?
Though San Diego is safe; I always recommend buying travel insurance since we don't know what will happen to us. Check out SafetyWing, my insurance provider.
5. Is it expensive in San Diego for tourists?
San Diego is pretty affordable for a vacation compared to San Francisco or Los Angeles.
6. When to visit San Diego?
April to May (Spring) and September to October (Fall) is a great time to visit San Diego as the weather is great. In May, tourists will start flocking and prices may go high so go early and not on summers as there are many people on the beach.
7. How to get to San Diego?
San Diego International Airport is conveniently located just ten minutes from downtown San Diego and serviced by 22 major and commuter airlines including non-stop flights from Mexico, Canada, Japan, and the UK.
I hope you now know the 25 best things to do in San Diego! You can check out more things to do in my blog. Enjoy your travels!

Are you on Pinterest? Pin these!