5 Things to Do in Lake Garda, Italy and our Experience Staying at Hotel Forte Charme Torbole sul Garda
Another leg of our journey to come back home just started when we left Zurich, Switzerland for Lake Garda in Italy. We took the road passing via Liechtenstein and Austria and the traffic was crazy. There were just so many cars taking the same route from Germany and Austria. It was a really tiring car ride from me, sitting for hours fresh from an operation in the UK. 
Nevertheless, it was rather an easy drive for Jonathan. The roads were really nice and the view is scenic, especially for the last 2 hours. We passed by the majestic Dolomites Mountain Range and finally, the long sweeping valley lead us to Lake Garda itself. We arrived just in time for dinner and a special treat awaited us, a local buffet dinner in the beautiful Hotel Forte Charme Torbole sul Garda.
Where we Stayed in Lake Garda, Italy
Lake Garda is a magical place. Jon and I really wanted to spend this time in a luxury hotel with a view of the lake. Especially knowing that it would take us a while to travel again due to my surgery. Good thing we were hosted by Hotel Forte Charme Torbole sul Garda, a modern hotel built right on a hillside.
It's my 3rd time in Italy and this is one of the best views I've seen. I woke up in the morning and stood up from the comfortable and cosy king-size bed. I opened the window to the view from our terrace. It was unbelievable, magical, immaculate, and words are not enough to describe this place. 
Our room also features a spacious wardrobe, a seating area with sofa, en-suite bathroom with shower, hairdryer, LCD – TV, phone with direct line, safe, minibar and air conditioning. 
The hotel also has a swimming pool and jacuzzi overlooking the lake. Jonathan enjoyed it so much that he even woke up early to have it all to himself. Well, it was worth it to fly his drone over these breathtaking views of Lake Garda. 
Considering everything stated above, the atmosphere in the hotel and the friendliness of the staff, this hotel is highly recommended. 
THINGS TO DO IN LAKE GARDA, ITALY
1. Enjoy the pristine Lake Garda
Go swimming, kite surfing, sailing, and windsurfing. Summer is the best time to enjoy Lake Garda. However, it is extremely popular so book your hotels ahead of time!
2. Explore the Local Town of Torbole
Just at the bottom of the hill and right next to the lake lies this small town of Torbole. Walk around and see the harbor, go sailing, or hike at Mount Altissimo. Don't miss Vecchia Dogana (15th century), the Casa Breust, the main square and the tollhouse (Casetta del Dazio) on this little exploration :p Note that only locals can drive their cars in this town so we're glad the hotel has a free shuttle service 🙂 
3. Go to Sirmione and visit Castello Scaligero
Sirmione is a historical town and this is something I bet you'd love to see. There are many quaint cafes, restaurants, pizzerias, gelaterias, and even a castle with panoramic views of the town. A visit to Sirmione is the perfect thing for couples to do at Lake Garda!
4. EAT A LOT!
Don't we all love Italian food?! From their freshly baked pizzas and al dente pasta to creamy ice creams. Lake Garda is heaven for all the food lovers out there. I love Asian food but every time I'm in Italy, I just drool over their local food. I won't recommend any restaurant in particular because food quality anywhere here is nothing less than great.  
5. Enjoy a full day at Garda Land Park
If you're traveling with kids, this is the perfect place to go to. It's an amusement park which doesn't cost an arm and a leg. There's free face painting, interesting rides, and what makes it so it's great for kids. I love it when people and enterprises make an effort to make this world a better place 🙂 Garda Land is the perfect day out for families at Lake Garda!
Overall, we had 3 magical nights in Lake Garda and Hotel Forte Charme Torbole sul Garda and how I wish we could stay longer. I can still remember the nights we spent in our hotel room's balcony, sipping the fine Bardolino red wine. Moreover, simply admiring all the beauty that the earth has been blessed with. 
6. Find accommodation in Lake Garda, Italy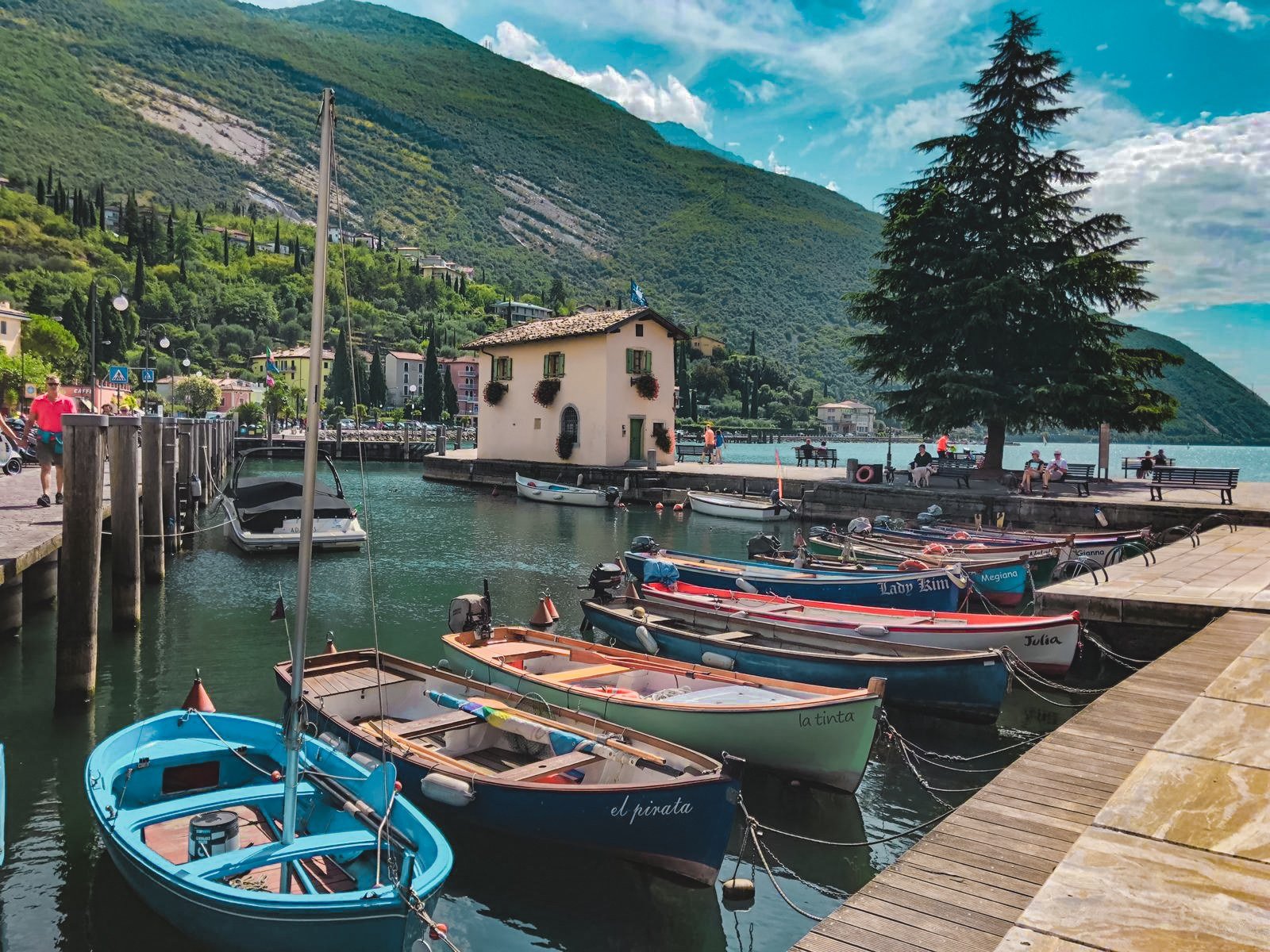 To all our readers, I encourage you to visit this place at least once in your life. Om and love to you all! 

Are you on Pinterest? Pin these!