List of the Best Beaches in Punta Cana, Dominican Republic
The name Punta Cana means 'tips of white palms' in Spanish. Punta Cana is located in the province of La Altagracia, Dominican Republic's easternmost tip. It is well known for its beautiful and pristine beaches which face both the Caribbean Sea and the Atlantic Ocean. Punta Cana boasts its numerous all-inclusive resorts, making it a one-stop-shop for visitors. It has family-friendly to adults-only vacation accommodations ranging from expensive to affordable.
Punta Cana beaches are truly a paradise. It is a place for your typical Carribean vacation. The ocean waters are mostly shallows, making it safe for tourists. Beaches in Punta Cana are home to numerous tall palm trees, turquoise waters, white sand paradise, and luxurious resorts. Punta Cana beaches offer a wide variety of outdoor activities especially water sports like scuba diving, snorkeling, windsurfing, island hopping, parasailing, boat rides, fishing and many more. Punta Cana has a tropical wet and dry climate with an average temperature of 26 °C. The weather is warm year-round but the best time to visit Punta Cana is around the months of March to May.
1. Playa Bavaro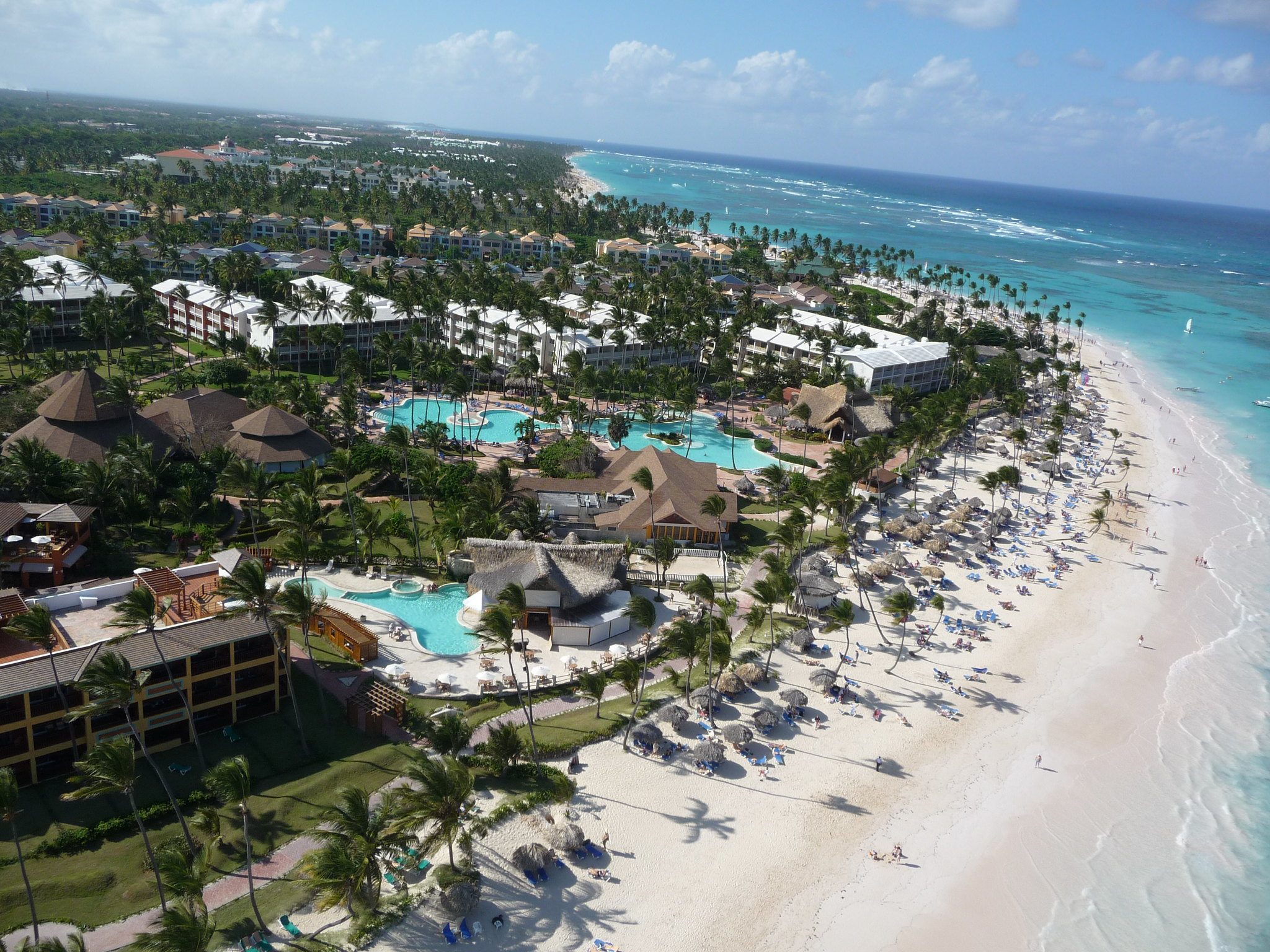 Playa Bavaro is located in Higüey, within La Altagracia. Playa Bavaro is probably the best-known, most developed and most highly rated beach in the Dominican Republic. The beach is sprinkled with unbelievable powder-fine white sand.  It boasts its perfectly crystal-clear turquoise water lined by its magnificent palm trees. The shore seems endless, a great beach for a long walk where you can find both tourists and locals enjoying the pristine place. You can find different kinds of accommodations like hotels, vacation rentals, condos, hostels and even luxurious five-star resorts offering different tour and activity packages and several amenities to choose from.   
Suggested Hotel: Lopesan Costa Bávaro Resort, Spa & Casino
2. El Cortecito Beach
El Cortecito is also a bustling white sandy beach on the shore of a former fishing village in the Punta Cana. The beach is popular for water sports and sunbathing dotted with a large number of restaurants, shops & bars. Some of the water excursions it offers are party boats, spa, natural pool expeditions, windsurfing, motor boating and many more. It has a large selection of places where you can buy various kinds of Dominican goods like rums and handmade pieces of jewelry for souvenirs.  Everything is within walking distance in El Cortecito with small hotels, apartments and inns as well as the larger resorts. El Cortecito beach has a very laid back, casual, always busy but not crowded neighborhood. 
Suggested Hotel: Impressive Premium Resort & Spa Punta Cana
Macao Beach is located at the end of Carretera Higuey. If you are a kind of tourist that prefers a more secluded area, then Macao beach is your best option. The unspoiled beauty of the place is known to be one of the only beaches not directly surrounded by hotels. It is a great spot, popular for different fun activities it offers. It is a place for surfing, windsurfing, and parasailing. It is also a haven for buggy adventures and a stopover for ATV tours.
Suggested Hotel: Dreams Palm Beach Punta Cana
Arena Gorda translates as "Fat Sand",  situated south of Macao beach and north of Playa Bavaro. Also boasting its sandy white beach slopes and shallow turquoise water. Arena Gorda is surrounded by numerous resorts and hotels. Fun activities are available in the area like swimming, kayaking, sailing, snorkeling, and many others. This beach is for all ages. With lifeguards on duty, all kinds of water and beach activities are safe even for children. This beach is also equipped with easy access for handicapped persons.
Suggested Hotel: Hard Rock Hotel & Casino Punta Cana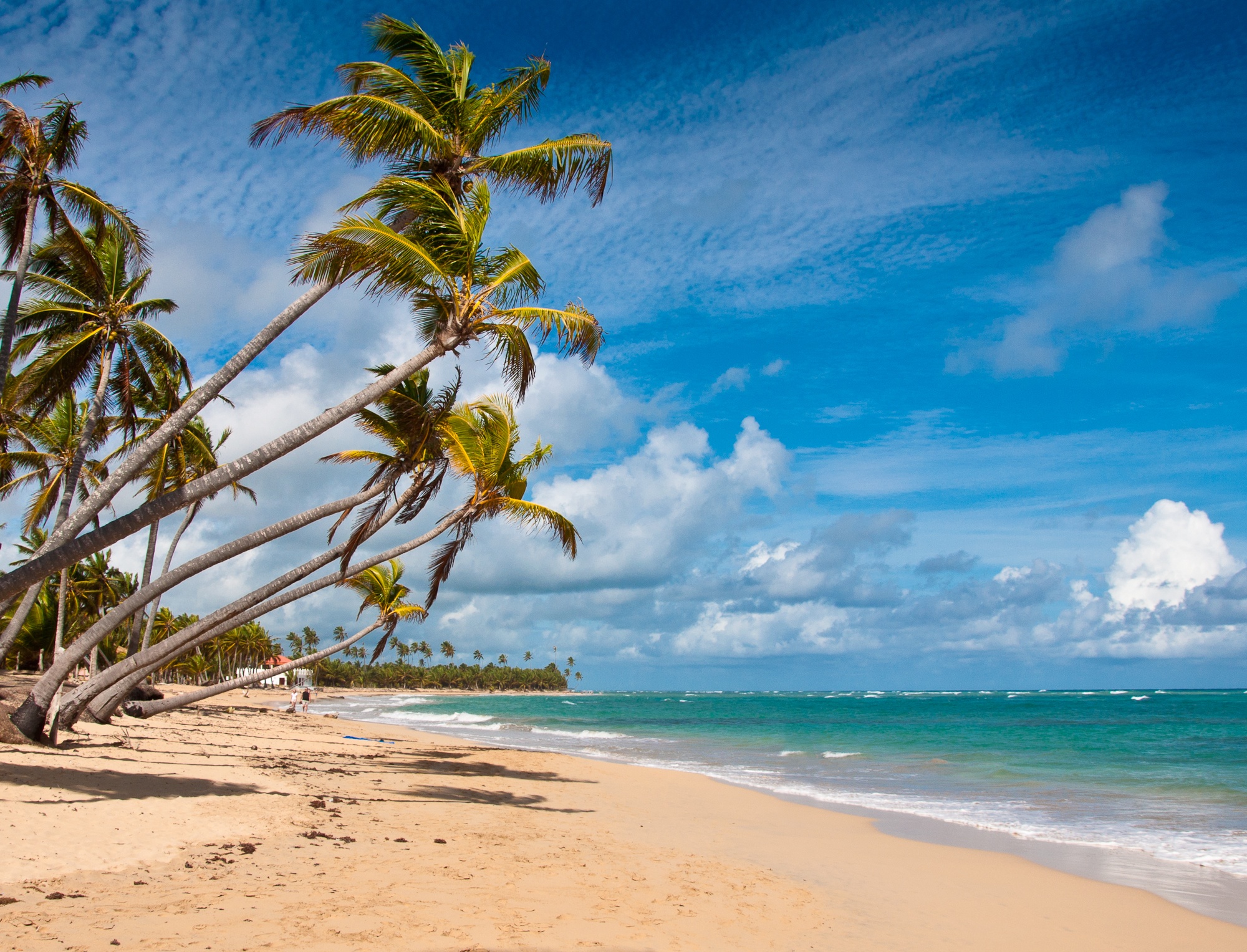 This beach is situated at the northern point of Punta Cana and is only 45 minutes from the Punta Cana International airport. Uvero Alto a relatively underdeveloped area and is not very well-known. Because of these, its magnificent beauty is well preserved with endless lush green palm trees near the shoreline. You can privately enjoy the stunning sunrise and sunset in Uvero Alto. Popular water sports on this beach are windsurfing and traditional surfing. You can also try horseback riding in Uvero Alto. There are high-end resorts nearby that provides comfort in this secluded beach. 
Suggested Hotel: Zoetry Agua Punta Cana
Playa Blanca refers to both the beach and the restaurant located in the gated area of the world-renowned Punta Cana Resort & Club  It is only two minutes away from the Punta Cana International Airport. If you enter through the gated area, you must leave your passport or driver's license. Playa Blanca Restaurant is a tropical open-air restaurant that serves international food and drinks. Popular activities on the beach are beach volleyball, swimming, snorkeling and windsurfing. Like the others, the sand is white with palm trees and gardens. The water is so clear that it almost appears like the color of the sand. 
Suggested Hotel: Westin Puntacana Resort & Club
Playa Cabeza de Toro is named after its shape "head of the bull" and also known as the birthplace of the sun. Located between Playa Bavaro and Cabo Engaño, the easternmost point of the Dominican Republic. This beach's trademark is its forests and wildlife. Although it is not the best beach in the area, because of the algae and boat traffic, it is still a great spot for snorkeling and getting in touch with nature. This beach can be very crowded during peak season. Cabeza de Toro has all-inclusive resorts surrounding the area. 
Suggested Hotel: Catalonia Punta Cana – All Inclusive
Juanillo is also a secluded beach in the Cap Cana area at Punta Cana's south end. It is a 15-minute drive from the Punta Cana International Airport. There are a lot of luxury resorts and accommodations in the area including resorts, vacation rentals like villas and condos. This beach features the one and only restaurant, Juanillo Beach Food & Drinks where visitors can enjoy International cuisine, luxurious tanning beds, lounge sofas, and mini-cabanas. There are different kinds of activities like beach volleyball, beach soccer, cross-fit events, bazaars, cultural events, musical events, and weddings.   
Suggested Hotel: Secrets Cap Cana Resort & Spa – Adults Only
Playa Caletón is located in Cap Cana. It is a mere 20-minute drive from the Punta Cana International Airport. Playa Caletón is the most luxurious and exclusive beach on the east coast. This beach is a large cove with crystal clear water and silky smooth sand. The crowd is minimal due to its exclusivity. Visitors can enjoy swimming and relaxing on the beach.  Caletón Beach Club is available for a more luxurious pampering experience. 5-star resorts, villas, and condos are just around the beach for comfortable accommodation.
Suggested Hotel: Eden Roc At Cap Cana
10. Playa Bibijagua – Bavaro
Playa Bibijagua is located on Bavaro Beach. Just follow Avenue Estados Unidos toward Bavaro and look for the sign 'Bibijaqua". This beach is probably the most active beach in the Punta Cana-Bavaro areas. Populated with restaurants, bars, souvenir shops and a grand shopping plaza called Plaza Bibijagua where visitors can find local and handmade items, one of which is the famous "Mamajuana", a local liquor in the area. Well-known activities include catamaran trips, two-story party boats, high-speed boats, parasailing, deep-sea fishing, diving, snorkeling, flyboat, windsurfing, paddleboats, party cruises, spa cruises and pirate cruises, banana boat trips, kayaking, sailing trips and more! There are also a lot of accommodation choices like five-star all-inclusive resorts, vacation rentals, hotels, and youth hostels.
Suggested Hotel: Paradisus Palma Real Golf & Spa Resort 
Punta Cana is unlike any other in the world. The beautiful beaches in Punta Cana are heaven on Earth. This place is a great escape from the contaminated and deafening cities. Visiting Punta Cana is worth your every penny. ​

Are you on Pinterest? Pin these!