How I Prepared for my Caribbean Pre- Wedding Pictorial
Jonathan and I had an "unplanned wedding" in Las Vegas, USA last week with Elvis but since last year we've been planning a Caribbean pre-wedding pictorial this Summer before our "big day" with the family!
In the Philippines, "pre-wedding or pre-nuptial" pictorials are important for couples, so Jonathan had to adapt to my cultural tradition. Here we come Caribbean!
We have been lucky enough to partner with Carnival Cruise Line for our pre-wedding pictorial and will take advantage of a variety of settings on their 7 night Exotic Eastern Caribbean Cruise which will begin and end in Miami, Florida. Alternating between days at sea, having fun on board the Carnival Splendor, and days on each of the 4 Caribbean islands (4 different countries) – Half Moon Cay in the Bahamas, St Thomas, San Juan of Puerto Rico and finally Grand Turk – I hope this will give us many opportunities to take really unique photos of us both enjoying the sun and sea. Fingers crossed the weather will be perfect and will create a spectacular backdrop of the sun setting on the horizon as the boat pulls away from shore.
1. Choosing my Perfect Wedding Dress
I always say that I don't care about a big, expensive, fancy wedding and while that is still true, I want to look and feel great in a really special dress, so even if it is just for one day, we'll have the photos and memories to remember forever. Wedding dress budgets can vary hugely and this often depends on how tailored your dress is, the materials you choose and how much embellishment you like. You also need to think carefully about where and when your wedding will take place and if your chosen style is suitable for that, is it easy to dance in? If not maybe you'll need a more simple dress for the party later so you can let your hair down and relax.
For just this reason I have chosen two beautiful options from Simply Bridal, a wonderful LA based company whose aim is to offer all women "the dress and the wedding of their dreams at an accessible price". The beauty of what they offer is that they have something for every bride, from custom-fitting and customization with advance orders to quick-ship, ready-made dresses for the more last-minute wedding planners.
Most importantly, the quality and design is superb as is the warm, friendly service they offer. With them the dress fitting was so much fun and made me even more excited about the upcoming events in the USA and UK.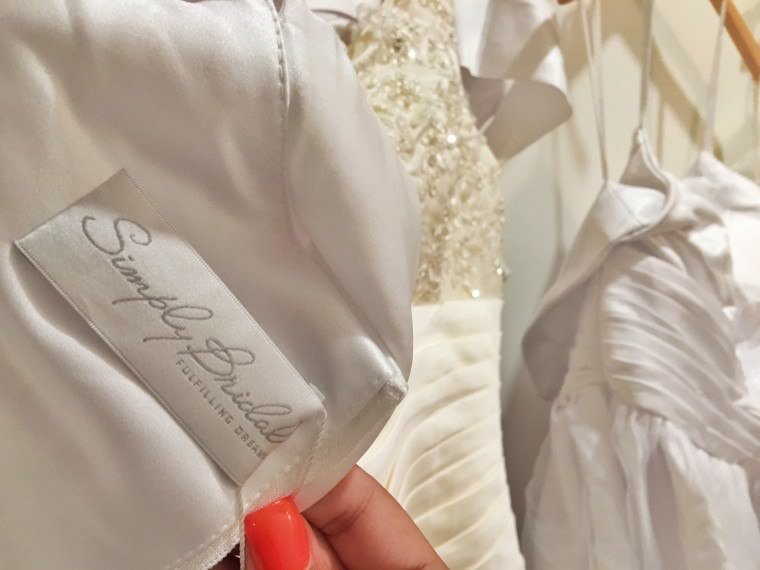 2.Choosing Jonathan's Tuxedo
For Jonathan's tuxedo we worked with two amazing stylists. The first one, Allison Koehler, is a personal stylist and she was a great help when we were considering renting a tuxedo, finding the most reputable companies with some really classic, sophisticated options.
The second, Maro Ono runs an online lifestyle magazine, Apparatus Mag, and it was Maro that tried to source the timeless Perry Ellis suit that we chose for our pictorial. His great eye for style and hard work really paid off in finding us this perfect tuxedo and we're so excited that he's also going to feature our wedding story in his magazine!
3. Choosing the perfect Destination
After beginning 2016 with an incredible trip to the Florida Keys I really got a taste for the Caribbean and it's laid-back, sunny, positive vibe, so for me our wedding pictorial location had to be here! The great benefit of using a cruise as the starting point is the multiple locations it offers us, like the 4 below:
Half Moon Cay:

This tiny little island in the Bahamas will be our first port of call, they offer some really romantic excursions here like horse-riding in the sea, this could be a great photo opportunity!
St Thomas:

The third day of our cruise will bring us to the British Virgin Isles, St Thomas being one of the larger islands that can be visited. Maybe we'll head up to the 14

th

century Dutch fort to add another aspect to our pictorial.
San Juan of Puerto Rico:

after living in South America for 18 months we'll feel back at home in Latino Puerto Rico, and with its rugged orange cliffs and shoreline contrasting with charming colourful colonial streets it's going to be hard to pick just a few photos from this stop-off
Grand Turk:

the Turks and Caicos Islands have long been known as one the Caribbean's most luxurious destinations, with Gran Turk offering the biggest variety of activities I think we'll just make the most of enjoying ourselves kayaking and snorkeling and maybe we'll even get some underwater shots!
I will be publishing more articles about our Caribbean cruise preparation and the experience this month! Wait for it!
4. Beauty preparations
Spending 7 days in the middle of the Caribbean Sea, the combination of intense sun and salt-water is definitely going to dry out my skin and hair so I've found some products and treatments to use beforehand to try to ensure I look my best during our Caribbean wedding pictorial.
Firstly for my skin, I will be using a Mudmasky PH balanced facial mask to cleanse and neutralise my pores as well as moisturising really thoroughly every day. Maybe I'll let Jonathan try one out too while he's lounging in his bathrobe.
My hair has been really dry while we've been travelling around the West Coast, so I'm now starting to fix it without spending insane amounts of money by using Fekkai, a new brand for restoring and strengthening damaged hair. I usually use their Full Blow Volume Shampoo & Conditioner every time I wash my hair but during this trip I will be swapping to their PrX Reparative Shampoo & Conditioner to control any breakages and while in the sun I'll keep their Soleil Pre-Soleil Hair Mist handy.
Hopefully in the evenings I'll have more time to properly style my hair so I can try out some other styling products like the Full Blown Volume Lightweight Styling Whip and Brilliant Glossing Styling Crème that they also have in their range. I don't usually use many styling products while traveling, but I want to look great for my pictorial and I'm going to have loads of fun acting like a model on this trip!
5. Choosing my Makeup Essentials Kit
I think that my makeup can be quite minimal seeing as it's a beach destination and I never wear much makeup to begin with, but last week I had my NOVA lashes done in Las Vegas after my friend Serena suggested that I give it a try! Instead of paying around $300, I was able to get a discount and only paid $120 because of the advance reservation on the artist's website. This lady is extremely talented, so you can check her out if you're headed to Las Vegas – www.prestigesalonlv.com
When we started this around the world journey I actually changed my style and even stopped using any makeup, developing a very simple style. I always choose things I can pack easily in my hand luggage and stow away cosmetics are perfect for that. They caught my eye for their handy size and convenient packaging, but the concept is great, considering most of my makeup is months if not years out of date and breeds lots of bacteria, they only sell products that can realistically be used up before getting to that stage.
I've got their 'essentials' kit consisting of Radiant Complexion BB Cream, Creaseless Concealer, Cheek & Lip Rouge, Creme Lipstick, Effortless Eyeliner, and Defined Lash Mascara and of course will be wearing a bright lipstick for the evening shots!
6. Don't forget the Swim Suit!
I always choose swimsuits over bikinis, well I will be wearing bikinis again soon when I get back into shape!
I can't wait to show off the 3 amazing swim gowns I have from Mersur and a beautiful swimsuit from Georgina Sasha. While a pre-wedding pictorial is an opportunity to wear more adventurous items, it's also good to make sure you're comfortable and that will definitely show in the end result.
7. Accessorizing – dress, bracelet and shoes
So I have my two dresses, my swimsuits and my make-up, ready! Actually wait, I've forgotten one of the most important things, accessories! Of course I'm going to have my signature flower crowns by Serena Berry, but I'll also need to wear something on my feet. The beach is no place for heels but I can't wear my scruffy sandals on this occasion, so I have found the perfect solution in some lovely ballet shoes by Tieks that come in every colour imaginable and fold up in your handbag.
Jonathan and I also have brand new sunglasses from Georgina Sasha, a Filipina entrepreneur based in Las Vegas who has a lot of unique products like my sunnies. I also got a lovely bracelet from Lei and Kae Creations.
8. Looking for Pre-wedding Pictorial Inspiration on Pinterest
I'm starting to love Pinterest and it has provided a wealth of inspiration for our wedding pictorial. Even if you have all of the above elements decided it's really good to have an image in your mind of the final result. I have saved many pins of wedding photo shoots that match my vision, so when the day comes it will be my go to for ideas on different angles, lighting and scenes.
9. Planning and preparing our daily schedule
With so much preparation put into organising this trip I think it's really important to get the most out of the time. For us the cruise will be fun in its own right and while I don't want it to be a military operation, having an idea of what shots I want to take and when will help me have everything prepared in advance to let the shoot run as smoothly and stress-free as possible.
Of course, everything is written in my planners!
10. Packing our Travel Gadgets – our work is online!
Of course we will be connected all the while enjoying the excitement of shooting our Caribbean pre-wedding pictorial so that we can share little sneak-previews with all of our followers, and the bigger Two Monkeys grows the more gadgets we need to keep some control and order over our workload. I'll be taking the following travel gadgets to help me with our online blogging work (Jonathan has his own gear but here are mine)
Macbook Pro, 13 inch – writing blog articles and video editing

iPhone 6s Plus – to manage my social media accounts

Polaroid Cameras: Polaroid Cube and Polaroid iE 09 – for underwater photography

Portable Wireless routers- we will have internet on the cruise but just in case it won't work, I have 2 backup plans! My GlocalMe from the UK and the Tep Wireless from the USA.

iClever port for our cords – the most essential thing for us nowadays!

iClever wireless Speaker – music while chilling at the beach!
Next few months, my goal is to buy a DGI Gimbal so my readers won't be dizzy whenever I do live video streaming.
11. Preparing my Cruising bag
After our many years on the road we've become pros at not only packing light (not this trip because of our wedding clothes and things), but packing smart with good quality luggage that really fits the purpose of the trip we're on. Recently we've been carrying everything in Travel Pro luggage because we love it's sleek, simple design, quality and sturdy, durable materials and great capacity for different items like all of Jonathan's camera gear as well as my gadgets.
I also have an Origami Unicorn bag for my clothing essentials as well as Packing Cubes to organize my clothes!
Finally and the most important preparation is in my head! This trip is going to be very memorable for our travel and life! So I'm slowly finishing up most of our workload so that I can enjoy every moment of this exciting opportunity! I can't wait to experience my first Caribbean cruise with Jonathan, with the bonus of working with Carnival Cruise Line to bring it all to reality. After all, the most beautiful smile is a natural one.

Are you on Pinterest? Pin these!