How To Get a Barangay Clearance in the Philippines
Many people don't have Valid IDs and a requirement to get a valid ID is another valid one or 2 documents supporting our identity. Ang weird talaga dito sa Pinas, para kumuha ng valid ID dapat may isang Valid ID pa, pero pano kung wala? Eh di, dapat kukuha ka ng mga documento na nagpapatunay na ikaw nga si Juan Dela Cruz. hahaha!
If you have a Barangay Clearance, then the Barangay Captain could attest you are indeed Juan Dela Cruz a resident there and a person of good character. Mas kilala ka sa barangay mo kaya okay siya maging requirement. It's very easy to get a Barangay Clearance and cheap too, sometimes it's given for free. With a Barangay Clearance, you can get certification for your NBI Clearance, Police Clearance, and valid IDs like the UMID Card or Postal ID. You can also open a bank account or use for opening a business.
Barangay Clearance
A Barangay Clearance is a document issued by the Barangay Secretary and signed by the Barangay Captain stating that you are a living at that specific place and you are of good moral character. Somehow, a smaller version of NBI or Police clearance.
Possible reasons to get a Barangay Clearance
Bank Requirement (you are a resident or stating your address)

NBI Clearance

Police Clearance

Postal ID

UMID Card

Driver's License

Business Requirement

Indigent Certification for PhilHealth
The requirement to get a Barangay Clearance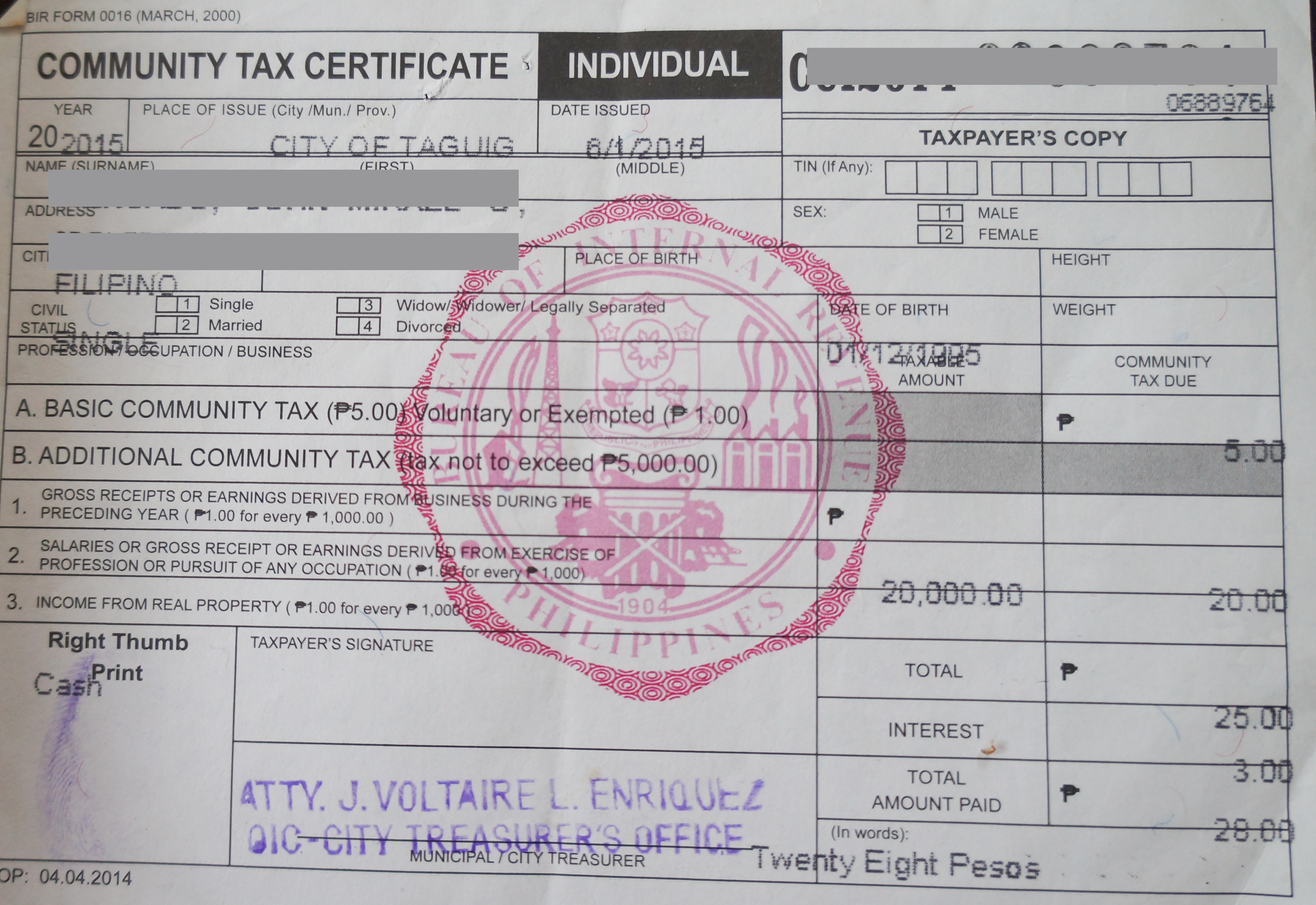 The requirements will vary per Barangay, minsan nga pag-kilala na ng mga opisyal, hindi na kailangan ng requirements. Pero, eto yung mga inisu-submit:
Community Tax Certificate or Cedula

For the current year, you can get it from the barangay (if it's big) or from the city hall

Payment is Php 5.00 plus Php 1.00 for every Php 1,000 income. So if you have declared you earned Php 100,000 last year, then you will pay Php 105.00

ID

You can submit an ID with your name

Application form

Not that some barangays are high standards and some are low-key, so maybe you could write your personal details and purpose in a piece of paper

Barangay Clearance Fee 

This will also depend on the Barangay, it would be either free or less than Php 100.00, our barangay clearance fee is Php 25.00 only
Steps in Getting a Barangay Clearance
1. Go to the Barangay Hall and look for the Barangay Secretary.
Make sure it is an office day – Monday – Friday from 8 AM to 5 PM, as they may be busy
2. Inform the Barangay secretary that you want to have a Barangay Clearance.
Fill-up the form that is given to you or a piece of paper.
3. Give the form or paper as well as your identification documents to the Barangay Secretary. Pay the Barangay clearance fee also.
You might sometimes get interviewed, so answer the question honestly. This isn't formal, so feel free to speak your dialect. 
4. Wait for your Barangay Certificate. The secretary will just edit and print the document easily if you are the only one asking for it. It will also be signed by the Barangay Chairman, so if s/he is not there, you might as well go back at a specified time. But if the Barangay Chair is present, then you can have your Barangay Clearance immediately.
5. Receive the Barangay Clearance; check your name (if the spelling is correct) and the correct purpose is stated.
And that's it. Getting a Barangay Clearance is easy and fast, especially if the Barangay Secretary and Chairman are present. However, if they're not another person in command might sign if s/he was given authority. Please also note that you must be living in the Barangay for at least 3 or 6 months to be issued one. Di malalaman if good citizen ka ng barangay A if sa kabilang barangay ka galing. 
With your Barangay clearance, you can now apply for an NBI Clearance, a Postal ID, or a UMID ID to get a Valid Passport. You can also use it to apply for a Bank Account especially if you are still a student. Having a Bank Account is great as you can save for your future travels there. Go to your nearest Barangay and get your Barangay Clearance na! 

Are you on Pinterest? Pin these!