How to Apply and Get a Police Clearance Online in the Philippines
When applying for a job or having a valid ID, a Police clearance is one of the requirements. Police clearance will state that you have no criminal records as per the Philippine National Police's (PNP) database. You can get a Police Clearance online, now.
Mostly, an employer will ask you a police clearance from where you have lived or worked before. So if you are applying in Quezon but worked before at Sampaloc, then a police clearance from Sampaloc would be asked.
When asked for a Police clearance though, you should not submit an NBI Clearance and vice versa. Though a police clearance offers the same details as the NBI Clearance it differentiates in the scope. The NBI has a much broader range (the whole Philippines) while the Police Clearance is only up to the scope of the region or municipality.
Here are the steps on how to get a National Police Clearance Online:
Steps In Applying for a Police Clearance Online Account
1. Go to this website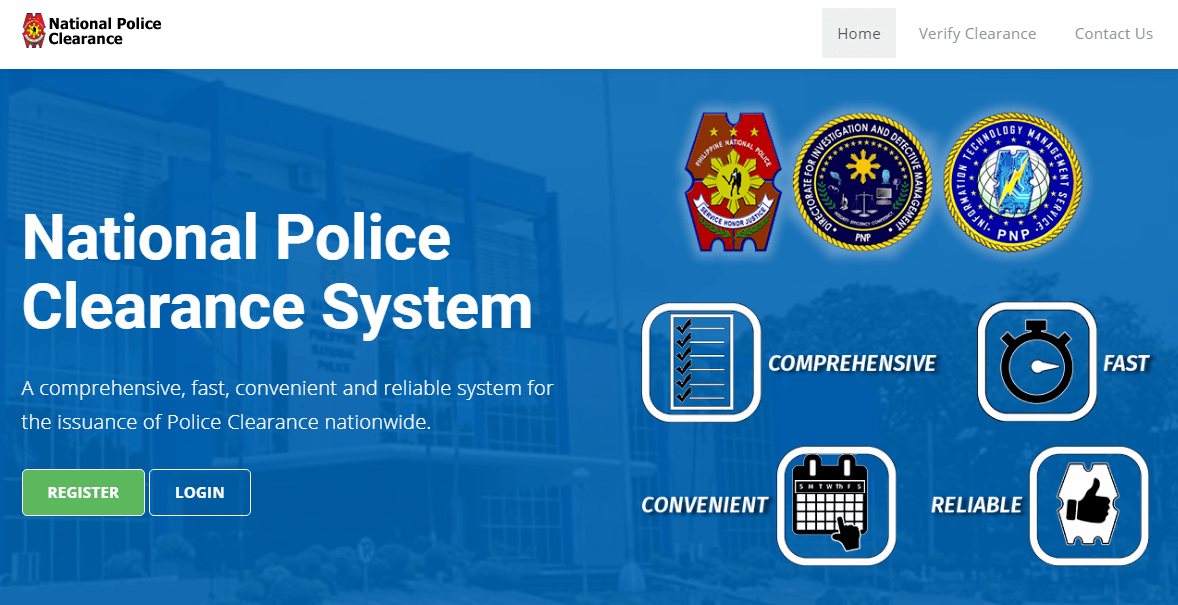 2. Click register if you don't have an account yet.
3. Read the terms and conditions, check the boxes and click next until you see the button "Agree".

4. Type your details and click register.
Double-check it and click "save".
Editing your Profile
1. Sign in using the e-mail address and password you entered
2. Click "Edit Profile."
3. Type your information.
4. Save Profile
Always review your profile, you need to do the whole process again in case you have a mistake in your printed Police Clearance.
Setting an Appointment
1. Click "Clearance Application"

2. Select the police station nearest to you or where you want to go.
3. Select the date of appointment – where there are vacant slots AM/PM
4. Select Payment Option
Land Bank of the Philippines which is Php 150.00
5. Save Appointment
Paying for your Police Clearance
1. Click "Click here to pay" button
2. You will be redirected to the land bank e-portal. Choose a payment option:
3. Your payment summary and transaction details will show-up. Check it and confirm your payment.
4. Take note of your reference number and print the official receipt.
Getting the Police Clearance
1. Prepare the following:
Police Clearance Reference Number

Official Receipt of Payment

2 Valid IDs
According to the PNP website IDs to be valid must be: not expired,
original and not photocopied with clear photo and signature of the applicant and have the full name.
Listed below are the valid IDs to be presented:

Alien Certificate of Registration

Birth Certificate

GSIS UMID

IBP ID

LTO Driver's License

PNP ID

PRC License

Passport

Philhealth ID

Postal ID.

SSS ID/SSS UMID

School ID with Registration Form

Senior Citizen's ID

TIN ID

Voter's ID
2. Go to the PNP Branch on your appointment date. Remember to wear proper attire – no sleeveless, shorts or slippers.
3. Get your photo taken as well as your fingerprints scanned.
4. If you be "hit," the processor will give you instructions, so please comply. If you are not, proceed to the next step.
5. Wait for your name to be called so you can get your police clearance.
FAQs on Police Clearance
1. How much is a police clearance?
The fee is Php 150.00 plus charges for transaction fees.
2. I haven't paid my police clearance fee yet, what do I do?
Pay the fee within 2 banking days before your appointment or else your transaction will be canceled.
3. I already paid but want to cancel my transaction, can I be refunded?
No, your payment is already forfeited.
4. I failed to go to my appointment date, what do I do?
You need to schedule again and pay again as both are forfeited.
5. When is my national Police clearance Valid?
Your Police Clearance is valid for six months.
6. My police clearance has mistakes on my details, can I get it reprinted?
No, the PNP can't reprint your clearance. You need to correct your data on the website and do the process again.
7. I only have one valid ID; what do I do?
Present your valid ID with a Certified True Copy of Birth Certificate with original Official Receipt. You can get one through the PSA website.
8. How do I know the Police Clearance is authentic?
You can go to the pnpclearance.ph and click "Verify Clearance." Type the surname and clearance number, and you will see the details.
9. I was asked for a Police Clearance, can I submit an NBI Clearance instead?
No, please follow instructions on what to get.
Police clearance is now very easy to obtain. You can get an appointment online, and when you are there you could get your details captured, and you are done. You can do it in less than an hour. It is so convenient as this is a requirement for work, Civil Service Exams or going abroad.
I hope this How-to guide helped you in getting your Police Clearance. Check out our other How-to guides for Philippine Documents and How-to guides for obtaining a visa to travel abroad for Philippine Passport Holders!

Are you on Pinterest? Pin these!