20 Best Tourist Destinations in the Philippines That You Should Visit
In 2012, the Department of Tourism launched the "It's More Fun in the Philippines" with remarkable success despite minimal budget allocation.
Since then, it has reaped accolades and garnered international attention. At its core, the success of the campaign is attributed to the Filipinos' values that include love for their homeland. There are a lot of fun things to do around the country and here's a shortlist that proves "It's More Fun in the Philippines."
1. Luli Island, Palawan
Labeled as the last frontier, Palawan is truly a one blessed province from its underground river, fascinating beaches, rich marine life underwater to the diamond-like beaches. One of the enchanting tourist destinations in Palawan is Luli Island. Interestingly, its name was derived from the words Lulubog at Lilitaw or rise and fall it was so-called Luli because during high tide this island cannot be seen from anywhere. Luli island is an ideal place to relax and be connected with nature. Not from afar is the Pambato Reef, also a perfect spot for diving because of the rich coral reefs and sea creatures.
How to get to Luli Island, Palawan?
via plane: The most convenient way is Via Plane. From the town proper of Puerto Princesa take a tricycle ride going Honda Bay wharf which is 45 mins away from the town proper. From there, take a tricycle, fare costs P100 and arrange boats for the Honda Bay tour boat rental P250 Luli Island entrance fee is P60.
2. Las Casas Filipinas de Acuzar
Located in Bagac, Bataan this museum and heritage park was opened in 2010. The place offers lots of activities aside from the historical museum artifacts. The resort has a restaurant and water activities like kayak, island hopping, Bangka ride, biking, and fishing. You also need not to worry about where to stay during your trip because they have plenty of heritage houses where you can spend the rest of your stay. They differ from studio type to studio loft and executive suites.  Each Casa has a theme and stories to tell which displays the history of the Spanish era and Philippine History.
How to get to Las Casas Filipinas de Acuzar?
via Private Vehicle: From NLEX take the Angeles exit then the Olongapo Gapan road to reach Roman Hi-way. From there, signages of Las Casas Filipinas de Acuzar are posted. via Bus Take the bus trip going Bagac, Bataan via Bataan Trans. P200 From Bagac Terminal take a tricycle ride going Las Casas Filipinas de Acuzar. P60 Entrance fee: P650
Suggested tour: Las Casas Filipinas de Acuzar Heritage Walking Tour in Bataan
3. Siquijor
Siquijor is famous for its mystical traditions, sorcery and the supernatural which rings a bell for tourists and keeps others away as well. Its white sand coastline reaching up to 102 kilometers is among its many attractions. The island province also has caves, waterfalls and man-made attractions like the Bandilaan Natural Park which showcases a butterfly sanctuary.
How to get there to Siguijor?
The most convenient way to travel to Siquijor is from Manila to Dumaguete via plane and then from Dumaguete to Siquijor is via ferry, from there take a jeepney or motorbike heading Lazi.
Tricycle fare going to the port: P40 Fast Craft fare: P160 logging/accommodation usual rates are: (P1,500/night) Tricycle rental for an island tour is  P850/group, group of 3-4 Transportation to port: P200/group, P66/person Fast craft fare going Dumaguete: P174
Suggested tour: Siquijor Cambugahay Falls and Heritage Day Trip
4. Antique
One of the most unexploited tourist spots in the Philippines, Antique's beaches and forests remain pristine and untouched. A must-do activity here is the hot bath. A unique way to relax, it is said that the hot tubs were used to make muscovado sugar during the Hispanic period. The Rafflesia, the largest flower in the world, can be found at the Sibalom Natural Park. The Sira-an and Malumpati hot springs are famous for their therapeutic properties. Eco parks and spas are also part of the province's attractions.
How to get there to Antique? 
From Caticlan airport, you can make van arrangements going Antique since there are no direct flights for Antique. For municipality tour, you may arrange a habal-habal motorcycle ride  for P300/day for 2 pax Tibiao Eco Park entrance fee: P50 Zipline: P300 Pandan boot camp: P200 Entrance fee to springs ranges usually: P10
5. Siargao
Dubbed as the surfing capital of the Philippines, truly this island should have a spot in the travel destinations in the Philippines. Located on the coast of Surigao del Norte and now becoming widely popular not just to local tourists but to foreigners as well. Sandbars, caves, waterfalls, wildlife and enchanting corals are just a few of the reasons to love Siargao.  Aside from the beautiful sceneries, Siargao will surely satisfy you with their sumptuous and freshly grilled seafood like tuna, mackerel, marlin, and squids. What is traveling without tasting the delicacies and local cuisine right?
How to get there to Siargao?
via plane, The most convenient way to go to Surigao is. Flights are going directly to Surigao.
via Sea, There are also Fast craft trips from  Manila to Surigao. From the port, you can take a van going G. Luna fare costs P150 Habal habal going G.Luna P250 Motorcycle fare is P10 for short trips Usual room rates in G.Luna ranges from P200/person or P2,500/night
Suggested tour: Sohoton Cove, Daku Island, Guyam Island, and Naked Island Day Trip
6. Polilio Island
View this post on Instagram
Polilio Island originated from the Chinese word "Puliliu" which means beautiful island with plenty of food. Indigenous species of birds, Bird sanctuary and untouched beaches are the gems of this alluring island. The ivory sand and clear waters of Patnanungan Jomalig and Balesin islands are just perfect for your weekend getaway.
How to get there to Polilio Island?
via Bus, From Manila, take a bus going Infanta, Real Quezon port bus fare P205 From Real Quezon take a boat ride going Patnanungan P300 Then take a boat ride going Jomalig island P1,500 Multicab rentals range from P2,500-P3,000 (if Kanaway beach is part of your itinerary) lodging P200
7. Apo Reef
Situated in the western part of Mindoro, Apo Reef has been considered as one of the best reef dive sites in the world. This underwater paradise is located in Sablayan, Occidental Mindoro. It's an incredible sanctuary with an abounding wealth of the sea – turtles, blacktip sharks, clownfish and more!
How to get there to Apo Reef? 
via plane Take the Manila – San Jose flight and then hop on a bus going straight to Sablayan.
via land and sea From Manila, take a bus (Dimple Star) with the route going to Batangas Port (RO-RO ship) and going straight to Sablayan.
8. Subic Island, Sorsogon
View this post on Instagram
Located in the town of Matnog, Sorsogon, Subic Island is a secluded tourist spot suited best for recreation and reflection. Also known as a pink island, spend your night's camping at quaint nipa huts instead as cottages and lodgings are still unavailable. Coconut trees are abundant in this majestic island. Truly, Sorsogon is more than just Donsol.
How to get there to Subic Island, Sorsogon? 
From Manila take a bus going Matnog  P1,000 Then take a tricycle from Matnog going  Subic Beach  is P25 Boat rates for Subic Beach & Tikling tour usually costs P700 for a day trip and P1,500 for an overnight
9. Apo Island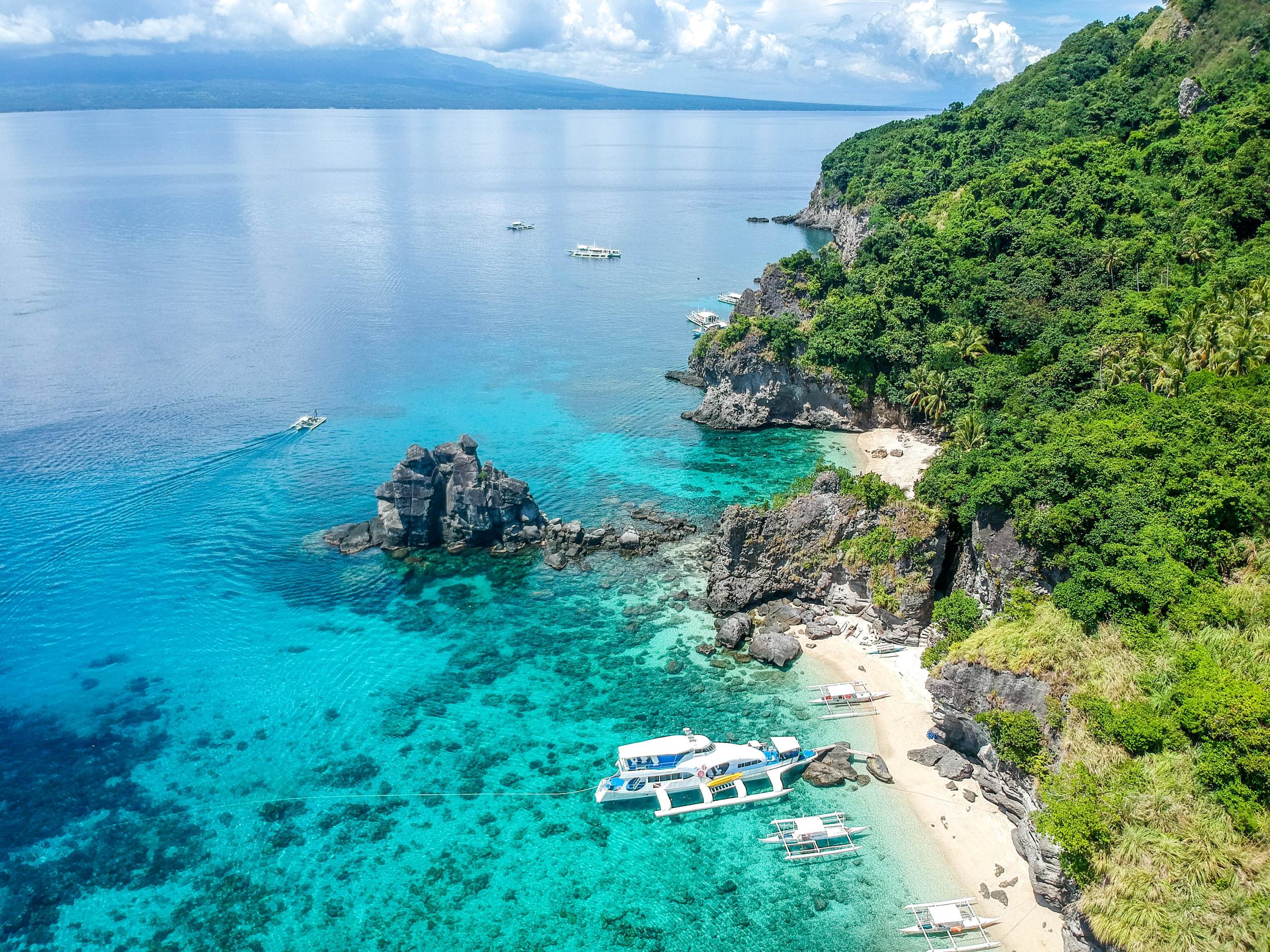 Apo island is dominated by mangroves and beach vegetation. It is renowned for its rich marine biodiversity wherein exotic species can be found such as the giant Napoleon wrasse, yellow crinoid and sea cucumber. It was noted that most of the Philippines' 450 species of coral can be found in Apo Island and that over 650 documented species of fish. One of the things to look forward to traveling in this Eden is the encounter with lots of sea creatures like sea turtles. An epitome of serenity is, just perfect for your beach and book affair.
How to get there to Apo Island? 
via Plane From Dumaguete take a jeepney ride to Malatapay, the jump-off to Apo Island P25 Boat for Apo Island P2,000 for a group of 4 Entrance fee P100
10. Mt. Kalawitan
View this post on Instagram
For adventure seekers, a trek in this mountain is just right for you. The pine trees and bountiful view deck of Mt. Kalawitan will surely thrill you plus its mystical stories and hunter's trail will bring excitement to your climb. Unlike other mountains like Mt. Pulag, Mt.Kalawitan is less prominent yet has one of the best trails among the mountains of the Philippines. A grandeur of pine trees, mossy forests, view decks of terraces and carabao garden would relieve all the weariness from a whole day of the hike.  Mt. Kalawitan is located in Bontoc, Mt. Province, along the way to the jump-off you can also take a side-trip off the view-decks or rice terraces and statues of Bul-ol or rice gods.
How to get there to Mr. Kalawitan? 
Take the bus from Manila to Baguio City Take the first trip Baguio to Sagada at Dangwa Station From there you can arrange a jeepney going to the Jump -off point of Mt. Kalawitan. Take the Bus from Manila to Baguio P460 Baguio to Sabangan P180 Estimated damage fee in a group of 5 inclusive of guide fees and meals (camping) P1,200
11. Tarak Ridge
Conquer the heights and reach the summit! Located in Mariveles, Bataan is one of the hiking destinations in the Philippines of both mountaineers and newbies alike. The root trails, slopes and assaults of this ridge will surely challenge you and stretch you. But the enticing Papaya River before the summit definitely will cast away all the sluggishness.  At the Summit of Tarak Ridge/ Mt. Mariveles is a panoramic view of Corregidor, mountain ranges and breezy feeling of the wild wind blowing from the Ocean Pacific.
How to get there to Tarak Ridge?
Take bus In Cubao going Mariveles P272 instruct the driver to drop you in Tarak's Ridge's jump-off Registration fee in Alas Asin P40 Guide fee P900
12. Fortune Island
Touted as the Greece of Batangas, Fortune Island is now ready to take its spot as one of the tourist destinations in the Philippines. This beautiful island lies in Brgy. Bucana Nasugbu, Batangas. The major attractions of this island are the Acropolis and Grecian pillars to be found at the top edge of the island.  And a replica of Spanish warship dedicated to the sunken San Diego galleon. Fine sand and turquoise water make this island really alluring but aside from that, it is also a good spot for diving and cliff diving. Some interesting spots on this island are Blue hole and Coral Garden. And if you're lucky enough you'll catch sight of tortoise laying their eggs on the shore during night time. This must be really on the -where-to-go-list.
How to get there to Fortune Island?
Bus from Manila take a bus trip to Nasugbu, Batangas in Buendia near LRT station fare is P150 From  Nasugbu town proper ride a  tricycle going barangay Wawa P30 Overnight Entrance P400 Boat Fee P556 Tricycle to Terminal P10
13. Burias Island, Masbate
View this post on Instagram
Though this Island is 11 hours away from Manila, the lengthy travel is so much worth it. One of the virgin and mesmerizing beaches to be found in our country is Burias Island, Masbate. With powdery-white sand, crystal clear water and a couple of islets nearby sure it's a good place to relax and have an adventure. You can do island hopping, cross  Dapa island and have a perfect view of Sombrero island from the top of Dapa island. Or rock your weekend at the rock formation of Animasola Island and plunge in Tinalisayan's sand bar. Pretty sure you won't run out of things to do in the islands of Masbate. The place is ideal for campers since most of the tourists here pitch their tents instead of renting cottages to catch a better sight of the galaxies at night. There are cottages for rent at affordable rates however since the supply of electricity is limited on the island the cottages do not have fans or air-cons.
How to get there to Burias Island, Masbate?
Ride a bus heading Naga(Araneta Center Terminal) P620 From Pasacao to San Pascual Port fare is  P130 San Pascual Lodging P150 Boat fee for island hopping ranges from P1,500-P2,000
14. Alibijaban, Quezon Province
View this post on Instagram
The bomb of San Andres, Quezon! Indeed there are many beaches and enchanting places in Quezon but this island is set apart amongst others. Laid back, Serene, ivory sand and clear blue water make Alibijaban one of the splendid tourist spots in the Philippines. A walk along with the villages of the island, getting about the community and exploring the beach fenced by mangroves are just a handful of examples of the things to do on this island. Most of the tourists also do snorkeling activities because of the rich sea creatures of Alibijaban like starfishes only a few meters away from the shore.
How to get there to Alibijabanm, Quezon Province?
Take a bus from Manila to San Andres, Quezon P450 From San Andre's market take a tricycle ride to Port P50/person Boat to Alibijaban P40/person
15. Gigantes Island
Next on the list is Iloilo, other than basking in the sun and swimming at the white beach one can do lots of activities in Gigantes Island. Some of which are Spelunking, unlike the usual caves, this island has many caves that are hidden from the steep rock formations of Gigantes Island, some of them are Pawikan caves. The breathtaking scenery of the sea by visiting the view deck of the lighthouse is a superb and a must experience here. Islas de Gigantes has numerous jagged rocks which the locals refer to as the "The Boulevard", scrambling at the limestone cliff at the rocky trail in Gigantes is also an activity in this island.
How to get there to Gigantes Island?
via plane: Manila to Iloilo City Travel to Estancia van fare is P150 ride a tricycle from Estancia terminal to Estancia port P10 take a pump boat ride going Gigantes island. P80 (a roundtrip which includes island hopping tour is P5,000) Motorcycle fare is the P10 entrance fee for Antonia beach P20 Cabugay Gamay Island P20 tricycle ride going lighthouse P60
Suggested tour: Isla De Gigantes Day Tour from Iloilo
16. Mt. Kanlaon, Negros
Philippines' largest volcano this volcano stands in an elevation of 2,435 m embedded with cones and craters. Renown for its three hot springs which are; Mambucal, Bucalan and Bungol Hot Spring. Kanlaon is prominent for mountaineers because of its trail characteristics, untouched, dense rainforest, verdant flora, mossy forest, lagoons and of course the jaw-dropping view of the volcano's crater at the summit. Climbing in this mountain could be quite risky that is why DENR requires close monitoring and coordination before the climb, risky yet surely a fulfilling one.
How to get there to Mt. Kanlaon, Negros?
From Bacolod City take Ceres Bus going Kanlaon jump off The expense for the whole climb including plane tickets is P4,000/person
17. Onuk Island, Palawan
View this post on Instagram
"A piece of heaven on earth"  how it was described in the show of Kapuso mo Jessica Soho. Undoubtedly it is a piece of heaven, it is like the  Maldives of the Philippines. Add to that, a photo taken on this island won National Geographic's contest last year. Onuk Island is said to be a private property of the town's mayor. Located at the southern tip of Palawan. Glowing white sand, red corals and endless sandbars will leave you breathless. On a lucky day, you will catch a sight of dolphins and whale sharks in the underwater cliff.  Onuk Island just one of the thirty-two beautiful islands in the municipality of Balabac, Palawan.
How to get there to Onuk Island, Palawan?
Most of the islands are privately owned, coordination to the owners should be observed. From Puerto Princesa City proceed to San Jose Terminal then take a van going to Rio Tuba. Fare is P450. From  Rio Tuba Port take a boat ride to Balabac P250. Van from P. Princesa to Rio Tuba is P900 3 days of stay on this island will roughly cost P3,500 which includes island hopping, accommodation, food and guide fees.
18.  Bulalacao, Oriental Mindoro
View this post on Instagram
Another paradise to be discovered is Bulalacao in Oriental Mindoro. Ideal place for campers and suited for those who love trekking, beach bumming. This island promises not to disappoint you with its caves, waterfalls lakes, fine white sand beaches, super clear water, and other activities to do in this paradise.
How to get there to Bulalacao, Oriental Mindoro?
by sea/land Take a bus going Batangas Port P167 From Batangas port ride a Ro-ro to Calapan port P240 Terminal fee P30 Take a van going to Bulalacao P240 Accommodation in Sta. Rosa is as low as P400
19. Buscalan, Kalinga
View this post on Instagram
Get ready to fall in love with Buscalan, Kalinga. A pure experience of immersion with the community and learning some of the cultures in the northern part of the Philippines is what you will gain in traveling here. Buscalan is now making its name as one of the favorite places to visit tourists not just locals but also foreigners. The legend tattoo artist, Apo Whang Od is the primary destination in the Philippines of travelers.
A day or two stays in Buscalan will give you the history of their tattoos, practices, and culture. Buscalan also serves the best-handcrafted coffee in the North, as soon as you reach the town surely they will hand you a cup of aromatic and crisp blended coffee. Another thing to do in Buscalan is to explore the community and visit their version of terraces. One can also enjoy the picturesque view of mountains like Mt. Sleeping Beauty and Chico river gushing on the other side on your way to Tinglayan. Make sure to try "top load" to see enjoy the view of Kalinga province. So pack your bags and hit Kalinga now!
How to get there to Buscalan, Kalinga?
Take a bus from Manila to Tabuk: P680 from Tabuk ride a Bus/jeep going Bontoc or Tinglayan P130 From Tinglayan ride Habal-habal  going Buscalan P100 Room stay rate is P200-250/night
20. Batad, Banaue Ifugao
The UNESCO Heritage amphitheater is one of the Philippine's pride, however, it remains unknown to some people. Batad had always been a side trip to those who travel in Banaue terraces but there are also activities Batad can offer. Experience the local huts of the Ifugaos, it was then fertility huts which the newly married hold their honeymoon believing for woman's quick pregnancy. An hour or two of the trek is also the refreshing Tappiya falls of Batad. The reward of the hikers of Barlig-Batad is a swim in this cold and refreshing fall. The community also serves the best native meals like the mountain rice together with their fish sinigang and offers the best rice wine in the whole region.
How to get there to Batad, Banaue Ifugao?
Take the Banaue trip in Ohayami terminal P500 Batad jeepney fare P150 Tappiya waterfalls guide is P800 Traditional huts usually costs P400 meals in Batad ranges from P200-P250

Are you on Pinterest? Pin these!