The Ultimate Guide To Mountain Gorilla Tracking In Uganda
Seeing even just one of the Mountain Gorillas is in my ultimate bucket list. As I'm traveling around Africa, I researched thoroughly and I made sure that I get the best for this Uganda safaris.
I arranged this whole trip with Crystal Lodges Uganda and I couldn't be any happier with my choice ❤️ At first, I was really hesitant to do it because of the expenses, I even called Jonathan to tell him how costly it is. He just reminded me how much I wanna do it and told me that I should do it. ❤️
FACTS ABOUT THE MOUNTAIN GORILLAS
Here are some facts about Mountain Gorillas:
1. Mountain Gorillas share 98% of the human's DNA. They are one of the closest primates to being our sister, brother, mother and father;
2. Less than 1,000 Mountain Gorillas live today— as such, they are critically endangered. As humans have moved more and more into the gorillas' territory, they have been pushed further up into the mountains for longer periods, forcing them to endure dangerous and sometimes deadly conditions. Other reasons include deforestation, habitat destruction, and disease;
3. Mountain Gorillas are different from low-land gorillas that you'll see in the zoo (they can't survive being in captivity) or other parts of Africa:
4. They can be found only in the mountains of Congo, Rwanda, and Uganda; and
5. It was once believed that their species might be extinct by the end of the twentieth century– but thanks to conservation efforts, their number is now increasing. However, poachers are still on the run.
WHERE TO TRACK THE MOUNTAIN GORILLAS?
Mountain Gorillas, for obvious reasons, can be tracked in Uganda, Congo, and Rwanda. But where is the best place to track them? It's in Uganda!!! The government permit in Uganda is $600, this excludes the transportation, accommodation, and food. I know it's pretty expensive, but this is A LOT CHEAPER compared to Rwanda where they charge $1,500 (that's more than double the price!!). Another reason is that the population of the Mountain Gorillas is bigger in Uganda ❤️
Congo, on the other hand, is in a state of anarchy as of now so it is not really advisable. Have you watched this documentary called Virunga? I suggest you do! It's very informative! In all fairness to Congo, the group of Rangers in the Virunga National Park are sincere with their duties and are risking their lives to protect the park and all the species living in it. (a lot of them died protecting it) They are even taking care of Orphan Gorillas whose parents were killed by the poachers!! For now, we can be of help even without going there, visit virunga.org for details 🙂 I just hope the situation will get better soon for them.
HOW TO GET A VISA TO UGANDA
Visa on Arrival is $50 and you only need your passport and your yellow fever vaccine. They might ask for your itinerary too. But when you plan to visit KENYA, UGANDA, and RWANDA, you can easily apply for an EAST AFRICA TOURIST VISA which will save you money and your precious time. The visa will cost you $100, instead of paying $50 for the tourist visa per country. This will likewise save you from the hassle of applying for the e-visa for each country.
You just have to apply for e-visa online and choose the Multiple Entry East African Visa and within 3 days you'll get the approval! You need to apply in the country where you will first enter, once you get the document, print it. Show a copy to the Immigration Officer together with your passport and yellow fever vaccine, of course.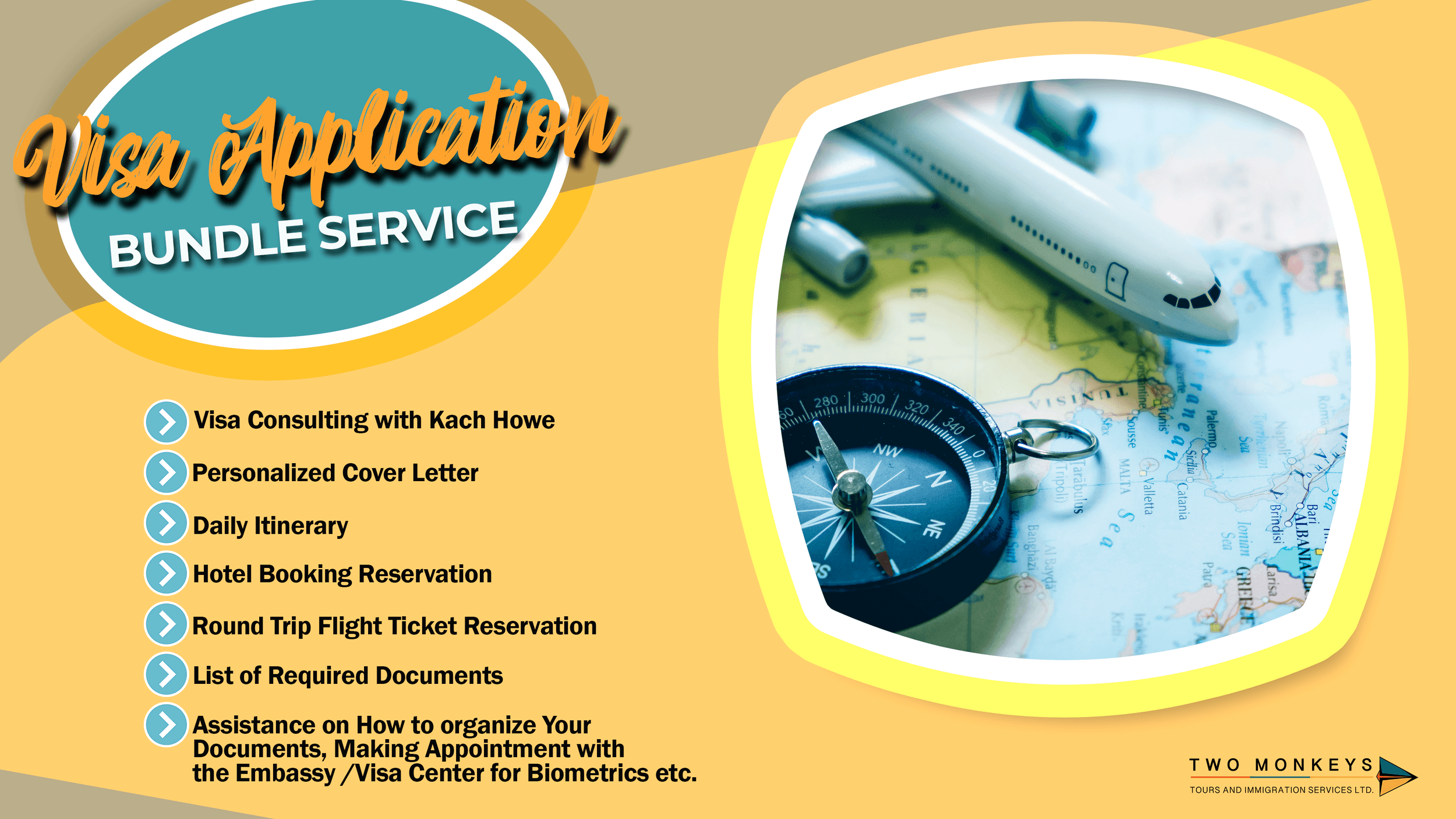 HOW TO TRACK THE MOUNTAIN GORILLAS IN UGANDA?
It's not what you're thinking of– it isn't done with a tracking device! Gorillas always move around so it's really hard to find them. But early in the morning, a group of Park Rangers hike ahead of a scheduled group and follow the Gorillas' fresh poops in order to find them! Hahaha.
MY EXPERIENCE OF MOUNTAIN GORILLA TRACKING AT THE BWINDI IMPENETRABLE NATIONAL PARK
"ARE YOU READY TO PENETRATE??" Those were the words that our ranger said the moment we arrived in the jump off point and everyone in our group just burst out laughing. Hahaha. I was in a group with 4 other tourists, 2 are flight attendants and the other 2 is a lovely couple from Denmark who was also traveling around Africa. There were 7 National Park Guards with us too.
Bwindi Impenetrable National Park is the home to 120 species of mammals, 348 species of birds, 220 species of butterflies, 27 species of frogs, chameleons, geckos, and many endangered species. It is a sanctuary of more or less 340 Mountain Gorillas which makes up almost half of their population in the world.
I have to admit, I am really terrible at trekking. It's not my thing so I get tired easily. But my determination that day was exceptional! I swear!! Haha. After a briefing with the Rangers and the signing of the waiver, we started our journey in tracking the Mountain Gorillas ❤️
We started the hike on an off-road. There was a tea plantation close by so we had a sip of white tea. As I look back, it must have been the calm before the storm haha.
The climb was really hard– that's probably the reason why they call it impenetrable! We went through mossy forests, ridges, and we crossed rivers too. I slipped for so many times but the good thing I had a porter with me! He was such a big help!! Initially, we agreed on the price of $15, but I gave him 6$ more because this guy was the one carrying all my things and pulling me up every time I fall. It sounds cliché but it's literally true!! Haha. I wouldn't have made it without him. (I suggest you get a porter too. It's also a good opportunity to give back directly to the community.) 
After more or less 3 hours of trekking, there they were!! THE GORILLAS!!! It was the calm after the storm ❤️ My heart was really pounding with excitement and was full of joy seeing them there in their natural habitat! Surreal is an understatement. It was majestic!! I think we saw 10 of them, one of which was a baby and one was a Silverback!! ❤️ Adult males are called silverbacks because a saddle of gray or silver-colored hair develops on their backs with age 🙂
We were given one hour to observe them. A distance of 5 meters should be observed but one of the gorillas came so close to me and patted me lightly on my tummy!!! HE WANTED TO PLAY WITH ME!!! As much as I want to, all I can do is just stay still as per the safety briefing. These gorillas are habituated, which means that they are used to being around with people so I wasn't worried at all :p
RESTRICTIONS ON MOUNTAIN GORILLA TRACKING
Conservation efforts are taken seriously (AND I REALLY REALLY APPRECIATE THAT!!) so there are a lot of restrictions. I'll name a few here, the rest will come from your guide 🙂
1. Only a maximum of 8 people are allowed to go on a trek, so make sure to get your permit way ahead of time– this is to protect both the Mountain Gorillas and the guests. Mountain Gorillas are really shy, but once they get triggered or once they feel threatened, they will attack and protect their own. This minimizes behavioral disturbance to the gorillas and the risk of their exposure to human-borne diseases.
2. Only 10 groups are allowed per day– for the same reason stated above. Another reason is that their habitat is being preserved. It is their only home and it is very fragile. Once it gets destructed, these Mountain Gorillas will have nowhere else to live and will eventually die.
3. The maximum time you can spend with the gorillas is one hour– however, if the gorillas become agitated or nervous, the guide will finish the visit early.
4. If you are feeling ill, or you are carrying a contagious disease, volunteer to stay behind. An alternative visit will be arranged for you, or you will be refunded your money– gorillas are very susceptible to human diseases, so this is to minimize the risk of harming them.
TIPS ON BOOKING THE MOUNTAIN GORILLA TRACKING IN UGANDA
1. Book ahead of time. And by that, I mean months ahead. There are only limited slots so make sure to get yours before slots get sold out. Contact Crystal Lodges Uganda.
2. Bring cold cash– preferably USD.  It's really hard to withdraw cash in Uganda, and if you find one, the exchange rates are terrible!! I used local money in paying for my permit and I ended up paying $650 when converted
3. Don't even think of doing it on your own. Aside from being dangerous, it's impossible! Security checkpoints are everywhere so good luck in penetrating with them on the watch. Haha.
4. Be on your proper hiking attire- bring gloves and raincoat too. The climb is tough, and with the unpredictable weather, it could be tougher!
That's it for this post 🙂 If you have the money, you're physically able, and you don't mind the sweat, the mud, and the sweet torture of hiking, you must add this on your bucket list too!! But if you don't have these qualities, worry not!! If you have $200 more to spare, 4 porters will be more than happy to carry you on a stretcher or a sedan chair all the way up into the mountain and down! ❤️
Overall, it was a breathtaking experience, literally and figuratively. I will never regret paying that much for such a priceless experience ❤️ It might be a lot of money, but it also takes so much to protect their race and this beautiful environment that they are living in ❤️
Are you on Pinterest? Pin these!