15 Best Things To Do in Gaziantep, Turkey [and Where To Stay]
Are you planning to travel to Gaziantep, Turkey soon? Read our tips below on the things to do in Gaziantep with suggested tours!
Known as Turkey's Gastronomy capital and they even have an annual GastroAntep food festival. Gaziantep is the perfect place for people who love exploring amazing cuisine and delicacies! You can try a lot of delicious food including the city's popular pistachio and baklava. But of course, Gaziantep is not only about food. Museums, shopping centers, and rich history are also the things you can explore while wandering around here. So to know more about the places you can visit in Gaziantep, here's a short guide we made.
List of Best Things to do in Gaziantep, Turkey
In a modern structure on the outskirts of Gaziantep, there is this beautiful museum with a modern, functional, and well-organized layout. If you're in this city, the first thing you must do is to visit the Zeugma Mosaic Museum, it is the largest Mosaic Museum in the world. Most of the pieces inside were from the Belkis-Zeugma Archaeological Site and are very well-preserved. This is also the place where you will see the famous "Gypsy Lady" mosaic.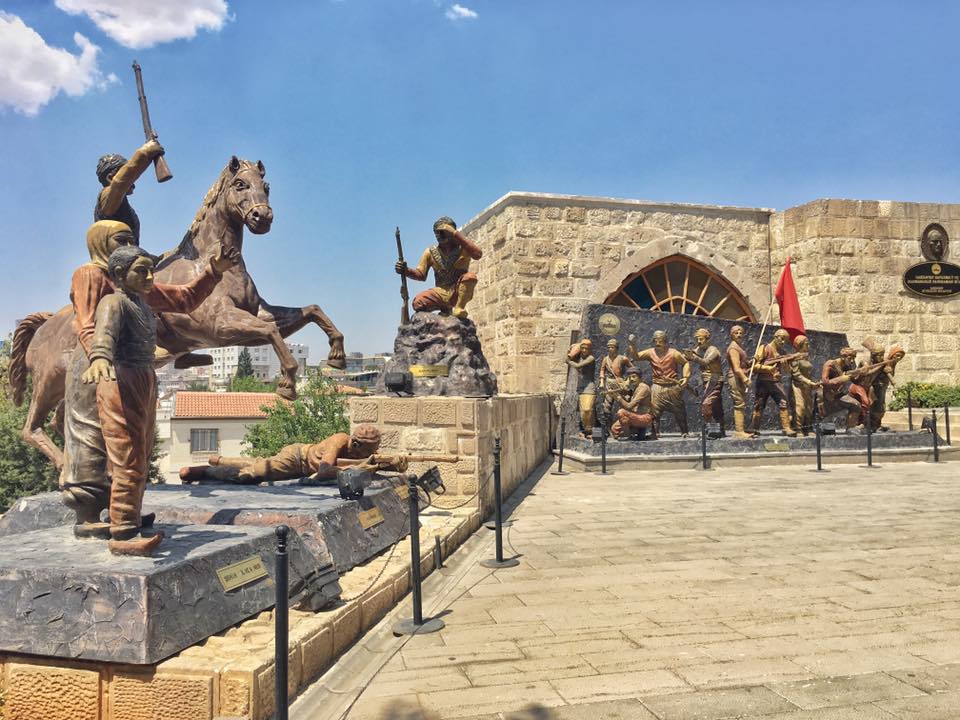 Located in the center of Gaziantep, it is a wonderful place that will give you emotional moments, and from here, you will see Gaziantep from a bird's eye view. Though the castle is not that big, it is now used as the "Gaziantep Defense and Heroic Panorama Museum". One more thing, on the way to the castle, you'll find mosques, architectures, and bazaars which is really nice.
View this post on Instagram
If you want to go back to your childhood, this is a must-visit museum. It is a great place to appreciate and see that old toys are works of art. Gaziantep toy museum is the perfect place to explore historical Gaziantep houses, see the old streets, and discover the toys that gave children happiness. You can find a collection of toys from Europe, Turkey, the USA, and other countries. Many items are handmade and are around 50-150 years old.
Of course, the city is not only about museums and food, but Turkey's largest zoo can also be found here, and it hosts many wild animal species. This large zoo has animal enclosures, an aquarium, and a zoological museum. It takes at least 2 hours to just get around everything. There are also huge picnic areas in front of the entrance.
This castle overlooking the Ataturk dam waters is a great place with a perfect location, a legendary place that you should visit with boat tours. When you go on a boat tour from Halfeti, you will be welcomed by the magnificent view of Rumkale.
View this post on Instagram
It is estimated that the Pişirici Masjid and Kasteli, which bear the characteristics of Seljuk architecture, were built in 1282. Kastel is located at the entrance of Müftüoğlu Street, opposite the door of Gaziantep Ağa Mosque. It was built in order to convey water without evaporation. Water tunnels are called livas and the structures where water is available to the public are called Kastel.
It's one of the biggest mosques in Gaziantep, Kurtulus Mosque was built in 1892 as the Valide Meryem Church (St. Mary). This building, which was previously used as a church and prison, was later converted into a mosque. Its bell tower is designed as a minaret and it is historical heritage. This historical treasure has not lost anything of its former glory. Definitely a must-see!
View this post on Instagram
A beautifully prepared museum that tells about the city's epic struggle during the French occupation. The tunnels on the ground floor are also painted with wax sculptures and important events. All the works depict the heroism of the people of Gaziantep from the smallest to the largest in the War for Independence. It is also close to the Kitchen Museum and Hammam Museum.
Everything to buy from Antep is here. You can find what you are looking for in this nice area for shopping in the center. This is a place where you can buy special spices and dried nuts, especially pistachios.
View this post on Instagram
For sightseeing, picnics, taking photos, whatever purpose you go, it is a wonderful and admirable place. Dulukbaba Park has a large picnic area and a green pond, picnic tables where you can drink your tea in the tea gardens and breathe in the smell of the fresh air. A must place to visit if you want to escape from the hustle and bustle of the city.
View this post on Instagram
If you like flowers and plants, then you can go here for a nice walk. A garden in a large park. It is a pleasant park in the city center with all shades of green, with colorful flowers, plants, and ornamental pools. this is one of the favorite places of photographers and newlyweds due to the stunning effect it gives in every photo.
A museum located on the street opposite the castle. Hamam Museum has been restored and is in very good condition. Bath bowls, soaps, and fragrances used in those times are exhibited. It is worth seeing with its navel stone, puerperal bath, and other sections.
View this post on Instagram
It is a small but sensuous museum. Located in Bey District, which is the cultural mosaic of Gaziantep, the museum where the originals of Atatürk's personal belongings, from coffee cups to the books he read, are exhibited and is kept alive. In this museum, you can find a lot of visual material about the history of the city.
View this post on Instagram
Gaziantep Archeology Museum is a museum that will take you through historical journeys among civilizations. There have been many civilizations in the Antep region for a long time, and especially the Romans left many artistic works, you can see all that in this museum. The limestone and marble sculptures are well preserved.
View this post on Instagram
The museum was built on the house of an old Antep family. You will feel a nostalgic feeling while visiting rooms such as the kitchen and reception hall. It is a place that provides information about traditional cuisine culture, the items used, and the food traditions with photographs hanging on the walls. It is also close to the War Museum and the Turkish Bath Museum so it's very convenient to visit these 3 museums at the same time.

16. Find accommodation in Gaziantep, Turkey
Where to stay in Gaziantep, Turkey
Budget Hotel
Yunus Hotel was renovated in July 2016 and offers a 24-hour front desk service and free WiFi throughout the building. Recently renovated, air-conditioned rooms feature an LCD TV with cable channels and a minibar. A buffet breakfast, accompanied by hot drinks, is served every morning. Local tastes include baklava with pistachios and Alinazik Kebabi.
Price: Starts at $35 per night for a Family Room, includes taxes and charges, free breakfast, and it offers a free cancellation.
Luxury Hotel
HSVHN Hotel Hışvahan provides accommodation with a restaurant, free private parking, a bar, and a shared lounge. All units are equipped with air conditioning, a flat-screen TV with satellite channels, a kettle, a shower, a hairdryer, and a wardrobe. Featuring a garden, the hotel is close to several noted attractions, around 200 m from Kitchen Museum, 200 m from Tahtani Mosque, and 200 m from Sirvani Mosque. Continental and à la carte breakfast options are available daily.
Price: Starts at $160 per night for a Deluxe Double Room, includes taxes and charges, free breakfast, but it's non-refundable.
These are the possible things you can do in Gaziantep, Turkey. So if you are ready to have a fun and exciting trip, you know what to do and where to go! So pack your things now and prepare yourself for a wonderful adventure in Gaziantep.
How to go to Gaziantep, Turkey from London
Via Turkish Airlines: (one way with one-stop)
*From London Gatwick – Istanbul – Gaziantep
Ticket Price: £205.88
Via Turkish Airlines: (one way with one-stop)
*From London Stansted – Istanbul – Gaziantep
Ticket Price: £192.84
*Prices are subject to change. You can visit Skyscanner for more details about the ticket prices.

Are you on Pinterest? Pin these!