DIY Travel Guide Exploring the Historical Turkey
Exploring the Historical Turkey is a backpackers paradise, and surely it's worth a visit!
Located in both Europe and Asia, it's got everything to offer. Experience modern culture alongside historical landmarks in Sultanahmet, party 'till you drop in Taksim, have a swim in the Aegean and Mediterranean sea, hike in Cappadocia, and eat your way through clay pot kebabs, pies, and seafood, on top of a hefty serving of a signature Turkish breakfast!
If travel does heal broken hearts, this country definitely to prove it — from ancient ruins, beaches, to natural wonders, fall in love again with its landscape and people, see the east and west and experience Turkey in all its picturesque beauty!
 Travel Tips:
Don't forget to bring a Universal Charger, gift/token (you'll meet a lot of nice people and will be making friends –it would be nice to leave them something to remember you by), sarong –that magical piece of fabric that can be your towel/blanket/dress.
Friendly reminder: Don't EVER get into a stranger's car alone. The locals are nice, friendly people in general but as of my experience you can't say that about everyone. To help you plan your trip, you can use a travel agency to plan your perfect Turkey vacation. Onenationtravel.com is a unique travel company – offering custom and group tours in Turkey.
Trip Highlights:  
Istanbul
Hagia Sophia
Check out some of the cool and cheap tours you could do in Istanbul and Hagia Sophia.
Blue Mosque
Topkapi Palace
Check out some of the cool and cheap tours you could do in Topkapi Palace.
Istanbul Archaeological Museum
Bosphorus Cruise
Other Highlights:


Basilica Cistern, Galata Bridge, and Tower, Pub Crawl Party, Istiklal Cadessi (Taksim), Grand Bazaar, Spice Bazaar, Hammam (Turkish Bath)
Check out some of the cool and cheap tours you could do in Basilica Cistern, Grand Bazaar, and Spice Bazaar.
Selcuk
Ephesus

Check out some of the cool and cheap tours you could do in Selcuk and Ephesus.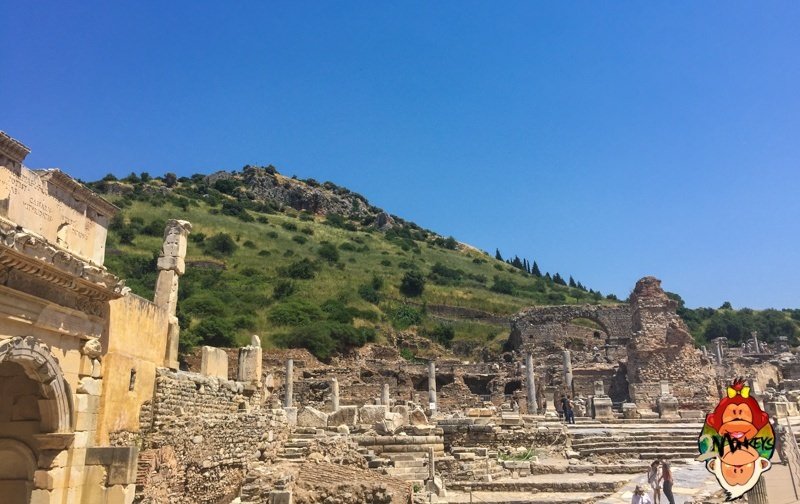 Sirince (small town) — The Tuscany of  Turkey

Other Highlights:
Temple of Artemis and Pamukach Beach (Aegean Sea)
Related Article: Looking for Luxury accommodation in Turkey? Check out our Ultimate List of Best Luxury Hotels in Turkey.
Fethiye
Paragliding
Check out some of the cool and cheap tours you could do in Fethiye.
Oludeniz (Mediterranean Sea)
Check out some of the cool and cheap tours you could do in Oludeniz.
Cappadocia
Check out some of the cool and cheap tours you could do in Cappadocia.
Goreme
Rose Red Valley
Ihlara Valley
Other Highlights:
Pigeon Valley, Underground museum, and Open Air Museums.
Daily Budget:

Visa Requirements:
Since I'm a resident of Dubai, it's quite easy to secure a Turkish visa.
Requirements include:
3 Photos, Salary Certificate
Three months bank statement
Return air tickets
Hotel booking/s
Original passport and residence visa with 1 set of copies.
Apply at the Turkish Consulate at the World Trade Center Building in Dubai. Processing time takes only 2-3 working days.

Itinerary Details:
DAY 1:
I arrived with my aunt at Sabiha Gocken Airport in Istanbul, Turkey (Asian side) around 21:00H.  Our accommodation was in Sultanahmet on the European side which is 1.5 hours drive from the airport.  I booked an airport transfer in advance which was costly (60 euros one way for two people!) but had to do it because my aunt was not comfortable commuting in a place we're not familiar with.  If it were just me, I'd happily take the Havatas (public airport bus, only 14 liras!).
Hotel Recommendation: Big Apple Hostel/ 60 euros/night for a double room – Good rooms, great location, friendly staff, offers a lot of activities, and…serves excellent buffet breakfast. I stayed in May which was peak season, so rates are higher.  Big Apple also offers dorms, call the reception, and they'll fill you in with the details.
Hagia Sofia was our first museum stop. I bought a museum pass for 85 liras (5-day validity, single entry only) which give you access to most the major museums in Istanbul. If you're planning to visit all the museums included in the pass, then you'd save on entrance fees and more importantly save time and energy from queuing!
Day 1 was spent touring Istanbul, we walked the city, took public transportation, and tried the local street food: simit (pretzel), dondurma (ice cream), fish sandwich, medya dolma (stuffed mussels). Buy an Istanbul Kart to use for the trains especially if you're traveling with a group. It costs 20 liras with 4 liras credit (each trip costs 2.45 liras) and you only need one card for everyone –you just have to load it once the credit runs out!
Hippodrome Park > Hagia Sofia > Tram to Eminonu (docks overlooking the sea of Mamara) > Spice Bazaar > Sulimanye Mosque > Galata Bridge > Galata Tower > Istikal Caddessi (A VERY long street lined with shops and restos, overcrowded by good looking Europeans!)
We got back to the hotel at around 21:00H and by 23:00H were off to a pub crawl organized by the hostel –partied till 04:00H! (45 liras inclusive of entrance fees at four pubs and welcome drinks, for outsiders or those not staying in Big Apple they charge double). They also have a free tour of Princes Islands every Sunday.
DAY 2:
With aching feet and hangover, we decided to take down the touring a notch and simply went for a short shopping at the Grand Bazaar and then had a relaxing (and freezing) 2-hour Bosphorus cruise (12-15 liras for the short tour and 25 liras for the full-day 8-hour tour).  Check out their website for ferry schedules and updated rates. After the cruise, walk around the docks and try the famous Balik Ekmek (fish sandwich), cooked in front of you from an open boat kitchen -–apparently fish sandwiches are an institution in Istanbul –highly recommended!!!
DAY 3:
Last day in Istanbul. Went to Topkapi Palace (inside, queue for the treasury palace where you'll see a diamond in the flesh!), Istanbul Archaeological Museum, Basilica Cistern (not included with Museum Pass, fee: 15 lines), More souvenir shopping, then, hammam. For a memorable hammam, it is highly recommended to try the Camberlitas Hammam but be aware that the price is also very touristy (160 liras for a full bath with massage).  We went to a cheaper one, paid 100 liras for the same package, but we did not enjoy it at all and was merely a waste of money.  If you're touring Turkey, I advise trying the hammam in smaller towns such as Selcuk and Goreme where they only charge around 65 liras.  I felt like everything is way cheaper outside Istanbul (or outside the touristy area of Sultanahmet district).
From here I travel solo via overnight bus (Kamel Koh Bus Company, 80 liras) to Selcuk.
Advice on booking tickets: transportation around Turkey is excellent. There's no need to book tickets through travel agencies, doing so will just cost you an additional 20-25 liras. Don't believe them when they say you need to pay more to reserve seats –there are a lot of bus companies, and with the presence of mind, you'll have no trouble buying them yourself.
For day 4-10, or my solo travel itinerary in Selcuk-Fethiye-Goreme

About the Writer
Name:  April Anne Potenciano
I'm a 24-yr old residing (and working) in Dubai; Single and not interested to date (yet); An aspiring writer, cooking novice, lawyer wannabe, planner, list-lover, and a stubborn, always-wanting-to-do-things-by-herself type of granddaughter. I'm just a simple girl whose big dream is to grow wings (literally and metaphorically).
Name of the Country: Turkey
Date/s of your Travel: 14th – 24th May 2015
Places Visited and Number of Days:
Istanbul, 3 nights 3 days: May 14th evening – May 17th evening
Selcuk, 2 nights 2 days: May 18th morning – May 20th afternoon
Fethiye 1 night 2 days: May 20th afternoon – May 21st evening
Goreme 1 night 2 days May 22nd morning – May 23rd evening
May 24th, 1 am was my flight back to Dubai
Are you planning your awesome trip soon? Let us help you! 
Check out the different travel services that we offer!
DIY TRAVEL PLANNING, VISA APPLICATION & TRAVEL COACHING
Have you purchased your Travel Insurance? If not, check out this article on why travel insurance is so important and how to choose the right insurance for you. 
Are you on Pinterest? Pin these!