Weekend Itinerary in Ghent, Belgium: How to Spend 3 Days in Ghent
Looking for inspiration for a weekend in Ghent?  Read our tips below on the things to do in Ghent, Belgium plus a sample weekend itinerary, where to stay, how to get around, and the best restaurants to try!
In the Confluence of the Leie and Scheldt rivers, the port city of Ghent "Gent" is located. It is the capital and largest city of the Flanders region and the second-largest municipality in Belgium.
Some people might never heard of Ghent before unlike Brussels, Bruges, and Antwerp. Despite being the country's oldest city, Ghent is truly the gem of Belgium. This unique and romantic place is rich in medieval and classical architecture. The whole city looks like an open-air museum. The vibrant colors enrich the center of trade and culture. Its industrial ambiance is a perfect contrast for the medieval building and spectacular landscape views. This region from Western Europe is not all chocolates, waffles, and beers. 
3 Day Weekend Trip Guide to Ghent, Belgium
Day 1 – Weekend Guide to Ghent, Belgium
Canal Cruise – A leisurely ride along the Leie is a good way to familiarize the city. Along with other travelers, it will give you a good impression on your first day.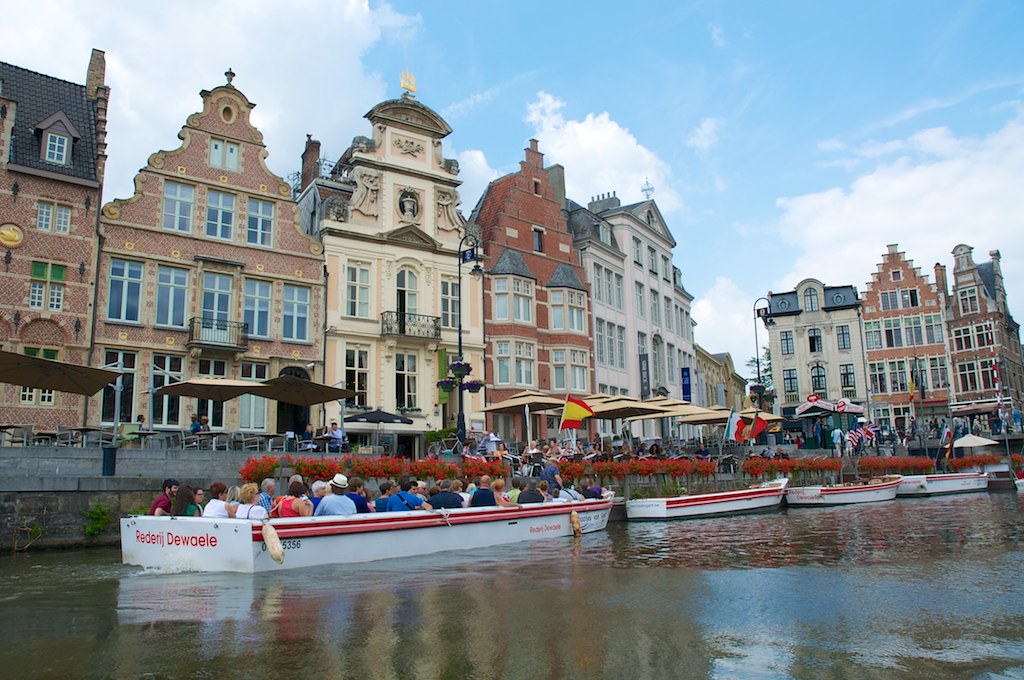 St. Michaels Bridge – The overwhelming cityscape from this vantage point is incomparable. You'll see the view of the 3 towers along with the Old Fish Market, Graslei and Korenlei, back of "Het Pand" St. Michael's Church.
Visit the 3 Famous Towers – Get lost in the rich-filled history of three medieval towers that overlook the old city center of Ghent, Belgium; Saint Nicholas Cathedral, Saint Bavo's Cathedral and the Belfry of Ghent
Day 2 – Weekend Guide to Ghent, Belgium
Gravensteen – The Castle of the Counts which symbolizes power and torture that nowadays, can give you a panoramic view of the city.
Eat the Popular Belgian Waffle Who doesn't love waffles? Indulge yourself with this mouthwatering treat. Belgian waffles are known to be part of their culture and some people may consider it the best in the world. 
Patershol – When we say the word alley, "scary" is the closest word there is but here is one of the coolest places to hang out. Awesome street arts are everywhere created by talented street artists. 
Day 3 – Weekend Guide to Ghent, Belgium
St. Nicholas' Church – On your last day, visit one of the oldest and most prominent landmarks in Ghent, Belgium, the St. Nicholas' church. The Scheldt Gothic style of the church is truly magnificent. 
Citadel Park – After days of exploring Ghent and before you go back home, head your way to Citadel Park for a moment of relaxation at Citadel Park. It has a lot of interesting sculptures, botanical richness, fountains and pathways to explore. 
Where to Stay in Ghent, Belgium
Where to Stay in Ghent, Belgium if you're a Backpacker
Hostel 47 is housed in a historical building in Ghent less than a 10-minute walk from the historic city center with St Bavo's Cathedral, the Belfry of Ghent, Korenmarkt Square, and the Gravensteen. Free access to WIFI, hardwood floors, rooms come equipped with a safety deposit box and shared bathroom facilities with a shower. You can prepare your meals in the Hostel in their shared kitchen with free coffee and tea 24/7.
Price: Starts at $26, reservation is possible without a credit card.
With a garden view and free WiFi, HostelGent has a shared bathroom with a shower and a hairdryer in each unit, along with free toiletries. A bicycle rental service is available at the homestay.
Price: Starts at US$45 and free cancellation
Hotel ClassEco Gent is located within 3.8 km of Ghent Christmas Market and 2.9 km of MIAT Museum. It features accommodation with a shared lounge and free WiFi throughout the property. It also offers a 24-hour front desk and a shared kitchen. The rooms in the hotel are equipped with a flat-screen TV.
Price: Starts at US$48 + US$6 taxes and charges and free cancellation
Where to Stay in Ghent, Belgium if you're on a Budget
This former monastery is located, only 10 minutes' walk from the Belfry. PoortAckere dates from 1278 and offers unique character, free Wi-Fi and a garden terrace. It has quite a range of rooms, including the old nun's cells, situated throughout the historic building. Some of the rooms have a shared bathroom. The restaurant serves elegant cuisine in the dining and drinks menu featuring a range of beers to compliment the dishes offered.
Price: Starts at US$65 + US$3 taxes and charges, free cancellation, no prepayment needed
Ibis budget Gent Centrum Dampoort
Situated close to several well-known attractions, 1.5 km from Graffiti Street and Ghent City Hall and 1.9 km from The House of Alijn, Castle of Gerald the Devil is 4.4 km from the hotel, while Great Butchers' Hall is 5 km away. Rooms are equipped with a flat-screen TV with satellite, free WiFi, continental breakfast. The staff speaks English, French, and Dutch at the 24-hour front desk.
Price: starts at US$68.
This hotel provides adults-only accommodation with a restaurant, a bar, and a garden and also provides a concierge service, free WiFi and breakfast. Every room comes with a wardrobe, desk, a flat-screen TV and a private bathroom.
Price: Starts at US$87 taxes and charges included, free cancellation 
Where to Stay in Ghent, Belgium if you want Luxury
The property is set less than 1 km from Rabot, an 18-minute walk from Graslei and Korenlei Ghent and 2.7 km from The House of Alijn. It is non-smoking and is located 400 m from School van Toen. The rooms in the hotel are fitted with a coffee machine. Rooms include a private bathroom with a shower, hairdryer, and free toiletries.
Price: Starts at $101, free cancellation and no prepayment needed
This hotel offers an 18th-century building, within a 3-minute walk from the Saint Bavo's Cathedral, the Belfry, and Saint Nicholas' Church. Alijn House is a 5-minute walk from Cour St Georges. Ghent St Peter's Train Station is 3 km away from the hotel. The Gravensteen is a 5-minute walk (450 m) and St Peter's Square and Abbey are 1.5 km. Original features such as wooden beams, rooms also include cable TV, a work desk and a minibar with free WIFI and continental buffet breakfast. 
Price: Starts at US$128 + US$3 taxes and charges, it's non- refundable.
This luxurious bed and breakfast offer accommodation in a 19th-century mansion in the city center. St. Bavo's Square and the Belfort are 700 m from Logidenri. Brugge and Brussels are both a 40-minute drive away. Antwerpen is a 40-minute drive. It has free Wi-Fi, a small courtyard garden, work desk and tea and coffee making facilities. Some of the rooms feature a home cinema, other feature a cable TV with a DVD player. Guests can enjoy a daily Continental breakfast with freshly baked bread. Restaurants, supermarkets, pubs, and cafes are abundant in this area too. 
Price: Starts at US$297 for 2 nights
List of restaurants that you can try while in Ghent, Belgium
Serves French, Belgian and European Cuisines. Great place to experience local Belgian dishes.
Operating hours: 6:30 PM – 9:30 PM (Tue-Sat) and 2:00 PM – 2:00 PM (Wed-Sat)
Address: Ottogracht 10, Ghent 9000, Belgium
Serves Italian, Pizza, Mediterranean and European. If you are craving Italian dishes then this is the place for you.
Operating hours: 12:00 PM – 2:00 PM and 6:00 PM – 10:00 PM (Sun-Sat)
Address: Oudburg 56, Ghent 9000, Belgium
Serves various authentic Thai dishes and also vegan-friendly.
Operating hours: 6:00 PM – 10:00 PM (Fri-Tue), 12:00 PM – 2:00 PM (Tue), 12:00 PM – 2:00 PM (Fri-Sun)
Address: Donkersteeg 23, Ghent 9000, Belgium
These are the places you can stay in, restaurants you can visit, and things you can do in case you're planning to have a weekend trip to Ghent, Belgium. Not only you will experience the best of Belgium, but you can also have a memorable and comfortable trip. Not convince? Book a flight and prepare for a blast as you visit this European country.
How to go to Ghent, Belgium from the UK
Via British Airways (one way)
*From LHR London Heathrow  to BRU Brussels International
Ticket price: $72
 Via KLM (one way)
*From LCY London City  to ANR Antwerp Deurne
Ticket price: $85

Are you on Pinterest? Pin these!