10 Awesome Things to Do in Brussels, Belgium in a Day @VisitBrussels
The summer months from June to August every year see a mass exodus of Europeans leaving their respective countries to travel to destinations far and near.
Having been UK residents for a good number of years, this custom had rubbed on us and as a family, we embarked on a five-day/four-city tour of our neighbors across the English Channel during the first week of August this year.
Our first port of call was Brussels, noted for trade and politics, the capital of Belgium and in effect the European Union. Overshadowed by more illustrious cities in the continent such as London, Paris and Rome, Brussels has more surprises up its sleeve other than its mouth-watering chocolates and waffles.
There are several ways of getting to Brussels from London – by air, train, car or coach (bus). We chose the latter, albeit time-consuming, as it's not only the most economical but the journey itself was already an adventure. So on an unusually warm Saturday evening and twenty minutes behind its half past nine scheduled departure, we left London's Victoria Coach Station aboard a full-packed Megabus coach. Megabus is one of several bus companies offering low cost travel within UK and into Europe.
Two hours later, we reached Port of Dover in Kent, south-east of England. It is the world's busiest passenger port and the nearest English port to France where passengers have to clear both French and UK border controls. Lorries (trucks), vehicles of all shapes and sizes, and passengers are serviced by ferries in crossing the English Channel. The crossing took 90 minutes to reach Port of Calais in France which is directly connected to the European motorway network.
To make a long journey short (pun intended), we reached Brussels at six in the morning feeling like zombies as sleep decided to become our enemy most of the times the past night. Our hotel was a good 10-15 minute walk from the bus station and although check-in of guests was not until three in the afternoon, we were allowed to leave our backpacks in a safe place in the hotel. Just as the city was still asleep from the previous night's hedonistic festivities and what have you, here comes an excited family ready to welcome anything Brussels has to offer. Please join us as we explore and discover how this city unabashedly grew from its humble beginnings to international prominence.
Related Article: Exploring Brussels For A Day with @VisitBrussels
1. Grand Place
Our first stop was this most important landmark and destination, a UNESCO World Heritage Site considered one of the most beautiful squares in the world. It is the historical, geographical and commercial center piece of Brussels made up of Town Hall (Hôtel de Ville), a Gothic building and the architectural masterpiece of the square; Bread house (Maison du Roi) which houses the Museum of the City of Brussels, and several opulent guild houses. Guild houses are buildings historically used by associations of men sharing the same interests, such as merchants or artisans. Restaurants and shops were still closed so we had our breakfast of left-overs from last night's travel in an open-air terrace in front of one of the guild houses. The view and everything were really grand and stunning, except our food.
For five days in the middle of August in every even-numbered year, the square is covered by a massive floral display known as the Carpet of Flowers (Tapis de Fleurs).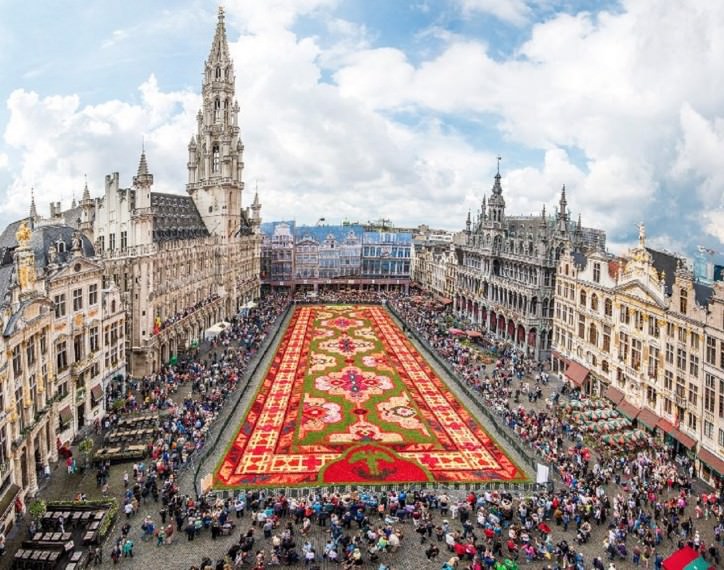 2. Mannekin Pis
From Grand Place, we walked to see this world famous little bronze statue of a naked boy peeing into a basin that attracts huge crowds on any given day. We found two glass casements secured in the iron railings surrounding the statue which contain the following information:
"Manneken-Pis is part and parcel of Brussels' cultural heritage and today one of the city's best known symbols along with the Atomium and the cathedral of Saint-Michel.
The little statue was erected at the end of the Middle Ages, when the city of Brussels was in the process of developing a public water supply network. Up until the middle of the 19th century, this fountain played a vital role in the city's drinking water supply system. The original stone statue was replaced in the 17th century by a bronze model commissioned by the municipal authorities from the sculptor Jerome Duquesnoy the Elder. The original statue is at the Museum of the City of Brussels-Maison du Roi-Grand Place".
"Manneken-Pis invites you to stroll through his Dressing Room at the Brussels City Museum in the Grand Place. The capital's most stylish ketje has over 800 outfits, including those of a cosmonaut, Nelson Mandela and Elvis Presley! Plus you can find out about his unusual history, closely linked to that of Brussels itself depicted in the museum".

3. Things to Buy and Eat
Belgium's chocolates and waffles are part of its economy and rich tradition. A trip would not be complete without sampling them. With these in mind, we don't have to go too far as shops selling these products are literally stone's throw away from Mannekin Pis. Belgian chocolates are famous and manufactured with the use of high-quality cocoa beans and reintroduced with a generous proportion of cocoa butter. Top suppliers include Leonidas, Godiva and Neuhaus, among others.
Waffles, the perfect portable snack, come in two kinds: the crispy Brussels dusted with icing sugar or the doughy Liege with sugar crystals baked in. They are made from flour, sugar, baking powder, eggs, milk and butter and usually topped with cream, chocolate spread or fruits such as strawberries and bananas.
Other well-known and sought after Belgian foods include biscuits and patisserie which are concoctions of fresh fruit chocolate, cream, crème patisserie and pastry. Also Belgian frites, simply the best in the world, which are potatoes in thick cuts deep-fried in good quality oil not once but twice and served in a sheet of paper rolled into an upside down cone with a large selection of sauce like mayonnaise, tartar sauce, and Russian dressing.
Having happily parted some of our hard-earned euros with mouth drooling chocolates and waffles, we continue our walking tour to check out a garden and another historical square. As we saunter along Rue du Chêne Eikstraat, we can't help but notice and appreciate some street arts we found along the way.

4. Jardin du Mont des Arts and Place Royal
Mont des Arts means "hill/mount of the arts" and at the end of 19th century, King Leopold II's dream was to surround his palace with beautiful things. The garden offers one of Brussels' magnificent views. The famous spire of the Town Hall in the Grand Place, statue of King Albert I, and the Basilica of the Sacred Heart with its green dome are clearly visible.
Place Royal was so rich in history, the coronation of King Leopold I, Belgium's first king and the funerals of King Leopold III and Prince Charles, prince-regent, were held in this square. The Church of Saint Jacques-sur-Coudenberg occupies a prominent position. At the center of Place Royale is an equestrian statue erected by King Leopold I in 1848, depicting the 11th-century knight Godfrey of Bouillon, the leader of the First Crusade.

5. Palais Royal, Brussels Park and Palace of the Nation
Just a short walk from Place Royal is the official residence of the Belgian monarchy in Central Brussels. Palais Royal is used for state occasions and the royal apartments and suites are used by visiting heads of state. An important part of the royal collection consisting of mainly state portraits and important furniture of Napoleon, Leopold I, King Louis Philippe and Leopold II can be found.
In front of the palace is Brussels Park, the most central of the city's main parks with tree-shaded walkways and is home to several public buildings and monuments. Facing the palace across the park is the Palace of the Nation. The Belgian Federal Parliament, the bicameral parliament of Belgium consisting of the Chamber of Representatives and the Senate, sits here.

European Top Travel Tip –
Many travelers require a Schengen visa to travel to Europe, or at very least ESTA. Make sure that you check your visa requirements before you travel. If you need help with a visa application and/or return flight reservations, you can apply for Kach's Travel and Visa Coaching Services and Rent-a-Flight Service.

6. Cathedral of St. Michael and St. Gudula
From politics to religion, our next stop was the Cathedral of St. Michael and St. Gudula, a Roman Catholic Church which was given cathedral status in 1962. While the Archangel Michael is the patron of Brussels, the martyr saint Gudula is said to be the most worshipped patroness. A splendid Gothic edifice, the cathedral was often used for ceremonies of national interest, such as royal weddings and state funerals.
Check out some of the cool and cheap tours you could do in Cathedral of St. Michael and St. Gudula

7. The Atomium and Bruparck
Brussels has an efficient public transport system. We purchased day pass tickets which we can use for metro (subway trains), trams and buses for unlimited whole day travels within the city. Our stomachs are still filled with waffles so we grabbed some bananas for lunch and we rode the tram to see a not-to-be-missed landmark and a theme park located north of the city.
The Atomium was built for the 1958 World Fair. It is a museum and a curious model of a molecule magnified 165 billion times. Each of the nine spheres (18m in diameter) making up the crystal are linked together by escalators and stairs in the connecting tubes. Five of the spheres contain exhibits and are open to the public. The uppermost sphere has a restaurant and provides a panoramic and spectacular view over the cityscape of Brussels.
Check out some of the cool and cheap tours you could do in Atomium
Bruparck is a theme park close to Atomium which pales in comparison with many of the world's best but proves to be a favourite family destination. Its popular attraction is Mini-Europe, a miniature park featuring more than 300 reconstructions of famous buildings in the European Union such as the Acropolis from Greece, the Brandenburg Gate from Berlin, and the Houses of the Parliament from London. The park also contains moving models such as trains, mills, and cable cars and an erupting Mount Vesuvius.
We decided not to visit Bruparck as Brussels' 30-degree something Celsius temperature aggravated by lack of proper sleep from our overnight journey slowly takes its toll on us. We went back to our hotel to check-in and rest.

8. Place du Luxembourg and European Parliament
Our plan to rest and have a nap for an hour was extended for another hour – this time sleep was our ally and friend. Feeling refreshed, we stormed out of the hotel to appease and silence our grumbling stomachs. We went back to the city center and stumbled upon Galery St. Hubert, a glass roofed arcade lined with cafes, theatres, and luxury shops. Our search did not prove to be futile as we found nearby shops cooking and selling Belgian frites. Afterwards, we got on a bus which took us to the center of European politics.
Place du Luxembourg is a square surrounded by restaurants and bars, some banks and retail shops. Nearby is a vast, modern steel and glass complex which houses the European Parliament, the elected body of the European Union. During sessions, one can even attend a parliamentary sitting and free audio-guided tours of the Parliament are also available. The visitors' center known as the Parlamentarium explains the past, present and future of the Union in more detail.

9. Parc du Cinquantenaire
Parc du Cinquantenaire (French for "Park of the Fiftieth Anniversary") is a large public leisure park in the easternmost part of the EU Quarter. Its centrepiece was Arcade du Cinquantenaire or Arcades du Cinquantenaire, a monumental triumphal arch which was planned for the National Exhibition of 1880 to commemorate Belgium's 50th anniversary.
Today, three museums and a mosque can be found around the park.
The Royal Museum of the Armed Forces and Military History is an extensive military museum. The Royal Museums of Art and History is a group of museums showcasing a rich collection of treasures from around the world which includes archaeological finds, anthropological artefacts and decorative arts. AutoWorld is a vintage car museum that houses a major collection of historic cars.
The Great Mosque of Brussels is the oldest mosque in Brussels and is the seat of the Islamic and Cultural Centre of Belgium.

10. National Basilica of the Sacred Heart
Our last attraction for the day, this Roman Catholic Church is a landmark on the Brussels skyline. It is the largest building in Art Deco style in the world whose predominant feature is the vast green copper dome that can be seen from many vantage points in the city. The church can accommodate 3,500 faithful.
It had been a long day for us and we think that we have covered a lot that Brussels has to offer. We suggest visitors to spend 2-3 days, preferably weekdays as some attractions are closed during Sundays (e. g. Palais Royal), in the city to see the sights and attractions to fully appreciate and understand its rich history and culture.
Due to time constraints and the lack of an itinerary, we missed The Belgian Comic Strip Centre, a museum dedicated to the history of Belgian comics. We're particularly interested with the works of Hergé, a Belgian cartoonist best known for creating "The Adventures of Tintin" and Peyo, another Belgian artist, known for the creation of "The Smurfs" comic strip. We also failed to visit the Musical Instruments Museum which contains thousands of instruments – from ancient, modern, ethnic to just plain wacky. More than 9,000 pieces make up the collection and headphones are available for the visitors to hear what each instrument actually sound.
That gives us the perfect excuse, though we would sheepishly admit that those mouth-salivating Belgian chocolates, waffles, and frites will be part of the grand scheme to visit Brussels again. Meanwhile, we have a rather late dinner of pizza and green leafy salads before retiring for the night. We have an early morning coach to catch and we can already smell the perfume-scented air that only the German city of Cologne can exude.
Check out some of the cool and cheap tours you could do in Cologne
Read Related Articles:

Recommended Budget Accommodation in Brussels
[image type="thumbnail" src="36447″]
Hotel Frederiksborg
Hotel Frederiksborg is a budget hotel offering guests with spacious, very clean and airy rooms. Area is safe, located right next to the Basilica, very convenient and definitely a good value. Truly, this is one of the best and well recommended budget accommodation in Brussels.
Read Reviews on: TripAdvisor
[image type="thumbnail" src="36448″]
Midi Station Hotel
Midi Station Hotel is a nice hotel with good location, near the Midi station. A modern accommodation with clean rooms, very convenient location, friendly staff and rooms at affordable prices. Truly, this is one of the best and well recommended budget accommodation in Brussels.
Read Reviews on: TripAdvisor

Recommended Luxury Accommodation in Brussel
[image type="thumbnail" src="36449″]
Hotel Made In Louise
Hotel Made In Louise is a nice hotel well situated in a quiet street, beautifully designed by French modern decor and art. It offers guests with clean and comfortable accommodation, great breakfast and staff is amazingly helpful and friendly. Truly, this is one of the best and well recommended luxury accommodation in Brussels.
Read Reviews on: TripAdvisor
[image type="thumbnail" src="36450″]
Aloft Brussels Schuman EU Hotel
Aloft Brussels Schuman EU Hotel is a modern hotel in a very nice location, with beautiful rooms and perfect service. Hotel is spotless and their breakfast is great too. A wonderful hotel, definitely one of the best and well recommended luxury accommodation in Brussels.
Read Reviews on: TripAdvisor

About the Writer
I'm Asher Villesca, born and raised in the Philippines but have been living with my wife, a nurse and our teenage son in the UK since 2003. We love to travel as a family and we've been to a few countries and we want to visit more in the future. Aside from travel, other interests include sports, music, reading, watching BBC's University Challenge (a TV quiz show) and dreams of becoming a vegetarian. As an accountant, I am more at home crunching numbers than writing stuff. A newly qualified TEFL teacher, I am looking for a teaching stint anywhere in the world.

Are you on Pinterest? Pin these!