14 Best Traditional Italian Dishes You Should Try [Best Local Food in Italy]
Italy is one of the tourist paradises in Europe, which has so many popular destinations throughout the country. Its sports and advanced fashion are also another reason tourists from all over the world come to Italy. Starting from Milan in the north to the Sicilia in the south offers a variety of tourist attractions that can spoil you.
However, traveling is not only strolling around and taking selfies. Trying the local food in Italy is also a must. And once again, Italy is offering various types of foods that you can explore. Here we have a list of the 14 best local food in Italy that you can try while visiting here:
Appetizer
1. Bruschetta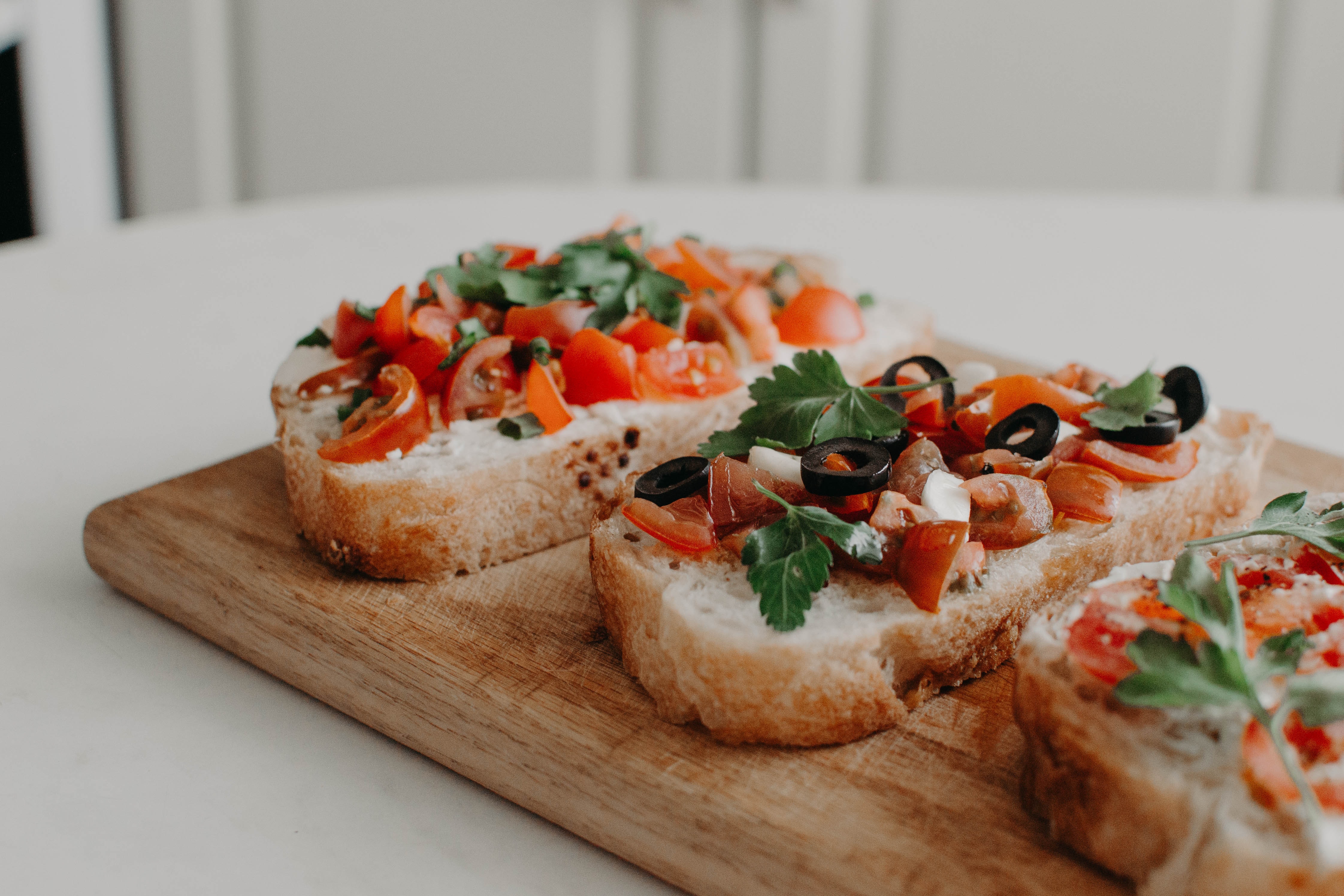 This local food in Italy has existed since the 15th century and is still very popular throughout the world. Bruschetta uses toast as the main ingredient and various types of toppings that can be adjusted. Generally, the topping made from diced tomatoes and seasoned with balsamic, basil, and garlic. It can also use mashed avocado as a topping.
Various Italian restaurants are providing this dish on their menu.  Bruschetta is also commonly served at parties since it is easy to make. While in Rome, come to Dar Poeta. This place specializes in Pizza but also provides Bruschetta with a taste that is no less tasty.
Dar Poeta is at Vicolo del Bologna, 45/46, Rome, Latium.
2. Risotto
Risotto has a similar appearance with porridge, and it's the most common way to cook rice in Italy. This local food in Italy comes from northern Italy, where abundant broth made from meat, fish, or vegetable uses to cook the rice. This technique produces mild and savory rice. Sometimes, locals adding butter, cheese, wine, and onions to enrich the flavor.
Most rice in the world serves as a main dish, but Risotto generally serves as an appetizer. Various cities in Italy have their unique risotto, such as:
Risotto Alla Milanese

which is a typical Milan risotto that is often served together with

ossobuco alla Milanese;

Risotto al Barolo

comes from Piedmont;

Risotto al Nero di seppia

in Veneto; and

Risotto Alla pilota

in Mantua.
Main Course
3. Lasagna
One of the most delicious Italian foods that once included on the CNN best 50 food list is Lasagna. No wonder, because this food is divine and has fans from all over the world. This local food in Italy uses pasta, which is generally sheet-shaped. It was filled with a variety of meats and vegetables with spices that have been passed down from generation to generation. Pasta, filling, and mozzarella cheese layered in a baking sheet and then baked using the oven until cooked.
Various restaurants provide lasagna with their secret recipes and worth to try. In Rome, you can visit Ai Tre Scalini. This restaurant does not only have delicious lasagna but also providing the best wine house in Rome.
As for those of you who are in Florence, come to La Bussola, which provides divine lasagna. Besides, Tuscan pizza can be another choice that you should try in this restaurant.
Ai Tre Scalini is in Via Panisperna, 251, 00184 Rome Latium.
La Bussola is at Piazza de' Davanzati, 50123 Firenze Fl, Italy.
4. Tortellini
At a slight glance, this pasta looks like a dumpling. Tortellini is a ring-shaped pasta and filled with pork chop, prosciutto, or cheese. This local food in Italy originally comes from northern Italy, precisely Emilia-Romagna, and generally served in soup or cooked with a sauce like other pasta.
Besides Italy, you can also find tortellini all over the world as frozen food that is ready to be processed. Try tortellini directly from its homeland in Emilia. You can visit Trattoria on Via Serra that serves a variety of Italian specialties, and tortelloni with ricotta cheese is the best.
Trattoria di Via Serra is at Via Luigi Serra, 9/b, 40129 Bologna Bo.
5. Carbonara
Carbonara is a creamy pasta from Italy that is worldwide popular. Originally from Central Italy, Carbonara mostly uses spaghetti as the main ingredient. As for the seasoning, it is using egg sauce, pecorino cheese, and meat. Although many places make carbonara with cream, the original recipe didn't include it. The pecorino cheese comes from sheep's milk, and the meat is pancetta (pork belly meat) or guanciale (pork cheek meat).
You can find the classic carbonara in Armano al Patheon, which has a hereditary recipe. This place even existed after World War 2.
Armano al Patheon is at Salita dei Crescenzi, 31, 00816 Roma RM.
6. Fettuccine Alfredo
As the name suggests, fettuccine alfredo is only using Fettuccine as its main ingredient. The alfredo sauce comes from butter and parmesan cheese. The local food in Italy once included in the list of the most delicious foods in the world, according to CNN. Alfredo di Leilo was discovering this dish back in the mid-20th century.
The difference between alfredo and carbonara is the sauce. Alfredo uses garlic, while carbonara uses pecorino cheese, eggs, black pepper, and guanciale. Try fettuccini alfredo at Il Vero Alfredo while in Rome. This restaurant provides the best fettuccine alfredo, which is loved by not only by locals but also tourists.
Il Vero Alfredo is at Piazza Augusto Imperatore, 30, 00186 Rome Latium.
7. Vongole
Vongole is a pasta (mostly spaghetti) that cooked with seafood, mainly scallops. Various types of shells, such as palourde, vongola verace, and Mediterranean wedge shell, are the most common shell uses to make a vongole. The stir-fried clam will open its shell and release a liquid that can strengthen the taste. The clam poured into the pasta and seasoned with salt, black pepper, and chopped parsley.
There are two ways to cook vongole:
Di biasco is a cooking method that uses oil, garlic, parsley, and a little white wine; and

Di Rosso is a method of cooking that uses tomatoes and fresh basil. Fusion vongole
Italian-American vongole adds cream during the cooking, but you won't find this version in its homeland. According to locals, the cream is reducing the seafood taste in vongole.
8. Chicken Parmigiana
Italy does not only have pasta and pizza. Chicken also quite popular, one of which is Chicken Parmigiana. Fried chicken serves with tomato sauce and mozzarella cheese, parmesan, or provolone. Melanzane Alla Parmigiana uses eggplants as the main ingredient, and it inspired the dish invention in the 1900s.
Besides served with sauce, chicken parmigiana sometimes becomes a sandwich and pie filling. Many restaurants serve this dish on their menu with competitive taste and prices.
Dessert
9. Gelato
Although the appearance and presentation method is similar to ice cream, gelato is not ice cream in general. Gelato has a denser texture, more flavor, and lower fat content. Gelato comes from the Italian word meaning frozen, and it comes from milk, cream, sugar, and various fruits, nuts, or other flavorings.
Gelato is perfect for your diet since it only contains 3-8% fat. A great gelato uses fresh and natural ingredients. Even though eye-catching, you should avoid gelato with striking and shiny colors, because most likely other substances and higher fat content added to the gelato. The best gelato has a creamy texture but is light, not too hard or soft, and does not contain ice crystals in it.
Find the "Gelaterie d 'Italia" guide published by the Gambero Rosso website. This guide consists of a list of 350 of the best gelato shops in Italy each year. With this guide, maybe you can go around searching for gelato products that best suit your tastes.
10. Tiramisu
Tiramisu is a cheesecake topped with cocoa powder. To make a tiramisu, you need Savoiardi-biscuits, eggs, sugar, and coffee. The biscuits stacked up with whipped cream and cooled to make it denser. Before serving, tiramisu poured with cocoa powder on top.
As time goes by, various tiramisu made with the addition of alcohol such as rum or wine. This dessert is a new type of food since it was invented in the early 1980s.
One of the places that offer the best tiramisu in Rome is ZUM Roma. This place provides the best mini tiramisu in town. Since it has a small size, you can try various tiramisu variants here, which are guaranteed to be sweet, creamy, and delicious. ZUM Roma is also friendly for those of you who are on a gluten-free and lactose-free diet.
ZUM Roma is at Piazza del Teatro di Pompeo, 20, 00186 Roma RM.
11. Panna Cotta
Another dessert that is no less popular than tiramisu is Panna cotta, or in English means ripe cream. It is sweet cream and gelatinous texture. Usually, Panna cotta's flavors are has a coffee, vanilla, rum, or others. The warm cream mixed with liquid sugar, then soft gelatin added. Its mixture has a texture like caramel cream.
Panna cotta originally came from Piedmont, in northern Italy. Local's usually add coulis berries, caramel sauce, or chocolate when serving panna cotta. Sometimes it still adds fruits or other drinks as well.
In Rome, you can visit Trattoria da Cesare al Casaletto, which provides creamy and wobbly panna cotta.
Trattoria da Cesare al Casaletto is at Via del Casaletto, 45, 00151 Roma RM.
Beverages
12. Aperitivo
Aperitivo is an alcoholic appetizer that serves in various Italian restaurants. Aperitivo not only refers to one type of alcoholic beverage, but it is numerous. It can be wine, whiskey, cocktails, sherry,  champagne, and vermouth. The best time to enjoy Aperitivo is late afternoon, after returning from work to catch a breath.
Aperitivo for adults is an alcoholic drink. As for children can be a mint syrup, tomato juice, or orange juice. Having an Aperitivo will be better with snacks such as crackers, sausages, fries, cheese, pistachios, olives, and others.
Various Italian major city bars provide a lively yet comfortable place to enjoy Aperitivo. One of the places that you can visit in Milan is N'Ombra de Vin, which is a historic wine bar in Milan. It has the best Aperitivo beverages in Milan and crowded at Aperitivo-time to midnight.
N'Ombra de Vin is at Via San Marco 2, 20121 Milano MI.
13. Negroni
Negroni is a classic Italian cocktail with various types. Camillo Negroni created this cocktail in 1920 using Red Vermouth, gin, and orange peels. This mixture produces a strong and sweet taste. Negroni often enjoyed as an Aperitivo in the afternoon.
Florence is Negroni's hometown, and it has numerous bars providing high-quality beverages. One of them is the Viktoria Lounge Bar, which is famous among the young people of Florence. Besides drinks, this place also provides side dishes that you should not miss.
Viktoria Lounge Bar is at Via Giuseppe Verdi, 28/R, 50122 Firenze FI, Italy (near Santa Croce).
14. Coffee
There are numerous types of coffee invented in Italy, such as Caffè, Cappuccino, Macchiato, Marocchino, Caffè Latte, Shakerato, Caffè al Ginseng, and Caffè d'Orzo. All of those coffee uses espresso as a base. The difference is the amount and type of mixture used.
Caffè latte, for example, uses a mixture of 1/3 espresso, 2/3 heated milk, and a little foam. Like Cappuccino, Caffè Latte often enjoyed in the morning before 11 AM, and it is very suitable to accompany your breakfast. Visit the cafes in Italy to have a glass of coffee according to your taste.
That was the 14 best local food in Italy that you can try directly in its home country. As a culinary paradise, there are still many types of Italian food that you can explore. Don't be afraid to try, because the experience is the best teacher.

Are you on Pinterest? Pin these!