Things to do in Piran, Slovenia and Our Experience staying at Kempinski Palace Portoroz
I got up from bed relatively early in our hotel in Lake Garda, Italy. I just had to take a last glimpse of this magical scenery right in front of me. Today's mission, to drive towards Piran, Slovenia for the last leg of our European road trip. After this,  we would head home to Herceg Novi in Montenegro. 
Piran is in a region called Istria, which also stretches across the Croatian coastline where we have been several times. It is described by Lonely Planet as one of the loveliest towns anywhere along the Adriatic Coast and we agree!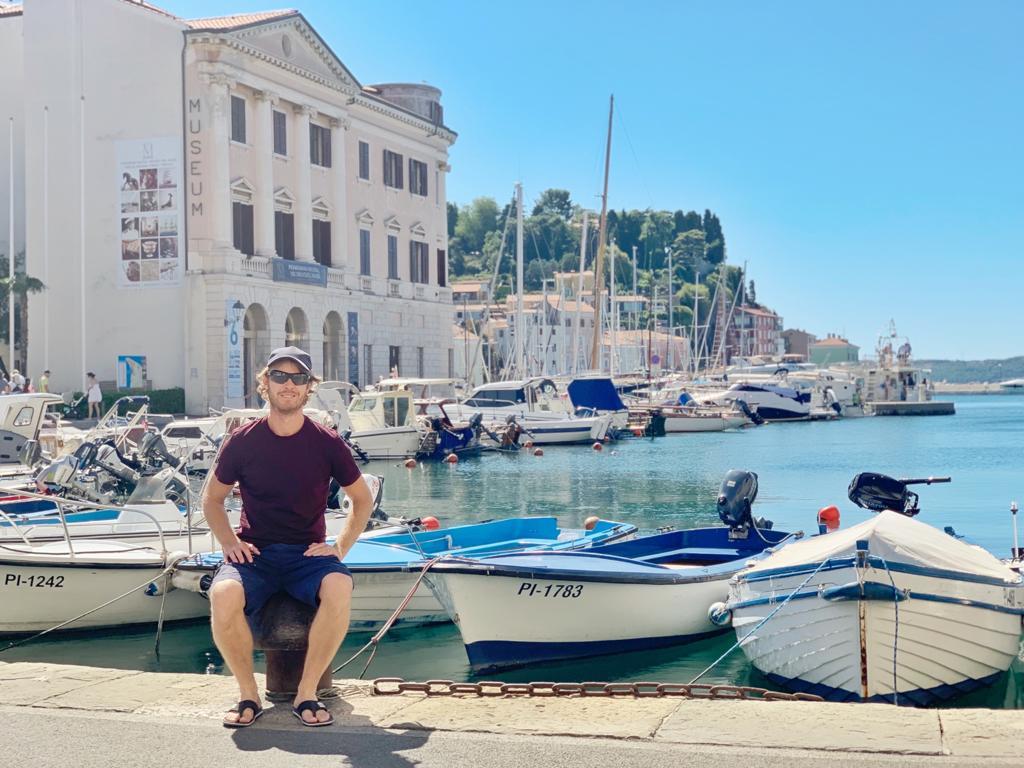 Being a coastal town, they are blessed with abundant turquoise blue water. But really, there's so much more to do here than just sunbathing. Here's my take on it!
THINGS TO DO IN PIRAN, SLOVENIA FOR THE WEEKEND
1. Walk around the Old Town
The Old Town of Piran is as charming as it gets. Every cobblestoned road leads you to quaint cafes, lovely Venetian Gothic architecture. In the summer, you'll find outdoor concerts by local musicians and stores selling beautiful souvenirs.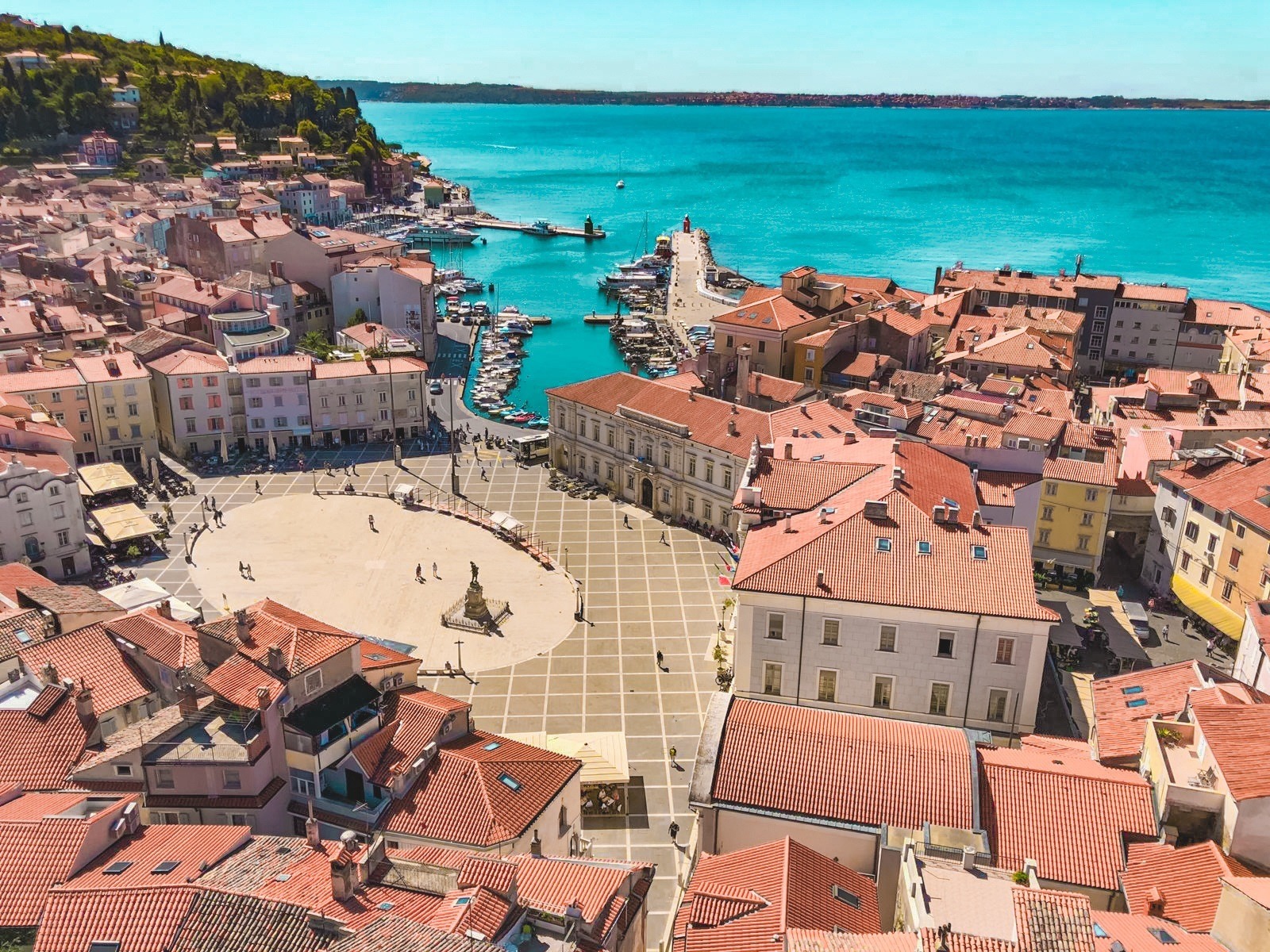 Tourist hot spots include the Tartini Square, Port of St. George, Port Piran, The Cloisters of Saint Francis Monastery, Piran Town Walls, and the First of May Square.
2. Eat a lot of seafood!
Being surrounded by the sea, this town is known for its fresh seafood freshly caught everyday. Feast on a seafood platter in any restaurant you'll find (although we recommend you try the Taste of Istria Starter Plate in Fleur de Sel Restaurant in Kempinski Palace Portoroz) and you'll definitely say "isda-riffic"! (Isda being the tagalog word for fish)
3. Climb the Rock Tower
This is St. George's Bell Tower and climbing its steep 146 steps is very much worth it. You'll get rewarded with a 360-degree view of the town and even Italy and Croatia on a clear day. Unfortunately, I obviously wasn't able to go up this time, but Jon did and said it was amazing! 
4. Relax by the beach
While this isn't the only thing to do here, this is still one thing you will certainly want to try. Jon and I just sat there and watch the world go by. Getting some Vitamin D is always a good idea after all! 
5. Find accommodation in Piran, Slovenia
OUR WEEKEND STAYCATION AT KEMPINSKI PALACE PORTOROZ
After that long drive from Lake Garda in Italy, we went straight to Kempinski Palace Portoroz for check-in. Our first impression over the property? It is classic. It's as if we were walking into a castle as the royal couple. 
Check-in and our room 
Check-in was rather smooth and the staff was very courteous. Amazingly, they had put us up in one of their best suites. It had a separate living/dining room and a massive king-size bedroom! We were welcomed with some welcome treats including some fresh fruits and assorted pastries, a very warm welcome.
Our room has a lavish bathroom embellished in marble and wow, just as luxurious as it gets. The separate living area and dining room are amazing! Furthermore, the suite was well-equipped with a Flat-screen TV, Wifi, Working Desk and a Safe Box. 
Dining at Kempinski
Fortunately, that evening we had been invited by the hotel to have dinner on the terrace of the Fleur de Sel Restaurant, overlooking the outdoor swimming pool. Since Slovenian Istria is so famous for its seafood, we began with the Taste of Istria starter plate of local fish. Shortly after, we had a fish soup followed by their most spectacular dish on the menu, the Salt-Baked Sea Bass! The fish arrived at the table covered in a mound of sea salt harvested from less than a mile away. Amazingly, the whole fish is baked under the salt to give it an intense flavour. Finally, it's broken free and served onto the plate. It was incredible and we couldn't recommend this highly enough! 
To start the day, the breakfast buffet is heavenly and served on an elegant terrace. You'll have plenty of options from bread, pastries, fresh fruits, meat, cereals, etc. and they even have some vegan treats! Milk substitutes are also available upon request. This is such a perfect way to start the day! 🙂 
Rose Spa
After such a sumptuous meal which felt like a feast, it was time to relax. Jonathan went straight to the Sauna and then we both crashed out into bed until the next morning. Later on, we also had the couple's massage which was heavenly!
Did you know, since the 13th Century the Slovenian city of Portorož has been attracting visitors in search of its therapeutic sea-salts and mud baths? Finally, the best thing about this hotel is that their spa offers the very best of the famous local treatments. Furthermore, they complement them with an array of other luxury methods from all around the world. Sounds good right? Trust me, it feels even better!
Overall, we highly recommend this hotel! On the one hand, the suite we had is quite expensive. However, you don't need to get the suite to experience all this luxury. Whatever room you book here, you'll experience nothing but the best! 🙂

Are you on Pinterest? Pin these!