How to Teach English in Singapore – TEFL Teaching Job in Singapore
Singapore has plenty to offer those aspiring to teach English, not only excellent attractions but also a great opportunity to teach English in Singapore and live a great lifestyle! Come and see for yourself.
Being neat, clean and responsible for one's actions is one of the essentials of culture in Singapore. There is a system of meritocracy, wherein individuals are given credit almost exclusively to when it is deserved. Social harmony is also important, as being a secular immigrant country, Singapore upholds unity and fellowship, requiring one to be sensitive and polite at all times.
Learn more about teaching English abroad, read our article about the Introduction to teaching English.
Moreover, we have partnered with Let's TEFL to offer accredited 120-hour TEFL courses with a 60% discount. Just use our exclusive promo code – TWOMONKEYS. Let's TEFL courses include free certificate shipping!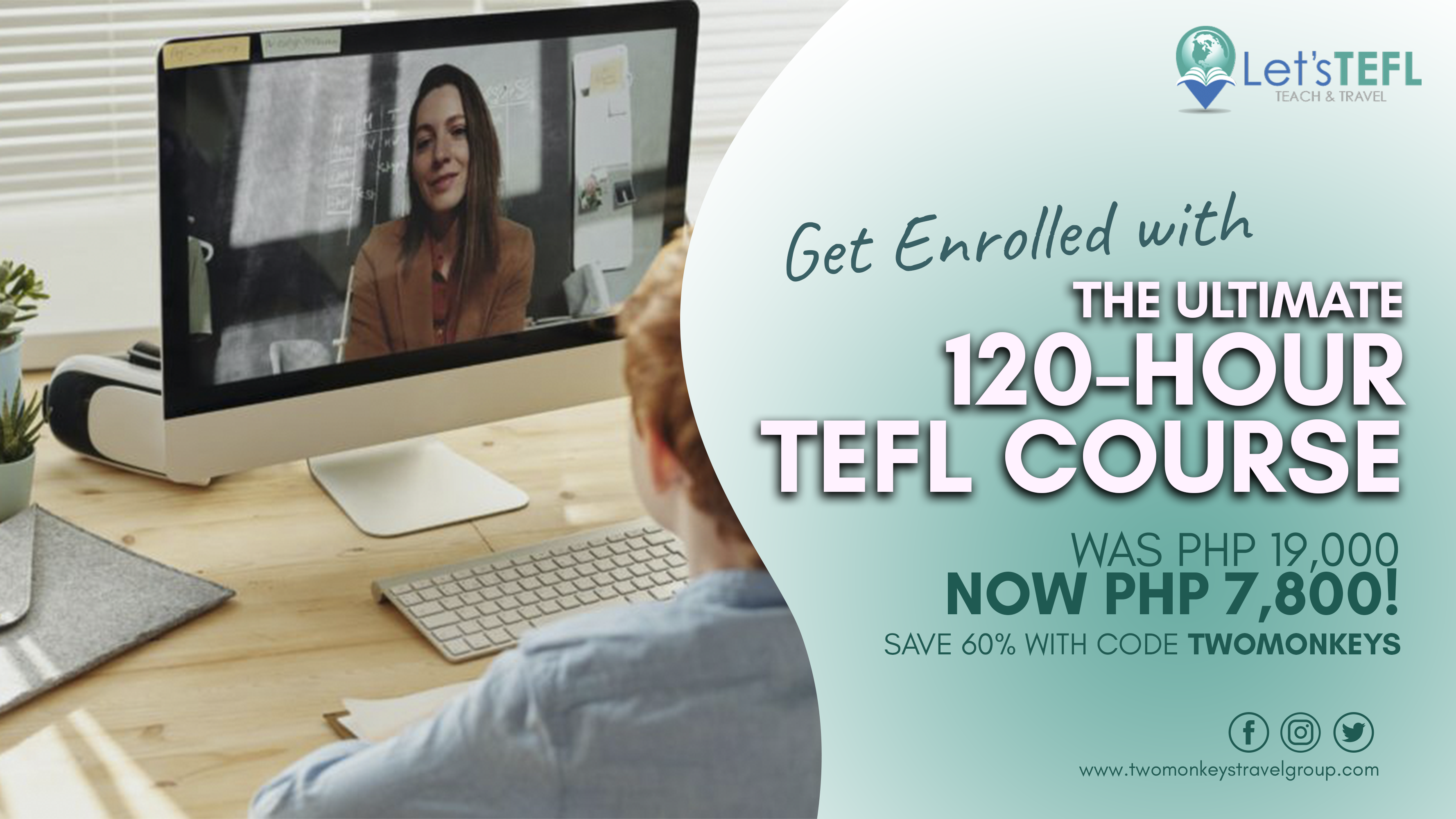 Cost of Living when Teaching English in Singapore
Accommodation: Save money by avoiding the nice apartments in the city. For example, you can rent a room or HDB flats for as low as $500 a month, add $100 for utilities (phone, power, internet).
Food: You can live with an average of $600 a month for food costs if you want to eat out. It's better to cook your own food, and if you do this every day your food expenses come up to only $200 a month. All in all, you can allot $200 to $600 for food, if you cook at home and occasionally eat out.
Transportation:  Singapore has one of the most efficient and affordable public transport systems. Mass Rapid Transit (MRT) bus costs $1.60. Taxis start at $3.00. Overall, monthly average transportation will cost you $150.
Salary to Teach English in Singapore
This depends on your qualifications and the type of English teaching that you do, but kindergarten levels and some language centers start from $1500 to $3,500 a month. If you work in the British Council, however, the salary ranges from $3,000 to $4,000 a month. Finally, International school salaries fetch about $3500 upwards depending on your experience and qualifications.
Pros of Teaching English in Singapore
Quality healthcare

Affordable and efficient public transport

Low crime rate
Cons of Teaching English in Singapore
Rent can be expensive depending on your location and choice of accommodation.

Pricey entertainment costs – if you're the party goer type.

Education is expensive.

Censorship in media; Freedom of speech is limited.

Random strict rules, like meetings of more than 4 people are considered illegal.

Cars are also expensive.
How to find Jobs to Teach English in Singapore
Use the websites for TEFL job postings: Jobstreet, JobsDb, Workabroad.ph, TEFL sites.
You can also join this TEFL Facebook Group.
Where to Teach English in Singapore
Everywhere in Singapore – private academies, universities, public schools, provided you meet their qualifications and you're accepted by the Ministry of Education.
Requirements for English Teachers in Singapore
Bachelor's degree and a year or two of teaching experience, which will land you in some language centers and pre-school or kindergarten schools. A 120 hour TEFL certificate is usually a minimum requirement unless you have a teaching degree.
How to Process Visa for Singapore
Employers usually process work permits for TEFL English teachers, from start to finish.
Singapore: Lifestyles, Customs, Do's and Don'ts
Take off shoes before entering a mosque or temple, and wash your hands and feet when entering a Hindu one. Make sure that taking pictures is allowed before bringing out your camera.
It is prohibited to chew gum, spit, litter, jaywalk, smoke indoors, be drunk in public, take drugs, drink and drive, and dance on counters and tables at bars. Not only that, but Singaporeans highly value working long hours and education.
Start a new journey and teach English in Singapore! But first, get a TEFL certification online to prove your relevance in teaching the English language. No worries as we have partnered with Let's TEFL to offer accredited 120-hour TEFL courses with a 60% discount. Just use our exclusive promo code – TWOMONKEYS. Let's TEFL courses include free certificate shipping!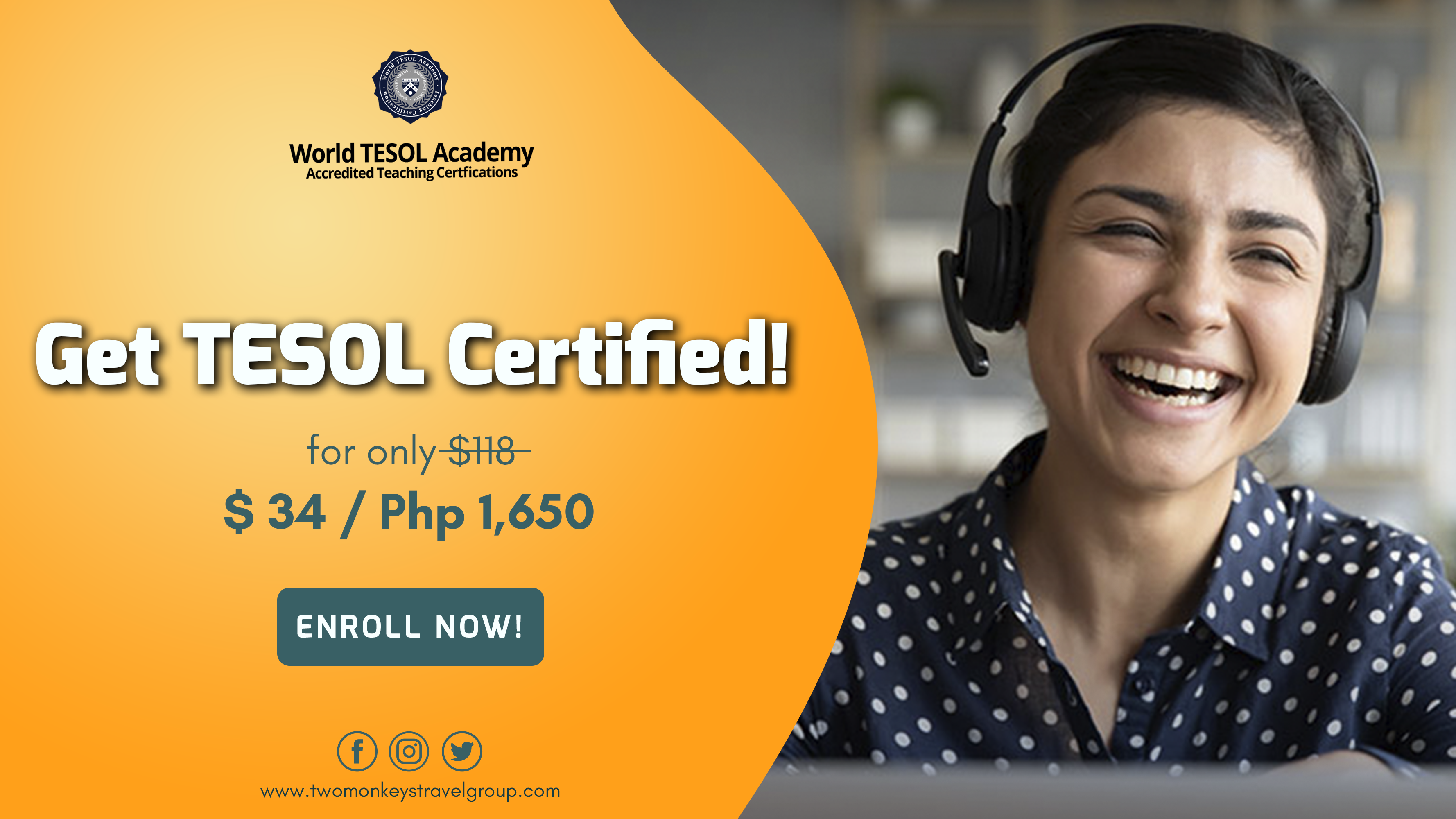 We have also partnered with World Tesol Academy to provide an 
online TESOL certification course
for the lowest price you will find anywhere – $34 USD! We recognised how badly affected many people around the world have been by the Covid / Coronavirus situation. So, we spent a lot of time discussing with this great company how they could come up with an affordable solution to help people afford the opportunities that an online TEFL / TESOL certification can bring.
World TESOL Academy Accreditation
World TESOL Academy courses are now accredited by not just one but two internationally recognized accreditation bodies. Once you complete your course, you will have an education certificate that's accredited by both Accreditat and CPD.

Are you on Pinterest? Pin these!