10 Best Things To Do in Stroud, United Kingdom – Where to Go, Attractions to Visit
There is never any shortage of things to do in Stroud, England. This bohemian town is bursting with abundance and colour, peppered by beautiful old mills, bustling market towns, lush farmers markets, and independent stores. No wonder the organic food movement started here!

This hilly town is every bit a popular destination for tourists visiting the scenic Cotswold. Its burgeoning art scene and relaxed cafe culture also attract talented writers and artists. Individuals who revel in outdoor pursuits are charmed by the many lakes, canals, and parks, too.
If you are up to some casual, laid-back exploring and discovery, this is the place to be. Start your adventure with these top 10 things to do in Stroud.
Shopping
1. Farmers Market
A treat for fresh food lovers, the best from Cotswold farmers converge in the Farmers Market every weekend. The variety is dizzying, and quality is at its finest. Local produce, meats, dairy products, bread, and wines seduce every visitor with irresistible look and aroma. Dozens of stallholders participate and sell other items including ceramics and homemade soaps. Bring your top shopping game because this is definitely one of the best things to do in Stroud.
Hours: Every Saturday
2. Shambles Market
It is no Diagon Alley, but Shambles Market is indeed an excellent place to visit to gather your essentials and much more. Slip in and around the stores and pick up crisp organic food, good books, jewelry, and crafts.
Hours: 8 AM to 4 PM every Friday and Saturday
Location: Off High St., Stroud, England
Attractions
3. Woodchester Mansion
Stunning and mysterious, Woodchester Mansion, located in the secluded Cotswold valley, is a 19th Century Victorian Gothic stone house left uncompleted in 1873. It is a masterclass of architecture in the local Cotswold tradition. The fairytale-like building is made of golden limestone and is an ode to traditional building skills and craftsmanship.
Price: £7.50
Hours: 11 AM to 5 PM (Last tickets sold at 4 PM) from Tuesday to Sunday
Location: Woodchester Mansion Woodchester Park, Stonehouse, Stroud GL10 3TS, England
4. Prinknash Abbey Bird and Deer Park
For animal lovers, this park is indeed a shoe-in on their list of top things to do in Stroud. Peacocks, waterfowls, swans, and deer happily call this nine-acre parkland home. Walk around and be charmed by the lakes, aviaries, ponds, and gazebos. It is a very relaxing place that will take your mind off stresses easy.
Price: £8.40
Hours: Open daily from 10 AM to 4:30 PM
Location: Situated on A46 between Cheltenham and Stroud
5. Gloucester Cathedral
1000 years of history are offered by the medieval Gloucester Cathedral. It is an architectural treat and a display of master craftmanship. In fact, the fan-vaulted cloisters and Great East Window are considered national treasures! There are fine exhibits in the Lady Chapel and activities like Whispering Gallery, the Giant Jigsaw, and the Teddy Trail outside. The cathedral also contains the only monarch tomb in the South West – that of Edward II. Harry Potter and Dr, Who filmed here, too.
Hours: Sunday service is 7:40 AM
Location: 12 College Green, Gloucester, Gloucestershire
6. Rodmarton Manor and Garden
The appeal of Rodmarton Manor lies in the fact that it is one of the last country houses built in the traditional style using local stone and timber under the skilled hands of local craftsmen. Everything has been made to an incredibly high standard – from the house up to the furniture and gardening. The garden is massive and is made of several rooms with hedges for walls. If you have listed long, romantic walks in your must-do things in Stroud, there is no better place.
Price: £8.00
Hours: 2 PM to 5 PM every Wednesday and Saturday, and during Bank Holidays
Location: Off the A433 between Cirencester and Tetbury
Museums
7. Museum in the Park
Bursting with local history, no list of things to do in Stroud will be complete without a visit to the Museum in the Park. It is a great place for entertainment and education for all ages. Step inside the 18th-century mansion and immerse yourself in the interactive displays, numerous themed exhibits, and plenty of local artifacts. Dinosaur bones, Victorian toys, Iron Age relics, and eclectic art galleries are present, too.
Price: Free
Hours: 10 AM to 5 PM from Tuesday to Friday and 11 AM to 5 PM every Saturday and Sunday from April to September; 10 AM to 4 PM from Monday to Friday, and 11 AM to 4 PM every Saturday and Sunday on October to November and January to March
Location: Stratford Park Stratford Road, Stroud GL5 4AF, England
8. Gloucester Waterways Museum
The movie Alice through the Looking Glass used the historic Gloucester Docks for its original Victorian appeal. Seeing it today is every bit like time traveling. The museum is located in a Grade II warehouse and provides a good hands-on learning experience for visitors.
Hours: Open daily from 10 AM to 5 PM during the summer, 29 July – Sunday 6 November; Open Tuesday to Sunday at 11 AM to 3 PM during the winter, 8 November to Saturday 24 December.
Location: Llanthony Warehouse, Gloucester Docks, Gloucester, Gloucestershire
Restaurants
9. Star Anise
A bubbly cafe, known for its unique and vegetarian food, Star Anise is the ideal hangout at any time of the day. An assortment of delicious breakfasts is always on the menu, as well as hearty soups, pasta, and hummus platters for lunch. At tea time, pop in for cakes, bread, and Bristol-roasted coffee that will energize you to finish your day strong.
Price: Mains at £6-9
Hours: 8 AM to 5 PM from Monday to Saturday
Location: Gloucester St., Stroud, England
Pick a seat right at the balcony and savour tasty Spanish-style tapas served with great countryside views. Invite some friends over and share wine, sherry, and brandy with a good plate of paella on a Tuesday.
Price: Tapas at  £6-10
Hours: 5 PM to 10 PM from Monday to Friday and 12 PM to 10 PM every Saturday and Sunday
Location: 23 Nelson St., Stroud, England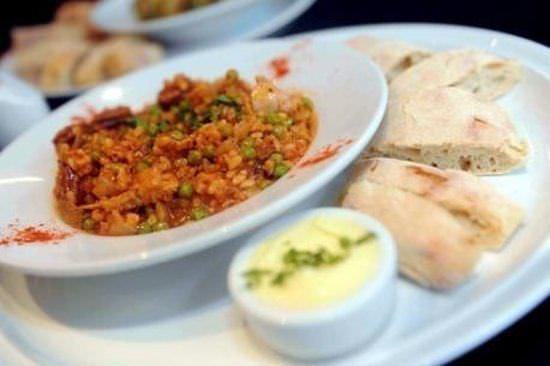 Find accommodation in Stroud, England

Recommended Hotels
Budget – Hammonds Farm B&B
Mid-Range – The Bear Of Rodborough Hotel
Luxury – Amberley Inn

Are you on Pinterest? Pin these!