3 Day Seoul DIY Itinerary: Best Things to Do in Seoul, South Korea
If you are off to South Korea, then don't you dare miss the capital, Seoul. Seoul is everything you need to see in a country; the traditional historical side, modern and advancing side, and the natural beauty. Go off to the Palaces, the gorgeous Han River, Markets, and skyscraper buildings of mega-industries. To see all of that, here's a 3 Day Seoul Itinerary that could help you cross everything off your list.
Remember, Filipino citizens, need a South Korea Tourist Visa to enter South Korea unless you are exempt, according to the embassy's announcement. However, it's pretty easy as they don't have an interview and if you have complete documents.
When you go to Seoul, I recommend buying a Discover Seoul Pass. It costs KRW 39,900 for a day, KRW 55,000 for 2 days, and KRW 70,000 for 3 days. It can get you to enter attractions, tours, and other perks for FREE. I know it's quite expensive to look at first, but if you follow this itinerary, it's going to be worth it if you purchase a 3 day one. Check out also my detailed article of the pros-cons of buying the Discover Seoul Pass.
3 Day Seoul, South Korea DIY Itinerary
Day 1: Seoul Itinerary
Morning
Hanbok Rental at HANBOKNAM
Gyeongbokgung Palace
National Museum of Modern and Contemporary Art
Bukchon Hanok Village
Start your day on the traditional side of Korea and go to Hanboknam to rent Korean Traditional Wear. With that, you can enter palaces or shrines for free! Off you go to the Gyeongbokgung Palace, the largest of 5 palaces in Seoul. After that, you can go across and see the National Museum of Modern and Contemporary Art, which was also featured in Korean dramas. You can walk to Bukchon Hanok Village to see traditional houses from 600 years ago. There are also shops nearby so you can eat lunch there. You can return the Hanbok too.
If you want to ask why I don't suggest going to another palace, it's because they are quite similar to each other. One is enough. However, if you don't like the other one, I suggest Changdeokgung Palace. It has a gorgeous secret garden!
Afternoon
Grevin Museum
L'atelier
[Alternative] Running Man Experience
[Alternative] Alive Museum
Use that Discover Seoul Pass and go to modern museums. Grevin Museum is a wax museum with famous people like President Obama, Korean artists like Psy, and celebrities like Tom Cruise. After that, you are off to L'atelier, which is an art theme park with replicas of famous paintings. Both are very fun.
You can also choose the Running Man Experience, especially if you are a group. Alive Museum is also a 4-D art museum in Seoul. However, the first option optimizes your Discover Seoul Pass as the cost of Grevin + L'atelier is KRW 39,000 but free with the pass while the other one is KRW 28,000.
Evening
Dongdaemun Design Plaza
Dongdaemun Night market
In the evening, go to Dongdaemun Design Plaza, where you can see modern Seoul. The landmark is also where some scenes in Kdramas like "My Love from the Star" and "She Was Pretty" was filmed. Off you go to Dongdaemun Night market to go shopping and eat the best street food Seoul offers.
Day 2: Seoul Itinerary
Morning
Purchase a Seoul City Bus Tour: Panorama Course (Can start at Gwanghwamun, 9:30 AM)
Namsan Cable Car
N Seoul Tower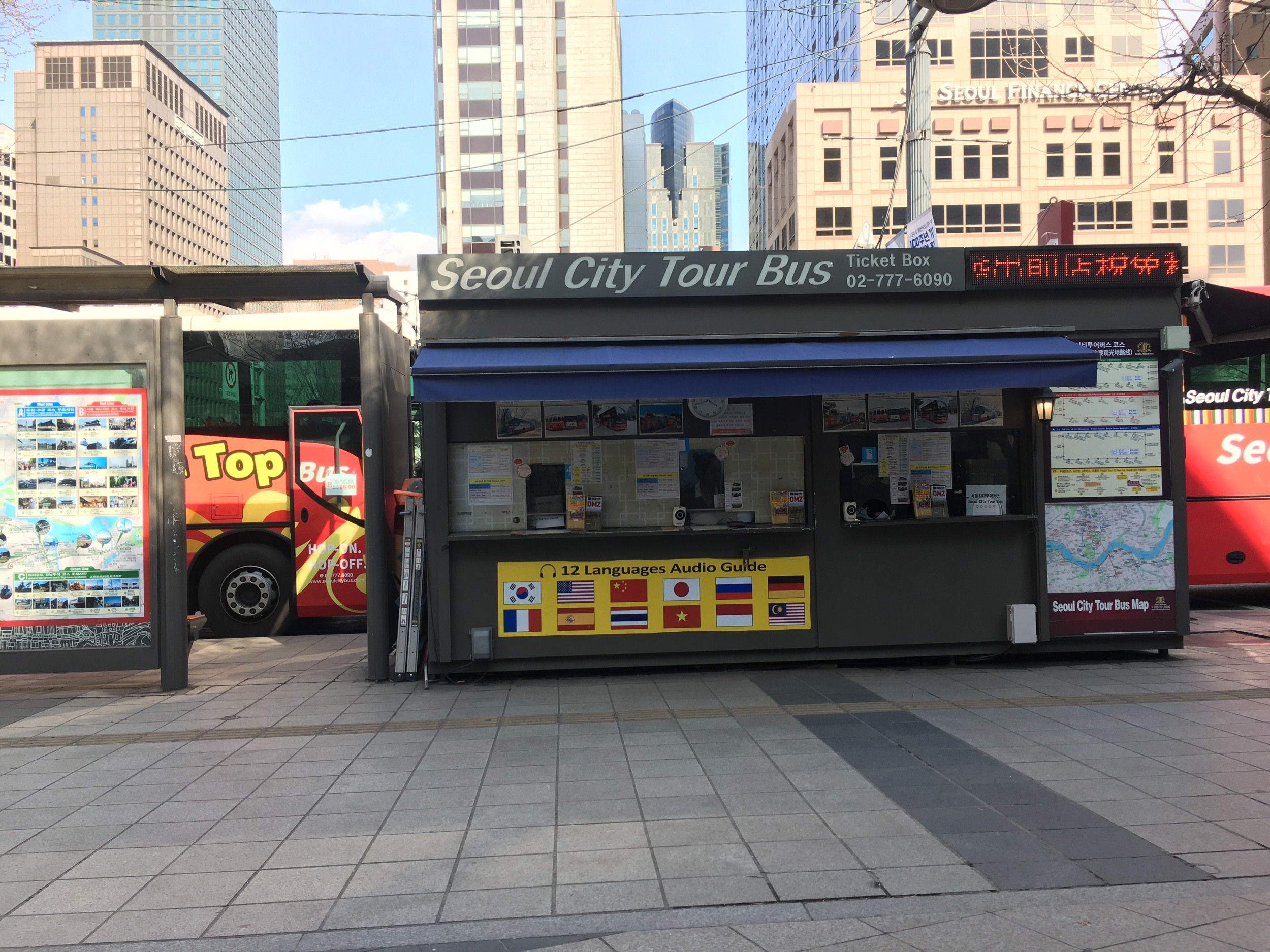 Get a Seoul City Bus Tour and choose the Panorama Course. It's a hop-on-and-hop-off, so you can get off at Namsam Cable Car first, then ride to N Seoul Tower. You can also try the Hanbok experience in the Tower or the Hello Kitty Museum. There are also restaurants there so you could have lunch there. Ride the Namsam Cable Car back to the spot to wait for the bus.
Afternoon
Ewha Woman's University
Myeongdong
Myeongdong Cathedral
Ride the bus and hear the guided tour and description of the spots. Drop off at Ewha Womans University; you can walk from the bus stop towards the University. There are many shops and restaurants as well. Then get dropped off at Myeongdong, there are many beauty shops, clothes stores, street food cafes there. There is also the Myeongdong Cathedral. Ride a train to Hongik University Station after.
Evening
Hongik University
Hongdae
Hongdae or where Hongik University is a great place to spend nightlife. It's a hip area with many young university students like to hang out. There are free outdoor concerts and many more. It's a fun place to be.
Day 3: Seoul Itinerary
Morning
COEX – Starfield Library
SM Town Museum
[Alternative] COEX Aquarium
For the third day, you can be touring the South Part of the Han River. Go to COEX Mall and find the gorgeous instagrammable library, Starfield Library, inside. When you go out, there is the SMTown Museum outside. For those fans of KPop groups like Super Junior, Girls Generation, EXO, Red Velvet, and NCT, this where you can see their albums, a training room, and many more. If you are not into KPop, then try COEX Aquarium which is just nearby. You can also eat lunch here.
Afternoon
K-Star Road
Somesevit or Sebitseom Islet
Go to the famous Hallyu K-Star Road and take pictures with 18 big Gangnamdol. If you don't want to go to entertainment offices, you proceed to Somesevit. It's a floating structure in the Han River where there are 3 glowing islands. There are Gavit, Chavit, and Solvit – along with Yevit, a performance area on the water.
Evening
Ride to 63 Square, a gold skyscraper in Yeouido Island. After that, you can cruise on the Han River with Eland Cruise at night. It's the best way to end your Seoul trip!
Savings with Discover Seoul Pass
If you bought the Discover Seoul Pass, here is the computation of the total attractions and benefits you will pay versus DSP:
As you can see, you can save KRW 80,400 when you get a Discover Seoul Pass. It's very worth it, so you should buy it.
Find accommodation in Seoul, South Korea
Where to Stay in Seoul, South Korea
Where to stay in Seoul, South Korea if you want Luxury?
Nine Tree Premier Hotel Insadong
Located in 49, Insadong-gil, Jongno-gu, Jongno-Gu, 03145 Seoul.

This newly built building is surrounded by Art Galleries and near the palaces. The rooms are cozy with TVs, Air Condition, and ensuite bathroom with toiletries. I highly recommend this for your stay in Seoul.  Read my personal experience with Nine Tree Premier Hotel Insadong.
Price: Starts at USD 105 for One Standard Room for Two Persons
Where to stay in Seoul, South Korea if you're on a Budget
Located in 49, 9-6, Jong-ro 18-gil, Jongno-gu, Jongno-Gu, 03192 Seoul.

Grid Inn Hotel is located near Jongno-3ga Station and Jongmyo Shrine. They have rooms good for a single person or a group of 5. They have comfortable rooms with complete amenities and friendly staff.
Price: Starts at USD 50 for One Single Room for One Person
Where to stay in Seoul, South Korea if you're a Backpacker
Located in 2F, 50, Dongmak-ro 3-gil, Mapo-Gu, 04047, Seoul.

They have shared dorms (mixed and separate for females), and double rooms. It very near Hapjeong Subway Station. There is Wi-Fi, air-condition, heating, shared bathrooms with towels and toiletries, and a shared kitchen.
Price: Starts at USD 19 for One Bunk Bed in 6-Bed Dormitory Room, free breakfast.
List of Restaurants that you can try while in Seoul, South Korea
Enjoy authentic Korean Pork Belly at Palsaik Samgyeopsal. What's so unique about this establishment is that they have 8 flavors of pork belly like red wine, curry, or miso. They also have side dishes.
If you are cold or just want to try some homey soup, go to Tosokchon Samgyetang. Their chicken ginseng soup is super delicious. It will make you feel energized after a long day.
Dine at one of Seoul's 3-starred Michelin Restaurant, Gaon. Menu changes depending on the best seasonal ingredients. You are not only there to eat but also experience Korean Culture in every dish.
Frequently Asked Questions for Seoul, South Korea
1. What is the language spoken in Seoul?
Korean is mostly spoken in Seoul, South Korea. Though the South Koreans really try hard to speak English, I suggest downloading google translate just in case.
2. What currency do they use?
Korean Won are used throughout the city.
3. Are credit cards accepted?
Yes, major credit cards are accepted. However, for those small restaurants or shops, it's better to pay in cash.
4. How much will you spend in Seoul?
It's quite expensive in South Korea; prepare at least USD 100 per day (with food and accommodation). You can pay KRW 10,000 per meal at a restaurant. However, what will make you spend are the attractions and shopping.
5. Do you have any saving tips?
Use Discover Seoul Pass so that you can save on attractions and transportation
Avail Duty-Free and Tax Refunds for tourists
For breakfast, if it's not free at the hotel, you can buy kimbap at the convenience stores
Bring water container and refill it, water is quite expensive (about KRW 1,000+)
6. Where to purchase Souvenirs?
You can shop at the stores in Insadong, Dongdaemun, Myeongdong, or Hongdae.
7. Is it safe to travel to Seoul?
Yes, South Korea is one of the safest places to travel in the world. I have traveled solo in Seoul, and I was at ease. People are disciplined and friendly.
8. Should I get travel insurance before heading to Seoul?
I always recommend buying travel insurance when we go out of the country since we don't know what will happen. You can check out Safetywing.
9. Do I need a visa for Seoul?
Philippine passport holders need a South Korea Tourist Visa to enter Seoul except if they are exempted. As for other nationalities, please check if you need one before going.
10. How to get to Seoul?
There is Incheon International Airport that serves Seoul. There are flights from the Philippines, the rest of Asia, Australia, Africa (Ethiopia), the US, Canada, and Europe. You can also travel via train or bus if you are going to Seoul. I suggest you use the AREX (Airport Railway Express).
I hope you find this 3 Day Seoul Itinerary helpful for your future adventures in South Korea! If you have any questions, please feel free to ask me. Don't also forget to comment about your experience in Seoul. Happy Travels!

Are you on Pinterest? Pin these!