My Solo Travel and Experience Staying at Nine Tree Premier Hotel Insadong in Seoul, South Korea
After my trip to Japan, I am off to my 143rd country, South Korea! I got to stay at one of the newest hotels in Insadong area, Nine Tree Premier Hotel Insadong thanks to a friend I met while on a press trip in Croatia, Ms. Jiemin Yoon.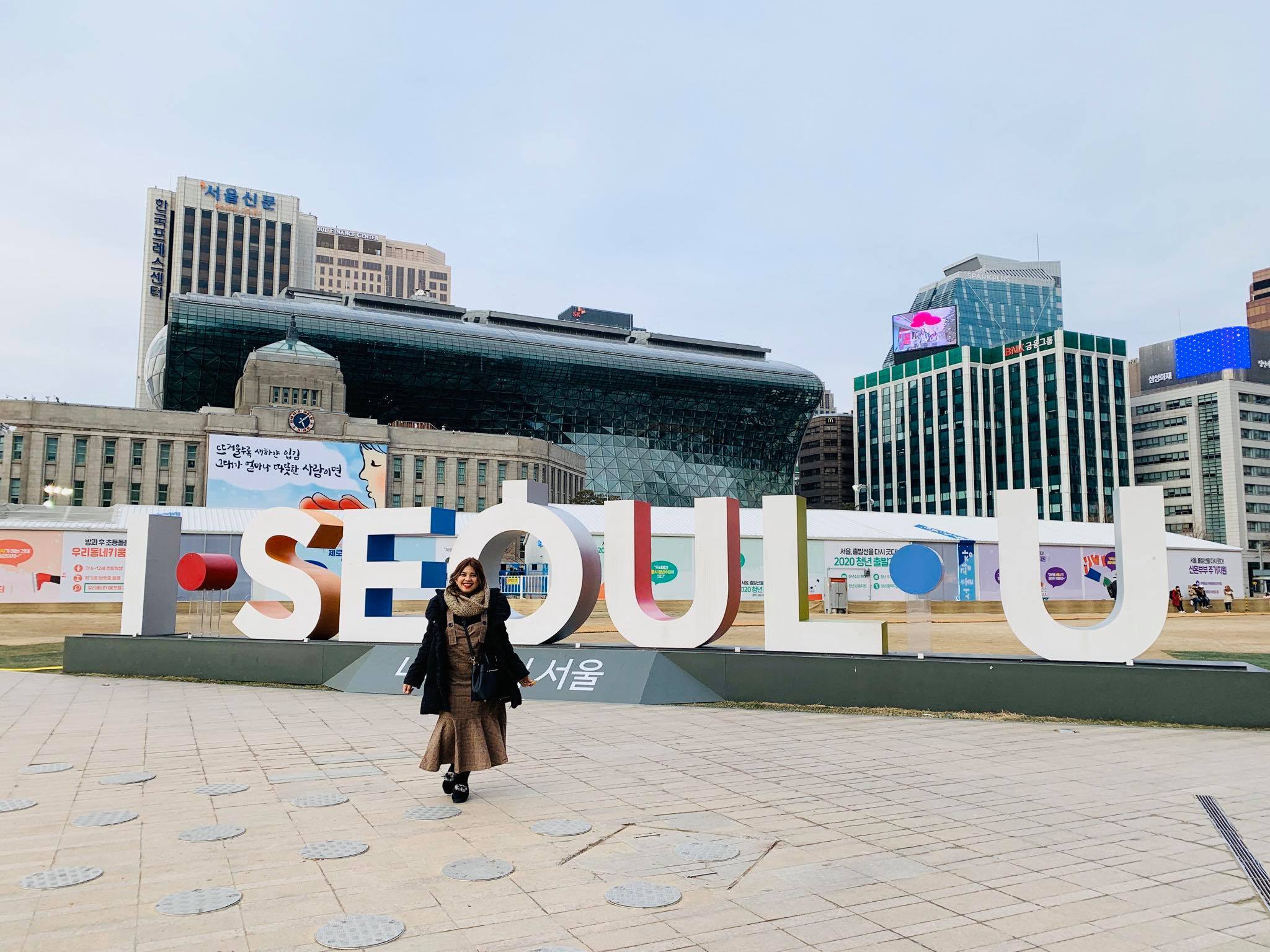 Thanks to Visit Seoul, I also got a 72-hour Discover Seoul Pass. It allows the users to visit attractions for free, get on a hop-on-hop-off bus, and use it on the subway. The hotel was also in a great location since it's easier to go to spots from here. Check out my personal experience with Nine Tree Premier Hotel Insadong.
About Nine Tree Premier Hotel Insadong
Nine Tree Premier Hotel Insadong is a branch of Nine Tree Hotel with 301 guest rooms, a restaurant, and a lounge. It just recently opened last October 2019, so facilities are brand new. It's near landmarks like Jogyesa Temple, Art Galleries, and Supermarkets. They also have branches in Myeongdong (2) and another one in Dongdaemun, the newest that opened on January 14, 2020. It's not only a great business hotel but great for travelers who love to feel the beauty of Korea.
The Room
I stayed in a standard double room with a large bed. My room is clearly immaculate and new; it's white with gray and black accents. It has a refined feel. The large double bed is so heavenly with super soft pillows.
The bathroom has a bathtub and shower with an automatic toilet and toiletries. A flat-screen TV was also in my room and I watched a funny Korean show. The view of my room was gorgeous buildings and a Korean shrine. It was lovely to wake-up to see that!
Here are the other rooms available in Nine Tree Premier Hotel Insadong:
Standard Rooms – a 23-24.5 m2 room where you can choose a Double Room (double bed), Twin (2 single beds), triple (3 single beds). They can accommodate 2-3 persons.
Family Rooms – a 24.5 m2 room that's great for the family; there's Family Twin (a double bed and single bed) and Family Kids (double bed and bunk bed)
Suite – the suites have a bedroom and a separate lounge room for guests and a kitchen. Here are the suites you can choose from:

Family Twin Suite – a 50 m2 room with a double bed and a single beds
Panoramic Suite – a 50 m2 room with a double bed and a single beds that's Korean-styled
Quad Suite – a 50 m2 room with a double bed and 2 single beds with traditional Korean lattice on the wall
Family Kids Suite – a 50 m2 room with a double bed with a separate bedroom (bunk bed) and a bathroom designed for kids
The Food
I had a buffet breakfast at the Hotel. The arrangement was beautiful. Mostly, the dishes are European style with a few Asian cuisines. The salads and fruits were fresh and tasty. The juices are delicious too. It looks elegant and I had my stomach was full from eating just this. Full breakfasts are a great way to start your day!
The hotel location is really great since there's a lot of restaurants in the building and street food along the small street behind the hotel.
Service in Nine Tree Premier Hotel Insadong
The staff were very friendly and helpful. The check-in and check-out process was so smooth. They actually have an automatic machine that you can use so you don't even need a receptionist to check out!
They were also responsive to queries in case I was curious about things and even helped me get a dinner delivery from one of the fastfood chicken restaurant when I arrived late at night. My room was also well-kept as they did housekeeping during my stay. Overall, they were hospitable and accommodating; it feels like home.
Location
Nine Tree Premier Hotel Insadong has one of the best areas in Seoul. Insadong, in Jongno district, is a place that is filled with Korean Culture, from shops to art galleries. It's a walking distance to the royal palaces; the Gyeongbokgung Palace and Changdeokgung Palace. With an old and historic vibe, locals and tourists love strolling around and visiting traditional shops and cafes.
It is also very accessible as Seoul Subway's line 5 passes on Insadong. The next districts also offer many spots for tourists; on the east is Seodaemun Prison History Hall, southwest has Grevin Art Museum and  Namsangol Hanok Village, while on the south, the famous N Seoul Tower. I suggest having a Discover Seoul Pass.
Because Insadong is also a must-do, many carts and restaurants are around here; you can enjoy a Food trip near your hotel and pig out with South Korean street food!
Things to do near Nine Tree Premier Hotel Insadong
Most of these activities, you can do for free if you have a Discover Seoul Pass. I got a 72-hour pass thanks to my friend from Visit Seoul and loved the fact that it's convenient and helpful for entering to tourist attractions in Seoul.
1. Wear Hanbok in Gyeongbokgung Palace
Feel like in another era as you wear a Hanbok and enter the Gyeongbokgung Palace. This castle was built in 1395 and the main palace of the Joseon dynasty. There's an entrance fee but if you wear Korea's traditional clothing, it's free. However, if you don't have time to dress-up, then you can enter for free with a Discover Seoul Pass.
2. Take pictures with idols in Grevin Seoul Museum
Ready your cameras and phones and take photos or selfies with life-size wax figures of celebrities. From the Queen of England to Tom Cruise and Kpop Stars, they are there! You can also have pictures with 3D artworks and enjoy games!
3. See Seoul at Namsan Seoul Tower
Want to see the city from up above? Then you can ride a cable car (or walk) to N Seoul Tower and go-to their observation deck. You can see buildings and mountains from there. There are also restaurants and shops on the ground and other floors. The famous love locks are also in this spot.
4. Shop till you drop at Myeongdong
If you want souvenirs to bring to your family and friends, you can go to Myeongdong. There are many choices of beauty products as well as clothes and snacks here. They also have a street food market during the night. You will never go hungry while shopping!
5. Go on a River Cruise
See Seoul's night skyline as you take a night cruise on Han River. I did it solo and wish Jon was with me; it would be romantic. It's also a great way to relax and enjoy the view of South Korea after going to tourist spots the whole day.
Frequently Asked Questions on Nine Tree Premier Hotel Insadong
1. How much is the rate in Nine Tree Premier Hotel Insadong?
To inquire about rates, availability or promo, check the links below:
Own website | Agoda | Booking.com
2. Do they accept walk-ins?
Yes, they do. However, for peak seasons, it is always best to make reservations.
3. What is the check-in/ check-out time for Nine Tree Premier Hotel Insadong?
Check-in is at 3:00 PM, while check-out is 12:00 PM.
4. Is late check-out or early check-in okay?
Yes, however, you will need to inform the front desk and be ready for additional charges.
5. Are children allowed to stay in Nine Tree Premier Hotel Insadong?
Definitely! This place is suitable not only for those with business purposes but also for families. They also have great rooms and suites for those that have children.
6. Is parking available?
Yes, it is available for free.
7. It's new, and there may be taxi drivers that don't know it, what will I say?
You can say it's across the Jogyesa Temple.
8. Where exactly is Nine Tree Premier Hotel Insadong?
49, Insadong-gil, Jongno-gu, Seoul, Republic of Korea
Why I love staying at Nine Tree Premier Hotel Insadong
This brand new hotel is such a gorgeous place to stay in the heart of South Korea. The location is absolutely perfect; near the Palaces, the shopping centers, and traditional Korean shops and galleries. My room is so classy and comfortable. The staff was also very accommodating during my stay. The view and breakfast were also a great way to start my day! In short, I loved it here and recommend staying at Nine Tree Premier Hotel Insadong especially to those who want to have a taste of South Korea!

Are you on Pinterest? Pin these!