Start Up Business in the Philippines – How to Register your Business in DTI
Before starting your business, one must register a business name first at the DTI (Department of Trade and Industry if you are a sole-proprietor or at SEC (Securities and Exchange Commission) for partnerships and corporations or CDA (Cooperative Development Authority) for Cooperatives.
Ano ba ang sole-proprietor? Sole-proprietor kapag ikaw lang ang nag-mamay-ari ng business. It doesn't mean however, na ikaw lang mag-titinda or ikaw lang mag-isa; pwede ka rin mag-employ ng mga tao but the profits and loss are yours.
According to the Department of Trade and Industry, "it is necessary to register your business with this agency in order to gain the exclusive rights to use your business name." So you need to register to DTI your business name as it will be used in all of your documents in your business (Mayor's Permit, Official Receipts, BIR Registration, and etc.)
However, if you have already a DTI registration, hindi ka pa pwede mag-start. You need also a Mayor's permit para licensed ka sa lugar mo at BIR Registration for a license for your business to operate in the country. So basically, a DTI Registration is just the first step in the business.
DTI Registration Requirements as per DTI Website:
For walk-in/over-the-counter applications:
Presentation of one (1) valid government-issued ID of the BN applicant;

Submission of one (1) duly-accomplished DTI-prescribed application form signed by the applicant of the BN registration; and

Submission of Authorization Letter upon the filing of the application is filed by a representative and presentation of the authorized representative's valid ID.
For non-Philippine nationals:
Submission of one (1) duly-accomplished DTI-prescribed application form signed by the applicant of the BN registration; and

Submission of a clear certified copy of the Alien Certificate of Registration and the Certificate of Registration for Sole Proprietorship/Certificate of Authority to Engage in Business in the Philippines issued by the concerned DTI Office per RA 7042 (Foreign Investment Act) as amended by RA 8179, RA 8762 (Retail Trade Liberalization Law) or such other applicable laws, as the case may be.
For refugee/stateless person:
Submission of one (1) duly-accomplished DTI-prescribed application form (Annex B) signed by the applicant of the BN registration; and

Submission of a clear certified copy of the Certificate of Recognition issued by the DOJ-RSPPU showing that the applicant is recognized as a refugee/stateless person or presentation of the original Certificate of Recognition and submission of a duplicate copy thereof.
For online applications:
You can also apply through online; most DTI offices won't allow walk-in anymore and suggest to apply online. I think this is much more convenient and easier. However, for non-Philippine nationals, refugees and stateless persons, you may apply online but you still need to pass supporting documents at any DTI Office.
DTI Registration Online
As I have said, this is the most convenient way of applying. You can process the application at home with the internet. 
Here are the steps in the application:
1. Go to this website
2. Read the terms and conditions and click "I Agree." Please don't skip this as this may be essential in registering your business name. There are certain rules on how to make one, so this will serve as your guide.
For example, it says, you aren't allowed to have a name that is the same or nearly the same from an existing business like "Starbox" instead of "Starbucks" or "Jollybee" instead of "Jollibee." Basahin po ninyo.
3. Enter your information on the following then click "Next."
After reviewing the information, click "Proceed."
4. Choose your scope.
It will be either Barangay, City or Municipality, Regional or National. Your payment will depend sa scope na pinili mo.
How do I choose? If isa lang yung store mo sa Brgy. A, then you can choose "Barangay." However, if may isa ka pang branch sa Brgy. B, then choose "City/Municipality" kasi hindi lang sa isang barangay yung location mo. However, if your business has another branch in the next city, choose "Regional." And if it's in another region like 1 in Brgy. A, Region 1 and the other is at ARMM; then choose "National."
5. After choosing, you will then be asked to input your Region, City/Municipality and Barangay. If you chose the barangay option. However, if you chose City or Regional, you will put only that.
Type in your Dominant Name – This maybe your name (first or last) or initial.
For the Business Name Descriptor – Type what kind of things are you selling or services you are providing. There will be suggestions and you can choose from those.
6. A proposed business name will come up and you need to "Check Name Availability" then Click "Validate." You might try validating again in case nothing shows up.
If the name has passed, this will show up:
However, if it doesn't please try making a new one.
You may click "Next" if you are satisfied with your business name, review the details and "Proceed."
7. Take note of the reference code given to you. You may use it in your transactions.
8. Type in your additional information and then click "Next."
Double-check the information and click "Confirm and Proceed"
9. An Undertaking will be shown, you may download it and proceed to payment.
DTI Registration Payment 
1. After the undertaking, choose the payment method you want to use.
Payment methods available (Some are not yet available though).
GCASH

Visa / Mastercard / JCB

Paymaya

Landbank

DTI Teller (Over the Counter)

Smart Padala (Over the Counter)
2. Click proceed to payment and pay thru your choice.
3. You will now have a "Certificate of Business Name Registration."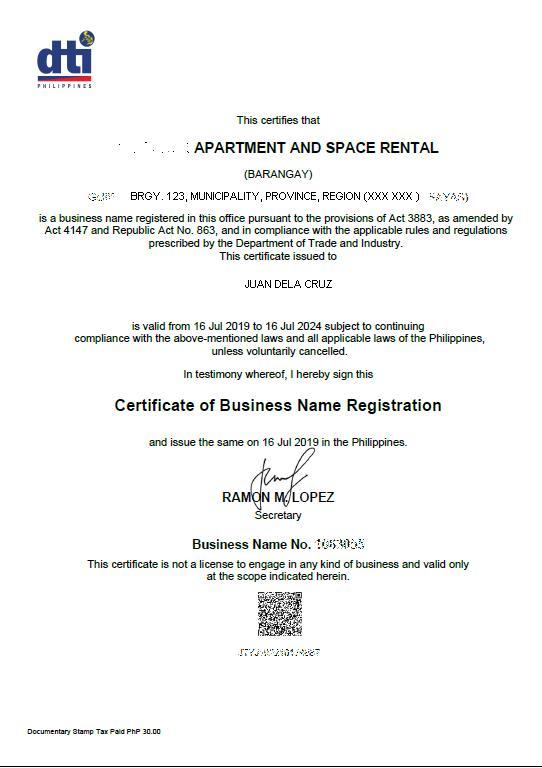 Business Registration Payment thru Gcash
If you don't have a Gcash account or don't know how to use it; please read this article.
In case you went out of the website start from number 1, however, if your application is the continuous start from number 4.
1. Go to this website and click the "Transaction Inquiry page."
2. Click I agree then type your Reference Code and search.
3. Choose your business name and then click "Resume"
4. Choose the Gcash option, enter your mobile number.
5. An authentication code will be sent to your phone. Type in the code.
6. Enter your MPIN. Click next and you are done!
7. Check the information and then "Confirm and Pay."
8. Afterward, it will display "Transaction Complete. Business Name is now registered."
9. You may download Business Name Certificate and your Official Receipt.
Business Registration via DTI Office
1. Go to a DTI office
2. Give the following documents:
Business Name Number (BNN)

Signed Undertaking (the one e-mailed to you or in the form)

One Valid ID
3. Pay amount due to the DTI teller.
4. Get your Business Name Registration Certificate from the teller.
I suggest using Gcash so that you can't get out of your house to pay. It's pretty convenient. 
FAQs regarding DTI Registration
1. Do I really need a DTI Registration? Can't I go directly to BIR for business registration?
No, you need to be registered first. DTI registration is also a requirement of BIR. 
2. Can I do business with only my DTI Registration?
No, you can't. You need other documents such as BIR Registration and Business Permit to go on business.
3. How many years is my DTI Registration Certificate Valid?
Your DTI Registration is valid for 5 years.
4. Can I apply abroad?
You can apply your future business in the Philippines abroad thru online. 
5. I want to have a business in the Philippines, but I am staying abroad, is that okay?
Yes, you may have business here. There are quite a lot of businesses owned by OFWs abroad but managed by their relatives. You can process documents thru SPA or you could do them when you come home.
6. Someone wants to buy my business, can I transfer my Business Registration to them?
No, it is non-transferrable. They need to register their own business name.
7. I want to transfer from Barangay A, B City to another city. Should I register again?
Yes, you need to cancel your old one and register into a new one.
8. When can a DTI registration be canceled?
As per DTI, you voluntarily cancel it when:
You stop your business before DTI registration expires

It is sold or transferred to another person (even relative or immediate family)

There is a business who has the same name

Business is transferred to another location outside the registered scope
I hope this article helps you in registering your own business. If you like traveling and have a business; I suggest you register yours so that documents will serve as proof during tourist visa applications. Feel free to browse our posts as we discuss also other business requirements like SSS, TIN, and the like. Have fun in your DTI Registration and may your business prosper!

Are you on Pinterest? Pin these!