Mt. Apo Hike – Hiking Guide to the Kidapawan Trail
After the fire incident on Mt. Apo that caused it's closure, it is indeed nice to reminisce about how we witnessed its magnificent charm. Mt. Apo, known as the father of the Philippines mountains, is the highest mountain in the Philippines with an elevation of 2956+ metres above sea level.
When we made the commitment to climb Mt Apo, we were supposedly a group of 6 but 2 of our colleagues backed out due to work restrictions, so we used the Kidapawan – Kidapawan trail because of financial constraints and lack of manpower. Kidapawan is a really diverse trail. You will witness sulfur vents, mossy forests, river crossings, and different animals and flowers. Our experience was also made much better, thanks to our guide Sir JR Iday who was very knowledgeable and taught us lots of new information while we were hiking.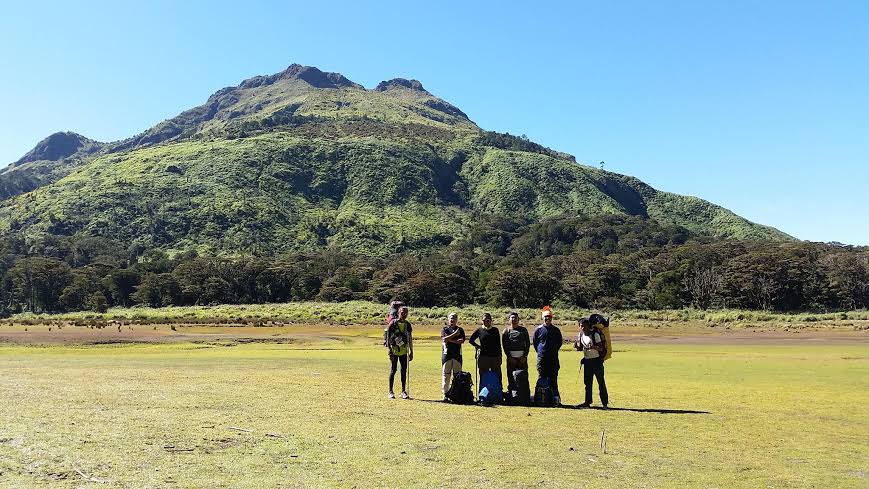 February 18 was our first day of trekking, started at 9:30 in the morning with a pure assault on an 87 degree ladder just before the final leg to Lake Venado. We reached the lake at 5 in the afternoon and were welcomed by a sudden change in scenery – from mossy forest the land had transformed into flat, grassy ground surrounded by forests, a lake and Mt. Apo's peak.
I suddenly felt like I was in the "Into the woods" or "Jurrasic Park" movie set. Fortunately, we had the camp site all by ourselves since we were the sole campers that night. We had lechon paksiw for dinner and quick "socials" with the beautiful silhouette of Mt. Apo as our backdrop.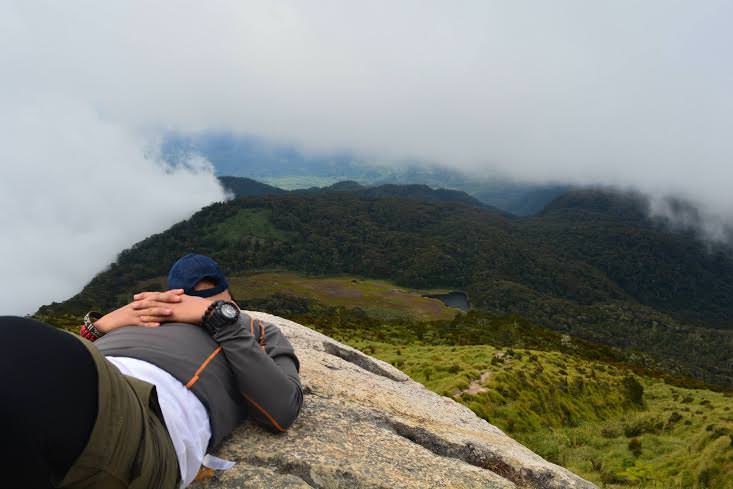 Onto our 2nd day, we were headed for the summit. It took us 2 1/2 hours to reach the peak with some difficulty in breathing and only 1 litre of trail drink on hand. We asked other mountaineers that we met for water but they thought, we were just joking! We had an amazing and cold view at the summit with a sky switching back and forth from clear to cloudy. We also trekked the Davao side of the Peak, from where you can see the division of the grassy part of the trail and the rocky boulders with sulfur vents.
After that, we headed back to the campsite and reached the lake at 4 PM. We rested for a while and cooked Chicken Sopas for the cold night and drank red wine to celebrate our "summit success". On our 3rd and final day of trekking, we left the campsite at 9 in the morning and experienced 5 hours of pure descent while praying that our knees would survive until we reached the resort.
We had an hour of lunch break where our guide, Kuya Jr, took some water spinach and mixed it with sardines that made it to make our sumptuous lunch. We reached Lake Agco town at 3 PM and decided to spend the night there to rest and explore the area. To alleviate our post climb muscle pains, we took a dip ion the Lake Agco hot spring which is said to have special health benefits and our porter Jimboy, who is a Manobo himself, enlightened us about the Manobo tribe, their culture, and also some stories about the legend of Lake Agco.
Conclusively, our Mt. Apo hiking experience made me realize that the Philippines really is rich in so any ways. Rich in flora and fauna, rich in beautiful scenery and rich with wonderful and kind people.

About the Writer
Krista is a Dentist by profession but backpacker by heart. She believes on living in the moment, one day at a time. She prefers on collecting good memories and experiences  over material things. She is into mountain climbing, dental missions, budget travels, dark chocolates, steak and frozen yogurt.

Are you on Pinterest? Pin these!