Discover St. Vincent and The Grenadines in the Caribbean @DiscoverSVG
St. Vincent and the Grenadines is located in the southern part of the Caribbean. It is composed of 32 beautiful islands including Bequia, Mustique, Tobago Cays, Young Island, Union Island, Palm Island, Petit St. Vincent, Canouan, and Mayreau.
St. Vincent is a captivating island packed with land and water activities, enchanting beaches and rainforests, and very friendly people. I mean really friendly people.
The place itself may not be popular especially to people living in Europe and Asia, but if you are into adventures, you will be in for a big surprise.
Getting to St. Vincent
We arrived at T. Joshua Airport in St. Vincent and the Grenadines from one of its major gateways, Trinidad and Tobago since we came from South America. Those who are coming from Europe or North America usually arrive via Barbados.
VISA: Visa-free for most countries.
CAPITAL: Kingstown
CURRENCY: Eastern Caribbean Dollars (EC). Both US Dollars and EC are accepted in stores, restaurants, and hotels, as well as most major credit cards. They don't have any currency exchange booths, so we changed our money in the bank.
1 US = 2.60 EC.
LANGUAGE: English
ACCOMMODATION: We booked at the Beautiful Caribbean Mansion hosted by Mark James through Airbnb. It has 4 rooms (good for 6 people) for only 35 US per night. The house is huge as well as the rooms. It takes a 5 to 10-minute drive to the airport. Mark picked us up from the airport and brought us to places for a very affordable rate. His family is really hospitable.
There are plenty of guesthouses and hotels with spectacular views of the beaches. Some are even nestled amongst lush tropical gardens. Mosquito repellents should come in handy.
TRANSPORTATION: Taxi (around 20 EC) and minibus (3 EC). The mini-bus is usually full and crowded. Getting around St. Vincent is a new experience for us because the roads are really curvy and lofty. Going from one destination to another is like a rollercoaster ride. You need to brace yourself and just trust the driver.
St. Vincent also offers a tour where you can explore the island in one day.
FOOD: The best food to try on the island is the local food. We tried the island curry and local roti at Vee Jay's Restaurant, known as one of the oldest restaurants in Kingstown. It is located near the port area. The food and service were both great.
We also ate at Lola's, one of the busiest cafes in Kingstown. They serve light meals from burgers to desserts.
If you like fine dining, you should definitely go to Basil's Bar located below the famous Cobblestone Inn. The food is a little pricey, but it's all worth it.
List of the Best Things To Do in St. Vincent and The Grenadines
1. La Soufrière Volcano
On our third day on the island, we were encouraged by our hosts to go on a hike and climb the 4000 ft La Soufrière Volcano. They offered to drive us there for a reasonable price of 15 US per person. Since it was going to be our first time climbing a volcano, we seized the opportunity. It is a 45 minute-drive from Kingstown.
You can plan your trip ahead and ask for a tour guide (if you want one) from their office. We suggest that you get a tour guide since they know all the hidden parts of the volcano.
We hiked DIY style and followed the Rabacca trail. We passed by beguiling rainforests, bamboo groves, and lava trails. It took us almost 2 hours with a lot of shortstops to get to the summit and another 2 hours going down. We started hiking around 11 AM and reached the peak at 1:00 PM, but there were already too many clouds. It rained a lot in the morning, so we didn't really appreciate the view from the top. The misty clouds were so strong that we needed to balance ourselves. It was a big achievement even if the peak looked all white and cold.
Don't forget to wear a good pair of shoes, bring water, and put on sunscreen. We passed by a number of broken shoe soles along the way and got sunburned even if the trail was covered with trees.
It was one sweaty adventure and one of the best hiking experiences we ever had.
La Soufrière is an active volcano known as the highest peak in St. Vincent at 1234 m. The last known eruption was in April 1979.
2. Pirates of the Caribbean film set
A trip to St. Vincent and the Grenadines will never be complete without visiting the famous Wallilabou Bay. It is where the opening scenes of the first Pirates of the Caribbean movie, The Curse of the Black Pearl were filmed. And yes, Captain Jack Sparrow himself set foot on this very spot.
Wallilabou Bay is a 25 to 30 minute-drive from Kingstown. We paid taxi 80 US for 5 people. Make sure you know how to bargain because some tried to charge us 120 US. There is no entrance fee in the set and you can take your time exploring the site. We took pictures of the remaining preserved props like the guns and wooden coffins used in the film. The mini-museum smelled a little rotten and the place was not really maintained well.
There's not a lot of things to see in the area, but if you are a fan of the movie, it is worth the visit. Oh, and they also have land turtles.
A pirate-themed bar and restaurant stood beside the film set in case tourists want to grab a bite.
3. Fort Charlotte
We passed by Fort Charlotte which perched at 600 ft above the bay. The taxi driver was really informative about its history. While driving to the ridge part of the Fort, he talked about how the British army garrisoned the fort to defend it from French naval ships. The guns were pointed inland on purpose to protect them from the Black Caribs (descendants of the indigenous people of St. Vincent mixed with African slaves) who sided with the French.
The fort has no entrance fee. Tour guides are available in the fort (for a small fee) if you want to know more about its history. We only went for a quick stop, so we just checked the place on our own. There are paintings in the old bakery that tell the story of the Black Caribs. Old cells are also preserved inside the fort.
The fort overlooks the capital city of Kingstown, and from afar, you can see its neighboring Grenadine island, Bequia.
After the shortstop, we asked the driver to take us to Buccament Bay Resort. It was a 25-minute drive from the fort. He charged us 60 EC one way.
4. Buccament Bay Resort
This is one of the best white beaches we've seen. The place is breathtaking. There is no entrance fee, but you need to inform the crew if you want to use their facilities like the pool or one of their beach beds. We spent the whole afternoon unwinding under the sun while drinking their local beer, Hairoun.
We decided to ride the minibus going back to Kingstown. It was indeed crowded but a lot of fun. We only paid 3 EC each and we arrived at Kingstown in no time. Yeah, it was a fast one. We really don't know how the drivers can drive so fast on those narrow roads. They're good!
5. Bequia
We took the 45-minute ferry ride from Kingstown and paid 45 EC (16 US), back and forth. Tickets are available inside the ferry. The ride was a bit bumpy because of the eastern trade winds.
Taxis are available in the port area. They charge 20 EC per ride.
Bequia is the second-largest island in the Grenadines. Described by the press as "the perfect Caribbean Island", it used to be a volcanic island. It has a yacht-filled harbor and is bordered by excellent beaches on both the windward (east and south-east) and leeward (west) sides. Its capital is Port Elizabeth.
Driving: Visitors who wish to drive a rented vehicle can obtain a local driving permit from the Revenue Office in Port Elizabeth. You only need to show your international or national driving license from your own country. The permit is valid for 6 months. Price: 65 EC.
Accommodation: We booked at Ermina's Villa with 5 rooms for 120 US per night through Airbnb. It's one of the most inexpensive guesthouses in Bequia. The view from the porch was spectacular. The house is spacious and you can use all its facilities. The place is situated on high ground (most of the houses are), so it is actually difficult to climb up and down. We think it is NOT suitable for older people. The taxis can drive up, but not during rainy days. Imagine us going down the slope with our baggage on our last day.
Beach Wedding
Bequia is a known wedding destination. Fulfill your mermaid dream and get married on one of the best beaches in the Caribbean. Feel the ocean breeze against your skin and the sand beneath your feet as you say your vows. Feel free to use the ocean and the sky as a complimentary wedding backdrop.
For wedding packages, you can get discounts from wedding planners. We highly suggest the Grenadines Collection, they are really helpful and are always available in assisting our wedding needs.
For tourists, you need to be a resident of St. Vincent for one whole day, so you will be entitled to a special marriage license. You just need to bring your passport or any decree (if you're divorced or widowed).
Dive Bequia
Bequia has lots of diving and snorkeling spots to choose from. We made an appointment at Dive Bequia and they charged 20 US per person. The diving team took us to the Devil's Table. They said it is one of the top places where you can see different kinds of fish, and if lucky you might spot seahorses. The divers knew exactly where to find them and we had the chance to take photos.
Moonstone is another diving and snorkeling destination, unfortunately, we didn't have enough time to go there.
Local Restaurants
Jack's Bar is one of the popular restaurants in Bequia. It is located at Princess Margaret Beach. It has a beachfront setting and a Caribbean island atmosphere. They don't have a lot on the menu though, however, their food was delicious and the cocktails were great.
Keegan's Beachside Restaurant is also a nice place to relax and drink beer while listening to the sound of the waves. It is located just in front of Lower Bay. We spent quite some time there because it is a walking distance of our apartment.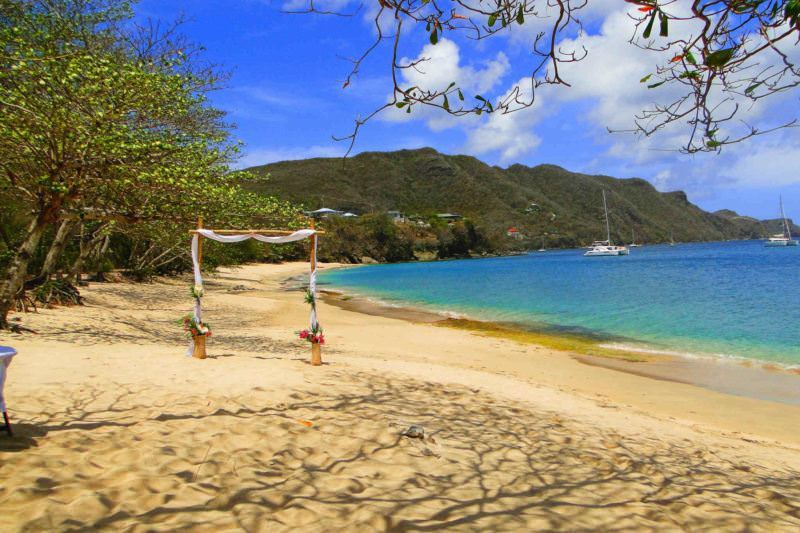 During our last night in Bequia, my husband's aunt took us to Fernando's Hideaway for dinner. It is located just above Lower Bay. We never had the chance to take photos of the food nor the place because it was already dark and we didn't bring our camera. The food was really good, starting from the appetizers down to the desserts. Fernando's Hideaway was awarded the TripAdvisor Certificate of Excellence for three consecutive years. We give it a 5-star rating, too.
Mesmerizing sunset
The sunset is one of the most magnificent views you will see for free. While eating dinner at the Bequia Plantation Hotel, we were able to have a glimpse of the mesmerizing sunset. Bequia Plantation Hotel is usually crowded in the evening since most of the people who live on the yachts go there to eat.
For more information about St. Vincent and the Grenadines, you can check their website at www.discoversvg.com

About the Writer:
Debbie Kolbeek is an ER Nurse currently working in South America, and together with her husband, they are searching for beautiful places to get lost in while making memories around the world, one step at a time. She is also a blogger and a frustrated writer under the full moon. She yearns to discover the world and please her gypsy soul by capturing memories and writing them down in a journal.