How to Get a Democratic Republic of Congo Tourist Visa in London for British Citizens
You have probably heard about different places in the world almost sharing the same names. For example, there's Bedford in England and the USA. There is also a town called Paris in Texas, a strikingly similar name to the famous City of Love. Tons of places in the world are also named after saints like San Juan, San Pedro, and so on, which might sometimes confuse if you do not make yourself clear about the exact place you're referring to.
In Africa, some places bear almost similar names but are completely different from one another. Niger and Nigeria have almost the same spelling, with only 2 letters as their difference. The same goes for the two Congos– the Democratic Republic of Congo and the Republic of the Congo.
The Democratic Republic of Congo, also known as Congo-Kinshasa, is a country at the southern end of the famous Congo River. It is also known to be the largest country in Central Africa.
It is not to be confused with the Republic of the Congo, also known as Congo-Brazzaville which lies on the other side of the Congo River, across the DRC.
Congo-Kinshasa has been known as one of the least undeveloped countries in Africa, as much of it lush rainforest remains as they were back in the day. It's also gained its fame as a primate tourism haven to those who are seeking for such adventures in nature.
If you are one of them and you'd like to know more about getting a visa to DRC with your UK passport, keep on reading.
Quick Facts About the Democratic Republic of Congo
Capital: Kinshasa
Country Code: +243
Currency: Congolese franc (CDF)
Languages Spoken: French, Kikongo, Lingala, Swahili, Tshiluba and several minority languages
Emergency Numbers: 118 for the Fire Department and 117 for the Police Department
Requirements for Democratic Republic of Congo Tourist Visa
Visa Application Form

, filled and signed by the applicant

Your current passport which is valid for a minimum of 6 months on your arrival to the country

2 passport size photos

Proof of address such as utility bills

Copy of your

round-trip tickets

or confirmed itinerary

Hotel reservation (if you're traveling on your own) or a Letter of Invitation to the DRC if you will be visiting someone in the country

A copy of your Yellow Fever Vaccination Certificate

A copy of your Engagement De Prise En Charge issued by the Direction Generale De Migration in DR Congo which states that your visit is approved

Step-by-Step Process in Applying for Democratic Republic of Congo Tourist Visa
1. Gather all the necessary documents for the application and fill out the form
2. Go to this website and schedule an appointment with the Embassy so you can submit your documents and pay the fee
3. Allow the government to process the application for a tourist visa for a certain period
4. Once approved, you can go ahead and collect your passport from the Embassy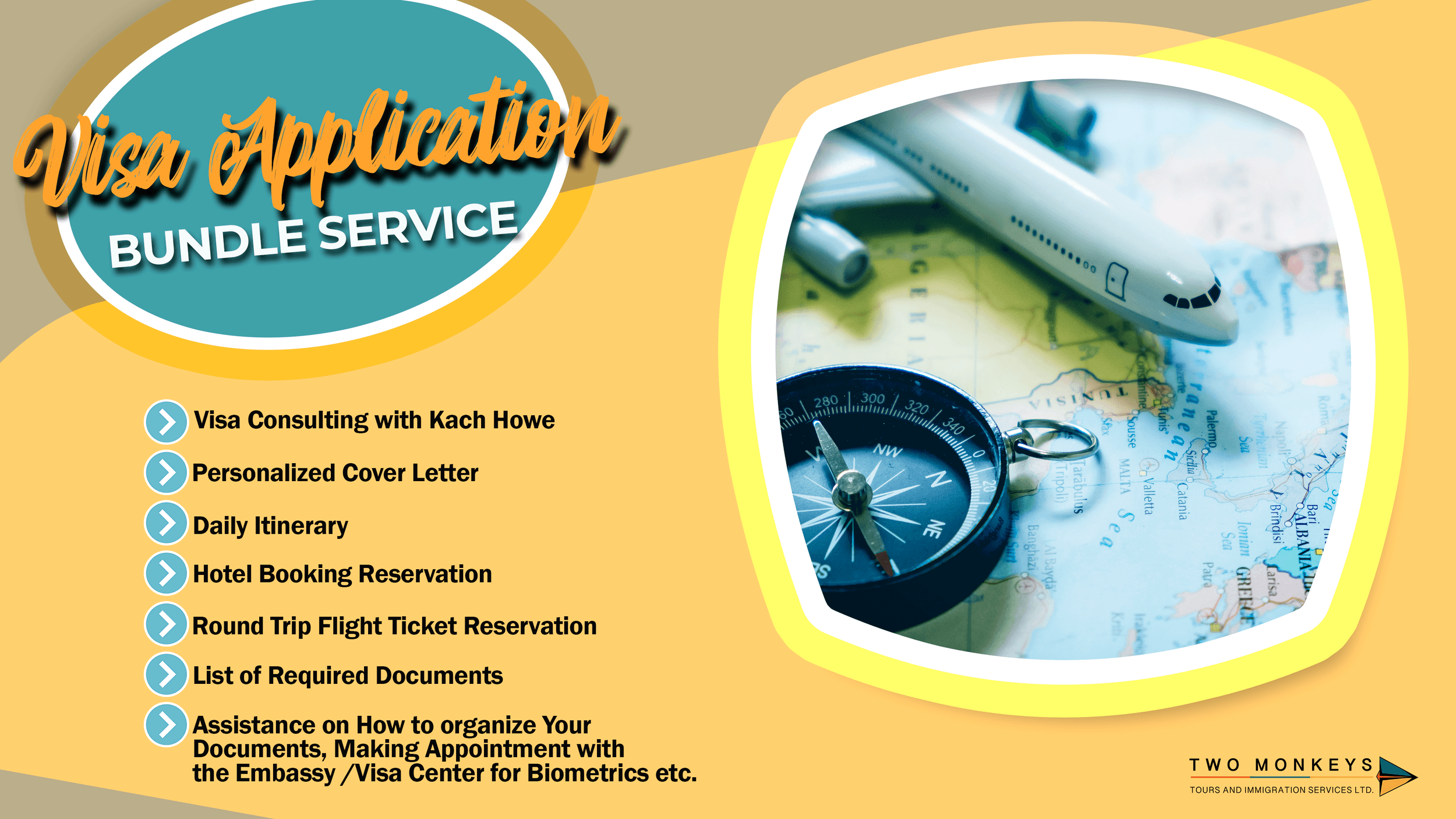 Where to Submit an Application for Democratic Republic of Congo Tourist Visa
Embassy of the Democratic Republic of the Congo
45-49 Great Portland Street
London W1W 7LD
Telephone: +44 020 7580 3931 (Official Inquiries only),
+44 074 4860 0034 (Consular Inquiries only, can be contacted via text)
Email (for visa inquiries): [email protected],
[email protected] (for additional documents)
Application (by appointment): Mondays, Wednesdays, and Friday from 9:30 AM to 12 PM
Collection: Wednesdays and Fridays from 12 PM to 1 PM
Frequently Asked Questions About Visiting the Democratic Republic of the Congo
1. How long will it take for the Embassy to process my application for a tourist visa to the DRC?
The FCO's website suggests that you give the Embassy of DRC at least 2 to 3 weeks to process your tourist visa application.
2. How much does it cost to apply for a tourist visa to the DRC?
Here's a breakdown of the tourist visa fees to the Democratic Republic of the Congo:
Single-entry for 1 month= £75

Multiple-entry for 1 month= £100

Single-entry for 2 months= £120

Multiple-entry for 2 months= £150

Single-entry for 3 months= £180

Multiple-entry for 3 months= £200

Single-entry for 6 months= £250

Multiple-entry for 6 months= £300
3. How long is my tourist visa to the Democratic Republic of Congo valid for?
Tourist visas are issued for 90 days and will grant you to stay for 1-3 months, depending on the duration you applied for.
4. Can I apply for a visa on arrival at the Democratic Republic of Congo?
No, since there is a DRC Embassy in London. Only residents of those countries without a DRC Embassy are allowed to apply for a 7-day visa on arrival.
5. Can I apply for a tourist visa to DRC somewhere else?
The Virunga National Park is now allowed by the government to issue visas on their behalf. This route can be taken by tour operators applying for a tourist visa on your behalf.
6. Is it safe to travel to the Democratic Republic of the Congo?
Due to the political unrest the country has experienced within the past few years, traveling to several areas in the country has been deemed inadvisable by the UK government. Most of these are located in the Eastern part of the country.
For your convenience, here's a list of places the FCO advise against traveling to:
Kasaï, Kasaï Central, Kasaï Oriental, Haut-Uele, Haut Lomami, Ituri, North Kivu (except the city of Goma), South Kivu (except the city of Bukavu ), Maniema and Tanganyika in eastern DRC

areas to the west and east of Kananga, including Tshikapa and Mwene-Ditu (as shown on the map)

within 50km of the border with the Central African Republic and South Sudan

On the other hand, the FCO advise against all but essential travel to these places:

Goma, North Kiv

Bukavu, South Kivu

N'djili and Kimbanseke in Kinshasa
Now if you'll listen to first-hand accounts of travelers who have been to this country, you'll notice them advising future visitors to always be vigilant, especially when in public places. There have been incidents where tourists have been subject of scammers and people who ask them for money.
However, despite these little bumps on the road that you might encounter when visiting Kinshasa, it's a relatively safe place to visit. The residents can be friendly and welcoming and will initiate contact with you as a sign of friendship.
7. Should I get insurance before traveling?
It's always a smart choice to get comprehensive travel and medical insurance before you travel to the DRC.
8. Do they speak English in Kinshasa? Will I need a translator?
You will probably need a translator when you visit Kinshasa as it might be rare to find someone who speaks English in the country.
If you do know a few words in French, though, this might help you when going around the country.
9. Can I have my money exchanged in the DRC? Can I use my credit cards?
There are a lot of money changers within DRC so you'll have no problem having your money exchanged for the local currency.
When paying for a high-priced item, it's more convenient to do so in US Dollars. Due to the value of the Congolese franc, you might end up carrying big bundles of banknotes all the time, so it's wise to keep US Dollars with you to avoid such hassle.
High-end shops, hotels, and restaurants accept credit cards but always be careful of getting fraud. To avoid this, it's always best to use money.
10. How do I get to DRC from the UK?
There are currently no non-stop flights from London to Kinshasa, but you can ride connecting flights through several major airlines to the country's capital.
You may also enter Congo-Kinshasa via ferries from Congo-Brazzaville and the Central African Republic.
11. When is the best time to visit DRC?
To get the most out of your trip, the best time to travel is from May to September and from January to February. These are considered the driest seasons of the year in the country so you'll be able to go out and explore more.
12. Why visit the Democratic Republic of the Congo?
Recently, people have been gaining interest in seeing this Central African country because of its amazing landscape as well as primate tourism.
Granted, this might not be everyone's idea of a perfect vacation so most of the time, it's those who would like to get a more in-depth experience of Africa or who are interested in exploring off the beaten path who travels to the country.
If you'd like to get more in touch with nature and experience how it's like to be among wild animals at least once, DRC might be the place you're looking for!

Are you on Pinterest? Pin these!