30 Best Christmas Gift Ideas for Your Filipina Wife or Girlfriend
The season for unique gifts and sentimental moments are just a few weeks away, and by now, most of us are likely running out of gift ideas for that special someone. Christmas breeze may quite be different for us since we are always on the go and hopping from one place to another, but, this does deny us of being able to express our adoration and appreciation with each other through gifts and surprises, especially during Christmas time.
Since Kach and Jonathan are a Filipina and British couple travelling for a living and pleasure – having handy gadgets, a way to relax, mementos that remind them of why they fell in love, all while being able to tag along with these items while they discover the rest of the world inspired us to create this list. These gifts ideas start from $4.99 to $399 – affordable, unique and is perfect even for non-travel bloggers like us.
GADGETS
1. Beats Solo3 Wireless On-Ear Headphone in Rose Gold
Listening to music or simply being able to zone out during travels by air or by train is a perfect way to relax, de-stress and catch some sleep. Dear love can do this in style while keeping connected with their feminine taste by simply slipping in this piece of technology on her ears. Score this at $230 here.
2. Fossil Q Wander Leather Touchscreen Smartwatch
Travelling and making a living online requires being on top of everything as we enjoy the view and the people we get to meet during travels. Access emails, calls, texts and music while walking from one meeting to another without having to pull-out dear phone or dedicate smartphones solely for selfies by including this gadget as a staple for next year's 2017 adventure. This Christmas gift for your Filipina wife will shelve you $295 and can be bought here.
3. Fitbit Alta Fitness Tracker
The holiday season is a time for festivities, parties and a lot of food. Encourage beau to stay fit even with all the temptations around her this holiday season with this sleek, slim and not too obvious fitness tracker.  Available through this link at $129.94.
4. GoPro HERO5 Black
Record memories are 4K stunning videos and 12MP photos perfect for blogging, websites and scrap books. Any travel blogger like me or adventure junkie would love to score one, as a Christmas gift for their Filipina wife priced at $399 here.
5. MARVUE 801S Underwater Digital Camera 24MO Waterproof Video Camcorder
Record adventures underwater in full HD 1080P Self Shot Dual Screen DV Recorder, underwater up to 10ft deep even with dive masks on. Water outdoor activities will be illuminated in a different light with this gadget. It's much cheaper than a GoPro tagged at $79.99 in case dear budget is not enough to buy one via this link.
BEAUTY
6. Advanced Facial Cleansing System Sonic Facial Cleansing Brush
Cleans pores, even on the go and enjoy smoother and younger looking skin with a handy battery-operated facial brush. A facial spa treatment while on a boat to the Bahamas is music to her ears. Available for purchase here at $43.99.
7. Philips Hp6390/51 Precision Perfect Trimmer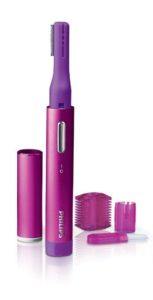 Stay smooth and bikini-ready, shape eyebrows and enjoy silky smooth skin by staying hair free, even while relaxing on top of Angel Falls, with this precision trimmer. It's light on the budget at $9.40 allowing us to get more gifts for the dear heart this Christmas.
8. Original YogaToes: Toe Stretcher & Separator
Weekends would feel extra special while lazily lounging on your favourite chair while relaxing dear toes and increasing their flexibility with YogaToes. Add a glass of wine and surrender the remote control to wifey and expect some tender loving appreciation by the end of the day. Get this as Christmas gift for your Filipina wife at $36.95 via this link.
9. Twist-flex Rods
Dear girlfriend can have beach waves everyday with this easy to use and tag along Twist-flex rods. Pack this together with other small what-knots for Christmas to fill up her Christmas loot bag for a low price of $11.95 through this page.
10. Wearable Silicone Nail Polish Holder
Too busy to help wifey fix her nails? Give her this wearable silicone nail polish holder to remind her of you even if you are busy busting yourself to work for additional treats for her this coming holidays. Get this here at $5.99.
RELAXATION
11. All Natural Assorted Essential Oil Bath Bombs
Allow lady love to relax and conclude her day with a luxurious bath courtesy of bath bombs infused with Shea butter and cocoa butter. A nice massage afterwards would be a lovely treat as well. Priced at $18.97, this item can be availed here.
12. Knitter Mermaid Tail Blanket
Every girl dreams of becoming a mermaid. Fulfill her fantasies for a day or even the whole of 2017 as she becomes the Mermaid in your dreams. It comes in 7 colours – blue, sky blue, green, white, dark purple, light purple and mint green at $24.99 from this page.
13. Herbal Neck Wrap with Eye Pillows and Sleep Mask
Relieve her neck pains during travels and help prevent migraines with this hot and cold aromatic therapy rolled into one. Give her the perfect night sleep even while on the go with this complete sleep care kit. Score this item for a low price of $19.95.
14. Eternity Essential Oil Diffuser Aromatherapy
Give wifey the chance to experience a burst of aroma and flavours as the ultrasonic waves of the Cality Eternity Oil Diffuser fill rooms with its flavor-impact natural healing oil. It's elegant and lightweight and can practically be brought anywhere across the globe. For a low price of $24.95 get this as Christmas gift for your Filipina wife here.
15. Personalized Engraved Wine Glass
The best way to end a day is with a glass of wine and great conversations with the person you love. Give this both as gifts for the holiday season as you both recall your days as partners, friends and now, lovers. Available at $11.9 here –
OUTDOORS
16. Marshmallow Roasting Sticks Set of 4 Telescoping Smores and Hot Dog Fork
Enjoy luxury outdoor cooking and enjoy the outdoors even with the cold breeze on your skin with warm marshmallows melting inside in your mouths this Christmas season. Introduce beau to a new kind of adventure outdoors by giving her cool camping gears she wouldn't miss using this holiday season. Available for purchase here at $16.95.
17. Inflatable Air Lounger Sofa Bed with Headrest
Be "lounge ready" in any part of the world with this durable and easy to assemble lightweight lounge chair and couch. Whether you're sunbathing on the beach or dreaming beside fire camps, this travel accessory will give the rest that you and Beau deserves. Get this gift for $39.95 here.
18. "The Posh" Python & Alligator Rolling Tote Bag Briefcase Carryall Bag
Any lady wanderer would definitely love to travel in comfort and style. Give her both and see her lazily pull her new-found favourite as you go on an adventure on your next travel destination. Save $189.99 to score this for your Christmas gift for your Filipina wife.
19. CUBE Key Finder, Phone Finder
Any busy gal will repay us with a lot of hugs and kisses as you provide her with the solution for her lost keys and phone. Attach CUBE to anything, and you'll be able to access them fast with a CUBE Tracker App. Available through this link at $25.00.
20. Dot&Dot Travel Bottles
Hate seeing her having a bad hair day? Bring along her favourite hair care products without the risks of staining her favourite skirt with these refillable, carry-on travel size toiletries. It's food save and friendlier to the environment too, priced at $16.99 and can be purchased here.
ORGANIZATION
21. Classic Hand Carved Nose-shaped Eyewear Holder

Does she always lose her eyeglasses? Help her keep things organised on her working table by giving her this unique and useful Indian inspired artisan rosewood eyewear holder. Get one now at $11.79 from Amazon'.
22. PageKeeper
A book can bring people to places without having to set sail. This automatic bookmarking gadget will allow her to go back exploring new worlds and dimensions as soon as she relaxes from being the superwoman of your world. This Christmas gift for your Filipina wife is available at $6.48 here.
23. Luxor Dryer Dock with Suction Cups
No more messy hair days and she won't probably bother you with helping her blow dry her luxurious locks when you give her this lightweight-bring -anywhere-you-can hairdryer dock. It's like having a piece of her vanity closet anywhere in the world! Yours for only $4.99.
24. USB LED Clock Fan with Real Time Display
The Gorgeous busy queen bee will enjoy working even under the hot sun with this refreshing memento reminding her to stay cool and simply enjoy her time. Simply plug, play and keep her looking and feeling fabulous. Buy one online for $13.58.
25. Traveller's Notebook Notepad with Pencil Case
Every traveller and writer would still want to immortalise moments and memories in print, even with all the gadgets they can use to do so. Let her leave marks of her adventures around the world in crisp pages by giving her this easy to carry elegant travel notebook. Priced at $29.99 and available through Amazon.
ROMANTIC
26. Conversation Starters for Husbands & Wives
Sometimes, you can discover more about dear wife one in unusual situations and card games like this. Welcome 2017 with a no holds bar conversation between couples with these great conversation starters. Score one for your Filipina wife here at $7.99.
27. "Heart of the Ocean" Bowtie Pendant Necklace made with SWAROVSKI Crystal
Affection is not measured by sparkly things, but it would be nice to receive shiny things now and then. This would be a nice surprise you can give to the woman you care for as the clock hits midnight on Christmas Eve. Available through Amazon at $35.99 via this link.
28. Heart Marimo
A rare memento that can remind our dear ones of our feelings is what this heart-shaped lake moss can eternalize. Heart-shaped marimos only comes once in a thousand and can grow for many years to come. A truly lasting symbol of adoration one can give your true love for only $8.9 through this page.
29. Knock Knock What I Love About You Fill In The Love Journal
Be ready to be extra cheesy and document moments of love in this Love Journal. Be surprised with the reason why she endears you the most. Unfortunately, tissues are sold separately. Get one via Amazon for a low price of $8.73.
30. Ocean Wave Projector Music Player
Enjoy snuggling tight together while watching the stars as the senses are being stimulated by the charming sound and lights of this music and light projector. Any place in the world can be transformed into a romantic ambiance perfect for sweet moments like this with the person we love. A perfect Christmas gift for your Filipina wife at $19.9 from Amazon.
Loved our article? Hit the Pin Button and add our ideas to your Pinterest board!