Best Beaches in Honolulu, Hawaii – Top 10 Beaches in Honolulu
Say Aloha to Honolulu, the capital of the Archipelagic US State, Hawaii. Of course, with archipelagos and islands come great beaches filled with soft sand and clear blue waters. Honolulu does have a lot of amazing beaches, and this article will give you our list of the top ten beaches in Honolulu.
Beaches aren't the only thing you can see in Hawaii though; there are iconic extinct volcanoes, Diamond Head being a quite popular one, Pearl Harbor Memorial from the world war as well as Natural preservers like the Hanauma Bay. Since it's a summer state, the popular dates to come here are from December to August, especially if it's cold in the rest of the US. April to October is the dry season, and the other months are rainy, so you might want to come in weather that fits you.
Here are the best beaches in Honolulu, Hawaii
1. Kailua Beach Park
With the bluest water and the cleanest beach, Kailua Beach is one of the best beaches in Honolulu and the number one on our list. With soft sand, vast space and few crowds, you would enjoy this family and pet-friendly park-slash-beach. The waves are minimal and not strong, so it's pretty fun and safe to swim in. With great clean amenities, plentiful parking, and a pleasant atmosphere, you could chill and relax and spend a whole day here.
Recommended Hotel: Kailua Beach  Guest House
2. Ala Moana Beach Park
800 meters of golden sand and sun is one of the best beaches in Honolulu, Ala Moana Beach. This place is suitable for those who want to try snorkeling or family with kids who like to play in the water. It's also a few steps away from Magic Island and its lagoon. With this being free to the public and a favorite of locals, you can expect events like fireworks or games here. Amenities like bathrooms, parking, food stands, and lifeguards are present here, what more could you ask for?
Recommended Hotel: Ala Moana Hotel
3. Hanauma Bay Nature Preserve
Once a trendy beach park, now, Hanauma Bay is a Nature Preserve that limits visitors as well as closed on Tuesdays for natural fish feeding. There is an orientation and an entrance fee when you enter; this is for maintenance and conservation of the area. Hanauma Bay is the best place to discover corals and fishes; by snorkeling. You will enjoy your day under the sun hand the cerulean waters in one of the best beaches in Honolulu.
Recommended Hotel: Lanai House
4. Sandy Beach
View this post on Instagram
If you want an adventure in Honolulu, then try going to Sandy Beach where the waves are exciting. You can do bodyboarding or body surfing in one of the best beaches in Honolulu. It's not ideal for swimming due to the rough waves. However, you can sunbathe, walk along the beach, or hanging out with friends. Food trucks are present nearby as well as lifeguards to keep you safe. There aren't many crowds or tourists too, so you'll enjoy the peace and the waves crashing.
Recommended Hotel: 114HanoHano
5. Kahanamoku Beach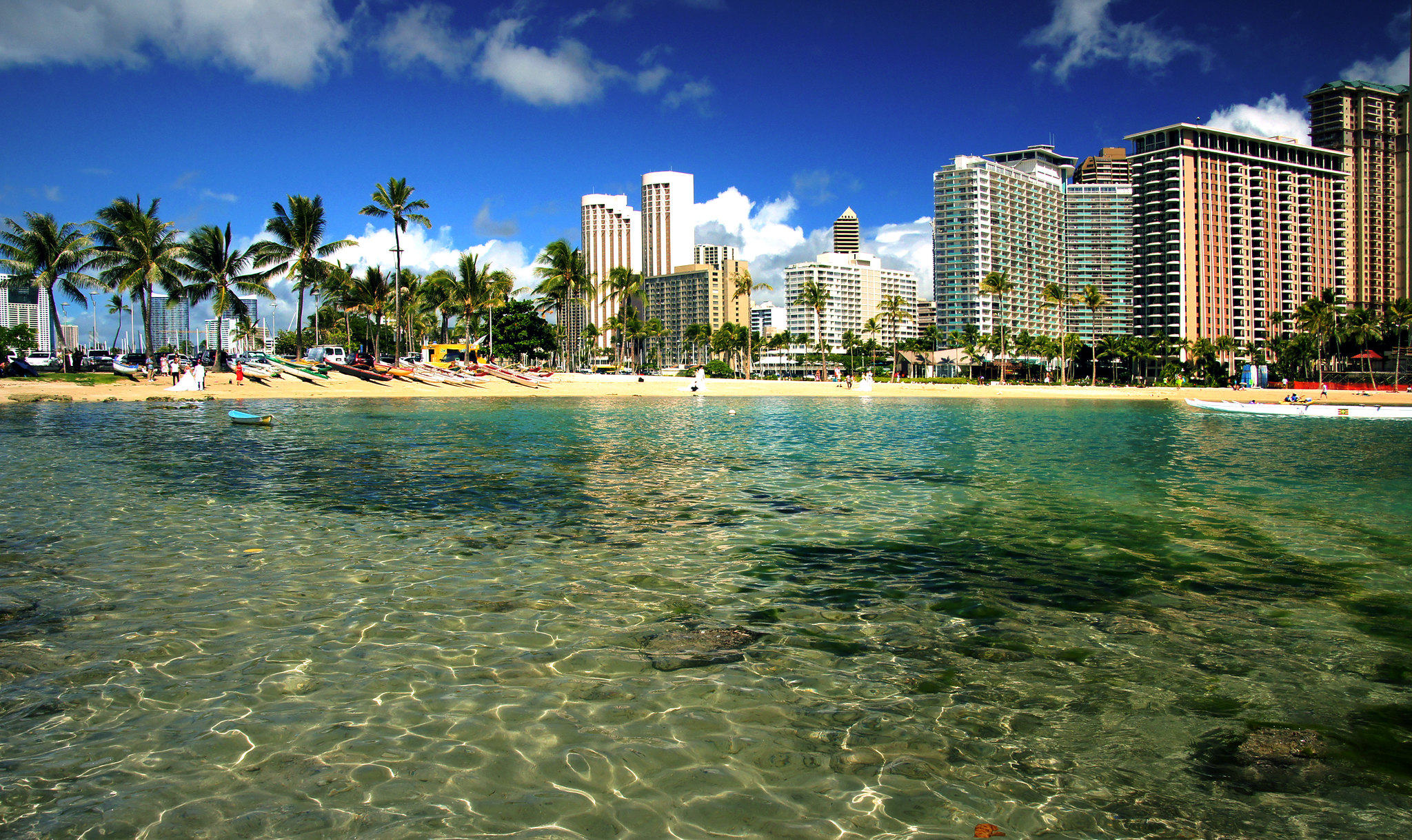 Filed with golden sand, calm blue waters and swaying palm trees is the Kahanamoku Beach, one of the best beaches in Honolulu. There is also a lagoon here where your little ones can enjoy the water and not go through rough waves. The ambiance is fun as there's a crowd either enjoying the beach or just relaxing. Food trucks and restaurants are nearby, and if you visit on a Friday night, you might catch a fireworks show.
Recommended Hotel: Hilton Hawaiian Village Waikiki Beach Resort
6. Waikiki Beach
Waikiki Beach is the most popular and visited the beach in this part of Hawaii. With golden sands, clear blue waters, and many activities, this is one of the best beaches in Honolulu. From Surfing to Kite Surfing, to beach football or volleyball, you would enjoy your time here. The history of this place is pretty impressive, too, so it's a must to come here when you are in Hawaii. Come here early when it's not overcrowded, and you will have the perfect time to enjoy the sand and sun.
Recommended Hotel: Moana Surfrider, A Westin Resort and Spa
7. Diamond Head Beach Park
Another secluded place with a scenic spot is the Diamond Head Beach, one of the best beaches in Honolulu. It is found at the base of an extinct volcanic crater, the Diamond Head. Bring your snorkeling gear or your surfboards here as it also offers a great spot to do those activities. With your camera on hand too, get some shots for the gram. You won't regret hiking and discovering this place because it's truly a gem.
Recommended Hotel: Le Reve at Diamond Head
8. Waiʻalae Beach Park
View this post on Instagram
An off beaten path where locals usually hang out is Wai'alae Beach Park, one of the best beaches in Honolulu. Ready your cameras as it is a picturesque area; many couples enjoy prenuptial shoots or maybe even have a wedding here. It is also a sandy beach where you can take a swim since the waves are gentle. If you go here early, you might catch the fantastic sunrise too.
Recommended Hotel: Kahala Hill
9. Queen's Surf Beach
Named after Queen Liliuokalani, the first queen regnant of Hawaii, who had a beach house here, is one of the best beaches in Honolulu. It is a popular space to do bodyboarding or boogie boarding. You might want to bring your friends too and enjoy a game of beach volleyball. The zoo is nearby, so if you are done seeing the animals, you might want to enjoy the sea and the sunset.
Recommended Hotel: Park Shore Waikiki
10. Sans Souci Beach
Kaimana Beach, the other name of Sans Souci Beach, is a small beach local beach with calm waters and great sand. If you want to be away from the main tourist and not drive long; then, this place is for you. It's also near the Waikiki Aquarium, so if you want to relax after a busy day, Sans Souci is undeniably one of the best beaches in Honolulu for you.
Recommended Hotel: Lotus Honolulu Hotel
Have your cameras and outfits ready as you explore the beautiful capital of Hawaii. You won't regret the ambiance of the bustling capital as well as how it blends with being a paradise in the Ocean. Book now, especially if you don't like the cold winters in your town, you will enjoy the sun and the sea in the best beaches in Honolulu.

Are you on Pinterest? Pin these!