Experience the Best of Brunei's Hospitality from Badi'Ah Hotel
I couldn't hold my excitement when I visited Brunei. It's a small yet amazing country which I would definitely recommend for all travelers who like to have a unique experience. And for my fellow Filipinos, you should include this on your bucket list. After all, it's very convenient to go here as you don't have to secure a visa if you plan to stay for 14 days and below. I know you are already checking the flights! Go ahead and check the fares from AirAsia.
You know what surprised me when I went to Brunei apart from their amazing structures and evidently rich culture? It's actually the locals. They are extremely friendly and nice – I think all travelers would want to spend more time here given the genuine smiles and hospitality you'd get from the people of Brunei.
To make my adventure even more worth – sharing, I stayed in this awesome property called Badi'ah Hotel which is located in the lively complex along Jalan Tutong.  Badi'ah Hotel is an ideal home for travelers who love to stay close to both the airport and the city proper.  This premium hotel is just 15 minutes away by car from the Royal Brunei International Airport and is a short 15-minute walk into the city and Sultan Omar Ali Saifuddien Mosque.  As for me, I was lucky because the hotel arranged a private car to go around the city. Truth be told, taking public transportation in Brunei can be quite challenging. So if you are willing to brave the streets, go ahead but make sure you have a lot of patience and you did your research before doing so.
Just so you know, I was on my own during this trip and I took that as an opportunity to meet new friends by starting small talks, or even asking strangers to take my photos! You should learn that if you plan to travel solo. At least your photos will be more than selfies, right?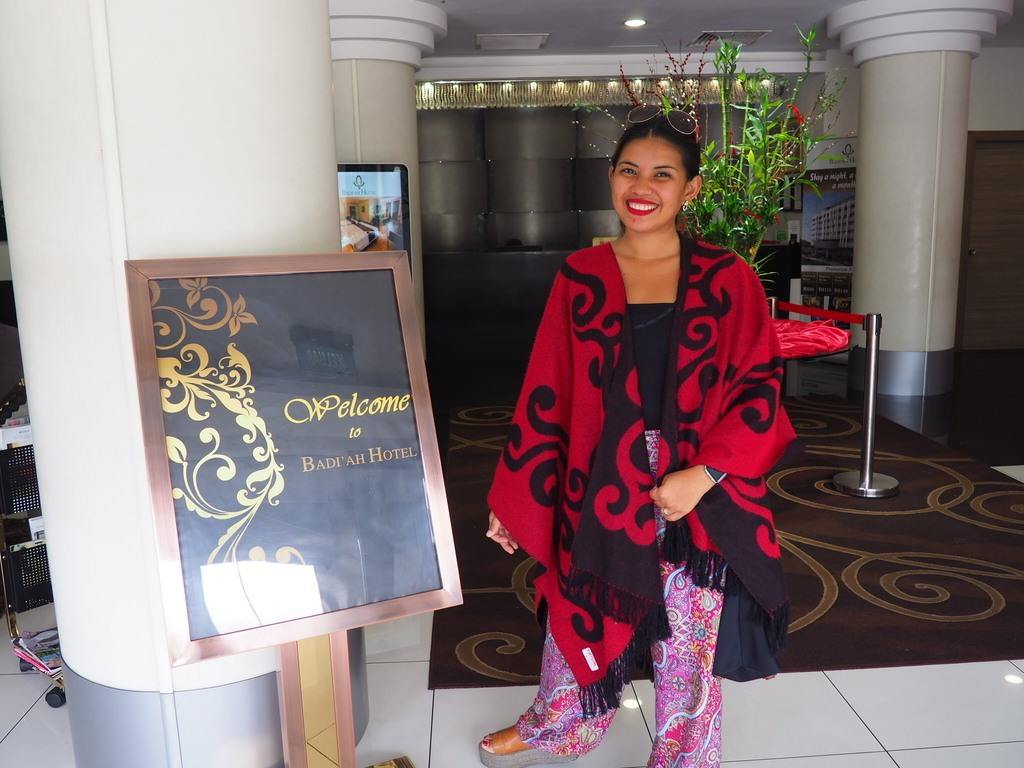 Reasons why you should stay at Badi'Ah Hotel, Brunei
One of the main reasons why you should choose Badi'ah Hotel is because of its strategic location and of course, the amazing service and the impeccable staff. I tell you, they are absolutely lovely, friendly and upright accommodating – they gave me a ride to the night market and picked me up from there! Of course, I bought them some of the yummy local food I found in the market! Anyway,  they definitely reflect what local Brunei people (Bruneian) has to offer to its visitors. Anyway, let me tell you what to expect from this property.
The Room
Badi'Ah Hotel houses 55 well-appointed rooms.  I was assigned to a bigger corner room, which iss actually too big considering that I traveled alone. It came with 2 queen size beds and offered a nice city view. It's something that you would love to stare at when you are about to sleep at night.
I loved that it looked appealing and cozy, and both the interior and amenities were updated.  It has an LCD TV, direct-dial phone, a hairdryer, an electronic safety deposit box, air-conditioning unit, coffee/tea making facilities, and complimentary Wi-Fi, which actually has a pretty strong connection. You can say, it has everything you need to survive the modern world.
The bathroom was big enough and had lots of towels, a stash of basic toiletries, and slippers.  I like that it came with hot water – something that I look forward to after a long day of roaming around the city. And yes, I started to miss Jon and his bathrobe!
The Food
My room came with complimentary buffet breakfast which was served in the hotel restaurant.  Badi'ah Hotel Restaurant serves mostly local food with an international touch, and I simply adore that they have a wide range of food to choose from – yet another amazing value in the hotel.  There's also a cafe in the property called Bristodeli Cafe, where you can get a fix of your favorite desserts, sandwiches and amazing drinks for a reasonable price.
The Facilities
Outdoor Swimming Pool – This can be found on the hotel's second floor if you want to cool down while under the heat of the sun. Plus, you can always place an order from the hotel restaurant. Have it served by the pool and have your own personal picnic. Not a bad idea of you want to relax and treat yourself to some good food.
Banquet Halls – This property isn't just for leisure travellers. If you want to set up a corporate event, then this would be a great venue to hold it.
Business Center – You don't even have to worry about your fax or printing needs, Badi'Ah Hotel has everything you need. They offer computer rentals which are free of charge.
Area Guide
Sultan Omar Ali Saifuddien Mosque – You may visit one of the most beautiful mosques in the Asia Pacific.  Its most recognizable feature is the main dome, as it is covered in pure gold.  Lovely, indeed!
Royal Regalia Museum – This building has a splendid and vast collection of relics and monuments that are housed to exhibit the upbringing, education, marriage, travels, coronation, and subsequent rule of His Majesty, Paduka Seri Baginda Sulta Haji Jassanal Bolkiah Mu'izzadin Waddaulah, Sulta dan Yang Di-Pertuan Negara Brunei Darussalam.
Jame'asr Hassanil Bolkiah Mosque – One of the most impressive Islamic architectures in Southeast Asia with 29 golden domes and intricately ornamented minarets, it is built by the present Sultan to commemorate the 25th year of his reign.  Known locally as the Kiarong mosque, it is Brunei's largest mosque and is especially striking when fully lit at night.
And just a bit of insider tips and bonus information for our readers, please take note of the following about Badi'Ah Hotel.
Private airport-hotel-airport transfers are available in Badi'ah Hotel for a minimal surcharge – This is definitely lower and more reliable than getting a cab.  Free airport-Badi'ah Hotel and Badi'ah Hotel-airport transfers with other guests are available using shared hotel van transport.
The rooms on the upper floor have better views of the city –  You might want to request these and take advantage of the amazing sights.
They offer 5% discount on their Brunei tour packages – Yes, this is true if you book them in conjunction with two or more nights stay at Badi'ah Hotel. What a lovely treat, don't you think?
Factsheet: Frequently Asked Questions about Badi'Ah Hotel
1. Where can you find the best rates for Badi'Ah Hotel?
You may check the rates from
 Booking.com | Agoda | Tripadvisor | Expedia
2. What credit cards are accepted in Badi'Ah Hotel?
You may use Visa and MasterCard.  However, debit cards are not accepted.
3. What is the check – in and check – out time in Badi'Ah Hotel?
The check – in time is 2:00 pm, while the check – out time is 12:00 pm.
4. Can you smoke in Badi'ah Hotel?
There is a designated area on the property where you can smoke. However, all rooms are non–smoking.
5. Are children allowed to stay at Badi'ah Hotel?
All children are welcome to stay in the hotel.  One child under 11 years of age can stay free of charge when using existing beds.  One older child is charged SGD 35 per person per night in an extra bed.  One child under 2 years of age can stay free of charge in a crib.
6. What are the standard room amenities in Badi'ah Hotel?
Room amenities include mini bar, cable TV, international direct dialing, telephone, toilet & bath, hairdryer, and coffee/tea service.  They also offer daily housekeeping service.
7. Is Wi-Fi connection available in Badi'Ah Hotel?
Yes, it is available in the lobby in all rooms, and it's free of charge.
8. Which currencies are accepted in Badi'Ah Hotel?
Brunei and Singapore dollars are accepted in the hotel.
9. What are the languages spoken in Badi'Ah Hotel?
The staff is fluent in English and in Malay.
10. Is there on -site parking?
Yes, and parking is for free.

I stayed as a guest in Badi'Ah Hotel, Brunei. However, all opinions are based on my personal experience.

Are you on Pinterest? Pin these!