Great Staycation for the entire family at Oakwood Premier Joy~Nostalg Center Manila
The last time me and my siblings were complete was 4 years ago (in 2013). That was the same time we went on a 3 – country backpacking trip! And even if we annoy each other at times, I can't deny that I've missed them so much. So when I had the chance to go back to the Philippines, I hoped and prayed that we can spend time together. The fact that my brother has now his own family increased my level of excitement.
While we can stay at our house in the province, my hectic schedule in Manila obviously makes it an impractical choice. Glad some of the best accommodations in the metro asked us to stay in their properties. One of these is the Oakwood Premier Joy~Nostalg Center Manila.
Staying there wasn't really planned. But when Ms Kyra Cabaero read online that we were in the Philippines, she and Ms Laurie Balderrama – Cardeño contacted and offered us 2 different rooms! If you ask me, that was the perfect way to wrap our trip, and I will tell you why as you read this post.
Why I love Oakwood Premier Joy~Nostalg Center Manila
A lot of long term tenants, more specifically expats, stay in Oakwood Premier. That alone tells you that the property has a great facility and superb service. We stayed for few nights and I could attest to the excellent package you can get from the hotel.
The Rooms
Studio Executive – Rooms are 41 square meters. Get to enjoy the comfortable king – sized bed in this cozy room.
One – Bedroom Deluxe ­– Rooms are 86 -94 square meters. You can comfortably set up a dinner for 4 in this spacious room.
Two –Bedroom Executive – Rooms are 131 square meters. If you are staying with your family or with a larger group, then this is probably one of the best choices. You have the master bedroom and another one that has 2 beds. You also have a dining area that can fit 6 people.
Three – Bedroom Executive – Evidently the largest rooms in Oakwood Premier! You even have a dining area that can comfortably house 8 people.
It's not just us who enjoyed the room. My niece went ecstatic while in the bathtub!
Residence Amenities
Home entertainment system
Rain shower and in-shower steam
Two telephone lines with International Direct Dialing (IDD) and voicemail facilities
Electronic safe
Fully-equipped kitchen
Washer, dryer, iron and ironing board (which we badly needed because we had tons of soiled clothes)
Advanced electronic lock system
Individually controlled air-conditioning system
High-speed internet access
The Food
On our first dinner, it was Casablanca theme and we had to dress up, it was the first time they organized that kind of event. I must say, it is not just the food that we enjoyed in the property, but also the different fun themes and activities we had every dinner. Every night, we would eat at The Nostalgia Restaurant which serves heavenly dishes, our second night was a special dinner with my whole family! And on our last night, we enjoyed interesting trivia together with my sister, brother and other blogger friends. The Sangria and Pizza combo ended the night in the best possible way!
If you will eat at The Nostalgia, you better try the Lamb Steak (recommended by Jon), Adobo Steak (recommended by Kisse), Salmon (recommended by me) and all their desserts!
As for the breakfast, it was equally divine as well.
The Facilities
Gym– While Ortigas is known to as a business district, the people who live around the area are still conscious about their health. Good thing that there's a gym facility in Oakwood Premier.
Swimming Pool – There's also a pool if you want to take a quick dip.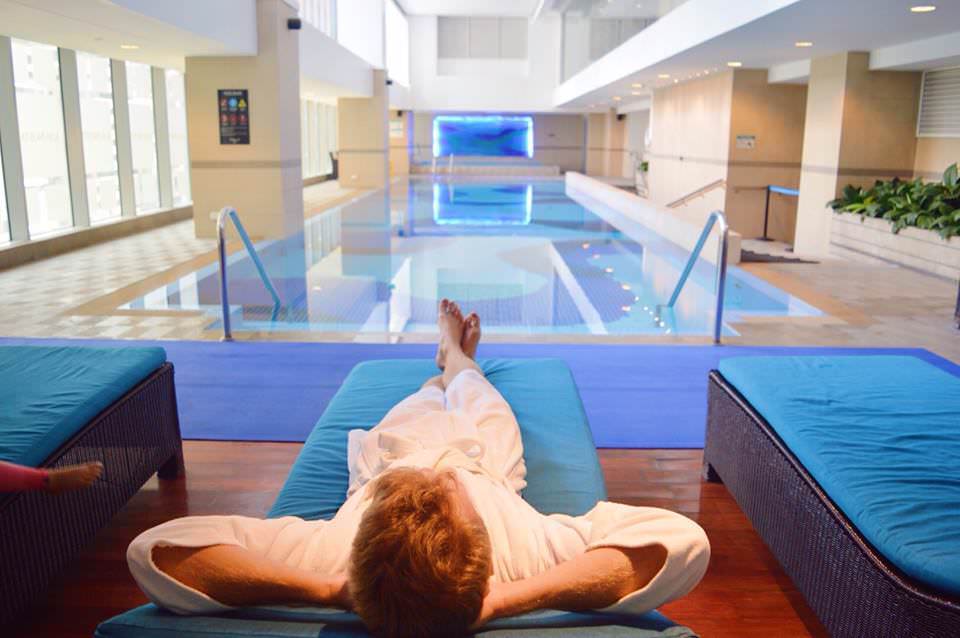 Spa – And if you feel that you badly need a massage, the spa treatments you can get from Oakwood Premier will help you feel rejuvenated for the upcoming days.
Banquets and Conferences – Oakwood Premier is an ideal venue if you plan to host a conference or an event. The function halls can accommodate 200 persons each. You don't have to worry about equipment as these are readily available for you.
Business Center – You don't even have to leave the property if you wish to print out your modules and other business collaterals. The Oakwood Premier's Business Center can do it for you.
Area Guide
There is so much to do around Ortigas. Here are few places to go to if you wish to leave the comforts of your rooms in Oakwood Premier.
SM Megamall – One of the largest malls in the country, SM Megamall is the perfect spot for all your needs. You can even watch the latest movies, or just go around and shop for great finds.
Podium – You can spot a number of great restaurants and few shops as well.
Metrowalk – Should you want to experience the nightlife, head to Metrowalk and grab a couple of drinks.

Fact Sheet: Frequently Asked Question about Oakwood Premier Joy~Nostalg Center Manila
1. How much is the rate in Oakwood Premier Joy~Nostalg Center Manila?
To inquire about rates, availability or promo, check the links below:
Own website | Booking.com | Tripadvisor  | Expedia
2. What are the credit cards accepted in Oakwood Premier Joy~Nostalg Center Manila?
The property accepts American Express, Visa, Mastercard, JCB, and UnionPay.
3. Are children allowed to stay in Oakwood Premier Joy~Nostalg Center Manila?
Definitely! This property is recommended for families whether for long term stays or just a quick staycation.
4. Are pets allowed in Oakwood Premier Joy~Nostalg Center Manila?
Pets are allowed and additional charges are applicable.
5. What is the check – in and check – out time in Oakwood Premier Joy~Nostalg Center Manila?
The check – in is at 1500 and the check – out is at 1200.
6. Is there an airport shuttle available for the guests?
Yes, shuttle services are available. Corresponding fees apply.
7. Is wi – fi available in all areas of Oakwood Premier Joy~Nostalg Center Manila?
Yes, you may use the wi – fi in all corners of the hotel and this is free of charge.
8. Is there a designated area for smoking?
Yes, Oakwood Premier Joy~Nostalg Center Manila has a designated area for smoking. However, all rooms are non–smoking.
9. Is there a parking space in Oakwood Premier Joy~Nostalg Center Manila?
No parking space is available on the property. However, there are parking spaces near the vicinity.
10. What are the languages used in Oakwood Premier Joy~Nostalg Center Manila?
The staff is fluent in English.
Will I come back here again?
Of course. The property gives you that luxurious yet homey feeling which I really love the most. We enjoyed every bit of our stay, from the rooms down to the food! And just so you know, this is the home of the Ms. Earth candidates. If you want to wake up and witness such fine ladies, you know where to stay next time!
We had a complimentary stay at Oakwood Premier Joy~Nostalg Center Manila. However, all opinions are based on our personal experience.

Are you on Pinterest? Pin these!