DIY Travel Guide Series: 5 Days and 4 Nights in Arenal, Costa Rica @drinkteatravel
Arenal Volcano National Park is located in the Plains of the North region of Costa Rica, just 3-4 hours by car from the country's capital San Jose. Thanks to the incredible views of the cone-shaped volcano and numerous activities available to visitors, the small town of La Fortuna at the base of the Arenal Volcano is known as one of the most popular destinations in Costa Rica.
The easiest way to get to La Fortuna/Arenal from San Jose or Liberia is by car. However, local busses and shuttles also operate along the route. Those looking for the fastest way to reach Arenal can opt to fly there with Nature Air or Sansa.
If you choose to stay in La Fortuna, getting around the town is easy, however, if your accommodation is located outside of town, restaurants, shops and other amenities in La Fortuna can be easily accessed by car/taxi.

Travel Tips
Airport Shuttle Service from the airport costs around $45/person and should be reserved in advance.
Flights to La Fortuna with local carriers can cost as little as $50-60/person, making them a comfortable and cost effective way to reach Arenal Volcano.
Local Currency is the Costa Rican Colones, although US Dollars are widely accepted in most parts of the country, including Arenal. Credit cards are accepted in most hotels/restaurants and ATMs can be found in La Fortuna town.
Recommended Hotel – Arenal Hotel Resort & Spa (Read more about our stay there HERE)

Trip Highlights
Arenal Volcano National Park
Arenal Volcano National Park is the reason why visitors flock to this part of Costa Rica. Of course, the Arenal Volcano itself is huge and can be easily admired from afar from most hotels in the area, but those looking for a more active trip will enjoy checking out the nature trail inside the park.
Tabacon Hot Springs
The area is rich in geothermal activity, so you'll find some popular hot springs operating in the area. Tabacon Hot Springs is the first and most elaborate hot springs resort out of them all, so if you have the cash splurge on an all inclusive $105 daily pass and enjoy a day of relaxation and healing in its elaborate garden of hot spring pools.
La Fortuna Waterfall
La Fortuna Waterfall is another popular spot to check out in the area. An easy hike to the waterfall opens up into a cool swimming hole, offering a refreshing dip on a hot sunny day.
White Water Rafting
Thanks for the fact that Arenal Volcano is located in close proximity to a couple of Grade 3-4 rivers in Costa Rica, this region is a popular spot for white water rafting. Trips with Desafío Adventure Company start at just $69/person
Lake Arenal
Located at the base of the Arenal Volcano, Arenal Lake offers a ton of other activities to visitors of this region, including kayaking and stand-up paddle boarding.
Tour companies and booking agencies are located in La Fortuna making it easy to plan and book all of your activities in the region upon arrival.

Best Restaurants in Arenal and Costa Rican Food
Local cuisine in Costa Rica isn't as rich as in other parts of Central and South America, but restaurants in popular areas generally do a great job with grilled meats, seafood, and of course a variety of takes on Costa Rican local favorite, the casado.
Where to Eat in La Fortuna, Costa Rica
The majority of restaurants near Arenal are located in the town of La Fortuna. If you are staying at one of the resorts outside of town, your resort will most likely have a restaurant on site. But if eating at the same restaurant for days on end doesn't sound appealing, there are some good restaurants worth checking out in town.
Lava Lounge doesn't just serve a good selection of local dishes, craft beers, and delicious desserts but they also offer a great vibe with Latin music and a buzzing an atmosphere. Great place for dinner and a few drinks!
This is good lunch option, particularly for those looking for a more health conscious options in Arenal. Good organic food options ranging from salads to ceviche and beyond. Also, a great place to grab a smoothie.
Cheap, delicious, and filling are the three best ways to describe this simple joint on the main road in La Fortuna. Serving BBQ, BBQ, and more BBQ, this is a place to come for your daily protein intake. Get a serving or chicken and some of their succulent ribs!

Where to Stay in Arenal, Costa Rica
There are hundreds of accommodation options in La Fortuna and much more in the surrounding area. Remember that while staying in La Fortuna is easy and convenient, hotels outside of the town will often have much better views and offer better value than those in town.
Tabacon is one of the first and oldest resorts in the region boasting luxurious accommodations, hot spring and spa packages. Rates at Tabacon start at $400/night, but unlimited access to the hot springs is included in the price. Further reading: Kach and Jonathan's review of Tabacon Resort & Spa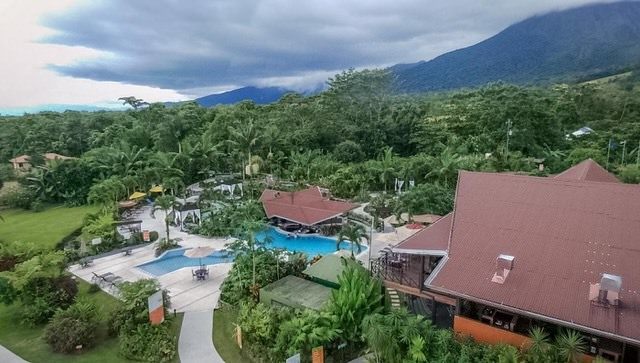 This resort is located about 1km outside of La Fortuna but offers lots of great amenities on site including three on-site restaurants, pool, hot springs, gym, daily yoga classes and an on-site spa. Rates are reasonable starting from just $100 in the low season.
This hotel is an affordable yet well-rated hotel in the Fortuna area. The hotel is located just outside of La Fortuna on the road towards Arenal Volcano. It offers affordable and clean rooms starting at just $44 in low season.

Travel Budget


Travel Itinerary
Day 1:
Arrive in Arenal and spend the afternoon relaxing at your hotel. If you are staying in a resort with on-site amenities like hot springs or a pool, this would be the perfect time to enjoy them. Look through the various tours and activities offered through your hotel's activity desk or head into town to book a few days trips at one of the travel offices.
In the evening, head to La Fortuna for a lively dinner at Lava Lounge.
Day 2:
There is no better way to start exploring the region than by going on a hike in Arenal Volcano National Park. Grab a day pack, a few snacks, and head to the National Park entrance where you can grab a ticket and start your 2-3 hour hike to the base of the Volcano. Admire the views of Arenal from up close and don't forget to bring a camera.
Upon returning to town, grab a late lunch and spend the rest of the day relaxing in the hot springs or soaking up the sun by the pool.
Day 3:
Today is a perfect day to head off on one of the many excursions. We highly recommend rafting, but kayaking or stand up paddleboarding on Arenal will be just as enjoyable.
Lunch will probably be provided on your activity, but since there are still lots of restaurants to discover in town, head to La Fortuna for dinner and give yourself some time before or after the meal for a bit of souvenir shopping. There are lots of great stores in town!
Day 4:
Cap off your visit with a day at the Tabacon Hot Springs. Even if you stayed at a hotel with hot springs on site, it is still worth splurging on a day pass to Tabacon. Enjoy the beautiful gardens, soak in the pools and be sure to include lunch and dinner in your ticket to enjoy a delicious buffet at the on-site restaurant.
Day 5:
Check out of your hotel and head to the airport or your next destination in Costa Rica.

Visa Requirements
Costa Rica has very lax visa requirements, making it an easy destination to visit for many nationalities. Citizens of US, Canada, Australia, UK and many other western countries will be granted a 3-month visa. The only caveat is that you must show proof of departing flight prior to boarding.

About the Writer
We are Oksana & Max St John, a nomadic couple inspired by the world, fuelled by curiosity, a sense of adventure, and an occasional cup of tea. We are the duo behind the blog Drink Tea & Travel, on a mission to see the world and explore every country beyond the major sights and tourist attractions. Join us on our journey on Facebook, Instagram, and Pinterest.

Are you on Pinterest? Pin these!